CAP UCLA teams up with Theatre at Ace Hotel: Why shows are moving from the Westside to downtown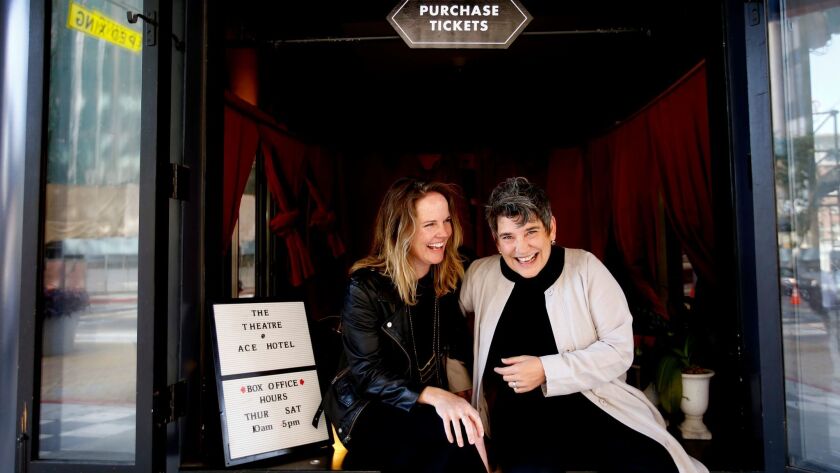 In Los Angeles, the pursuit of art and the quest for love share a common denominator: If you find yourself regularly braving the 405 or 10 freeways in search of fulfillment, it must be serious. And so it was that in years past, cultural connoisseurs from points north, south and east made the pilgrimage to the Westside and UCLA's Royce Hall to take in a presentation curated by the Center for the Art of Performance.
Beginning in September, however, CAP UCLA will no longer play hard to get. The organization, known for presenting contemporary, often experimental, live performances is partnering with the Theatre at Ace Hotel in downtown Los Angeles to bring a third of its programming to the center of the city. The crosstown collaboration will include the Los Angeles premiere of Taylor Mac's critically acclaimed "A 24-Decade History of Popular Music," a Pulitzer finalist and one of the most buzzed-about pieces of performance art this year.
If there's a barrier that makes the goodness of what you do difficult for people to reach, you have to change something.
— Kristy Edmunds, artistic director of CAP UCLA
"The audience that was coming to Royce Hall was increasingly living on the Eastside," CAP UCLA artistic director Kristy Edmunds said over coffee at the Ace. "It's a lot of artists, a lot of younger creatives. It's harder for them to get across the wave of traffic. If there's a barrier that makes the goodness of what you do difficult for people to reach, you have to change something."
The Ace was thrilled by the prospect of multifaceted programming, said Kelly Sawdon, Ace partner and chief brand officer.
"What we measure as success is not going after one specific age group or demographic. It's about diversity and pushing creative culture," she says. "It's about supporting artists and creating communities that are also supportive of that."
Sawdon sat with her back to a picture window that looked out on the bustle of Broadway, the legacy of which, she said, the Ace is intent on capturing inside its refurbished Spanish-Gothic theater, originally built by United Artists in 1927.
The Ace anchors one key part of Broadway, which is dotted with historic theaters heading north toward Grand Park, forming a cultural corridor that ends by the theaters of the Music Center, Walt Disney Concert Hall, the Broad museum, the Museum of Contemporary Art and the Colburn School.
The Theatre at Ace Hotel has been establishing its identity as a place for unusual artistic and pop culture events. The theater scored a coup last year when choreographer Benjamin Millepied named it as the official home for his L.A. Dance Project, and it has been the site of popular events including David Lynch's "Festival of Disruption"
Since opening in 2014, the theater has hosted successful conversations. Cartoonists Matt Groening and Lynda Barry will talk at a CAP UCLA program in early October.
"The mission of the center doesn't change," Edmunds said. "No matter where we are, it's a state of mind."
The 1,800-seat Royce Hall will still be a key venue. Dance performances that require a big backstage and the intricate trappings of a traditional theater, for example, will stay at UCLA. Performances with a smaller footprint will make their way to the Ace.
A typical CAP UCLA season usually includes events categorized as dance, global music, indie folk, contemporary classical music, theater, jazz, words and ideas, plus a few hard-to-define acts that Edmunds categorizes as "emerging forms."
The 2017-18 season launches in September and will feature about 50 mainstage acts, Edmunds said. Fifteen will appear at the Theatre at Ace Hotel.
Highlights include a mid-career survey of the work of sound artist Ryoji Ikeda, who "basically creates poetry out of binary code," Edmunds said; Oakland-based jazz vocalist Goapele; Meow Meow, the "cabaret diva of glamour and goodness," with musician Thomas Lauderdale; and visual artist Suzanne Bocanegra in a conceptual talk about growing up across the street from the brothel that "The Best Little Whorehouse in Texas" was based on. That event will feature actress Lili Taylor on guitar.
Then there is theater artist Mac's "A 24-Decade History of Popular Music." The epic show is a cycle of four music, dance and spoken-word plays, each six hours long, that challenge an establishment culture rooted in sexism, racism and homophobia. The themes are explored through 246 popular songs from 1776 to 2016.
CAP UCLA commissioned two of Mac's decades, Edmunds said, and ultimately brought an abridged version of the show to Royce Hall last year.
"Then we started to look at where we would run the whole 24-hour body of work, and that was at the Ace," Edmunds said, adding that because it's a hotel, it will feel like a home to the performers, which is of utmost importance to her.
Home is on her mind. She believes that the number of artists who call Los Angeles home has reached critical mass. The city is changing, she said, and CAP UCLA aims to have its programming finger on the pulse of what's to come.
"L.A. is a completely irrational city, and the irrationality of a city creates creative liberty," Edmunds said. "While it's not inexpensive to live here, it is compared to what's happening in other metropolitan enclaves. Artists have found that you can only live in a closet clinging to life for so long."
ALSO:
Beverly Center as art gallery? How some big-name artists are behind those construction barricades
Shakespeare died 401 years ago, but original scripts from his era live on in a new digital archive
Choreographer Kyle Abraham on race, the MacArthur curse and dancing to Kendrick and Kanye
Near downtown L.A., an oddly entrancing art installation, at once beautiful and troubling
---
From the Oscars to the Emmys.
Get the Envelope newsletter for exclusive awards season coverage, behind-the-scenes stories from the Envelope podcast and columnist Glenn Whipp's must-read analysis.
You may occasionally receive promotional content from the Los Angeles Times.