Frieze art fair kicks off its big L.A. premiere. Step 1: Pull out the umbrellas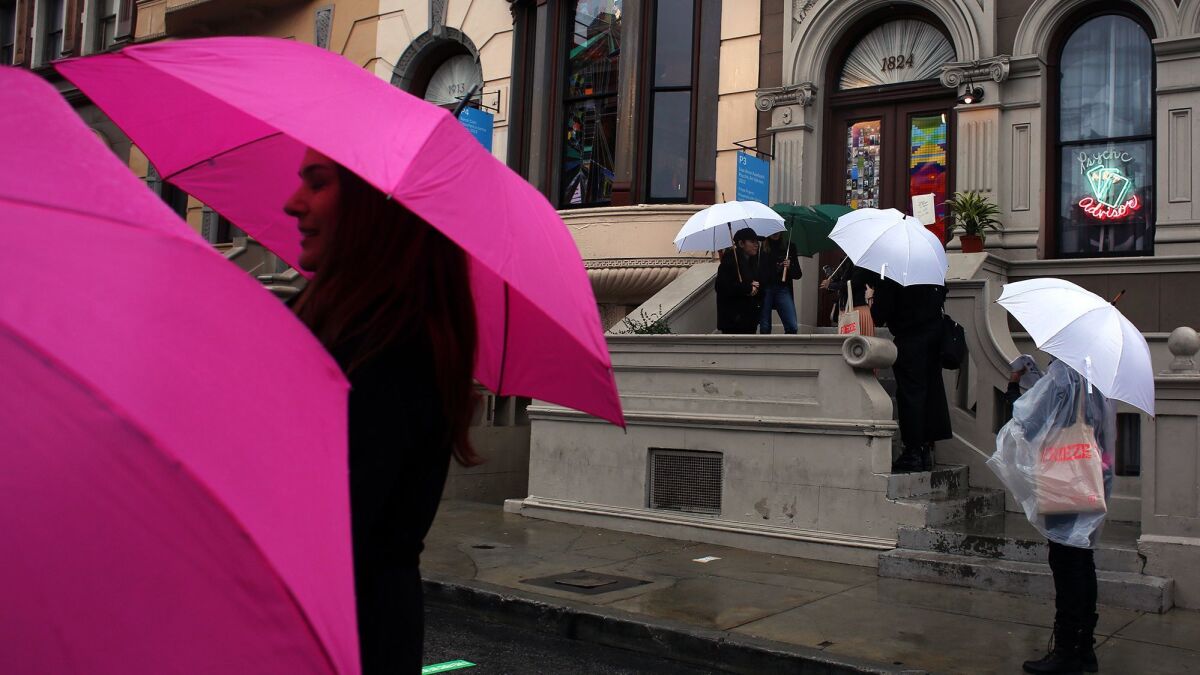 The Frieze art fair is arguing with Mother Nature — again.
Last year Frieze New York wrestled with a troublesome heat wave. On Thursday morning the inaugural Frieze Los Angeles faced off with an onslaught of rain.
Pink Frieze umbrellas peppered the fair's VIP preview as gallerists, artists, museum directors and collectors flowed onto the Paramount Studios lot, seemingly unfazed by the weather. Even a portion of the show staged on the faux streets of New York on the studio's backlot seemed camera-ready, appearing that much more authentic beneath a sky that was more East Coast gray than L.A. blue — save for the spindly palm trees buffeted by the wind.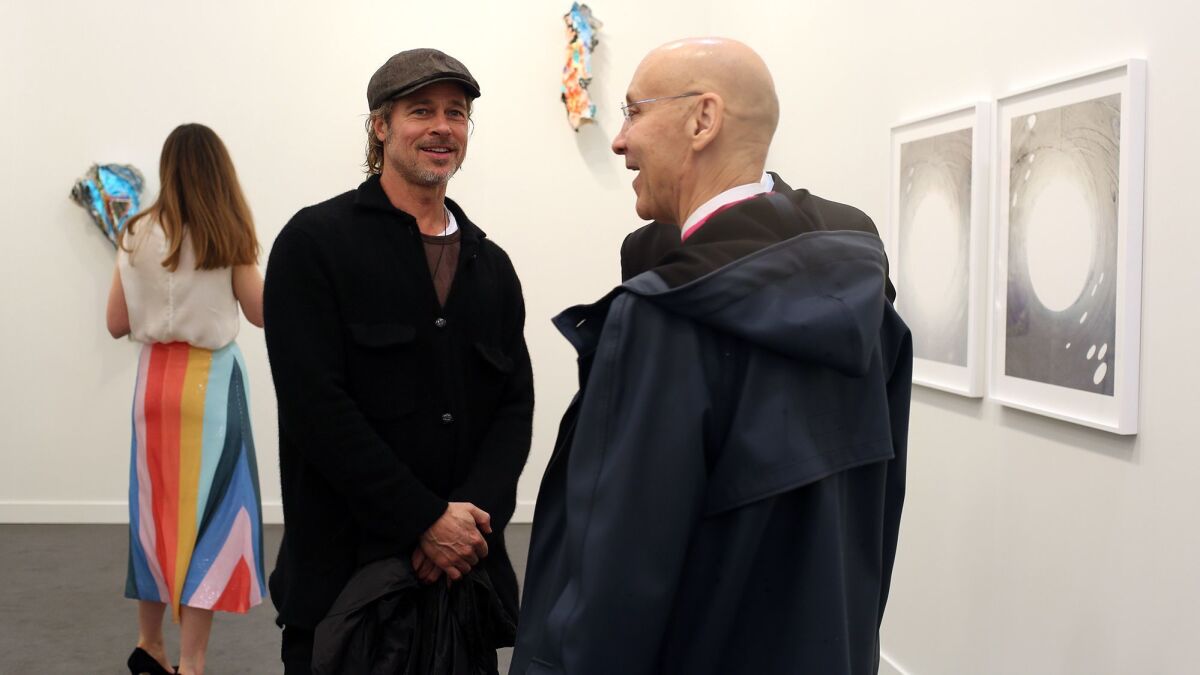 THE CRITIC: Christopher Knight's verdict on Frieze Los Angeles »
Brad Pitt, heading out of a VIP breakfast with a gray cap shielding him from the elements, declared: "I'm excited. It's about time the city got something like this."
"This" is an exhibition of 70 international galleries forming the first L.A. iteration of an art fair that started in London in 2003, followed by New York editions in 2012.
"The city has, for a long time, been a creative center, a hotbed for creativity," Mayor Eric Garcetti told The Times at the breakfast, which drew the likes of Marc Maron, Sylvester Stallone, new MOCA director Klaus Biesenbach and Broad museum director Joanne Heyler. "But now it's that for visual art specifically."
The storm added a wrinkle to the usual pre-show race to uncrate and install works in booths. Fair workers set up additional tents on the grounds for visitors to take cover, if needed. But Frieze Fairs director Victoria Siddall said the New York and London fairs, which take place in May and October and include outdoor areas, often deal with rain. "We plan for it," she said.
"We've been building up to this over the past year with a huge amount of planning and preparation, and the galleries will be housed in a tent indoors," Siddall said, adding: "It hasn't been an issue for us in the past. Our experience has been the weather doesn't stop people from enjoying the fair, and we hope that's the case in L.A."
The L.A. architecture firm wHY served as designers for the fair, a job that included laying out the gallery booths inside the tent as well as the pedestrian flow elsewhere on the Paramount lot. The 62,000-square-foot tent, a prefabricated structure provided by Frieze and tweaked by wHY, is made of double-layered vinyl. It's waterproof and raised off the ground, with a 3,800-square-foot entry pavilion that serves as a "buffer zone" between the outdoors and the gallery floor inside.
"It's completely protected from the elements," said wHY creative director Kulapat Yantrasast. "The rain makes it more difficult to move around from A to B, but we planned a lot and have covered and indoor places for people to hang out. Some of the restaurants, lounges and stores are indoors. It'll be like a real city."
Specifically: Manhattan.
The fair includes the outdoor backlot, lined with faux New York brownstones and storefronts. It will house the "Frieze Projects" series, site-specific art commissions by 16 artists organized by L.A. curator Ali Subotnick.
"The works in 'Frieze Projects' were made with the intent of being outdoors and are waterproof," Siddall said. "It feels very much like New York, except you can see the Hollywood sign in the background."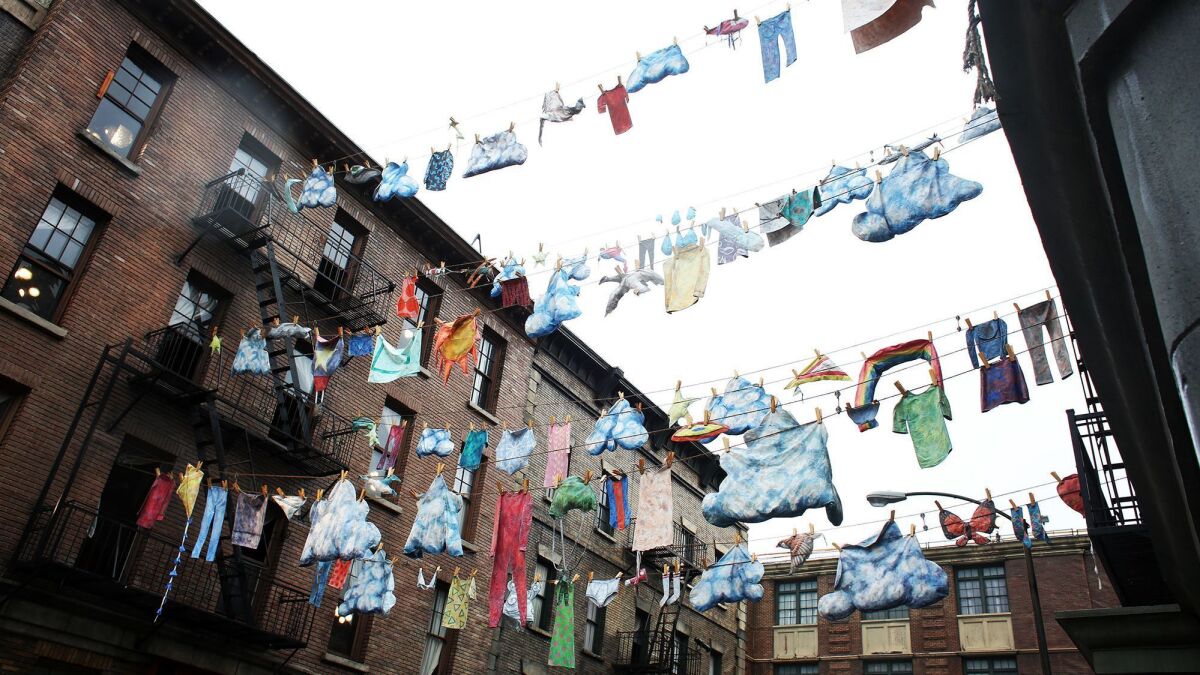 Among those under cover of the tent will be Gagosian Beverly Hills, which will show the drawing practices of L.A. artists including Thomas Houseago, Shio Kusaka and the late Chris Burden. Director Deb McLeod called the weather "disappointing" but wasn't worried. "I'm sure Frieze planned for it," she said. "And we'll be in a nice dry tent. It's been a quite smooth installation so far, even in the rain. We haven't seen any hint of problems."
Jessica Kreps, partner at New York-based Lehmann Maupin gallery, who's showing Iranian British artist Shirazeh Houshiary and Korean artist Do Ho Suh, said the number of people coming from out of town will outweigh weather concerns.
"It's blown us away how many collectors are coming in internationally," Kreps said. "They've traveled to L.A. for the fair and are using it as a platform to explore everything else going on in the art world here. They're not going to be deterred."
Weather-related drama marked Frieze New York, which last May featured more than 190 galleries in a 250,000-square-foot pavilion on Randall's Island. A heat wave affected temperatures inside the exhibitors tent and reportedly deterred some collectors, prompting Frieze to offer 10% compensation to all participating dealers.
Still, a record 44,000 visitors attended in five days.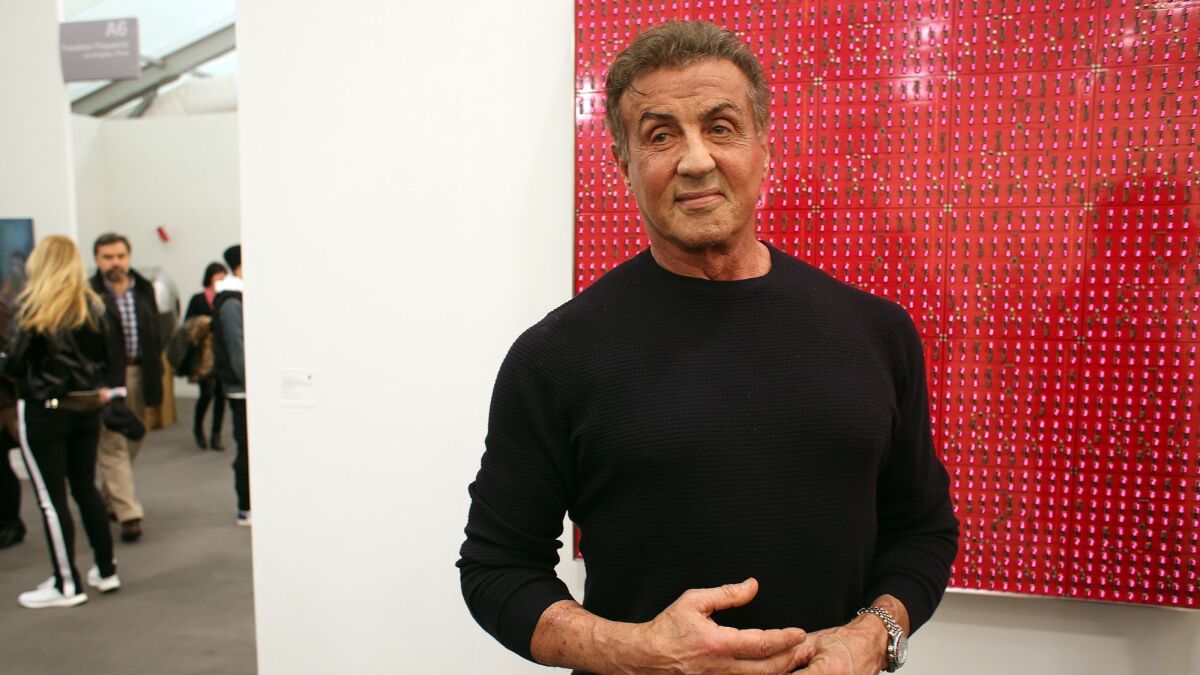 The day before the L.A. opening, the downtown gallery Hauser & Wirth wasn't concerned about weather, even though the gallery is debuting a high-profile work, senior director Stacen Berg said. It's devoting its entire booth to a Mike Kelly installation, "Unisex Love Nest," that the artist made in L.A. in 1999 but which has never been shown here before.
"We need rain; it's great for L.A.," Berg said. "Anyone will come out if there's a good reason — and Frieze is a great reason. The city is really rallied behind it."
The region has proved it isn't always rattled by rain. Photo L.A., the fair that ran Feb. 1-3 during heavy rainstorms, said more than 10,000 people attended compared with fewer than 7,000 in 2017. The only thing that hurt attendance, a representative said: the Super Bowl.
"We've been around 27 years and have a following, and being on the Westside helped," Photo L.A. owner Claudia Bartlett James said, referring to the turnout at Barker Hangar in Santa Monica. "But there are more people interested in art, in a general sense, and in photography. The larger institutions, like the Getty and LACMA, have pushed the agenda, and that's helped."
Artist Lisa Anne Auerbach's installation piece at Frieze L.A., called "Psychic Art Advisor," has performers providing counseling sessions for fair attendees unsure about what to buy. Her weather prediction — and how it will affect Frieze?
"It'll be fine. People do seem a little freaked out, but it's great to have rain in California," Auerbach said. "There'll probably be less people partying outside — but they'll just be inside. There's enough VIP rooms where people can hole up. If you're coming from Europe or New York, you just wear your galoshes."
Follow me on Twitter: @debvankin
---
Get our L.A. Goes Out newsletter, with the week's best events, to help you explore and experience our city.
You may occasionally receive promotional content from the Los Angeles Times.