Let the power of 'Hamilton' speak louder than a Twitter feud
Forgive me if I don't take this moment to congratulate the theater community on its self-congratulatory outcry against our new tweeter-in-chief Donald Trump, who used his megaphone this weekend to denounce the reception given to Vice President-elect Mike Pence at the Broadway musical "Hamilton."
Video footage of Pence being booed by fellow theatergoers as he made his way to his seat at the Richard Rodgers Theatre on Friday night quickly went viral. At the curtain call, as Pence was making his getaway, Brandon Victor Dixon, who plays Aaron Burr, read a speech that was written on the fly by members of the show's creative team, including author Lin-Manuel Miranda, producer Jeffrey Seller and director Thomas Kail.
These are the words Dixon spoke with great respect and sincerity: "We, sir — we — are the diverse America who are alarmed and anxious that your new administration will not protect us, our planet, our children, our parents, or defend us and uphold our inalienable rights. We truly hope that this show has inspired you to uphold our American values and to work on behalf of all of us."
Enter Donald Trump, tapping away at his touchscreen from one of his golf resorts. Amid a news cycle busily reporting the $25 million he paid out to settle lawsuits against Trump University, the president-elect lashed out on Twitter for the way his VP was treated.
One of the tweets, criticizing the actor for not memorizing the curtain speech, was deleted. Tweet No. 2 was particularly exasperating to those who believe the next leader of the free world (who ought to be boning up on Islamic State and the budget) should be scrupulous about facts. Trump typed: "The Theater must always be a safe and special place. The cast of Hamilton was very rude last night to a very good man, Mike Pence. Apologize!"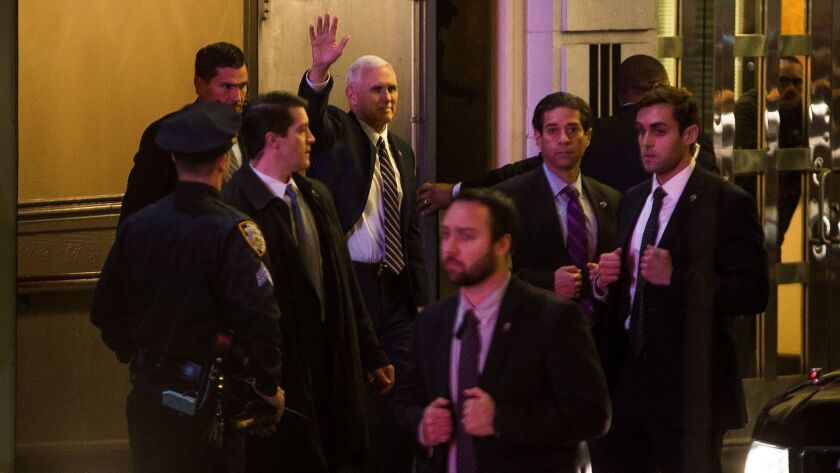 The truth is that Pence, a public figure who will soon be second in command to the president, wasn't rudely treated or "harassed" (as Trump's first tweet put it) by the company. He was politely addressed by Dixon. It was the audience that jeered, not the actors. Pence, more statesmanlike than his boss, has not only described the booing as "what freedom sounds like" but also praised the musical and said he wasn't at all offended.
Many in the theater community have been decrying Trump's distortions and inaccuracies, his ill-informed assertion that the theater should be "a safe and special place" (rather than a place where artistic truth is spoken to power) and his rather petulant demand that the cast apologize. I stand with these individuals in rejecting Trump's remarks, just as I stand with those protesters of Trump who are exercising their freedom of assembly and the newspapers all across this nation exercising their 1st Amendment rights by publishing critical stories of Trump's myriad (and unprecedented) conflicts of interests.
But I think we may have fallen into a trap here. The most eloquent case that can be made for the pluralistic values endorsed by "Hamilton" is the musical itself. What happened during the curtain call involved artists, yet it wasn't really about art. It was about theater etiquette and those moments when the democratic imperative of speaking out overrides all other considerations. I don't see the incident as an egregious breach of decorum myself. But nor do I think this is the occasion to get on our high horses and preach to one another in our echo chambers about the nobility of our artistic mission. The constitutional stakes are too high for sanctimony.
Conservatives would like nothing more than to throw kerosene onto the reignited culture war between the proverbial elites and the mythological ordinary Joes. A Broadway musical in which scalpers are getting thousands of dollars for a semi-decent seat is an ideal battlefield for those on the right to opportunistically wage this campaign.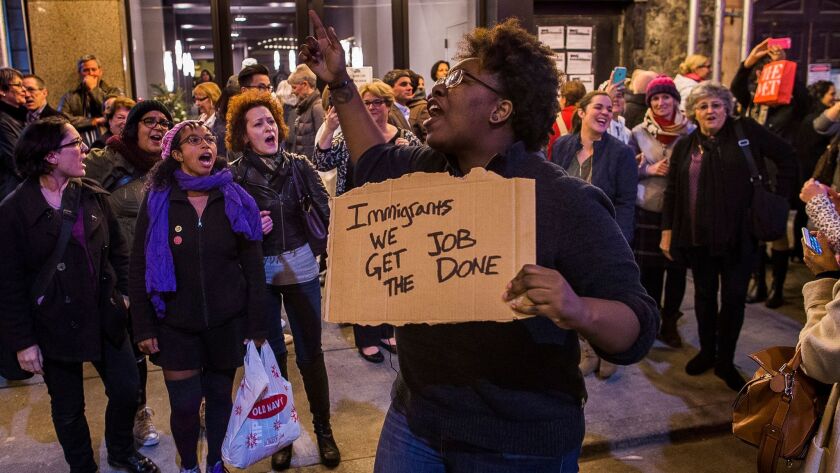 Artists would be better served to channel the anger and disgust they feel into their work. Let dissent inflame their imaginations. Theater practitioners and patrons — in other words, citizens — would be advised to expand the focus of their outrage. America's 45th president, a businessman with notoriously thin skin and a penchant for payback, seems dangerously intent on squashing protest, not only in acts but also in speech and thought. Trump obviously enjoys juggling multiple skirmishes — the better to distract when an opposing side is momentarily gaining an advantage.
But this is a time for unity of opposition. The same weekend that Trump took on "Hamilton," he also (once again) took on "Saturday Night Live," with Alec Baldwin's Trump lampoon leading the show. Trump's sniping at major media outlets for unflattering coverage continues apace even as he perpetuates the unfounded claim that many of the protesters outside of Trump Tower and elsewhere are paid operatives. It is the 1st Amendment, not Broadway, that is really under siege.
I have great reverence for theater's long and unique history of dissent from the status quo. Euripides' anti-war plays powerfully rebuked Athenian imperialism. Ibsen's domestic dramas anatomized the manifold hypocrisies of the rising middle class. Brecht's epic drama critiqued the capitalist structure of modern society as Europe tore itself to pieces. Tony Kushner, in the deadliest days of the AIDS epidemic in America, breached the wall of silence that Reagan's conservative revolution had erected.
"Hamilton" is the most powerful theatrical rebuttal to the anti-immigration sentiments whipped up by demagogues. I hope Pence took in the inclusive vision of the show. And we should all dearly hope that Trump gets a special invitation to a musical that extends the vision and values of our Founding Fathers for a diverse 21st century America.
Follow me @charlesmcnulty
ALSO
Aaron Burr in another duel — this time with Donald Trump
What's next for the stars of 'Hamilton'?
'Hamilton' star Leslie Odom Jr. finds the music in life
How to get 'Hamilton' tickets for L.A. and San Francisco? It's complicated
How 'Hamilton' could teach the Oscars a lesson on diversity
The emotional hooks of 'Hamilton': Why the soundtrack makes me cry every single time
---
The complete guide to home viewing
Get Screen Gab for weekly recommendations, analysis, interviews and irreverent discussion of the TV and streaming movies everyone's talking about.
You may occasionally receive promotional content from the Los Angeles Times.