The museum director will see you now: 'Office Hours' at DTLA's new Main
Office hours are in session. And there are cookies.
Allison Agsten, director of the Main Museum, sits patiently at a glass bistro table in a historic former bank building downtown. The lobby, with its polished tile floor and soaring ceiling, is being renovated into the Main; it's mostly vacant but for a tidy reception area on one side and Agsten's minimalist working space on the other.
Agsten sits with her hands crossed on her lap as local artist Cynthia Minet unwraps a large, framed drawing of two hawks in the air. On the table is a vase of fresh flowers, a plate of chocolate chip cookies, an open laptop and pink file folders housing Agsten's notes. The vibe is arts administrator-meets-high school guidance counselor-meets empathetic best friend.
"It's a double hawk piece," Minet says, enthused and nervous at once. "I do studies for my sculptures to work out the gesture and the feeling."
Agsten says Minet's process is interesting and nods to pictures on the laptop of the artist's illuminated, recycled-plastic animal sculptures.
"I have an upcoming project at the Craft & Folk Art Museum," Minet says to the reporter, "and Allison and I were just talking about how I can use some of this sensibility in combination with what I'm planning to do."
The meeting is part of the museum's annual "Office Hours" program, now in its second year, in which the first 50 artists who signed up have scored a one-on-one chat with Agsten to review their work. A 2 1/2-week "Office Hours" show opens Wednesday evening in the museum's lobby gallery.
As their talk winds to a close, Agsten leans in, concerned.
"My one question that I like to end on, that I ask everybody, is: What do you think the most pressing question is for L.A. artists right now?"
"Oh my goodness," Minet says, without skipping a beat. "Rent. Downtown it's really a problem. People are being pushed out of their spaces."
Agsten listens, intently, nodding and occasionally scribbling notes. The conversation wraps up with the two embracing.
"Take a cookie with you," Agsten says, seeing Minet off.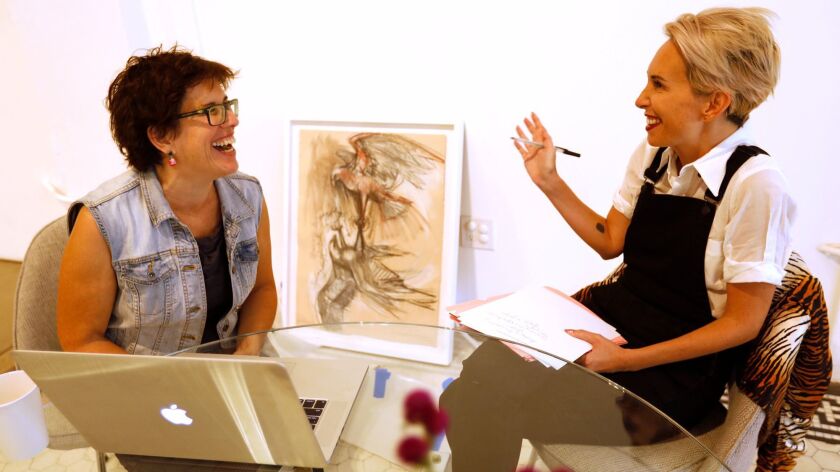 Exposing local talent is central to the Main Museum's mission. The museum is a non-collecting institution devoted to exhibiting and also to developing L.A. artists. With funding from downtown developer Tom Gilmore, it began renovating the 1903 Hellman Building on 4th and Main streets last year. It also will take over space in the 1905 Farmers and Merchants Bank building and the adjacent Bankhouse garage. The combined storefronts will amount to more than 40,000 square feet of exhibition space. The museum will have studios for artists-in-residence, a rooftop cafe, a sculpture garden and an amphitheater.
But all of that's a ways off. The final phase of construction is scheduled to be completed in 2021. In the meantime, the museum debuted as Beta Main in October 2016. As construction hurtles forward, with walls coming down and century-old basement bank vaults pried open, Beta Main has been opening to the public periodically for exhibitions and community engagement projects.
"Office Hours" is one of its core programs. In any given day, Agsten meets five or six artists in various stages of their careers. Artists get a chance to exhibit but also provide a lens into issues that they're thinking about and grappling with.
"It really gives a sense of our ethos — we really care about all artists and we care about community, we care about our neighbors," says Agsten, who previously served as curator of public engagement at the Hammer Museum.
The inaugural "Office Hours" resonated so well, Agsten says, that this year the meeting slots filled up just two minutes after the sign-up sheet went live online.
Although Beta Main has exhibited established contemporary artists such as Suzanne Lacy, Andrea Bowers and Edgar Arceneaux, the point of the "Office Hours" exhibition is inclusivity — artists like Minet who have shown in museums as well as first-timers.
"I met someone last night who had never really talked to anybody about his work as an artist before," Agsten says. "He said to me, 'I feel like the only thing holding me in right now is this building. I feel like when I leave this space, I'm gonna be a giant.'"
Last year Agsten met Rachel DuVall and was blown away by her work. This year, Beta Main will present a solo show of DuVall's textile art.
"The second she showed me her work …" Agsten just shakes her head in disbelief. "She makes these beautiful textiles kind of messing with minimalism. She hand dyes and weaves them, then attaches them together, and there's this kind of irregularity that occurs. This is just an exciting opportunity to reveal her work to the public."
The museum is building five studios for artists-in-residence. The nine-month program, which begins in February, includes an honorarium of $1,000 a month for each artist. "But it's more about the sense of community this will provide for them," Agsten says. "There's this easy exchange of ideas."
Adds deputy director Alex Capriotti: "We know how important studio space is for artists, especially in L.A. and especially with the housing crisis. So the artists-in-residence program is a really core program of the Main."
Like its artists' work, Beta Main is very much a work-in-progress. Under Nora Gordon of the downtown architecture firm Land Office, there's wondrous, messy construction around semingly every corner as the staff works tucked away on the mezzanine.
The complex, which will amount to 100,000 square feet upon completion, includes a basement level of steampunk-like bank vaults that Agsten says will house art installations and performances. One floor below that is what Agsten calls the "super-secret sub-atomic basement." It had functioned as an atomic bomb shelter and will eventually also house art, parties and performances.
The Main's 2,700-square-foot mezzanine gallery is set to open in February.
When, exactly, Beta Main will transition to the Main Museum, however, is still up in the air.
"I'll know when I know!" Agsten says, laughing.
Back upstairs, sunlight flows through the airy lobby and passersby on the sidewalk wave at Agsten through the picture windows.
"Office Hours" may be over for the year. But Beta Main's doors — and ears — are open to L.A. artists.
"We're reflecting our community," Agsten says. "And our mission is to engage the public with the most important ideas of our time through the art of Los Angeles."
♦ ♦ ♦ ♦ ♦ ♦ ♦ ♦ ♦ ♦
'Office Hours + In Focus: Rachel DuVall'
Where: Beta Main, 114 W. 4th St., LA
When: Opening 7-8:30 p.m. Wednesday; noon to 7 p.m. Wednesday-Sunday
Admission: Free
Info: (213) 986-8500, www.themainmuseum.org
Follow me on Twitter: @debvankin
---
The complete guide to home viewing
Get Screen Gab for weekly recommendations, analysis, interviews and irreverent discussion of the TV and streaming movies everyone's talking about.
You may occasionally receive promotional content from the Los Angeles Times.