Review: Hershey Felder, chameleon of musical characters, slips into Debussy colors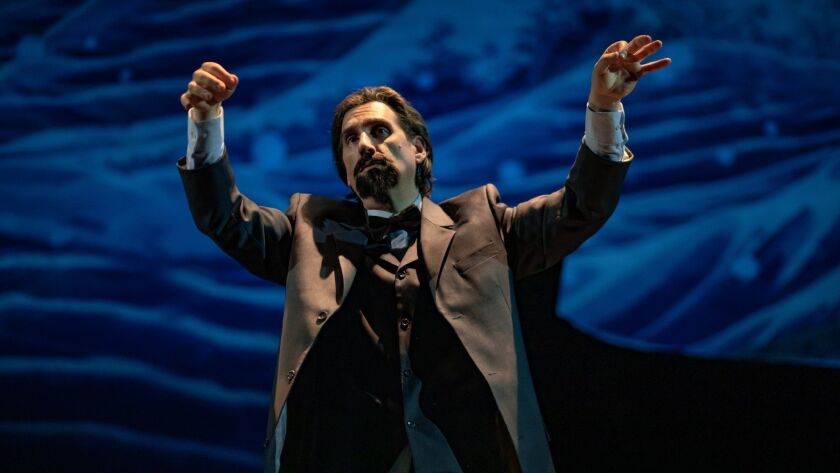 Only Hershey Felder can get away with putting his name before Claude Debussy's. Take his latest solo bio-drama at the Wallis Annenberg Center for the Performing Arts, "Hershey Felder: A Paris Love Story, featuring the music of Claude Debussy."
As actor, storyteller and pianist, Felder takes command with inviting ease. Audiences listen, even when he's explaining and demonstrating Debussy's revolutionary use of whole tone or pentatonic scales, or showing us how to differentiate between a perfect 4th, and an augmented 4th unresolved.
Like Leonard Bernstein, whom he portrayed in "Maestro," Felder is an impressive communicator and, with Meghan Maiya's help, a tireless researcher with a stunning text and musical memory. Especially in "A Paris Love Story," his eighth composer bio-drama following the likes of "Our Great Tchaikovsky" and "Hershey Felder as Irving Berlin," he finds the right balance between musical scholarship, personal memoir and Debussy's biography.
NEW IN L.A. THEATER: 'Herland,' 'Harvey' and, yes, that porn musical »
Felder initially appears as himself on the spare stage set, which he designed — two half bridges over the Seine. His connection to Debussy's music began at age 6 when he learned to play the immortal "Clair de Lune." The tune gave solace to his dying mother. Then Felder, at the piano, unobtrusively puts on a mustache and goatee, and voila: He becomes the prickly Debussy.
Born in 1862, Debussy had tumultuous affairs (two of his lovers attempted suicide), but mostly he lived a rich interior life. As Felder shows, it was through music that Debussy became a kinder, more giving man.
Sound designer Erik Carstensen provides enough passages from game-changing orchestral works, like "Afternoon of a Faun" and "La Mer," and Felder performs the colorful keyboard music, including pieces from "Estampes," "Images" and Debussy's two books of "Préludes."
TONY AWARDS: Why 'Constitution' and not 'The Ferryman' should win best play »
Paris may be the City of Light, but the set here is sometimes as dark as the Battle of Winterfell. Directed by Trevor Hay, the production benefits from Christopher Ash's judicious projection designs. While Felder performed Debussy's wonderful "L'isle Joyeuse," Ash's images, abstract and murky, allowed room to rouse the imagination.
Incidentally, after the performance of "Love Story" I saw, almost everybody stayed for a lively post-concert Q&A. Remaining performances are reportedly selling fast, and the Wallis just added Felder's "The Great American Songbook Sing-Along," a one-night only show on June 11.
=====
'Hershey Felder: A Paris Love Story'
Where: Wallis Annenberg Center for the Performing Arts, 9390 N. Santa Monica Blvd., Beverly Hills
When: 7:30 p.m. Mondays-Fridays, 2 and 7:30 p.m. Saturdays, 2 and 7 p.m. Sundays, through June 9; see website for additional show times June 13-16
Tickets: $35-$105 (subject to change)
Info: (310) 746-4000 or TheWallis.org/Debussy
Running time: 1 hour, 30 minutes (no intermission)
=====
The best way to support coverage of local theater is to read our latest news and reviews at latimes.com/arts and to become a digital subscriber.
---
From the Oscars to the Emmys.
Get the Envelope newsletter for exclusive awards season coverage, behind-the-scenes stories from the Envelope podcast and columnist Glenn Whipp's must-read analysis.
You may occasionally receive promotional content from the Los Angeles Times.