Midway through Hershey Felder's one-man show, "Our Great Tchaikovsky," a touchingly idealistic moment occurs when the Russian composer says, "Music doesn't have a nationality. It is simply human."
If only the intolerant Russian government thought so. The tragedy of homophobia, still pervasive in Vladimir Putin's Russia, runs through Felder's play, now onstage at the Wallis Annenberg Center for the Performing Arts.
Pyotr Ilyich Tchaikovsky, by all accounts gay and forced to remain closeted on penalty of being sent to Siberia (he was also easy prey for blackmailers), led a tortured life in 19th century Russia. Now as then, the country celebrated him for his music — ballets like "Swan Lake" and "The Nutcracker," symphonies like the Fourth and Sixth "Pathétique," and his beloved piano and violin concertos — all too willing to discard the actual person who created them.
"Our Great Tchaikovsky," written by Felder and directed by Trevor Hay, is a somber play with a double-edged title. At 105 minutes without intermission, it feels long. Nevertheless, people are flocking to see it. The premiere at San Diego Repertory Theatre in January was reportedly the company's highest grossing show in 41 seasons. And less than a week after its July 19 opening in L.A., the Wallis has already extended its run through Aug. 13.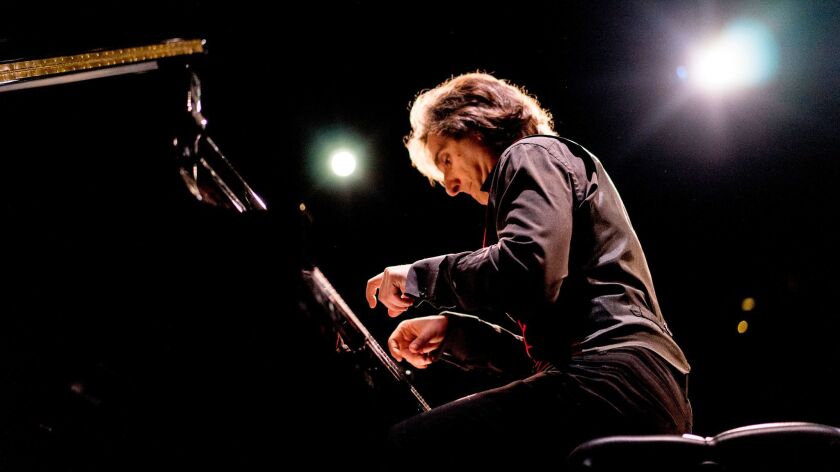 Felder, a Canadian musician and actor, specializes in biographical portraits of musical masters. So far, he's tackled Gershwin, Berlin, Chopin and Beethoven. "Maestro," Felder's portrayal of Leonard Bernstein, appeared at the Wallis last season. Next year, Felder will take on Beethoven at the Wallis.
In "Our Great Tchaikovsky," Felder's exploration of a composer's agonizing emotional-sexual life is set in a vastly different context of intolerance, fear and persecution. No one was going to send Bernstein to Siberia for being, in his case, bisexual.
The play opens with Felder, as himself, showing us a 2013 letter from the Russian government inviting him to perform as the country's national hero. This, after the Russian minister of culture had just officially declared the composer not gay.
Felder then takes on the persona of Tchaikovsky, with an impeccable Russian accent and pronunciation. As a showman, Felder's feat of memory — he performs on piano while speaking, and he also sings — is assured. The lighting and projection design by Christopher Ash, costumes by Abigail Caywood and scenic design by Felder himself, take much care to set the 19th century mood. (Reportedly, the carpets and antique furniture are authentic period pieces.)
Yet Felder crams an awful lot of information into the play, including Tchaikovsky's disastrously brief marriage in 1877 to Antonina Ivanovna Milyukova, his pupil at the Moscow Conservatory. A section toward the end, reviewing the mystery surrounding his death, either from cholera or suicide in 1893 at age 53, remains intriguing.
Oddly, Felder breaks the mood of the play at several points. In one, he suddenly announces, again as himself, that what's being told about the composer's personal and family life is true. These contrived moments make an already diffuse play feel more tentative.
Felder's focused work on the piano, aided occasionally by recorded orchestral accompaniment (the sound design is by Erik Carstensen), includes Tchaikovsky's evocative piano miniatures "The Seasons," transcriptions of "Swan Lake" and "The Nutcracker" and the First Piano Concerto. His eloquent renditions buoy the play, preventing it from grinding into a live-action Wikipedia entry.
The question Felder poses at the start of the play is answered at the end. Will he perform Tchaikovsky in Russia? Will he show them the human being who also happened to be a great composer, or the government-stamped icon?
To be sure, the answers are unsurprising, and for some, there may be a lingering sense of Felder patting himself on the back. The heavy-handed last image projected on the screen, perhaps meant to suggest a still-pernicious Russia, may send many theatergoers away confused. Even so, they'll likely be humming a few of Tchaikovsky's immortal tunes.
-------------
'Our Great Tchaikovsky'
Running time: 105 minutes
When: 8 p.m. Tuesdays through Fridays, 2 and 8 p.m. Saturdays and 2 and 7 p.m. Sundays, through Aug. 13.
Where: Wallis Annenberg Center for the Performing Arts, 9390 N. Santa Monica Blvd., Beverly Hills
Cost: $35-$75
Info: (310) 746-4000, thewallis.org
Sign up for our weekly Essential Arts & Culture newsletter »
ALSO
The iPalpiti festival: 20 years of peace through music
Gustavo Dudamel speaks out on Venezuela's constitution fight: 'The present is the future'
Review: 'Sondheim on Sondheim': A Broadway baby in symphonic clothes
The pitfalls and joys of taking a stand with music and with youngsters
---