Review: Idina Menzel is radiant in the flawed 'If/Then' at the Pantages
Los Angeles Times Theater Critic
Idina Menzel is such a beloved Broadway talent that it only makes sense that a show built around her would give us two Menzels for the price of one.
"If/Then," the 2014 Broadway musical now at the Hollywood Pantages, makes the most of its luminous star by splitting her character, Elizabeth, into two versions of the same woman. Both are urban planners in their late 30s who have recently moved back to New York from Phoenix after a bitter divorce, but from there the road diverges.
Liz, who wears glasses for that sexy smart look, takes the path that leads to love, with all the risk and heartache that go along with it. Beth, more nose to the neurotic grindstone, opts for a high-powered career that entails more than a few lonely nights.
SIGN UP for the free Essential Arts & Culture newsletter >>
The show, written by Tom Kitt and Brian Yorkey, the team behind the Pulitzer Prize-winning musical "Next to Normal," explores the alternative autobiography each of us secretly writes by imagining what would be different had choice B won out over choice A.
The authors aren't consumed with the long-standing feminist concern of whether a woman can have it all. The inherent conflicts and trade-offs between professional ambition and domestic happiness are touched on but only peripherally.
Idina Menzel has the kind of charm that Marlo Thomas and Mary Tyler Moore put to captivating use on television in the 1960s and '70s.
Charles McNulty, Los Angeles Times Theater Critic
Underlying this musical is the inescapable reality of loss. It's not just that when you choose, you lose the other options. Loss is inevitable no matter what you do. As the poet Elizabeth Bishop famously put it, "The art of losing isn't hard to master." Living turns us all, sooner or later, into experts.
This might make the show seem downbeat, but "If/Then" plays for the most part like a contemporary urban comedy — gleaming, giddy and a bit too glamorous to be fully convincing.
The musical is overstretched — a function not only of telling alternative stories of the same character but also of placing a romantic tale within the frame of tragedy. Yorkey's sprawling book cries out for a ruthless editor.
Making the show seem longer is the generic quality of much of the score. Kitt's music has a contemporary Broadway pop sound that doesn't emotionally deepen or add distinctive texture to the drama. And Yorkey's lyrics, though playful, keep hammering the same thematic points about fate, responsibility and the eternal mystery of the future.
The appealing cast, under the direction of Michael Greif, goes a long way toward mitigating the show's shortcomings. In addition to Menzel, who earned a Tony nomination for her performance in "If/Then," the ensemble includes several other key members of the original Broadway production.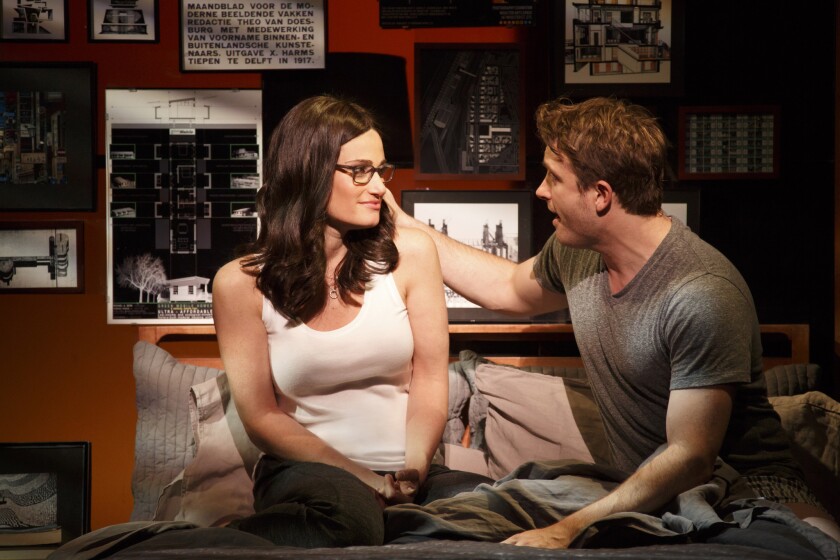 LaChanze, as bright and ebullient as ever, plays Elizabeth's new best friend, Kate, a lesbian kindergarten teacher of irrepressible verve who urges Liz to open herself up to the crapshoot of dating again and Beth not to sabotage the professional opportunities she's earned through hard work and brilliance. James Snyder reprises his role as the dreamy Army doctor who snatches Liz's heart despite her resistance to what she argues is the statistically improbable notion of love working out for a high-strung divorcee who can see 40 on the horizon. (Not to give too much away, but a too-good-to-be-true love story with a military hunk is usually a recipe for tears.)
Anthony Rapp, Menzel's costar from "Rent," also directed by Greif, plays Lucas, Elizabeth's bisexual pal from college. A committed community activist with a stunted personal life, he challenges her to live up to her ideals while trying to rekindle their tentative romantic connection. Lucas gets a little further with Beth than he does with Liz, but in both cases it's a rather complicated attachment.
This would seem to be Elizabeth's specialty. As Liz, she does everything she can to elude her prince, the determined fantasy figure Josh. And as Beth, she is so repressed that she winds up acting inappropriately in moments of weakness, making a pass at her dashing though inconveniently married boss, Stephen (Daren A. Herbert), and inviting Lucas to spend the night.
Menzel has the kind of charm that Marlo Thomas and Mary Tyler Moore put to captivating use on television in the 1960s and '70s in their portrayals of unmarried women. But she's also comfortable exposing a messy side that isn't all that easy to explain, never mind tidy up.
"If/Then" gives her the opportunity to reveal Elizabeth's manifold contradictions. Unfortunately, this elaborate character study makes for an unwieldy drama, one that grows tedious as Kate's faltering relationship with Anne (Janine DiVita), a marriage that soon has Kate breaking out the do-it-yourself divorce books, and Lucas' stuttering courtship with David (Marc delaCruz), a doctor Josh sets him up with, are used to mirror Elizabeth's romantic difficulties.
Menzel's voice, a slightly nasal siren that can swoop as well as blast, was built for the power ballads of "Wicked" (the show in which she earned a Tony for playing the affectingly green Elphaba) and the Disney animated film "Frozen" (her rendition of the Oscar-winning song "Let It Go" at one point was, I believe, the only song legally permitted to be played on the radio). I left the Pantages with no number permanently implanted in my brain, but the effect of Menzel's singing is nonetheless impressive.
The show, which unfolds on a sparkling urban set by Mark Wendland that's given a kinetic New York kick by the projections of Peter Nigrini and Dan Scully, never loses sight of its charismatic star. "If/Then" isn't able to transcend its flaws, but Menzel's radiance is something to behold.
---------------------------
'If/Then'
Where: Hollywood Pantages Theatre, 6233 Hollywood Blvd., L.A.
When: 8 p.m. Tuesdays through Saturdays, 2 p.m. Wednesday, Saturdays and Sundays (exceptions and additions at www.HollywoodPantages.com/If/Then). Ends Jan. 3.
Tickets: Start at $35
Contact: (800) 982-2787 or www.HollywoodPantages.com
Additional stops: Jan. 5 to 10 at the San Diego Civic Theatre; www.broadwaysd.com/if-then.htm. Jan. 19 to 24 at Segerstrom Center for the Arts in Costa Mesa; www.scfta.org. National tour site: ifthenthemusical.com
Running time: 2 hours, 35 minutes
---
Inside the business of entertainment
The Wide Shot brings you news, analysis and insights on everything from streaming wars to production — and what it all means for the future.
You may occasionally receive promotional content from the Los Angeles Times.