Images of Muhammad and a Texas cartoon show's sketchy purpose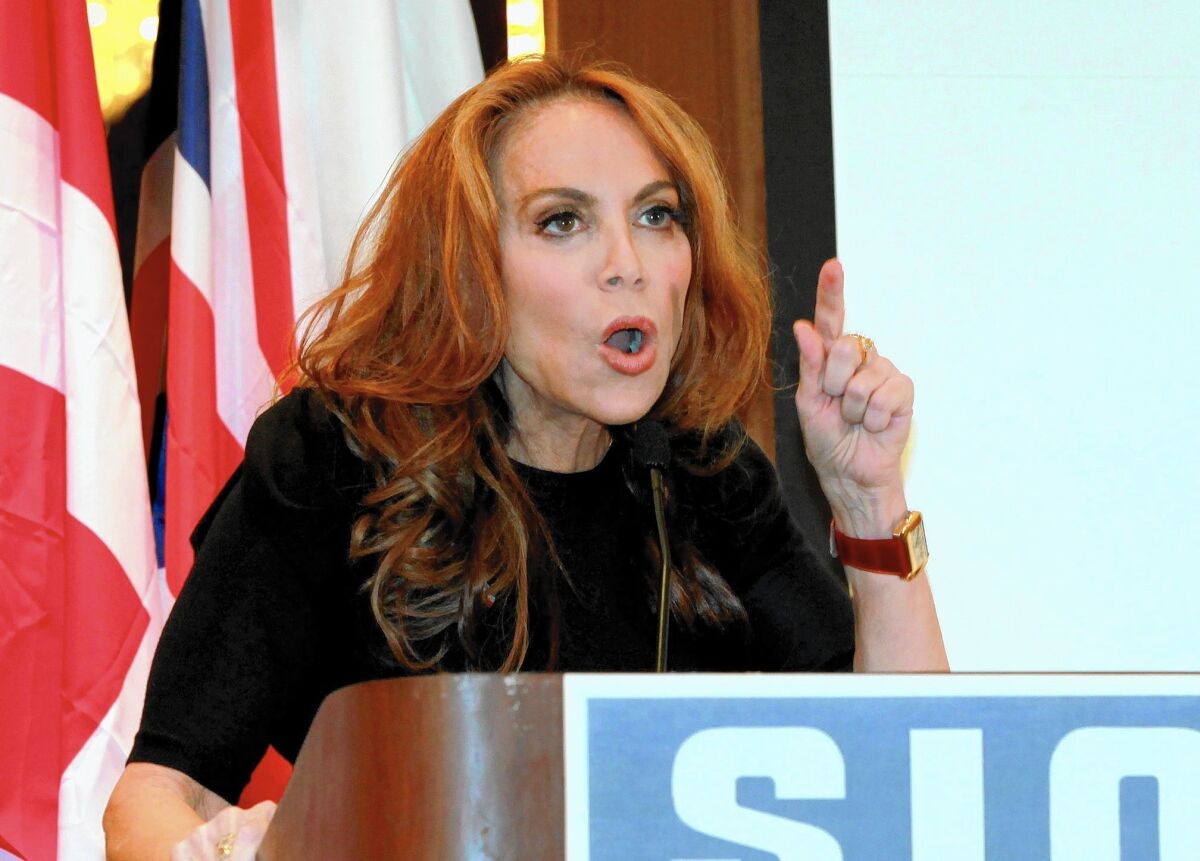 Los Angeles Times Art Critic
Pamela Geller, president of the American Freedom Defense Initiative, which organized the Muhammad Art Exhibit & Contest near Dallas that led to a fatal shooting Sunday, is a staunch supporter of the cherished American freedom to do something stupid.
The former Manhattan socialite proves it almost any time she opens her mouth, and she proved it yet again by organizing an art contest to determine who could produce a cartoon about the prophet of Islam — knowing that many Muslims consider this to be sacrilege.
Now two people are dead.
It's one of those awful moments when there is no one to root for on either side.
The contest took place in suburban Garland, 40 minutes northeast of Dallas. It was cranked up in response to Stand With the Prophet in Honor and Respect, a recent local conference there on teaching Muslims how to combat negative depictions of their faith.
Nearly 10% of the Garland community is of Asian descent, many from the Muslim countries of Malaysia and Indonesia. Their number is nearly triple the proportion in other Texas cities. Geller decided that their conference was mistaken — that more negative depictions of Islam, not fewer, were needed.
Coincidentally, the January conference took place less than two weeks after Muslim terrorists in Paris gunned down a dozen people at the offices of Charlie Hebdo, the French satirical weekly newspaper that regularly insulted Muhammad.
Tensions were running high. Georgetown University religion professor John Esposito, who spoke at the Stand With the Prophet meeting, described the event to the Dallas Morning News as part of a nationwide series to discuss terrorism, hate speech and anti-Islam fears.
"I go to Muslim countries, and I speak all over the United States," he told the newspaper. "What's interesting to me is that this is the first time that I've been in a situation that I've come to speak and I've seen this level of hate."
The animosity continued to rise.
Less than two weeks after the conference, Austin was the scene of the seventh annual Texas Muslim Capitol Day, where participants gather to meet with state legislators and exercise their democratic prerogative. The Houston Chronicle reported that it was the first time the event was greeted by virulent anti-Islam protests.
Paris, Garland, Austin — on Sunday back in Garland the mounting conflagration finally exploded. The bloodshed at the Muhammad Art Exhibit could have been much worse (about 200 people showed up to ogle the cartoons).
Who looks good in this mess? Not Geller, whose
AFDI is recognized as a hate group by the Southern Poverty Law Center, which tracks the activities of organized extremists and domestic terrorists across America. And not the shooters, a couple of would-be assassins about whom little is yet known.
The pair apparently drove from Phoenix to carry out a murderous rampage against the event. After wounding a security guard, they were foiled by a responding police officer.
The Muhammad Art Exhibit at the Curtis Culwell Center featured a contest for the best caricature of the prophet, complete with a $10,000 top prize. Entries rose to the level of junior high school notebook doodles pumped out by pimply, insecure adolescents.
They included images of the prophet impaled on a pencil; sporting a beard filled with teeming snakes; juggling severed heads while riding a unicycle; and, defecating and urinating on the Koran while sporting a toilet-paper turban.
The winner of this hard-fought contest was Bosch Fawstin, an Ayn Rand-besotted, ex-Muslim cartoonist who once created an anti-Islam comic book character named Pigman.
The artist's primary claim to fame is a memorable 2011 appearance on "The Daily Show With Jon Stewart" in which he fretted over the danger he saw looming in the comics. Nightrunner, an Algerian Sunni Muslim superhero, had been recruited by Batman in the fight against crime.
"Might I remind you," asked Aasif Mandvi, the skeptical "Daily Show" correspondent, "that Nightrunner is not real?"
"Doesn't matter," Fawstin replied. "Batman is not immune from what is going on in the real world."
The creator of Pigman was referring to the power of images, I suppose, as if that were some sort of profound insight. His Garland cartoon is a pen-and-ink rendering that shows his own two hands drawing a scimitar-wielding prophet, who snarls, "You can't draw me!"
"That's why I draw you," the cartoonist replies in what passes for a thought bubble. It echoes the stubborn wail of an insistent toddler warned against touching a hot stove.
Yes, indeed, you can draw him. I just can't help but wonder why you'd want to.
To pump up the hate, perhaps?
Geller and her claque pretend that they are the beleaguered defenders of a dire threat to 1st Amendment guarantees of free speech. Apparently we are not meant to notice that no attempt was made to shut down, censor or otherwise prevent their ugly art exhibition from taking place.
The Curtis Culwell Center is operated by the Garland school district, a government agency, which duly rented them the space.
Nor is it a small irony that the exhibition's honored guest was longtime Geller ally Geert Wilders — an avid book-banner. The Dutch politician has tried hard to have the Koran outlawed in the Netherlands.
So much for the art contest being a stirring defense of free speech.
Like Charlie Hebdo's cartoonists, they have a right to draw, publish or exhibit cartoons about Islam, no matter how disgusting or inane. What these folks really want is not free speech, but applause and support for spewing hate. But the right to disparage their blatant bigotry is equally inviolable.
The smug jingoism of the show's advertising is a clear example. The poster is a pastiche of a famous Norman Rockwell self-portrait. Signed "Big Fur Hat," the pseudonym of an anonymous artist and conservative blogger, it's supposed to make us scared that Islam is replacing traditional American values.
Eek!
Rockwell painted his self-portrait for the Feb. 13, 1960, cover of the Saturday Evening Post. By then an established American icon, he showed himself from behind, seated on a stool at his easel rendering his own likeness while staring intently into a mirror, its gilded frame topped with a version of the Great Seal of the United States.
Titled "Triple Self-Portrait," it's a multilayered rumination on identity. By contrast, the advertisement's pastiche is one-dimensional.
Rockwell is simply replaced with Muhammad, the Great Seal with the Sumerian star and crescent and the self-portraits of Durer, Rembrandt, Picasso and Van Gogh that Rockwell pinned to his canvas for inspiration, are substituted with a Charlie Hebdo cartoon and other media images.
The one big difference is the face each artist chose to put on the depicted canvas.
Rockwell, speaking for himself, shows a bland, wide-eyed, black and white sketch — a rudimentary likeness whose fullness will be discovered only as the process of making art proceeds.
The other, speaking for Muhammad, is an ostentatious vision of the prophet's face surrounded by a flashy golden aureole. It's a sneering, caustic commentary that asserts the prophet's self-absorbed grandiosity while mocking his prohibition against idolatry.
Congress has made no law abridging the right of free speech for this or any of the other hack artists. The show itself was proof enough of that. But neither is there a law that requires liking their cheap propaganda, which is all that Geller, Wilders and their hateful ilk are after.
---
Get our daily Entertainment newsletter
Get the day's top stories on Hollywood, film, television, music, arts, culture and more.
You may occasionally receive promotional content from the Los Angeles Times.