Review: Joffrey Ballet dazzles in L.A. Opera's 'Orpheus and Eurydice'
Music Critic
Gluck's "Orpheus and Eurydice" may be based on the Greek myth of a singer capable of beguiling even hell's furies, but the opera has long been catnip to choreographers. One of the defining early works of Pina Bausch was her danced 1975 production, with the cast's three singers shadowing far more imposing lead dancers.
The two major productions of the opera in Los Angeles the last two-plus decades have been Mark Morris' gloriously fanciful one with the Boston Handel and Haydn Society at UCLA and Lucinda Childs' enthrallingly austere one at Los Angeles Opera. Silly or severe, they uniquely enchanted.
Now it's John Neumeier's turn. His new production in association with the Joffrey Ballet (first given at Lyric Opera of Chicago in the fall and co-produced by L.A. Opera) reached the Dorothy Chandler Pavilion on Saturday night. It's all Neumeier. The celebrated American choreographer and longtime head of Hamburg Ballet is also the stage director and the set, costume and lighting designer. He's maybe even the model for Orpheus: In Neumeier's updated staging, the Greek singer here is a modern dance choreographer.
The result is opera on all levels in exquisite service of the dance. Gluck wrote two versions of his opera. The first, "Orfeo ed Euridice," given its premiere in Vienna in 1762, began a movement of operatic reform. A tightly contained drama, it simplified what had been the operatic convention of extravagance, carefully integrating dance and diminishing spectacle. Twelve years later, Gluck allowed more indulgence, especially with added dances, for a French version, "Orphée et Eurydice," adapted to Parisian tastes. This is the one Neumeier selects, although L.A. Opera sticks with the English title.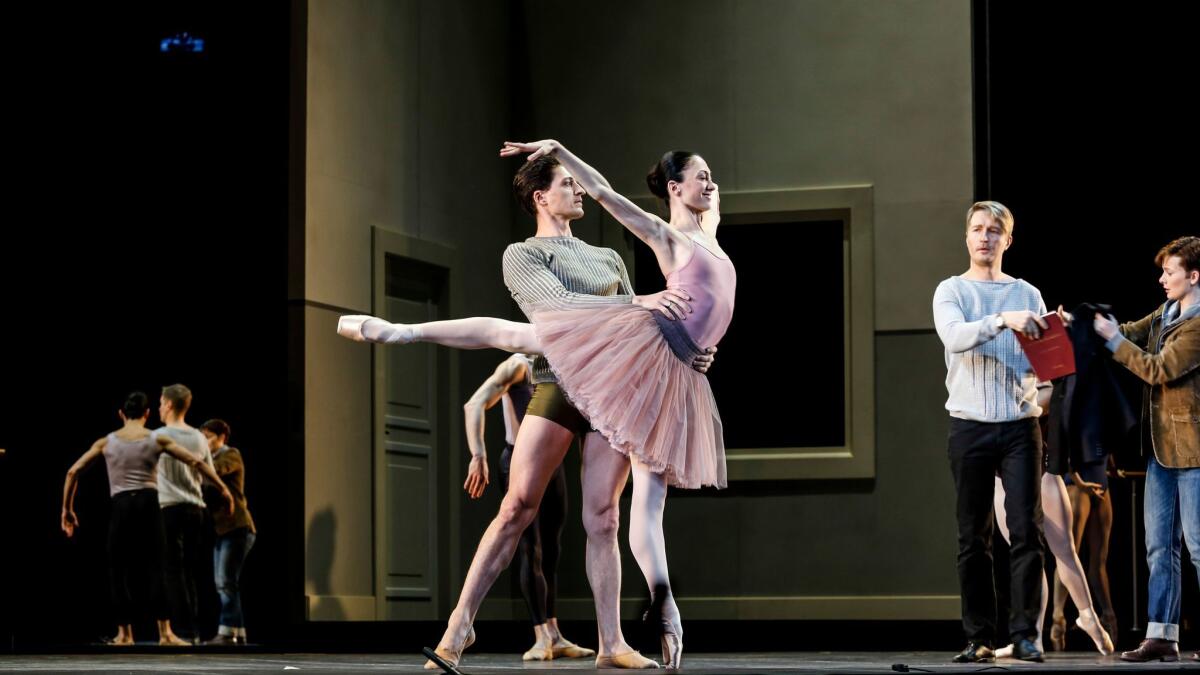 Gluck's opera begins with Orpheus grief-stricken at the death of his beloved, Eurydice. Neumeier creates a back story. During the overture Orpheus is seen rehearsing his company. He argues with his wife, the principal ballerina, who slaps the choreographer and angrily storms out only to crash her car into a tree, from which she is thrown and killed.
In a guilt-ridden breakdown, Orpheus imagines himself to be, well, Orpheus, who travels to hell to wrest his wife from the Elysium Fields. He is perhaps drawn to the myth, since the ballet he was creating was based on Arnold Böcklin's Orpheus-inspired painting "The Isle of the Dead." She is allowed to leave as long as Orpheus doesn't look at her. She pleads, he looks. She dies all over again.
Amour, the god of love, and here Orpheus' plucky assistant, doesn't as in the opera bring Eurydice back to life. Instead she convinces her boss that his wife will live on in his memory, a ghost looking over his shoulder as he finally leaves his hospital cell and returns to work on the ballet.
The singers are believable as dancers. Maxim Mironov proves capable of handling the high tenor tessitura while suavely sashaying with his scarf. (From a distance, he looked a little like Peter Martins.) Lisette Oropesa almost gets away with faking a little dance and brings worthy vocal opulence to Eurydice. Liv Redpath is a sprightly, feisty Amour.
That, though, is not enough to compete with the Joffrey. The dancers, as dancers will, look fantastic in Neumeier's stylish costumes. The sets, mostly movable units that would suit a tasteful upscale modern house, provide poor acoustical support for voices. The appearance of the chorus would surely spoil this elegantly untouchable stage, and it is relegated to the pit.
The orchestra may interest the choreographer more than singers, since it supports the dancers. The pit is raised to give the musicians prominence, and music director James Conlon could sometimes be seen reflected on the shiny surfaces on stage.
But who's looking at him when the Joffrey is such an eyeful? The company is in splendid shape, and Neumeier finds consummate use for it. The furies are beauteous monsters. The blessed spirits among whom Eurydice resides rise and float as if on the puffy cloud of Gluck's famous flute solo.
The composer tacked dances on the end that mean nothing and are cut by all but the most self-indulgent choreographers. Neumeier gives them narrative reason. Back in the saddle, a saddened Orpheus is once more making his ballet. Böcklin's morose painting looms large in the background. A veiled Eurydice looks on as apparition.
The dancers don't seem to give a wit. Nor do we. They've got Gluck's conventionally pretty music, and they've got their wings. And that's enough for all of us.
♦ ♦ ♦ ♦ ♦ ♦ ♦ ♦ ♦ ♦
'Orpheus and Eurydice'
Where: Los Angeles Opera, Dorothy Chandler Pavilion, 135. S. Grand Ave., L.A.
When: 7:30 p.m. Thursday, 2 p.m. March 18, 7:30 p.m. March 21 and 24, 2 p.m. March 25
Tickets: $16-$324 (subject to change)
Information: (213) 972-8001, www.laopera.org/orpheus
Running time: 2 hours, 30 minutes (with one intermission)
ALSO:
Review: Joffrey Ballet also offers up 'Romeo and Juliet'
Review: Jonathan Berger's Vietnam opera 'My Lai'
Get our L.A. Goes Out newsletter, with the week's best events, to help you explore and experience our city.
You may occasionally receive promotional content from the Los Angeles Times.