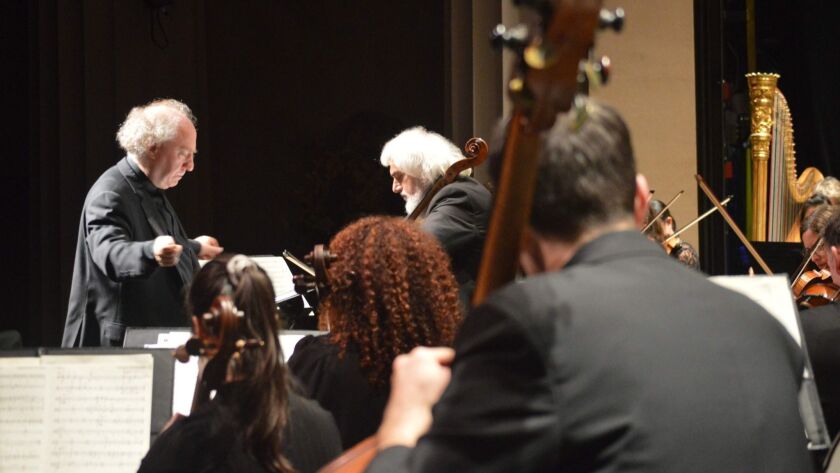 Music Critic
Although it has been almost two years since Jeffrey Kahane stepped down as music director of the Los Angeles Chamber Orchestra, it was still fully the band he had exhilarated for two decades when he returned to conduct Sunday at UCLA's Royce Hall.
But what made the evening especially notable — beyond the premiere of a cello concerto by noted film composer James Newton Howard and a recent work by an arresting young Bay Area composer — was what looked to be a Mozart hand-off.
A new music director doesn't officially take over until next season, and whether intended or not, the weekend program began and ended with the LACO conductor laureate's signature Mozart: Kahane led a piano concerto from the keyboard and conducted a symphony. Next month, when LACO's music director designate begins with a new work by another hot composer and ends with Mozart's Requiem, Jaime Martín will have big, beloved shoes to fill.
There were no surprises expected or delivered by Kahane in Mozart's Piano Concerto No. 14, written when the composer had just turned 28 and already had reached a lyrical, playfully complex, miraculous maturity. Mozart flowed from Kahane's hands as naturally and refreshingly as mountain water from a crystalline spring.
Mozart used his "Linz" Symphony, tossed off in four days the previous year when he already had an astonishing 35 behind him, to spectacularly sow his oats. Kahane used it for similar purpose, as a very happy, see-you-later gesture and not one to weigh down the new guy. But these two mid-career Mozart mini-masterpieces seemed to have another kind of purpose.
Not too many composers these days can toss off a half hour of music in a matter of days. Not too many prolific twentysomethings are ready to really stand out. The modern exception in the first category is the film composer. Gabriella Smith counts in the second.
SPRING PREVIEW: Mahler's Eighth, Hannigan's Ojai and 'Central Park Five' and more »
A concert work is, of course, a different animal than a film score, and composers very often make it a point of pride to separate the two. It takes deep listening to recognize the John Williams everybody knows in his concertos, and it requires a leap of imagination to pick out the Ennio Morricone who began as a radical Italian avant-gardist from his work in pictures.
But that can be done. It can also be done in Howard's concerto, which LACO commissioned for principal cellist Andrew Shulman. (The piece technically got its world premiere at LACO's concert the night before at the Alex Theatre in Glendale.) Howard began writing the concerto in 2017, broke off to score the thriller "Red Sparrow" and ultimately had something of a startling cinematic vision for the concerto, a sense of foreboding apocalypse fueled by our nation's political chaos and the fires in Malibu.
An elegiac tone, along with thematic material from the beginning and closing titles of "Red Sparrow," thus begin and end the concerto. In between, the work is structured as a kind of sequence of scenes, each with a different color or mood — one sweet and led by the orchestra's winds, another disturbing, with stamping lower strings, something else more dancelike — that refashions earlier material.
The cello plays continually, as the dramatic character, and the Shulman plays commandingly. That the orchestra sounds utterly at home with Howard is one more nonsurprise. Several LACO players are studio musicians who can be heard on Howard's soundtracks.
There is little reason to be surprised that Smith's "Riprap," written in 2013, when she was in her early 20s, is a knockout. This happens to be her third orchestral piece performed in L.A. this year. (John Adams programmed another early work, "Tumblebird Contrails" with the Los Angeles Philharmonic, and Kaleidoscope premiered a substantial new work for strings, "Hexacorallia") There is no question that she is a composer on her way to great things.
Smith is a violinist who has a nose-to-tail approach to instruments. Every inch of the instrument's music-making potential is used. Surprise is what her pieces do. In "Tumblebird Contrails," oceanic slow music that sounds like it is going nowhere goes somewhere. The brilliant "Hexacorallia" is like Vivaldi played by aliens who start it the way it's supposed to be but find it much more interesting to translate it into their own language.
"Riprap" is a 10-minute marimba concerto that takes its start from conventional early Philip Glass and Steve Reich minimalism. But before long, Smith throws spanners in the works. Principal percussionist Wade Culbreath, the hypnotizing soloist, finds himself hitting not just the standard bars but also the resonators. Essentially, whatever is hittable, it be hit. One thing leads to another without seeming to.
The piece dazzles. As does Smith. Remember that name — it's not that hard.
---