This artist is re-creating the front page to talk about L.A. history through car culture
This South L.A. art teacher is using car culture to talk about the history of Los Angeles. 
For Luis Genaro Garcia, first comes the year.
It could be 1992, when Los Angeles broke out in civil unrest. Maybe 1968, when students staged a walkout for better education. Or 1959, when communities were evicted from their homes in Chavez Ravine to make room for Dodger Stadium.
Then comes the art.
Garcia meticulously cuts Los Angeles Times newspaper headlines — many from recent editions — to recreate his version of a historical newspaper front page. Centermost for the 40-year-old artist and educator are the stories that helped shape the city and Angelenos who call it home — especially those that focus on what he sees as the historical injustices affecting people of color in Los Angeles.
"I look at the headlines from today; to me it doesn't seem like we've made any progress," says Garcia. He wants viewers to compare times politically and make connections between the past and the present.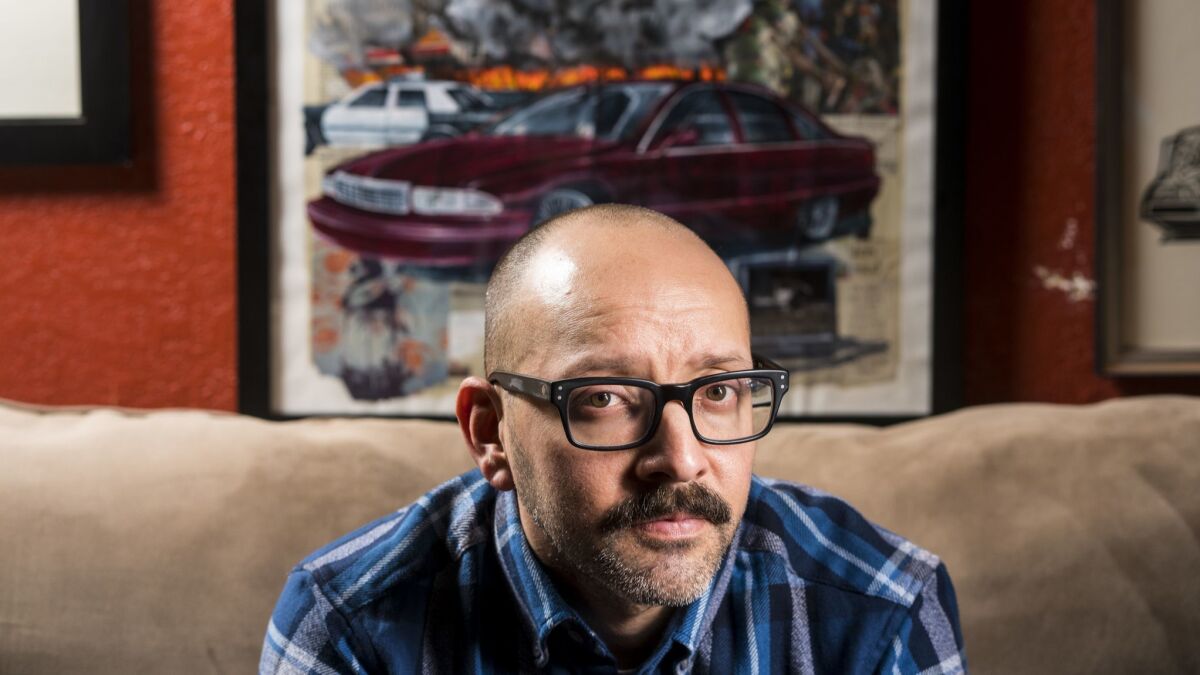 "I want them to feel and understand that this isn't something new," the artist says. "This is something that has been ongoing and continues to affect our communities of color."
The eight-piece collection he calls "Cruising L.A.'s Political Landscape" also pays homage to car culture in Los Angeles. The artist paints a classic car from the specific year the event took place.
A 1959 Cadillac Coupe de Ville centers the piece "America's favorite past time 1959," the story of families being evicted from Chavez Ravine. A 1992 Chevy Caprice drives the piece "No Justice No Peace 1992," focused on the L.A. riots. A 1968 Volkswagen, a nod, the artist says, to the working class that preferred them, frames "Boiling Point 1968," about the student walkouts of that year.
In Garcia's world, even the cars are political.
"Someone who looks at these cars, they'll recognize the year, they'll recognize the features of these particular cars, and as an educator I wanted to take the opportunity to say, 'You know what? That's cool. But do you actually know what happened during that particular year?' "
Garcia says the cars' ability to outlast their time might say something about how people can do the same:
"These cars aren't only telling you the stories of L.A. car culture; they're telling you the stories of Los Angeles that no one hears about."
In addition to his work as an artist, Garcia has been an art teacher for 14 years; he's currently at Nava College Preparatory Academy inside Jefferson High School, his alma mater.
Working with newspaper as a medium isn't Garcia's first choice — he has many other kinds of works on canvas — but he was inspired by how his students were using it in the classroom.
Because they couldn't afford canvases, students used old linoleum boards covered in newspaper to apply paint, Garcia says. The teacher quickly became the student, inspired to use similar techniques for his project.
After collecting newspapers for about a year and a half, Garcia thought he had enough material to begin.
Now Garcia is trying to teach his students how to see what's not always in front of them.
"I'm not trying to teach them to become better artists," he says. "To me, that's a plus. I want them to understand that for working-class people of color, it's much harder for us to access resources because of the discrimination that has historically existed in our communities."
That's a lesson Garcia says he learned away from the classroom. As a 14-year-old, Garcia had to reconcile with his parents' divorce and with the destruction of his neighborhood.
"It was sort of like a rite of passage for me," says Garcia, who as the oldest sibling of two sisters and a brother had to look out for them while his mother worked.
"It was transformative. And I'm not sure it was transformative in a good way."
Garcia says he'll never forget seeing a man pushing a full grocery cart, hitting the curb along Avalon Boulevard, spilling some of its contents.
It was a moment, Garcia says, that helped him "come to accept my circumstances." It's also those experiences that help him choose headlines and infuse new meaning into old events.
Back in his Whittier home, Garcia cuts and spreads recent headlines from the Los Angeles Times. The headlines, about the recent teachers strike, cut close to home. Part art, part logistical challenge, he moves and spreads blocks of texts like Tetris pieces.
Photos of Los Angeles teachers protesting in the rain mix with headlines such as "Hope for left-behind children" or "A walkout would only hurt students' future."
"That's what the headlines are really showing you," Garcia says. "I want people to realize and understand, nothing has really changed."
Get our L.A. Goes Out newsletter, with the week's best events, to help you explore and experience our city.
You may occasionally receive promotional content from the Los Angeles Times.