For the cult of Sondheim, 'Merrily We Roll Along,' and on, and on, and ...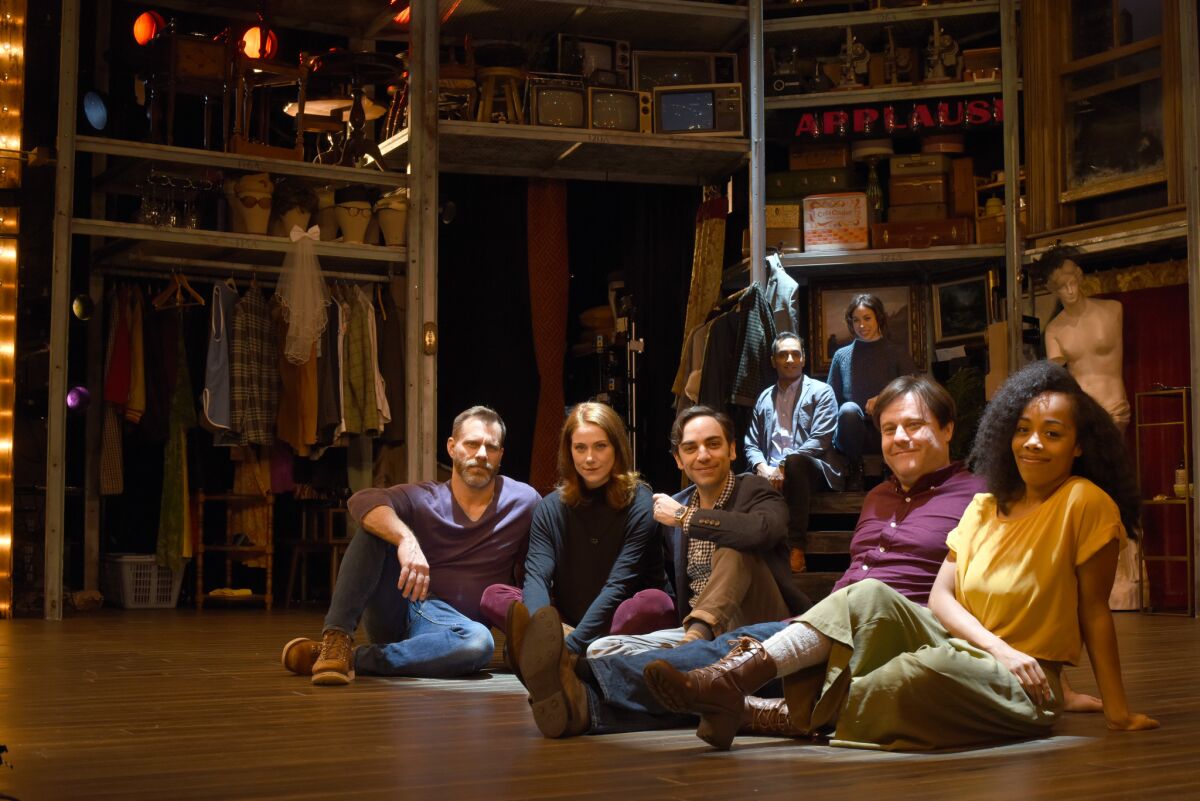 Reporting from New York —
In fall 1981, the most anticipated new musical of the Broadway season was an adaptation of the 1934 Kaufman and Hart play "Merrily We Roll Along," with lyrics and music by Stephen Sondheim, a book by a George Furth and direction by Hal Prince.
The musical tells the story of three young characters — Frank, a composer; Charlie, his writing partner; and Mary, a budding novelist — who have come to New York in the late 1950s to find fame and fortune. Over the next 20 years they do so, but in a way that wrecks their friendships and makes a mess of their personal lives. And the story is told in reverse, with the bitter characters growing younger and more likable as the show progresses.
"What we envisioned was a cautionary tale in which actors in their late teens and 20s would begin disguised as middle-aged sophisticates and gradually become their innocent young selves as the evening progresses," Sondheim later wrote in his memoir "Finishing the Hat."
Prince and Sondheim had just come off the critical and commercial success of "Sweeney Todd," the winner of eight Tony Awards, and the most recent in a string of groundbreaking, award-winning shows that included "A Funny Thing Happened on the Way to the Forum," "A Little Night Music," "Follies" and "Company." Great things were expected yet again.
It was not to be.
The show was troubled from the start, with constant book and musical changes during previews and even the replacement of the original leading man. In his 2017 memoir, "Sense of Occasion," Prince recalls his daughter (who was in the cast) "coming home from the show to report that for the first act the theater was full and when the second-act curtain went up it was half-empty."
When the show opened, it was greeted with brutal reviews and closed after just 16 performances, making it one of the biggest flops in Sondheim's long career, and ultimately terminating the long working relationship of Sondheim and Prince.
But then a funny thing happened. The cast album came out, and it was clear to many listeners that this was, in fact, one of Sondheim's best scores, obscured by the mess of the book, the youthful inexperience of the cast and the uncertainty of the direction. (At that season's Tony Awards, Sondheim did get a nomination for best score — the only one for the show — although he lost to "Nine.")
And the show went on to have a life of its own, produced hundreds of times over the ensuing years and developing a cult following along the way. The bittersweet "Not a Day Goes By" became a cabaret standard. The show inspired a well-received 2016 documentary, "Best Worst Thing That Ever Could Have Happened," that reunited the original cast. And in 2017, in her Oscar-nominated movie "Lady Bird," director and writer Greta Gerwig chose "Merrily" as the musical being performed by Lady Bird's senior class.
But over the past three-plus decades, except for a limited-run, concert version at City Center in 2012 (starring a pre-"Hamilton" Lin-Manuel Miranda), there has never been a major New York revival.
Until now.
This month, the Fiasco Theater company, working as the artist-in-residence for the Roundabout Theater and known for its deconstructive approach to theater classics, opened a radically reimagined staging of "Merrily" — reworking the book, bringing back some songs cut from the original, even eliminating that potential escape of an intermission — that may help establish the show's rightful place in the Sondheim canon.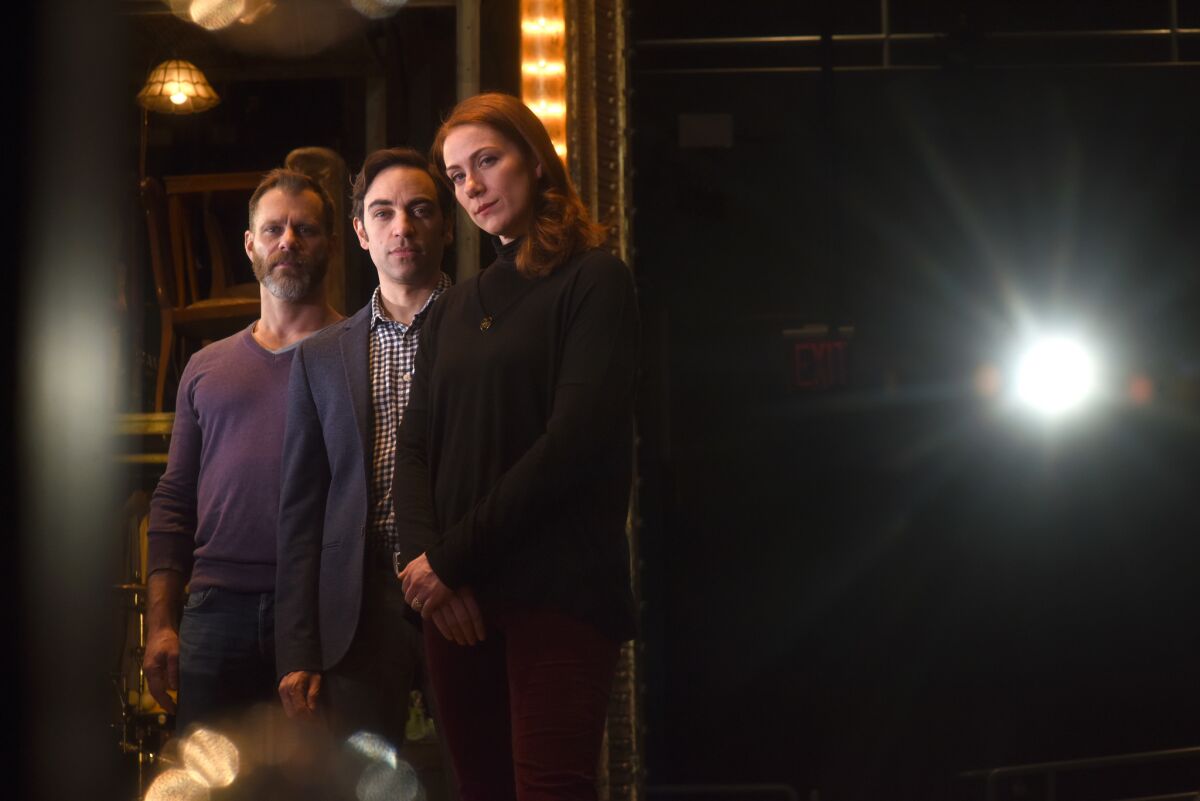 He was incredibly open to our ideas. And some of what we thought were our boldest ideas ... he would go much further than any of us.
— Fiasco Theater co-founder Noah Brody, on revising "Merrily We Go Along" with composer-lyricist Stephen Sondheim
Fiasco, founded 10 years ago by three graduates of the Brown/Trinity Rep MFA program — Jessie Austrian, Noah Brody and Ben Steinfeld — had earlier done a revival of Sondheim's "Into the Woods" for Roundabout, and Roundabout's artistic director, Todd Haimes, recommended that the trio consider "Merrily" as their next project.
They were intrigued, although only Austrian had seen a previous production, a John Doyle staging in Cincinnati in 2012. (Steinfeld recalls buying the original cast album when he was a teenager at a summer theater camp.) Plus, they had gotten to know Sondheim when he came to see rehearsals of "Into the Woods" and they were eager to work with him again.
"We wanted to get in there and have a conversation with Steve," explained Brody, the show's director, "both to hear his thoughts on what his animating ideas had been and what he had learned from doing that show. What became evident immediately was that he was incredibly open to our ideas. And some of what we thought were our boldest ideas, he would say [affecting a disdainful tone], 'Oh, hold my beer.' He would go much further than any of us. He would say, 'Well, if you are going to do that, then why not do this?' "
A key moment came when the three suggested inserting a scene from the original play, one that Steinfeld describes as "a lengthy, 1930s, Clifford Odets-like scene about economic struggle."
At first Sondheim was skeptical. "That scene couldn't be in the musical; that's just not the show we wrote," he told them — but once they started to actively pursue the idea, trimming it down to a five-minute scene that might work within the context of the musical, he came fully on board.
Recalled Steinfeld, "There was a willingness to say not only, 'OK, I am open to that,' but to say, 'Now that we are open to this, how are we going to make it work?' He was a true collaborator."
In fact, not only did Sondheim meet with them several times during the initial process of reworking the script, he was also a regular presence during previews, helping them to continue to refine that work. "He was giving notes to us throughout this entire process," said Austrian. "What an incredible gift that was to get."
It's probably not a coincidence that this story of three old friends — two men and a woman, with a bond forged at the start of their careers — resonated with Brody, Steinfeld and Austrian.
"We have known each other almost as long as the characters in the play," said Steinfeld. "We are old friends, and we have been through the ups and downs of trying to make art together. There was a personal reality there."
"There are wonderful pros and cons of being a trio," said Austrian." It's very complicated and yet very, very fruitful to have three minds working together. Also, as you grow older, you have to figure out how you negotiate dreams that you all bought into when you were as a group with the changing needs in your lives as individuals."
Boni B. Alvarez brings a rare voice to the stage: Filipino America's »
Brody added that there is "an alchemy at work that is not dissimilar to the Charlie, Frank and Mary dynamic. Jessie, like Mary, is the emotional glue that holds things together. And Ben and I take big, intellectual swings at each other."
And Austrian, does she agree that she is the "emotional glue" of this three-way partnership?
"Yeah," she said, with a long pause. "Yeah."
Then she added, "I think it's not a coincidence that a lot of people who come to this show say, 'I also have trio.' A trio of friends is a thing that happens in life. And I think in these trios, it often falls to the woman to be the emotional glue. But we are having conversations about that."
With this production, the Fiasco hasn't quite rehabilitated the reputation of "Merrily." The show, which opened Feb. 19, got mixed but respectful reviews — far different than the "merciless" ones that Sondheim recalled in "Finishing the Hat" — that left the impression that this was a show that would continue to challenge theater professionals for years to come.
Steinfeld said that during previews, the head counselor from his summer theater camp all those years ago came to see the show, and as he looked up at set, he said: "It's 'Merrily.' It's our Moby Dick."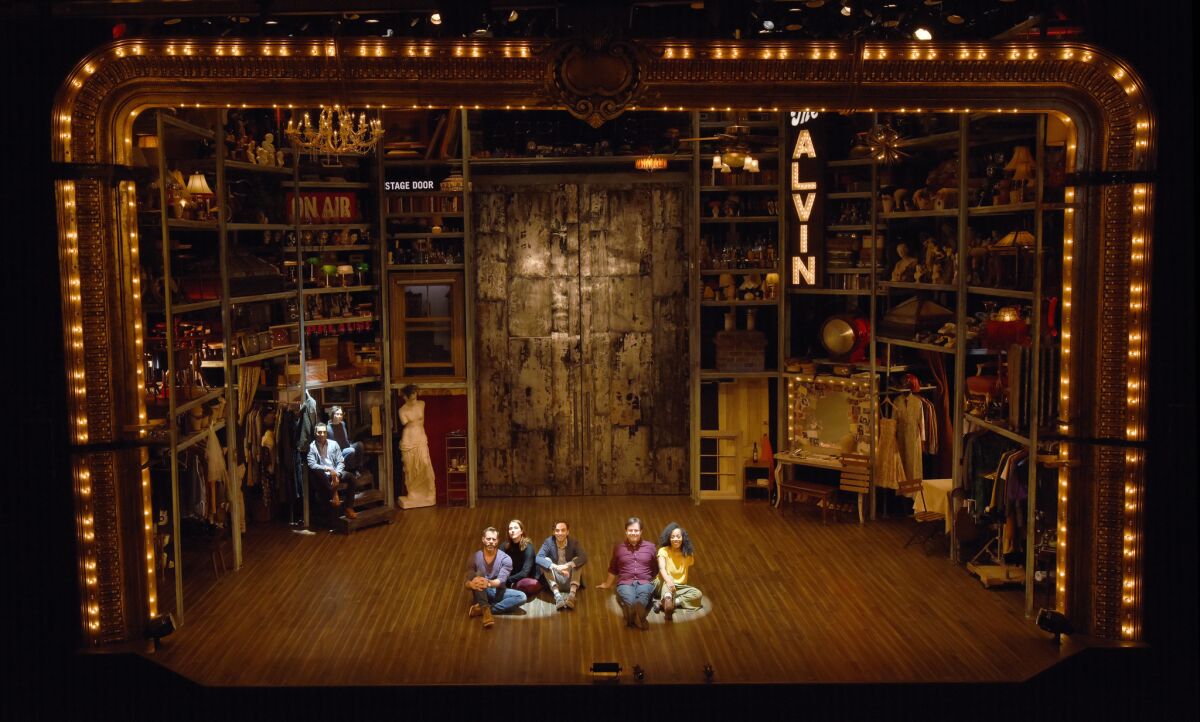 See all of our latest arts news and reviews at latimes.com/arts.
Get our L.A. Goes Out newsletter, with the week's best events, to help you explore and experience our city.
You may occasionally receive promotional content from the Los Angeles Times.