Review: For Morgan Fisher, 50 years of 'Passing Time' in a vanishing world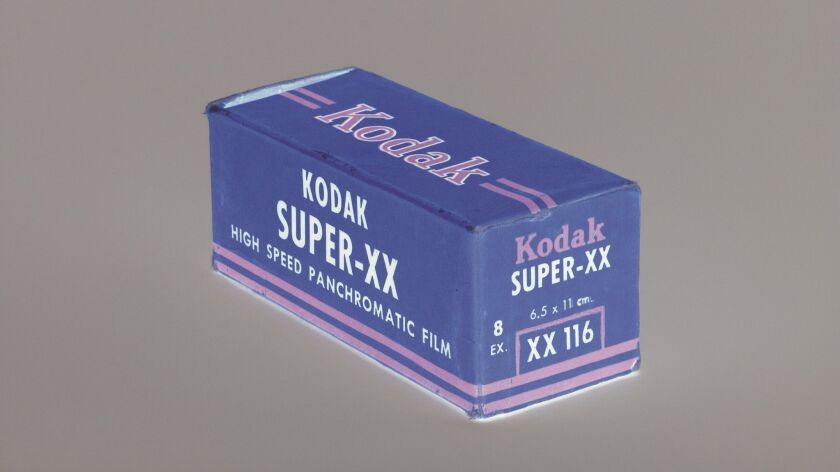 Art Critic
In a 1979 video, artist Morgan Fisher recorded himself seated at a card table wearing a doctor's green scrubs. He's about to perform some surgery, but not of the usual kind.
The video, which is in the first room of an overly compact but welcome 50-year survey at REDCAT, shows him donning a sequence of ordinary items — earplugs, a mouth guard, nose plugs, a face mask, yellow rubber gloves, three tight bathing caps (in the solid colors of red, yellow and blue), goggles, red rubber gloves and, finally, a green helmet. After each addition, he holds still for a moment as the camera records his new look, before reaching outside the frame to be handed the next muffling item to put on.
Over the course of 13 minutes, Fisher slowly but surely blots out his five senses — sight, sound, smell, taste and touch — while capping his cranium with primary colors and then, in a final flourish, a crash helmet. By the time he is done, he is a man strapped in distressing bondage, prepared for the worst yet simultaneously liberated from the restraints of art's historically sensuous attributes.
The evolving self-portrait is marvelously strange. In the final image, just before the fade to black, he appears somewhere between monstrous and absurd.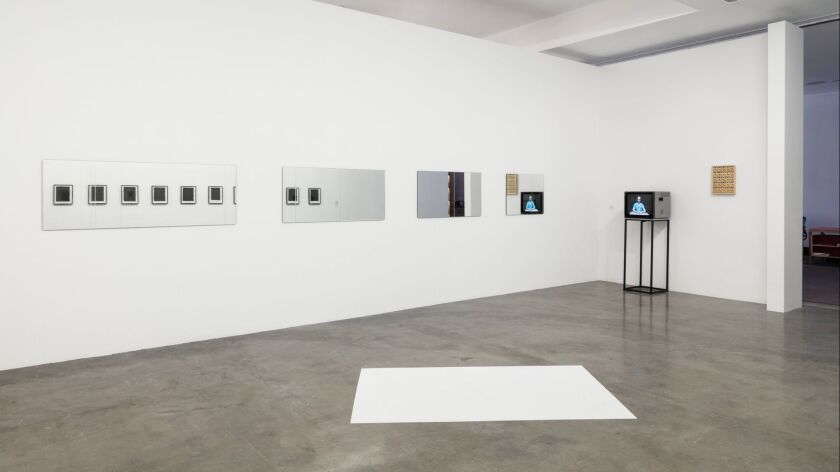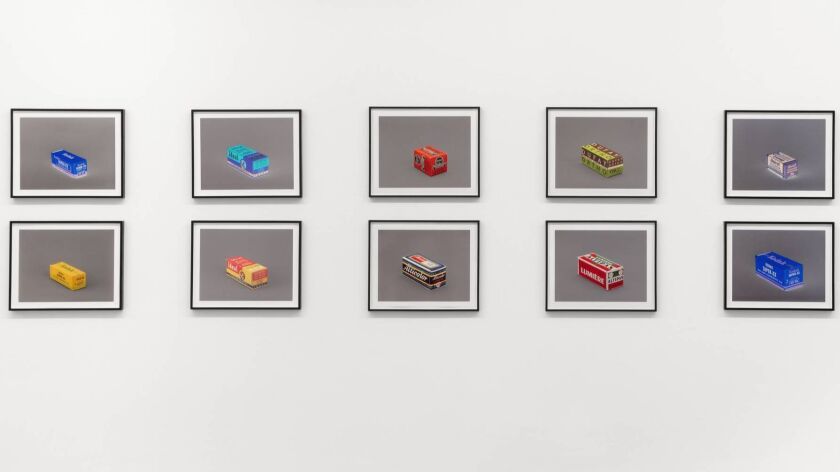 "Protective Coloration," as the sly video is titled, is an ambivalent meditation on the rise and new dominance of Conceptual art in the 1970s — a loosely satirical take on privileging ideas over sensate knowledge, all while admiring both. Camouflage lets him have it both ways.
Fisher is perhaps best known for experimental films. But the L.A.-based artist's work in painting, sculpture and drawing is also centered on ways of seeing that have been industrially framed through a camera lens — which is another way of saying "Hollywood."
A clattering 16-mm projector running on an endless loop tosses the words "passing time" in white type onto a darkened gallery wall in a 1980 work that gives the show its title. The words occasionally flutter, time passing at 24 frames per second, their flickering movement straining against stasis. Movies are a global pastime, and though people come and people go, as the 1932 classic "Grand Hotel" put it, nothing happens.
Another "Self-Portrait" is a white rectangle painted on the concrete floor. The dimensions make a shape equal to the total surface area of the 77-year-old artist's 74-inch-tall, 190.75-pound body. Smudged with footprints from visitors, its down-trodden placement vaguely suggests a medieval church tomb.
The white rectangle also can't help but recall a fallen movie screen. Fisher's work thrives on the tension between being acutely personal and completely impersonal — no mean feat.
Nearby, four mirrors get their dimensions from the aspect ratios of assorted movie screens — Todd-AO, Ultra Panavision 70 and the like. Fisher etched vertical lines into each glass, like scratches on film. You see yourself reflected, gloriously starring in your own distinctive script on his silver screen; but the scratches let you know your likeness is damaged goods.
Other works consider the structural basis for subjects as diverse as the secondary colors of green-purple-orange as also-rans in Utopian modern visions dominated by red-yellow-blue, and the changing palette of commercial paints designed to help American consumers decorate their homes. Colorful positive and negative photographs of boxes of obsolete film-stock (Kodak Super-XX, Ideal Panchromatic, Dufay Ortho) floating in indeterminate gray space are weirdly like August Sander's classic Weimar-era catalog of the German people — a classification system for a vanishing world.
Poignant, celebratory, funny, bleak — Fisher's best art manages a range of unexpected effects from minimalist means. It resonates with work by other artists as diverse as Edward Ruscha, Christopher Williams and Paul Sietsema. The show, assembled by guest curators Bruce Hainley and Sohrab Mohebbi, has no catalog (one is said to be in the works), but this intriguing sampler begs for a full museum retrospective of an artist they aptly describe as "an elusive Los Angeles éminence grise."
REDCAT, 631 W. 2nd St., L.A. Through Feb. 16; closed Mondays. (213) 237-2800, www.redcat.org
---
Your essential guide to the arts in L.A.
Get Carolina A. Miranda's weekly newsletter for what's happening, plus openings, critics' picks and more.
You may occasionally receive promotional content from the Los Angeles Times.