'Nightmare Before Christmas,' and Danny Elfman return to Hollywood Bowl for 25th anniversary show
Danny Elfman is back for more Tim Burton-themed Halloween mischief as he reprises his live performance as Jack Skellington in "The Nightmare Before Christmas" at the Hollywood Bowl in October.
This year marks the 25th anniversary of Burton's moody, 1993 stop-motion animated film, for which Elfman wrote the score and also served as the voice of Skellington — a somber pumpkin king who plots to hijack Christmas.
The show, scheduled for Oct. 26 and 27, features an orchestra and chorus led by conductor John Mauceri performing the soundtrack of the movie live-to-screen. Catherine O'Hara (Sally), and Ken Page (Oogie Boogie) will costar alongside a yet-to-be-announced cast.
Up until somewhat recently, Danny Elfman hadn't sung in public in 18 years.
— Richard Kraft, co-producer of "The Nightmare Before Christmas" at the Hollywood Bowl
This will be the third time the show has been staged at the Bowl. The original performance, in 2015, sold out quickly. A second incarnation in 2016 also sold out amid rumblings that it might become a Halloween tradition.
The 25th anniversary show will be particularly special thanks in part to the use of projection mapping, says the show's co-producer, Richard Kraft.
"For this 25th anniversary celebration I am directing the creation of animated digital projections for the proscenium of the Hollywood Bowl's shell inspired by Tim Burton's visuals," Kraft wrote in an email. "It will make the whole experience extremely immersive."
Another exciting feature of this show, Kraft says, is that unlike other Disney-themed Bowl shows he has directed, including "Beauty and the Beast" and "The Little Mermaid," many of the film's original cast members are being used to sing their roles.
The entire experience at the Bowl on show nights will be Halloween-themed. Guests are encouraged to dress in their finest Burton-inspired costumes for a costume contest, and there will be trick-or-treating stations.
"The Nightmare Before Christmas" has been a spooky holiday family favorite since its release. Directed by Henry Selick ("James and the Giant Peach"), the film follows the exploits of Skellington, who conspires with three rambunctious trick-or-treaters to kidnap Santa Claus.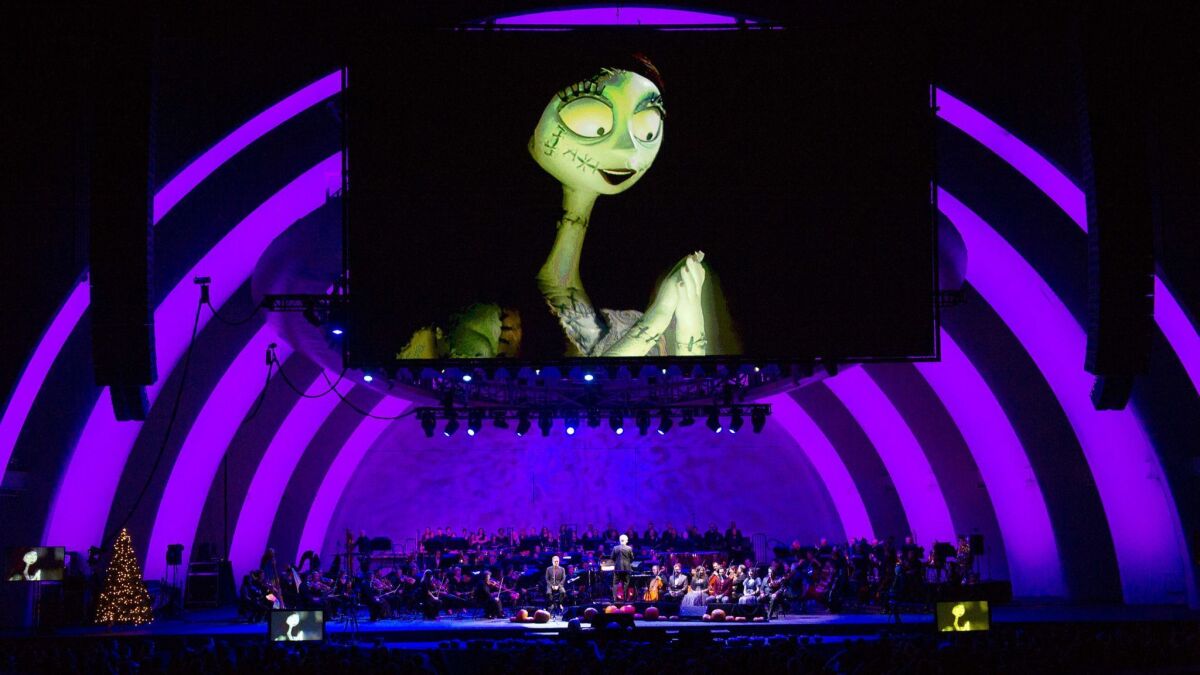 In an interview with The Times in 2015, Elfman said he could relate to Skellington — who is weary of Halloween and longs to celebrate Christmas. While Elfman was writing the music for the film, he was close to stepping away with his band of many years, Oingo Boingo.
"It was exactly the time of my life where I was saying to the band that this might be my last year," Elfman said. "They didn't believe me, but I felt like Jack from where I was in life … I was writing from my own feelings of being the king of my own world and from which I wanted out."
All these years later, Elfman still relates to the Pumpkin King.
"Up until somewhat recently, Danny Elfman hadn't sung in public in 18 years," said Kraft, who also serves as Elfman's talent agent. "Yet he sounds exactly the same as he did singing Jack Skellington a quarter of a century ago."
Elfman has long been a creature of Halloween, Kraft added, noting that Oingo Boingo Halloween shows were hugely popular, and became an L.A. tradition. That success created a yearning in Elfman to explore more.
"Fortunately, Elfman's forays into film scoring and classical composing yielded substantially better results than Jack's attempts to run Christmas Town," Kraft said.
Tickets go on sale Saturday, Sept. 8 at 10 a.m. via Ticketmaster, with an American Express presale starting Sept. 5 at 10 a.m. and ending Sept. 7 at 10 p.m. To purchase by phone, call (800) 745-3000 or online at https://www.ticketmaster.com/venueartist/90150/2541294.
Get our L.A. Goes Out newsletter, with the week's best events, to help you explore and experience our city.
You may occasionally receive promotional content from the Los Angeles Times.