Review: With Charles Dutoit out, London's Royal Philharmonic tries a Swiss conductor — and has a blast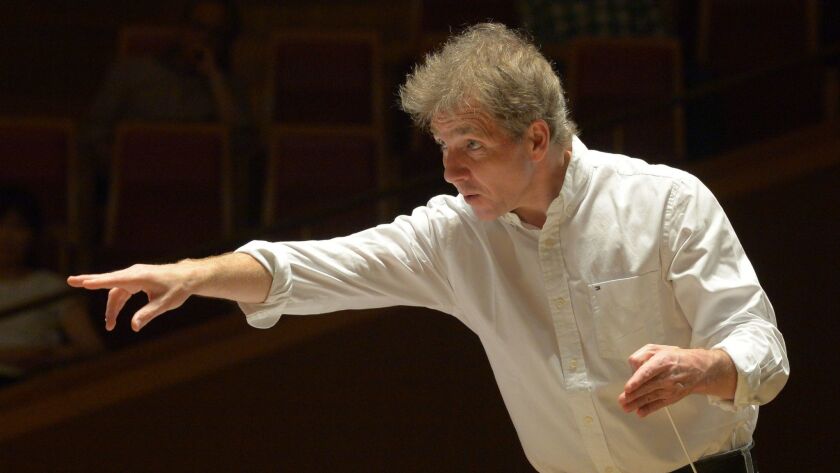 Music Critic
On Dec. 21, four women accused Charles Dutoit of sexual assault. The famed Swiss conductor has strongly denied the allegations (as he has with other women who have subsequently come forward). But in less than 24 hours, he was forced to withdraw from all future engagements with the Royal Philharmonic Orchestra, of which he had been artistic director and principal conductor since 2009 and with which he had a major West Coast tour coming up.
Thursday night that tour began at Renée and Henry Segerstrom Concert Hall in Costa Mesa. It might seem that the London orchestra didn't look too far for a Dutoit replacement with Thierry Fisher, who is also Swiss and also a conductor with a penchant for French music and works of the late 19th and early 20th centuries. The two programs for the tour, now traveling up the state, have remained the same, as have the soloists.
But that's about as far as it goes. Dutoit's not just gone, he's really gone. Fischer, who is music director of the Utah Symphony and has a taste for orchestral opulence, is a completely different kettle of conducting fish. As far as the struggling, if not exactly failing, Royal Philharmonic goes, that might not be such a bad thing.
The orchestra, founded in 1946 by Thomas Beecham, was once the musical epitome of Englishness, lofty but lovable, a vehicle for Beecham's warmth, wit and irrepressible grandeur. But despite the eight notable chief conductors — none British — who succeeded Beecham, the orchestra has been on a long decline toward obscurity.
When André Previn became music director of the Los Angeles Philharmonic in 1985, that was international news. The same year he also took over the RPO, and hardly anyone noticed, even in London, despite Previn's celebrity. Today, the RPO can't hope to compete in the orchestra-sated English capital with the likes of Simon Rattle at the London Symphony Orchestra, Esa-Pekka Salonen at the Philharmonia and Vladimir Jurowski at the London Philharmonic.
Even so, it remains an impressive ensemble. The Segerstrom program was full of flashy music, beginning with Respighi's "Fountains of Rome" and concluding with Stravinsky's "Petrushka," the ballet performed in its original 1911 version, which is to say with an enormous orchestra. Fischer went all out in both with vast extremes in dynamics and knock-'em-dead dramatic effects.
But the best place to begin is with Saint-Saëns' Piano Concerto No. 5, known as the "Egyptian," having been written on holiday in and under the influence of North Africa. A decade ago Dutoit made a revelatory recording of the "Egyptian" with pianist Jean-Yves Thibaudet and L'Orchestre de la Suisse Romande.
A model of clarity, the recording helped begin a process of reevaluation of the French composer, who was dismissed in sophisticated circles as a lightweight reactionary at a time when Paris was where it was all happening. Ravel, Debussy and Satie were coming on the scene, and Stravinsky was about to arrive from Russia.
Thibaudet showed that under all Saint-Saëns' incessant charm there were hints at the harmonies existing for no other reason than their colors. For all the concerto's showpiece vulgarities, it also has stunning qualities of floating on a new air, even bringing in hints of the Indonesian gamelan which was to have such an influence on Debussy. Thibaudet and Dutoit brought out the exoticism like no one before them.
Thibaudet was again the soloist in the Saint-Saëns concerto at Segerstrom. This time Fischer held back for no one, laying on so thick an orchestral accompaniment that Thibaudet had one option only — to showboat. That wasn't altogether awful, since Thibaudet can pull off an "Egyptian" as old-fashioned fun.
If the RPO sounded nothing like a Dutoit orchestra, it did sound like a Dutoit-trained orchestra. The playing was on the highest quality I'd heard from it in years.
Going in for big effects in the splashy "Fountains" is a no-brainer, Respighi's score beginning with glassy early morning spray, turning up the tap as the sun rises and fading into an enchantingly romantic Rome night. Fischer has a flair for contrasts, loud and soft, fast and slow, which is pretty much how Roman plumbing works.
It was in "Petrushka," however, where Fischer really went to town showing off the orchestra's robust strings, robust brass, robust percussion and startlingly robust winds. No doubt Stravinsky would have hated so overblown a performance, given his penchant for instrumental lucidity and interpretive understatement.
But if the composer might have preferred Dutoit, the audience surely would prefer the theatricality of Fischer's "Petrushka" any day. Fischer has had a great success in Salt Lake City at least in part through extravagance. He just recorded Mahler's monumental Eighth Symphony with his Utah Symphony, and his "Petrushka" with the RPO was a bigger-than-life account of the puppet who comes to life and falls in love.
Drama became melodrama as the winds blared out villainy and the puppets fought. A trumpet solo had the smoke of Miles Davis. The racket the RPO made during the "The Shrovetide Fair" festivities had all the verisimilitude of being in a deafening, chaotic carnival crowd.
Under Fischer, not just Saint-Saëns but even revolutionary Stravinsky came across as cinematically old-fashioned, an equivalent of a CinemaScope, Technicolor epic. If I thought too hard about it, I would take Stravinsky's side. But in the concert hall, the performance was a blast. And a blast is just what the Royal Philharmonic needs.
♦ ♦ ♦ ♦ ♦ ♦ ♦ ♦ ♦ ♦
Royal Philharmonic Orchestra
What: Debussy's Petite Suite, Haydn's Cello Concerto No. 1 in C Major and Stravinsky's "The Firebird"
Where: The Soraya (formerly the Valley Performing Arts Center), 18111 Nordhoff St., Northridge
When: 8 p.m. Friday
Tickets: $43-$85
Information: (818) 677-3000, valleyperformingartscenter.org
MORE MUSIC:
'Candide' on the coast, Part 1: The report from San Francisco
Three cellists save the day with last-minute theatrics for the L.A. Phil
Leonard Bernstein at 100: Why the music world is making this the Year of Lenny
---
The complete guide to home viewing
Get Screen Gab for weekly recommendations, analysis, interviews and irreverent discussion of the TV and streaming movies everyone's talking about.
You may occasionally receive promotional content from the Los Angeles Times.