Critic's Notebook: The San Diego Symphony has joined the California orchestra vanguard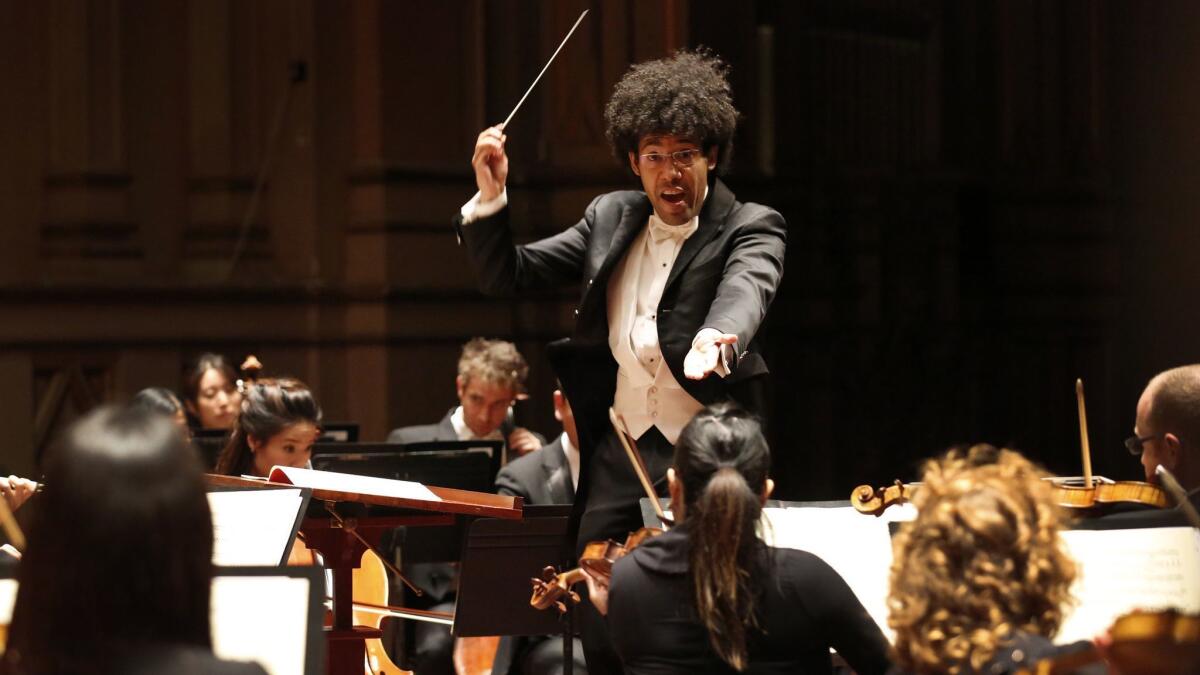 Music Critic
Reporting from San Diego —
California is orchestra.
The colossal Los Angeles Philharmonic centennial season is dominating the world symphony landscape. Meanwhile, its conductor laureate, Esa-Pekka Salonen, has just accepted the San Francisco Symphony's audacious offer to refashion that orchestra into a state-of-the-21st-century-art institution.
Now it is our state's second-largest city's turn to make its symphony matter.
Founded in 1910, the San Diego Symphony is older than the San Francisco Symphony (by a year) and the L.A. Phil, but it has had a checkered history. The orchestra twice disbanded in its early years. In modern times, the institution has gone from famine (bankruptcy in 1996) to feast (a Joan and Irwin Jacobs $120 million donation in 2002).
San Diego has had capable music directors, but only recently has the symphony begun to show Californian cultural farsightedness. Last January it sponsored a performance of John Luther Adams' percussion piece, "Inuksuit," that was performed along the Tijuana border, with San Diego musicians on one side and Mexican ones on the other.
A couple of weeks later, the San Diego Symphony announced the appointment of the electrifying Venezuelan conductor Rafael Payare as its next music director. A former Gustavo Dudamel assistant at the L.A. Phil who has been building an impressive career in Europe, Payare returned to San Diego last week for his first concerts as music director designate (he begins his tenure in July). Payare raised the roof of Copley Symphony Hall conducting Shostakovich's Tenth Symphony on Sunday afternoon.
It is a roof that needs raising in more ways than one. The hall is dispiriting, a renovated 1929 movie palace in a bland 34-story office building in San Diego's downtown financial district. The area is not lively on weekends, when most concerts are held. Acoustics are ungracious.
Under such circumstances, connecting the listener with the music and the music with the community could appear a thankless challenge. Yet the orchestra has begun devoting January to a Hearing the Future festival that, as with "Inuksuit" last year, extends its reach to include pressing political issues that involve a much wider swath of the city's population than the orchestra ever before served.
A Latino music director makes a lot of sense in the country's most important border city. A vibrant music director makes even more sense. Hearing the Future makes the most sense of all.
This year's festival happens to be curated by composer, conductor, Los Angeles Opera artist-in-residence and recent MacArthur fellow Matthew Aucoin. Along with relatively standard orchestra programs, it includes dance, jazz, museum and gallery events, education, new music and even DJs on both sides of the border.
On Sunday, a staggering one-man music theater program by baritone Davóne Tines in a small alternative arts space followed the large orchestra matinee. Together they demonstrated what an orchestra can and must do. Copley, one quickly learned, isn't the only San Diego roof requiring raising.
Payare's symphony program was pointed and ambitious. He paired Benjamin Britten's Cello Symphony with Shostakovich's vast Tenth Symphony. The soloist in the Britten was Alisa Weilerstein, one of today's most expressive cellists and Payare's wife.
There was probably a lot of subtext. Shostakovich's Tenth was a reaction to Stalin's death in 1953, the hourlong symphony being an amplification of a dictator's reign of terror. Shostakovich dutifully reflects on the horrors Stalin spawned but can't keep from mocking Stalin's grotesqueries and finally all but dancing on his nemesis' grave.
A dozen years ago, I heard Dudamel conduct a considered, triumphant performance of the symphony with the Simón Bolívar Youth Orchestra of Venezuela at the Proms in London. Payare was the orchestra's glowing principal horn. Members of the audience unfurled Venezuelan flags. It was a glorious occasion.
Now that so much Venezuelan promise has been short-circuited by its own political crisis, Payare took Shostakovich fully at his horrific Stalinist word and then further amplified the horror. The San Diegans played like an orchestra transformed. Loud won't do. They shook the rafters. The good news is that an acoustician has been hired to see whether the rafters can be made to shake more fluidly.
In the first half of the concert, which began with a particularly robust performance of Strauss' "Don Juan," Britten's symphony had its own special urgency. Written for cellist Mstislav Rostropovich, who was introduced to Britten by Shostakovich, the score is as dark as the Tenth with again an effort at overcoming adversity at the end. Encouraged by Payare, Weilerstein played with a raw abandon that few cellists (not even Rostropovich) have dared in this work.
After the concert I walked the mile to Sandbox, a former industrial building newly renovated as a performance space in the rapidly gentrifying East Village. All around are grotesque new apartment buildings that look as though they took their inspiration from Legoland.
San Diego has, as elsewhere, a terrible homeless problem, but the East Village felt particularly callous. I witnessed not one, not two, but three confrontations between oblivious operators of electric scooters and terrorized pedestrians or street people. Raucous partying on the patios of sports bars took place within feet of ignored hungry beggars. To a visitor, this San Diego looked like a candidate for the most tasteless and thoughtless major city on the West Coast.
But Tines' astonishing "Were You There" proved a powerful counterforce. The stage was bare but for a folding chair and 11 naked light bulbs, each signifying a young black life lost to a racial attack. Accompanied by pianist Michael Schachter, Tines meditated on loss in a handful of spirituals, traditional songs and Aucoin's "A Clear Midnight," set to a Walt Whitman text.
After singing "Nobody Knows the Trouble I've Seen," in which Tines absorbed, Christ-like, the world's troubles for our sake, he folded the chair and placed it on the ground like a lifeless body. He then lay next to it and sang, on his back, "We Shall Overcome" — first with an out-of-body virility, then with an out-of-body quietude.
The performance, directed by Zack Winokur, lasted only a little over a half-hour, and the San Diego Symphony had no business charging $40 for all seats. But it has all the business in the world bringing overwhelming humanity to exactly the place where it is needed. It has taken more than a century, but California now has another crucial orchestra.
Get our L.A. Goes Out newsletter, with the week's best events, to help you explore and experience our city.
You may occasionally receive promotional content from the Los Angeles Times.