'Show the struggle, but also the great accomplishment,' says photographer behind minority photo series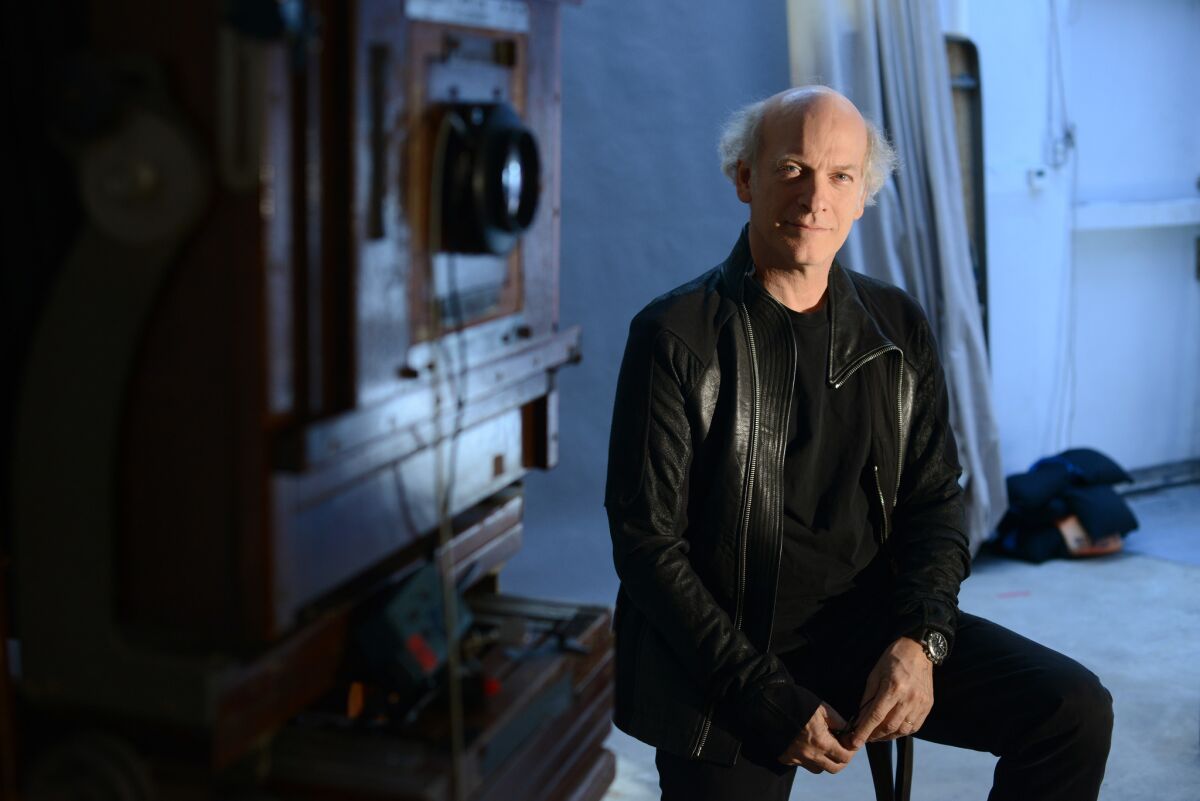 Visitors to the new Annenberg Space for Photography exhibition may be surprised to learn that the show's featured photographer and documentarian, known for focusing on minority and marginalized communities including African Americans, Latinos and women, is a straight white man.
Growing up in a racially segregated Miami, Timothy Greenfield-Sanders has long had an interest in minority communities. The son of a woman who co-founded one of the first integrated music, art and dance schools in the South in the early 1950s, Greenfield-Sanders was conscious of racial inequity and discrimination, he said. Now, the entire portrait and film series that includes "The Black List," "The Latino List," "The Women's List" and "The Out List" — more than 150 photos — will be on display together for the first time starting Saturday at the Annenberg Space for Photography in L.A.
The exhibition will also premiere photos from "The Trans List," featuring transgender actress Laverne Cox and Los Angeles activist Bamby Salcedo, among others.
Greenfield-Sanders said the series explores "a breadth of achievement" for communities that some people often equate with a lack of.
When outsiders look at minority cultures, it's often with a woe-is-them negativity, the photographer said. "That was the last thing I wanted. I wanted to show the achievement. I wanted to show the struggle, but also the great accomplishment."
Greenfield-Sanders said his interest in photography started with Andy Warhol. As a teen, he was enamored with the artist and his Factory, where a hodgepodge of drag queens, playwrights and other intellectuals gathered. "You could find talent that wasn't a part of the Hollywood system," he said, "many of them up from the gutter, people striving to be something."
Though he initially wanted to be a filmmaker, the scarcity of film schools and pressure from his Ivy League-educated father prompted him to enroll in an art history program at Columbia University in New York. After graduation, he moved to Los Angeles for the American Film Institute.
Every two weeks, students would watch every film by a particular director or writer, and at the end, that artist would visit the school. Greenfield-Sanders was tasked with taking their photos. The opportunity allowed him one-on-one time with Alfred Hitchcock, Ingmar Bergman and others who schooled him on how to do his job better.
Hitchcock, in fact, told Greenfield-Sanders that his lighting equipment "was in the wrong place, young man." Hitchcock introduced Greenfield-Sanders to lighting people at his studio and became a mentor, often providing lunch invitations at Universal Studios with costumer designer Edith Head.
But it was a week-long stint with actress Bette Davis that stuck with the young photographer. One day, as Greenfield-Sanders was getting on his knees to take her picture, she said: "What the … are you doing shooting from below?" She offered to teach him about photography and finding a person's best angles if he was her driver for a week.
"It was an incredible experience, but very casual at the same time," he said.
The crash course in photography persuaded him to take on portraiture full time. Filmmaking "was so collaborative and relied on so many other people," he said. "But as a photographer, it was my work, my art."
In the years since, Greenfield-Sanders has gone on to photograph Muhammad Ali, Naomi Campbell, Hillary Clinton and rapper Foxy Brown. His work has made it into the Museum of Modern Art, the Whitney and the National Portrait Gallery, among others. He also won a Grammy, in 1999, for music documentary for "Lou Reed: Rock and Roll Heart." The film was his first.
The idea for the "List" series that would bring him more notoriety originated more than 10 years ago, when Greenfield-Sanders was talking with Nobel laureate Toni Morrison. She thought it a good idea for them to partner on a photo book of the great black vocal divas. He passed on the idea but was inspired to do something else.
"I started to think of African Americans that I knew who were so accomplished, who were remarkable people, but you didn't really see them," he said. "They were lost in the celebrity shine of Oprah and Barack Obama. You didn't see Faye Wattleton [the first black and the youngest president of Planned Parenthood] and T.D. Jakes [an influential preacher]. I thought that would be interesting for a portrait show."
It was a way to say, 'Here is 50 people you might not know but are extraordinary and have done great things.'
— Timothy Greenfield-Sanders
Greenfield-Sanders compiled a list of nearly 50 black people with film critic Elvis Mitchell, who conducted interviews. The diverse lineup included Sean "Diddy" Combs, Al Sharpton and curator Thelma Golden. The result was "The Black List," a three-part documentary and photo series that debuted in 2008 and explored black identity through the accomplishments of celebrities and history makers.
"It was a way to say, 'Here is 50 people you might not know but are extraordinary and have done great things,' " he said. "To see that many people in one place in a gallery or on television is moving and important and educational and informative."
"The Trans List" includes 40 portraits seen for the first time in the Annenberg exhibit. "The Trans List" film will premiere Dec. 5 on HBO.
Janet Mock, author of "Redefining Realness" and producer and interviewer for the "Trans List" film, said the collection of "voices, experiences, tragedies and triumphs" will "dispel myths that often fuel misinformation, injustice and violence."
The photos include actresses Mya Taylor ("Tangerine") and Candis Cayne ("Dirty Sexy Money"), genderqueer advocate Jacob Tobia and former tennis player Renée Richards. The film features activist Alok Vaid-Menon, attorney Kylar Broadus and former model Caroline Cossey.
"What motivated me to produce the documentary was the power of testimony and how it allows those bearing witness to a stranger's testimony to see that person and to recognize that despite our differences, we all yearn, strive, hurt and love — and we ultimately want to be seen for who we truly are," Mock said.
Portions of Greenfield-Sanders' series have been exhibited before, but the Annenberg show is the first to pull them all together.
"It's one thing to read and talk about the role of race and sexuality and gender identity in our lives. It's another thing to turn a powerful, piercing camera lens on people of all races and sexual orientations and identities to get a window into our souls [and] what defines us and divides us and unites us," said Cinny Kennard, executive director of the Annenberg Foundation, the photography space's umbrella organization. Greenfield-Sanders' portraits, she added, teach us "more about identity and self-realization, about how people see themselves and how they strive to be seen, than we can capture in many thousands of words."
------------
'Identity: Timothy Greenfield-Sanders, the List Portraits'
Where: Annenberg Space for Photography, 2000 Avenue of the Stars, L.A.
When: Opens Saturday, runs 11 a.m. to 6 p.m. Wednesdays-Sundays, through Feb. 26
Admission: Free
Information: (213) 403-3000, www.annenbergphotospace.org
Get your life! Follow me on Twitter: @TrevellAnderson.
ALSO
Larry Clark turns life into art for photo exhibit at new United Talent Agency gallery
Ry Rocklen's sly sculptures: There's more than what you might see at first
Pure color: A curator's new view of Helen Frankenthaler's unprimed legacy
Get our L.A. Goes Out newsletter, with the week's best events, to help you explore and experience our city.
You may occasionally receive promotional content from the Los Angeles Times.