Tony Berlant's latest exhibition is an explosion of color and texture
Tony Berlant has been a busy man lately. The 77-year-old artist, a crucial influence in the West Coast Pop Art Movement of the 1960s, recently debuted a solo exhibition of new work at Kohn Gallery in Hollywood — and after six decades of making art, "Fast Forward" may be his most energetic show to date. The exhibition of cut metal collages — sculptural paintings, you could call them — is exploding with color and texture, in range and form. The works are blanketed with tiny, geometric cutouts bolted to wood panels with hundreds of slender, glistening sharp nails; they walk the line between assemblage, Pop Art and abstraction.
Berlant is also a significant collector of both ancient Southwest pottery and Paleolithic stone objects, and he recently co-curated two museum exhibitions, "First Sculpture: Handaxe to Figure Stone" at the Nasher Sculpture Center in Dallas and "Decoding Mimbres Painting: Ancient Ceramics of the American Southwest" at LACMA, the latter of which is up through Dec. 2.
Then a funny thing happened: in a period of relative quiet after the Kohn exhibition was largely planned and his curatorial duties had been put to rest, Berlant experienced a burst of unexpected inspiration. A flurry of new works emerged. About 25% of the "Fast Forward" show, he says, was created in the last few months before it opened.
"It just felt like I was in a fast-forward moment as an artist," he says.
Discover more about the artist's long career in this edited conversation below.
What sparked the last-minute frenzy of creativity? You never know. For me, it was just very liberating to realize these other [museum exhibitions], very ambitious art historical projects, and decide that I could now give myself over full time [to making art], focus my brain and energy in just one place, and this is the result of that — suppressed energy, perhaps, jumping forth. A whole lot happened that surprised me at the last minute. Which tends to happen with me and some other artists — once you have the show completed, the new ideas suddenly pop forward. I had never made these very cut-up, hexagon-all-over, vibrating pictures before. I don't wanna call them psychedelic, let's call them the mind-manifesting works. It's a mystery to me why all this happened so well, but I'm all fired up now and excited to be completely dedicated to being a daydreaming artist all the time — and this show is really the first big expression of that.
You have such a specific process of printing and cutting up tin — how did it evolve? I started out around '63 mainly using old and new advertising signs that were at a neighborhood market that got torn down a few doors away from my studio. Gradually I went out to all the thrift shops — the "as-is yards" they were called — and then I started fabricating tin at a big metal fabrication place out in Rancho Cucamonga, and they let me work in the factory and make tin and paint tin myself. So it's a mix-up. Then maybe 10 years ago I started using photographs that I took myself and having them digitally spray-painted on metal. It was a way of expanding the imagery and making the imagery very personal. All these things evolve; they're not conscious decisions. They just happen step by step in an organic structure.
I was a student and later close friend of [Richard] Diebenkorn and other painterly painters like Ed Moses, one of my closest friends. I came out of Abstract Expressionism as a high school student. I always thought a lot like a painter, so there's a fluidity there. And they became more and more fluid, like paintings, more atmospheric, as the years went by.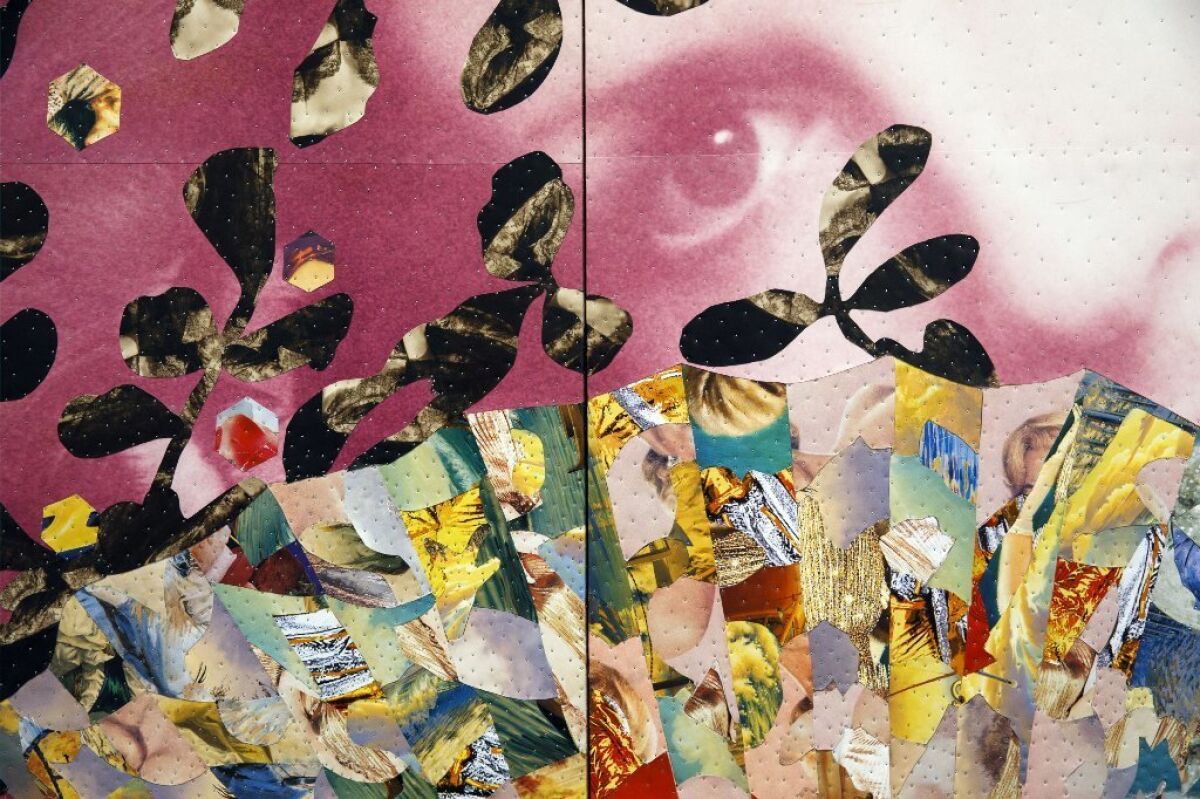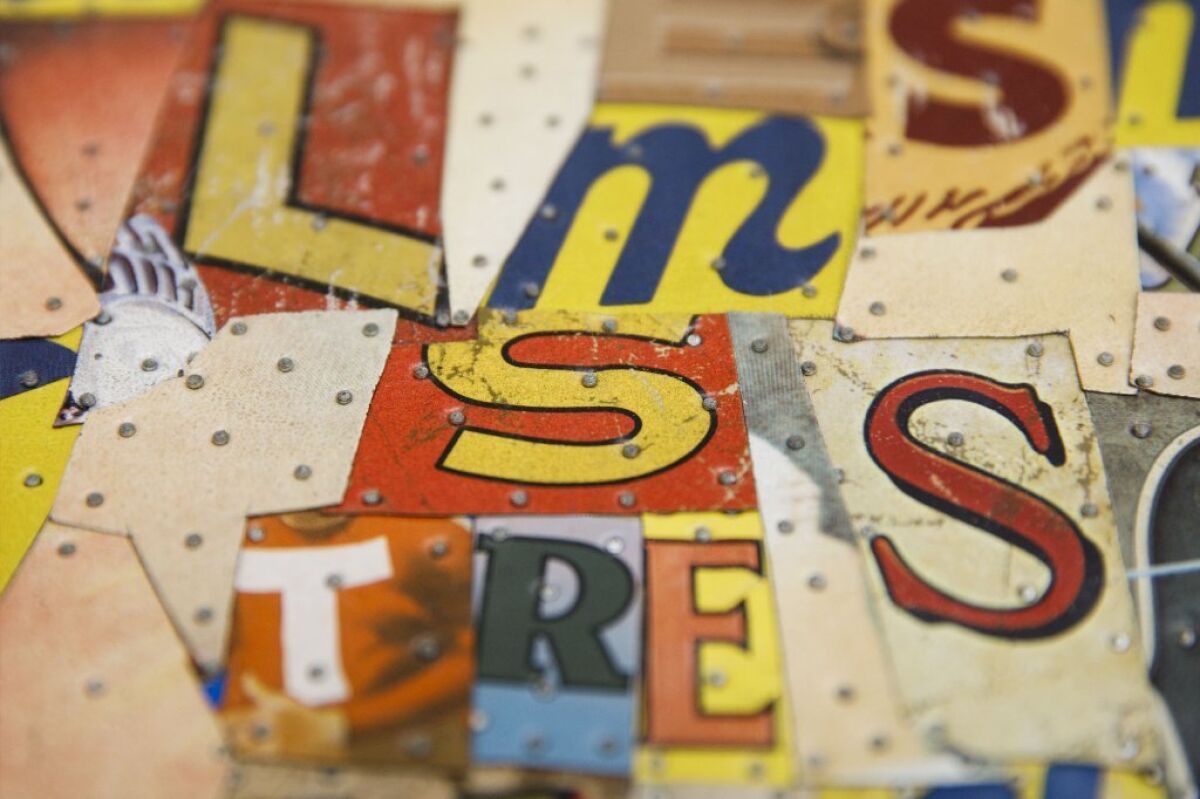 The show includes photographic, collaged portraits of yourself, your wife and your daughter — is this show more personal than others? I think so. That's a conscious decision, it made sense only to make things that I'd actually want to keep. They're not for the art world, they're for me. And the belief that I've had for a long time that the more personal and intimate work becomes, the more universal and timeless it actually becomes. It's a kind of a contradiction. They're made for personal needs. Being happy at the prospect of keeping any one of them is one way to think about it.
Your self portrait is based on a Polaroid that Andy Warhol took of you in the '70s. What's the story behind it? I met Andy because Claes Oldenburg brought him over as someone who was a collector and said 'Oh, and also he makes things.' That was before he had the Campbell Soup cans show. He was very distinctively different, very quiet. But very supportive. I don't remember physically where [the shoot] took place, somewhere in SoHo.
There's something like 48 of those snapshots. The [Andy Warhol Foundation for the Visual Arts] a few years ago sent me all these pictures of me and they wanted to know if a painting existed; because usually, if he took that many Polaroids, he made a painting. But I didn't want a painting of me [at the time]. I [told him that] and he said, 'Well, this'll be a kind of everyman image.'
I was totally admiring of him, was delighted to have him take a bunch of photos of me, but I didn't see them for a very long time, decades. Then when I saw those pictures, it was a natural thing to use one of those images. Just the fascination of being 77 and seeing an image of yourself from so long ago, and also made by Andy, it's a kind of collaboration after the fact. It's also using the Andy portrait as an artifact — if you're gonna appropriate anything, what's more appropriate than appropriating an Andy Warhol photograph of yourself — it's sort of a strange circle. And I think it's the only photograph I ever had made of me with my shirt off.
In the 1960s you lived between New York, where you had a studio in SoHo, and L.A., where you showed with David Stuart Gallery and were part of Ferus Gallery's scene of "Cool School" artists along with Ed Moses, Robert Irwin, Ed Ruscha, Larry Bell and others. Take us back to those early days in L.A. Having an exhibition was a sort of social event with the people you were close to, a kind of intense sibling rivalry. Because you had great affection for these people but it's a kind of stew of different personalities who all evolved together and influenced each other in ways that aren't even consciously understood by people until someone writes up a coherent explanation. Everybody was very supportive of everyone else.
In L.A., we felt at the time that we were paying some kind of price for not going to New York, where people were fighting for the trophies and recognition. But now in retrospect, there was definitely a freedom being here. I remember [Ed] Moses saying many times that in New York, people spend half the time in the studio, and half the time hustling in their careers; and that in L.A., people spend half the time in the studio and half the time having a good time, which was true.
How do you view the local art scene now? My New York friends tend to think of the '60s as a kind of golden moment that's now been erased by commercial focus. But I think L.A. is [still that]. It never left. I just assume that there's all kinds of fantastic artists working that I've never heard of because they pop up here and there, and I see them, and I'm just really excited by that. It's what makes you feel good about a place.
You've seen a handful of close artist friends pass away recently — Ed Moses earlier this year, Chris Burden and Charles Garabedian before that. How does that affect you as an artist? It's sad. That's the audience. Those are the people you really work for. I missed them at my opening. And I missed getting their reactions and support, people who you're close enough to that they're gonna be totally candid at all times. But I also recognize that it's a sign of having had a wonderful life, the pain of having lost these people who are so cherished. You can't have it both ways. If you're gonna love people, you're gonna really miss them when they're gone. And in some strange way – and this is part of the culture of art – they remain alive for you.
What would you tell your 20-year-old self in that Andy Warhol Polaroid? About memory. I realize now that my life has been a lot more exciting when I talk to people. But I've forgotten a lot of the exciting stuff that happened. Just follow your instincts and do what makes you happy. That's what artists do. They work from inner need, necessity ideally. And it's a wonderful thing to do, inexplicably wonderful. And I tell my daughter, who's an incredibly gifted comedian-actress, just look both ways when you cross the street.
Tony Berlant: "Fast Forward," Kohn Gallery, 1227 N. Highland Ave., Hollywood. Through Nov. 2, 2018. (323) 461-3311.
Follow me on Twitter: @debvankin
---
Get our L.A. Goes Out newsletter, with the week's best events, to help you explore and experience our city.
You may occasionally receive promotional content from the Los Angeles Times.