Review: 'Spike Spangle' is a 1986 play about foreclosure and a rigged system. Sound familiar?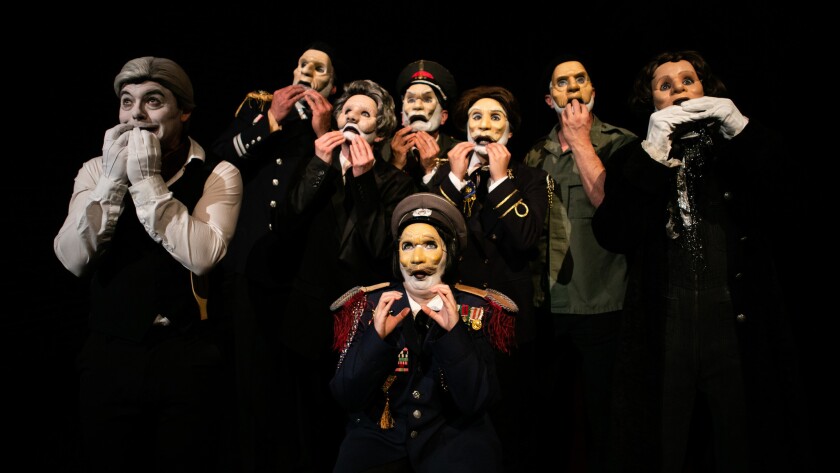 Stop me if you've heard this one lately: A farmer struggling to make ends meet finds himself the cruelly exploited pawn in a geopolitical power play. Sad to say, it's a tale as old as time — or at least 1986, when the Actors' Gang first staged "Violence: The Misadventures of Spike Spangle, Farmer."
The intervening decades have only sharpened the political satire that fuels this stylishly gripping revival. Tim Robbins, artistic director of the Actors' Gang, and Adam Simon penned the piece in the cartoonish strokes of Robbins' mentor, Italian playwright Dario Fo, whose "Accidental Death of an Anarchist" was an earlier entry in the company's season. Although the two shows share a stylistic and thematic affinity, "Violence" needs no translation or cultural adaptation. It's as American as apple pie.
Unfortunately, only a tiny slice of that pie has fallen to down-and-out farmer Spike Spangle (Tom Szymanski) and his pregnant wife, Flora (Andrea Monte Warren), a sympathetic couple who face the imminent foreclosure of their modest home.
SOUTH COAST REP: Review: David Henry Hwang's 'M. Butterfly' takes flight in a more gender-fluid era »
Spike's attempts to salvage his middle-class life pit him against the financial, religious, medical, military and media forces complicit in a rigged system. These oppressors are savagely rendered in bold stereotypes by ensemble members in multiple roles.
Pulling everyone's strings is the nefarious "industrialist savant" Maximillion Enormous (hyper-amped Will Thomas McFadden), who cons Spike into serving as the token everyman on a highly publicized space shuttle mission with a sinister ulterior purpose.
The visceral staging by Bob Turton makes excellent use of the Actors' Gang signature impassioned commedia dell'arte physicality, enhanced with unsettling masks and face paint.
CHANCE THEATER: "New Girl" writer Kim Rosenstock's 'Tigers Be Still' in Anaheim »
In keeping with the exaggerated presentation, most of the unsubtle, prosaic dialog leaves little ambiguity about the intended message. The dominant emotional throughline is cold mockery seething with outrage.
Nevertheless, unexpected moments of tender lyricism emerge between Spike and Flora. Rising above the raucous din, a dissolute, diminished Superman (Turton) delivers a haunting soliloquy on the illusory American dream.
Aside from state-of-the art video projections by Cihan Sahin, the show is virtually unchanged from 1986. Many of its then-topical references may have aged into obscurity, but the message has not — which is exactly the point.
=====
'Violence: The Misadventures of Spike Spangle, Farmer'
Where: The Actors' Gang Theatre at the Ivy Substation, 9070 Venice Blvd, Culver City
When: 8 p.m. Thursdays-Saturdays, through June 22; also 2 p.m. Sunday, June 2 and June 9. $34.99; Thursdays are pay-what-you-can
Info: (310) 838-4264 or theactorsgang.com
Running time: 1 hour, 50 minutes
=====
See all of our latest arts news and reviews at latimes.com/arts.
---
Inside the business of entertainment
The Wide Shot brings you news, analysis and insights on everything from streaming wars to production — and what it all means for the future.
You may occasionally receive promotional content from the Los Angeles Times.