The runner's view of Los Angeles: Its landscape, its people, and the BBQ at mile 10
It all began with a run to the porno burrito.
It was early in January and our training regimen for the upcoming Hollywood Half Marathon required a weekly run of at least six miles. But it was dinner time, so rather than run circles around a park, we ran through East Los Angeles, Lincoln Heights and Cypress Park. Destination: El Atacor No. 11 for the behemoth super burrito — a dish whose girth and length are so out of scale it has come to be known as the "porno burrito."
But what began as a lark ended up turning into a singular way of exploring the far-flung corners of Los Angeles.
For each training session, my running partners and I would pick a restaurant in a random part of Los Angeles, map a route around it and then get to work — running eight, 10, 12 miles through tidy residential enclaves and gritty industrial areas, before landing at some neighborhood eatery, sweaty and out of breath.
Since that first burrito run in early January, we have covered more than 120 miles of territory in different corners of the county, around Compton, through tony Beverly Hills and all over the People's Republic of Santa Monica. We have eaten a spectacular array of foods — from barbecue rib tips to a caviar omelet — and in the process we have gotten to know the city in surprising and intimate ways.
When you're running, any element in the landscape — a slight uphill grade, the shade of a tree-lined street, the industrial taste of the air around a freeway interchange — becomes evident in ways that simply don't resonate in a car, or even an easy stroll. The landscape shifts. Foothills give way to flats. Grand houses to court apartments. Boulevards of bleating traffic to muted side streets. The city is always changing.
After four months, I'm convinced there isn't a better way to get to know Los Angeles.
Let's go on a run. We're doing another session on Saturday, March 26 – follow along on our Snapchat (LosAngelesTimes).
I have run a dozen routes through Los Angeles with my two training partners, Maria Fellows, a Pasadena family therapist who specializes in transnational adoptions, and Abbie Swanson, the producer of KCRW-FM's "Good Food." These five routes show the range of urban landscapes that reveal themselves through the runner's view of Los Angeles.
Compton: 9.42 miles to Bludso's BBQ
I wanted to pay a visit to the Dr. Martin Luther King Jr. Memorial at the Civic Center, a spiky Modernist white crown designed by architect Harold L. Williams and completed in 1977. And Abbie wanted to eat barbecue at Compton's famed Bludso's. This run united both of our interests.
We used our run as an opportunity to see other sights too: Abbey Memorial Park, with its wild Moorish mausoleum, and Eagle Tree, a nearly 300-year-old sycamore that dates to a time when L.A. was nothing but a collection of dusty Spanish ranchos. We even trotted past the old Skateland on South Central Avenue, where N.W.A helped change the course of hip-hop with its blazing performances.
The run, which started at Alondra and Long Beach boulevards, was also an opportunity to study the nuances of the Compton landscape.
In the '40s and '50s, much of Compton was white, kept out of black hands through the use of restrictive housing covenants. During that era, the area around downtown was off limits to blacks. "Keep the Negroes north of 130th Street" was one white rallying cry. But by the 1960s and '70s, African Americans had begun to move in, and Compton became an important site of the black suburban dream.
Foothills give way to flats. Grand houses to court apartments. Boulevards of bleating traffic to muted side streets. The city is always changing.
— Carolina A. Miranda
The city's residential architecture is a mirror of this history. The structures around the periphery are more modest. In the areas around downtown, the lots get bigger and the homes more graceful — including one particularly beguiling early 20th century number just off Alondra Boulevard that sports a courtly crenelated tower at its entrance.
Of all the communities we ran through, Compton offered us the warmest welcome. A pack of kids trotted alongside us for a stretch on Bullis Road, asking if they could join in. Near Alameda Street, an old man yelled his encouragement in Spanish: "¡Ándale, muchachas!" On Compton Boulevard, we passed a flotilla of lowriders in iridescent shades of blue and purple, their drivers honking and cheering us along as our energy flagged at Mile 8.
As we ordered our rib tips at Bludso's, Abbie, Maria and I felt buoyed. If Compton were to host a race tomorrow, we'd be the first to sign up.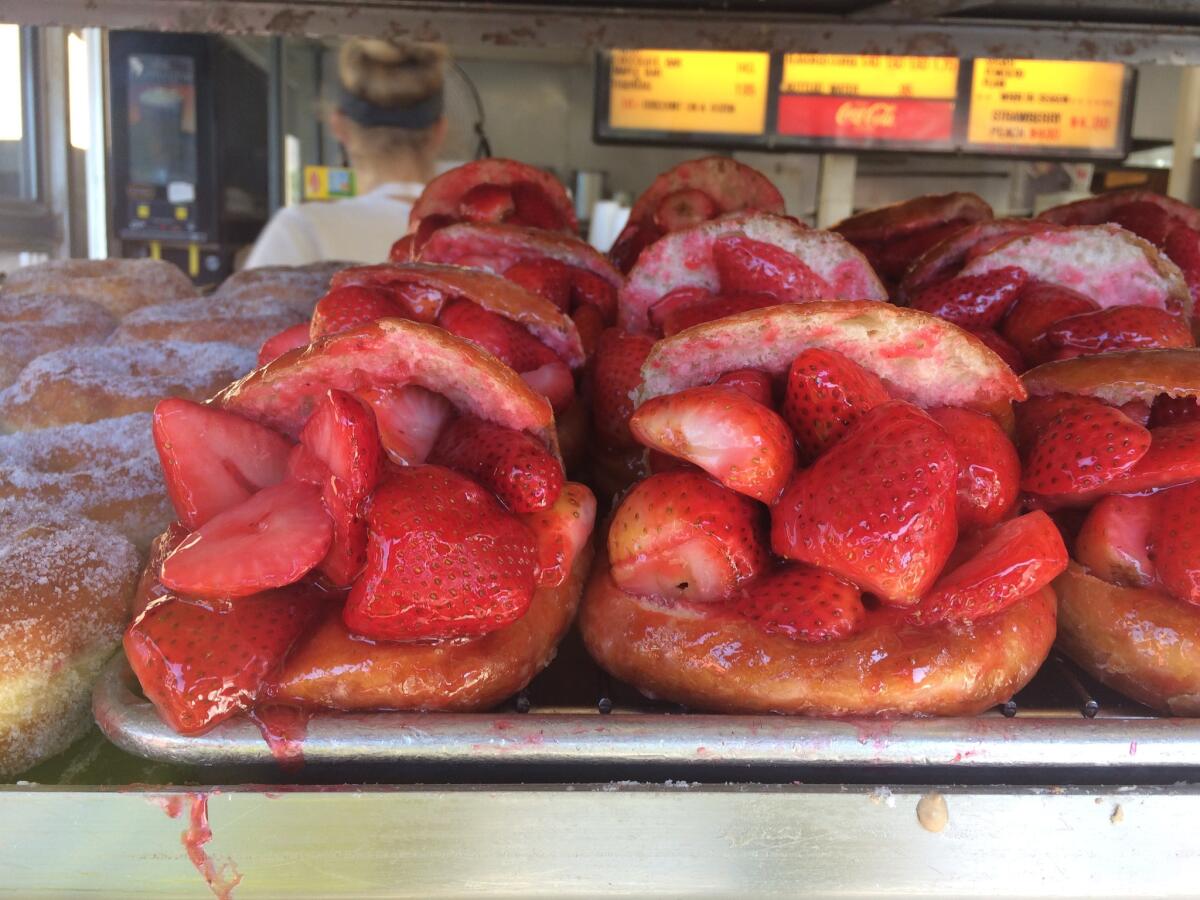 Glendora: 8.01 miles to the Donut Man
Our course took us along old Route 66, the Glendora Country Club and into the foothills of the San Gabriel Mountains, before we circled back and landed at the roadside stand of the legendary Donut Man, Jim Nakano.
This route represents a perfect intersection of California-ness: craggy mountains, California oaks, old ranch lands now carpeted with sprawling ranch houses and Craftsman bungalows and, of course, doughnuts. But not just any doughnuts: Nakano's strawberry-filled doughnuts, which in profile resemble the billowing spikes of Jørn Utzon's Sydney Opera House.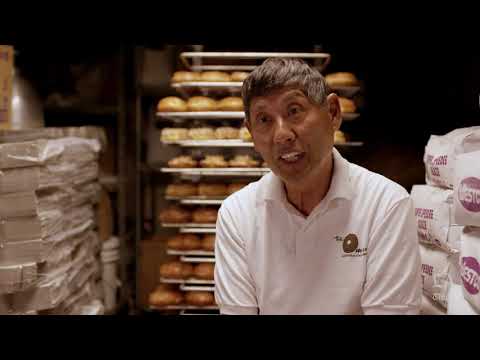 Jonathan Gold takes you inside Donut Man, a destination doughnut spot in Glendora that specializes in doughnuts made with fresh strawberries.
The best part? All of it is situated around historic Route 66, the pathway that helped draw thousands of migrants to Los Angeles a couple of generations ago.
Nakano wasn't there the day we were there. But his personal history had been an inspiration to the three of us. A third-generation Japanese American, Nakano endured detention during World War II at a camp in Arizona — a piece of U.S. history that casts a shadow on so many corners of Southern California. Yet his mountainous fried dough creations reflect an unrestrained joy, a lesson, perhaps, in how to deal with adversity.
After a run that seemed to go only up and up, the Donut Man's warm tiger tail doughnut, a foot-long twist with wisps of chocolate, helped bring us back to life — a trio of dog-tired runners, sprawled out in the parking lot, moaning from equal parts pain and sugary satisfaction.
Beverly Hills: 11.25 miles to the Fountain Room
At least one of our runs had to acknowledge the Hollywood Industrial Complex, and this was it. The route took us along Sunset Boulevard, past Cedars-Sinai (where Madonna had her hernia operation), along Rodeo Drive and the moneyed windows of Chanel and Saint Laurent, and past the Church of the Good Shepherd along Santa Monica Boulevard, where Carmen Miranda's funeral was held in '55. We also jogged past the Spadena House — the so-called Witch's House — which appeared in the silent film version of "Hansel and Gretel" in the early 20th century. (The house looks ominously large when not seen from a car.)
Since our run was timed to Oscars Sunday, we were also able to watch the Vanity Fair party set up at 7 a.m.
We ended our workout at the Beverly Hills Hotel, where we trotted down to the Fountain Room café for extravagant eggs ($30-plus including coffee). Maria was concerned we might not be admitted to the hotel in our workout gear. I told her we'd be the only ones in the joint who'd actually worn workout gear to work out. (I was right.)
I will not lie: Running Beverly Hills is sensational. The streets are bucolic. You don't have to dodge dog poop. The architecture — in all kinds of Tudor revival and neo-Classical styles — is splendiferous. And the smoked salmon and caviar omelets went down all too easy.
But the intensity of the drought has left me with less of an appetite for emerald lawns and generous tree canopy. Entering Beverly Hills (as well as cities such as San Marino), after running Compton and East L.A., is like entering a different ecology — one that isn't grounded in environmental reality.
It's beautiful. But you can't help but wonder about all the waste.
Santa Monica: 10.75 miles to the Galley
In the city that is home to Frank Gehry, it seemed right to map a route devoted to architecture. And Santa Monica delivered.
Heading north on Main Street, we ran by the hyper-stylized Modern forms of Welton Becket's Civic Auditorium. Two blocks away, we passed a historic Sears building from 1947. We rounded the next corner and ran into the old Builder's Exchange Building from 1927, with its Churrigueresque architectural flourishes. And that was all in the first mile.
There was also Gehry's residence on Washington Avenue, first completed in 1978, a reimagined a Dutch colonial-style building shrouded in an exoskeleton of corrugated metal and chain link. And there was the Horatio West Court on Hollister Avenue, completed by Irving Gill in 1919, a pioneering arrangement of Modernist boxes we saw toward the end of our run (when we were pretty much cooked).
But no trip to the beach is without kitsch. So we ran amid startled tourists for the length of the Santa Monica Pier (the oldest pleasure pier in California) and hit the Venice boardwalk, past skaters and loose dogs. After nearly 11 exhausting miles, completed after a long day at work, we landed at the Galley, the eight-decade-old seafood restaurant housed in a building shaped like a ship.
There, a salty dog interior lined with puffer fish lamps beckoned, as did a round of margaritas and a pot of steamed clams. It was a taste of old Santa Monica, a city that at one time wasn't afraid to be a bit camp.
Boyle Heights and downtown: 6.17 miles to La Mascota
Some of our routes were about expediency (finding a convenient spot to train and eat on a given day), others about sightseeing. This morning run offered a little of both.
We began in Boyle Heights, skirting Hollenbeck Park, which offers the surreal sight of a park with a freeway running through it. From there, we took the 4th Street bridge over the L.A. River into downtown, admiring the skyline's muted outline in the foggy pre-dawn light. The route took as us through the rapidly deindustrializing Arts District, then back to Boyle Heights over the 7th Street Bridge.
From there, we ran past the Sears building (a stunning Art Deco tower from 1927) and Estrada Courts, whose buildings, draped in bold murals, resemble an outdoor museum. The phrase "Orale Raza" cheered us on from a building on Lorena Avenue.
This run was in part about exploring the Mexican American heart of a city that bears a Spanish name. Men and women greeted us on their way to work with quiet holas. One man joked that we'd be able to eat more tamales once we were done.
That was exactly the plan. We ended our run at the renowned La Mascota bakery on Whittier Boulevard, a place redolent with the smell of coffee, steamed tamales and mountainous sandwiches stuffed with huevos divorciados.
We are probably the only people in training who have gained weight. We like to joke that it's muscle. I like to think that I'm simply carrying pieces of L.A.
Find me on Twitter @cmonstah. You can finds KCRW's Abbie Swanson at @dearabbie.
See Abbie's take on our running experiences at KCRW's "Good Food." The program will air a segment about all our running and dining on Saturday at 11am.
ALSO:
With swagger and style, Jose Montoya's drawings at the Fowler document Mexican American life
L.A.'s Hauser Wirth & Schimmel is out to upend the definition of a gallery
After you visit Hauser Wirth & Schimmel: our handy art map to 15 more downtown L.A.-area galleries
Get our L.A. Goes Out newsletter, with the week's best events, to help you explore and experience our city.
You may occasionally receive promotional content from the Los Angeles Times.