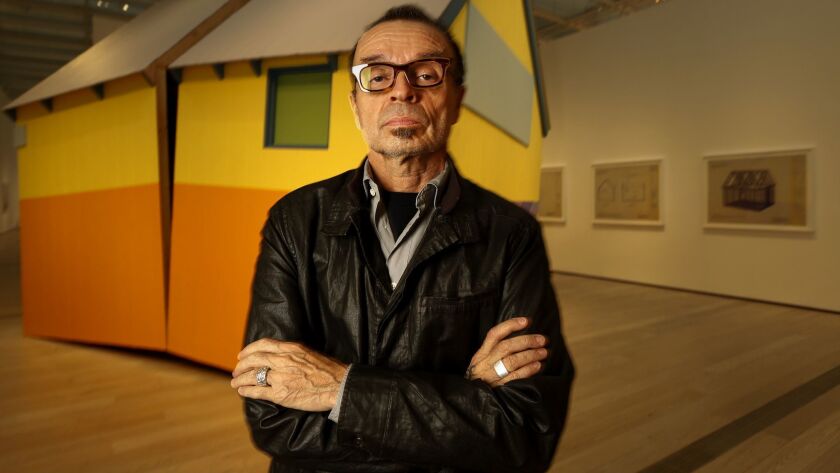 Every two years, artists and writers await the final list of Los Angeles artists selected to participate in the Hammer Museum's "Made in L.A." biennial. Art watchers also await the announcement of the biennial's related Mohn Award, the $100,000 prize given to an artist in the show for artistic excellence — as well as two separate $25,000 prizes, one of which is for career achievement, the other for public recognition.
This year, the Mohn award goes to artist Lauren Halsey, who has wowed critics, crowds and the Mohn jury with her prototype for a monument that she aims to build in South Los Angeles. where she is from. In an emailed statement, Halsey says she is grateful and honored: "I hope other artists will find this inspiring and motivating."

For his role as an artist and teacher — and as someone who has influenced a generation of artists in Southern California and beyond — conceptual artist Daniel Joseph Martinez, who once recreated the Unabomber's cabin in a gallery at the Los Angeles County Museum of Art, received the award for career achievement.
Performance artist EJ Hill was named the recipient of the public recognition award, which is determined by popular vote by visitors to the Hammer Museum.
Thomas J. Lax, an associate curator of media and performance art at the Museum of Modern Art in New York, who served on the independent jury that determines the awards, says the selection process wasn't easy. "There were so many phenomenal artists in the show," he says.
But the jury — which also included Liz Munsell, a curator of contemporary art at the Museum of Fine Arts, Boston and Pilar Tompkins Rivas, director at the Vincent Price Art Museum in Los Angeles — settled on Halsey and Martinez for their standout work and influences.
Halsey's "Crenshaw District Hieroglyphic Project (Prototype Architecture)" seamlessly fuses elements of ancient Egyptian architecture with Afrofuturism and scenes of everyday life in Los Angeles. "It points to this unknown universe or world," says Lax. "She's kind of built a cosmology that is its own semi-autonomous architecture."
As for Martinez, "the reason Daniel became our singular choice was because of his deep influence on the community of younger artists in Los Angeles," says Lax. For the biennial, he showed a series of images in which he photographed himself around Berlin holding a medieval-style standard bearing the face of the leftist German militant Ulrike Meinhof.
Hill, who was selected not by the jury but instead by the museum's visitors, is in the midst of undertaking a lengthy performance titled "Excellentia, Mollitia, Victoria" in which he stands all day, every day, on a medal stand inside the museum's galleries.
All three awards are sponsored by Jarl and Pamela Mohn and the Mohn Family Foundation as part of "Made in L.A." The exhibition closes in early September.
ALSO:
An American artist's provocative tribute to a 1970s German radical
Lauren Halsey takes a fantastic voyage in MOCA's 'we still here, there'
'Made in L.A. 2018': Why the Hammer biennial is the right show for disturbing times
Sign up for our weekly Essential Arts & Culture newsletter »
carolina.miranda@latimes.com | Twitter: @cmonstah
---