Newsletter: Essential Arts: RBG, the art exhibit plus Aztec opera and Helen Molesworth's MOCA swan song
Happy weekend, folks! I'm Carolina A. Miranda, staff writer at the Los Angeles Times, here to let you know that El Lay has got it going on this week. The essentials:
LAYER UPON LAYER
Adrian Piper, writes Times art critic Christopher Knight, "is one of those artists whose work unpeels like an onion." The conceptual artist is now the subject of a Hammer Museum retrospective. "She lampoons the very concept of racial identity as something inherent," writes Knight. "The concept of race is taught, much the way racism is a learned behavior." Los Angeles Times
Plus, Knight reviews curator Helen Molesworth's swan song at the Museum of Contemporary Art. "One Day at a Time: Manny Farber and Termite Art," he writes, is "exactly" the kind of exhibition to counter our "soulless, lopsided celebrity culture." Los Angeles Times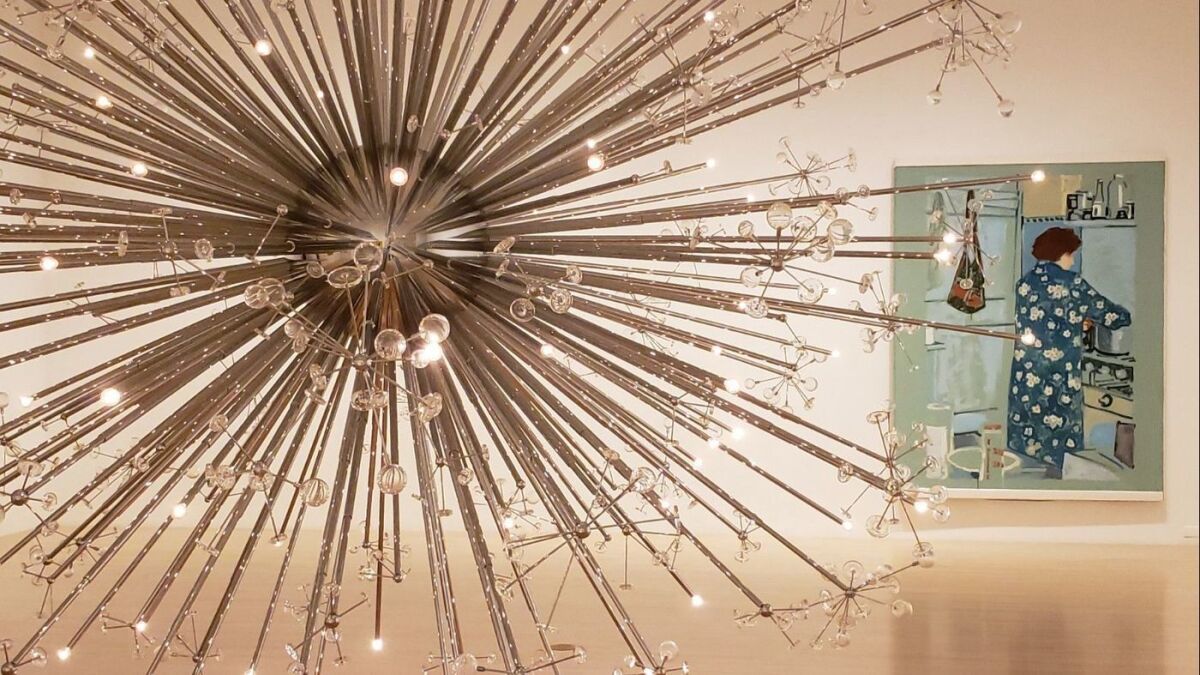 ARCHIVING PAUL R. WILLIAMS
Janna Ireland talked with contributor Mimi Zeigler about her quest to photograph as many buildings as possible by architect Paul R. Williams, the first black member of the American Institute of Architects. As Ireland told Zeigler: "I'm interested in stories about black people, and I'm interested in stories about Los Angeles. There's an intersection there." Los Angeles Times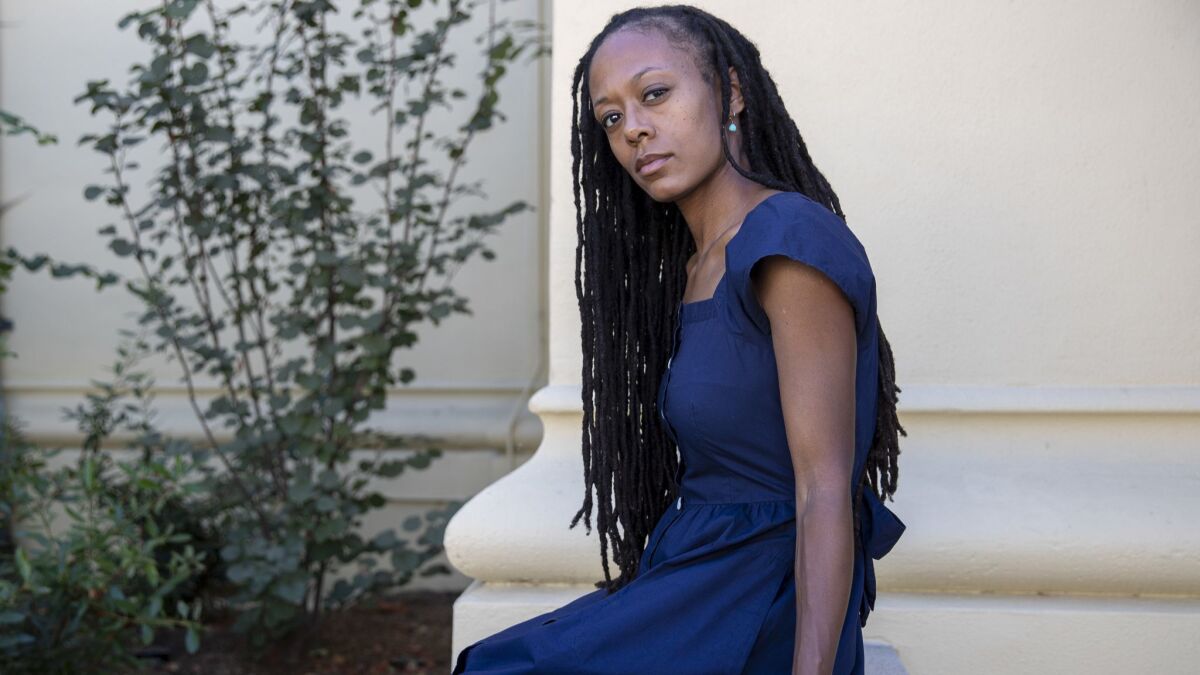 A LOOK AT THE '90S
Speaking of MOCA: In 1990, artist Barbara Kruger painted a mural on the museum's Little Tokyo outpost that asked nine questions. Among them, "Who is beyond the law?" She is now reprising that piece for MOCA in advance of the mid-term elections. Of the continued relevance of her initial queries, she tells me: "It's tragic and sad that there is still resonance on these issues." Los Angeles Times
This week I also profile Guadalupe Rosales, the artist whose "Veteranas and Rucas" Instagram account became an archival project on Chicano youth and ultimately a gallery-sized art installation at the Vincent Price Art Museum. The work takes items such as old flyers and photographs and turns them into an environment that evokes the feeling of an underground club — and, in the process, provides an invaluable record of Chicano life. "The way we've been represented," she tells me, "does not represent me." Los Angeles Times
Plus, if you feel the need to groove to some classic beats, Rosales has compiled an epic playlist. Spotify
For more arts goings-on, check out my Datebook, with last-chance shows and openings, including Sadie Barnett's "Black Sky," a solo exhibition at Charlie James Gallery that features collaged pieces made with her father's FBI files as source materials. Los Angeles Times
Matt Cooper also surveys the week ahead in SoCal museums and galleries. Los Angeles Times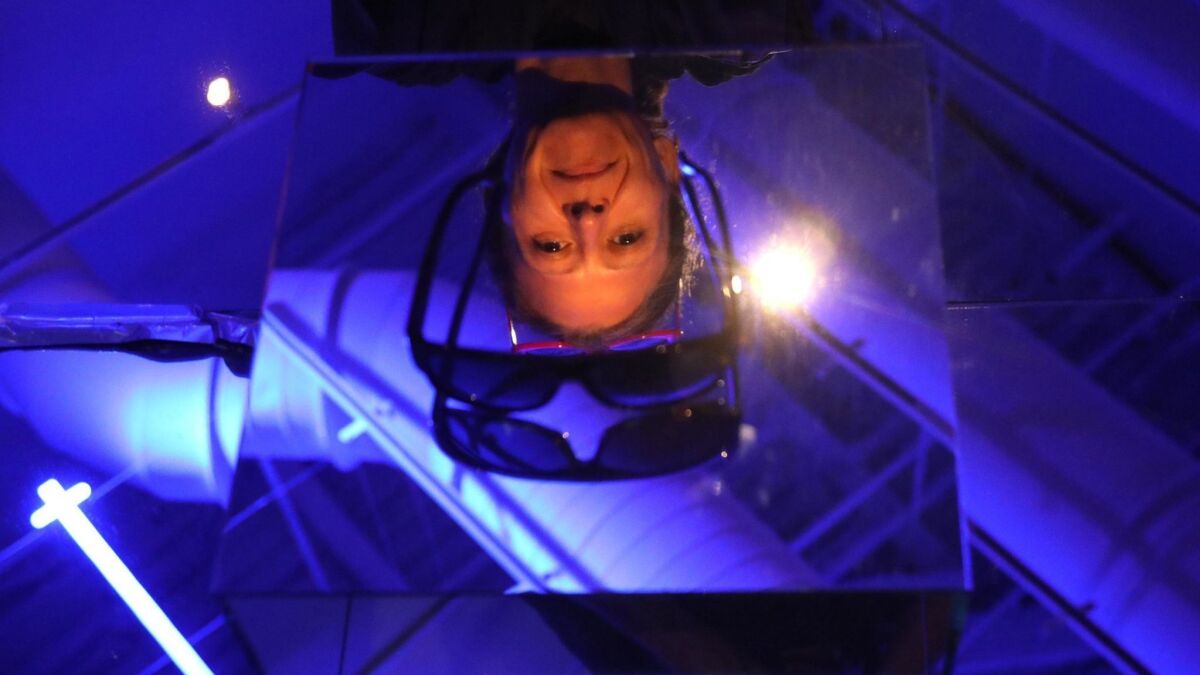 PLAYING WITH EXPECTATION
Times theater critic Charles McNulty traveled to the Bay Area to check out Jackie Sibblies Drury's "blazingly inventive" new play "Fairview" at Berkeley Rep. A twisting work within a work within an institutional framework, the play picks apart the nature of cultural tropes. It is, writes McNulty, "a 21st century play with a radical 1960s soul," one that "deconstructs the warping power of the white gaze." His advice: Somebody in L.A. produce this show — stat. Los Angeles Times
YOU DOWN WITH RBG?
She has inspired a Tumblr that dispenses "RBG Y'ALL" t-shirts, a documentary ("RBG"), a book ("Notorious RBG: The Life and Times of Ruth Bader Ginsburg") and the upcoming movie "On the Basis of Sex" starring Felicity Jones. Now the life of Supreme Court Justice Ruth Bader Ginsburg is the subject of an exhibition at the Skirball Cultural Center. Her story, co-curator Cate Thurston tells The Times Deborah Vankin, tells "a larger story about the expansion of civil rights throughout the 19th, 20th and now 21st centuries." Los Angeles Times
ICONS OF THE '50S
Times classical music critic Mark Swed looks at two musical works created in honor of two very different '50s cultural icons: Wadada Leo Smith's "Rosa Parks Oratorio" at REDCAT and the Noh collective Theatre Nohgaku's "Blue Moon Over Memphis." The two works, writes Swed, "are clearly products of what has become a mature and increasing essential globalism uniquely viable in the arts." Los Angeles Times
Plus, Swed looks at Week 2 of the Los Angeles Philharmonic's centennial season, which has included a uilleann piper, robotic laughter, electronic instruments, a chorus, Mayor Eric Garcetti on the piano with Moby and beer. "The week," he writes, "was exhausting, moving, enlightening, entertaining, intoxicating (the beer is strong), highbrow, mainstream and, all and all, inspiring." Los Angeles Times
For more performance, Matthew Cooper has all the weekend picks, including the Mariisnky Orchestra in O.C. Los Angeles Times
And for a look at the week ahead in SoCal classical music, Cooper has notes on South Korean pianist HyeJin Kim's U.S. premiere, chamber music from Camerata Pacifica and more. Los Angeles Times
VOLCANIC THEATER
"El Circo Anahuac: An Aztec Opera" at La Plaza de Cultura y Artes is inspired by the Náhua myth about the creation of the volcanoes Popocatépetl and Iztaccíhuatl that stand outside of Mexico City. This tragic love story has been turned into contemporary opera by composer David Reyes, who teamed up with producer Maria Elena Yepes and cartoonist Lalo Alcaraz to produce the show. Los Angeles Times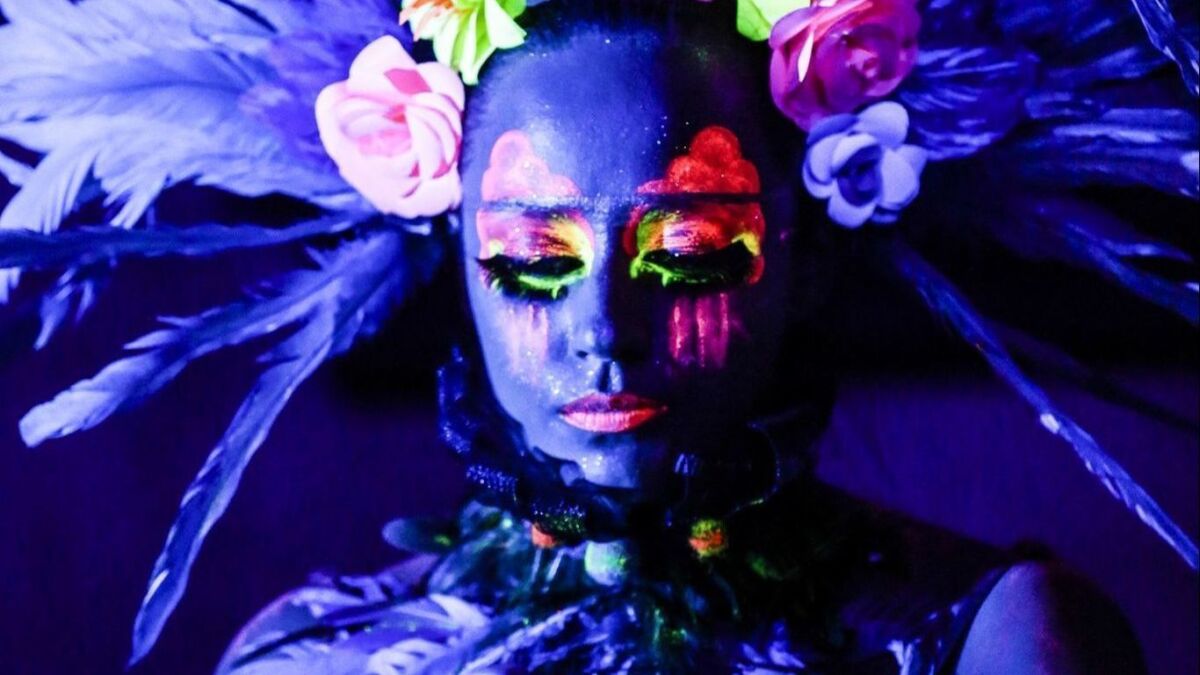 Plus, Philip Brandes rounds up what's happening in the 99-seat theaters, including an immersive Macbeth. Los Angeles Times
And Matt Cooper's look at the week ahead in SoCal theater. Los Angeles Times
BIG GUNS
The Times' Daryl H. Miller checked out "Johnny Got His Gun" at the Actors Gang theater, which goes inside the mind of a 20-year-old soldier. "The staging by Tim Robbins, the Gang's adventuresome leader, pulls us so wholly into this world that," he writes, that "80 minutes later, we are surprised to realize we've been sitting in a brick-walled theater in Culver City the whole time." Los Angeles Times
IN THE GALLERIES
Times contributing reviewer Sharon Mizota has been doing the white box thing. This includes "tough and fragile" glass boxing gloves created by the artist Laub at Visitor Welcome Center and the works of the late Channa Horwitz at Ghebaly Gallery, which translate sound and motion into geometric shapes.
Plus, at Moskowitz Bayse, she encounters the paintings of Eleanor Swordy, which explore the intersection of women and art. "Swordy's women are remarkably self-possessed," she writes, "both muses and artists."
LIGHT BRIGHT
On Nov. 3, 1,000 volunteers will descend on Laguna Beach at twilight for an ephemeral work of installation and sculpture whose main material will be umbrellas illuminated with LEDs. It's all part of artist Elizabeth Turk's Shoreline Project, done in collaboration with Assembly Dance Company. Los Angeles Times
Matt Cooper's week-ahead look at SoCal dance includes "Loaded," Heidi Duckler Dance's site specific work on borders and space. Los Angeles Times
ART GARDEN
In their last show in L.A., the muralist duo known as DabsMyla (Darren and Emmelene Mate) covered a 4,000-square-foot furniture company office and turned it into a work of painted art. Now they are back with a show at a pop-up space in Beverly Grove that riffs on flora inspired by 1960s and '70s patterns. Los Angeles Times
IN OTHER NEWS…
— A terrific piece by critic Oliver Wainwright on how women are written out of the story of architecture. The Guardian
— In the wake of the Sears bankruptcy, 99% Invisible has a pair of fascinating stories on the company: about their historic mail order homes and what cities are doing with all those empty Sears plants.
— The Orange County Museum of Art will open a temporary space in Santa Ana while its building in Costa Mesa is under construction. Daily Pilot
— LA Phil musical director Gustavo Dudamel will receive the Dorothy and Lillian Gish Prize for his contributions to the arts. Los Angeles Times
— Painter Mel Ramos, known for his depictions of scantily-clad pin-ups, has died at the age of 83. San Francisco Chronicle
— Janet Delaney's photographs of San Francisco's Mission District in the '80s. New Yorker
— Raquel Gutiérrez has an interesting essay being an artist in an age in which art is identified with gentrification. Open Space
— This Tony Oursler installation in New York looks like a trip. The Architect's Newspaper
— Freud's art, analyzed. Artsy
— A terrific profile of artist Carrie Mae Weems. New York Times
— Chris Kraus, of "I Love Dick" fame," has a new collection of essays out. Frieze
DEPARTMENT OF CORRECTIONS
Last week I misspelled "Gandhi" in the newsletter and many of you reached out about the typo. Sorry for the glaring error, but that happens when you're making artisanal journalism.
AND LAST BUT NOT LEAST…
Art historical pumpkins. Artsy
Sign up for our weekly Essential Arts & Culture newsletter »
carolina.miranda@latimes.com | Twitter: @cmonstah
---
Get our L.A. Goes Out newsletter, with the week's best events, to help you explore and experience our city.
You may occasionally receive promotional content from the Los Angeles Times.