Essential Arts & Culture: An L.A. opera genius, a giant sing-along and the movie music man
It is the heart of summer, and the cultural happenings are cooking. I'm Carolina A. Miranda, staff writer at the Los Angeles Times, with the week's essential cultural news:
DIRECTOR AT LARGE
Yuval Sharon, the director behind the innovative Los Angeles company the Industry, which has staged operas at Union Station and in moving cars, is staging Wagner's "Lohengrin" at the Bayreuth Festival in Germany at the end of this month. He becomes the first American director and only the second Jewish one to direct at this hallowed cultural event. (German Chancellor Angela Merkel is a regular.) Times classical music critic Mark Swed sat down for a conversation with Sharon ahead of his Bayreuth debut. Los Angeles Times
SING! SING!
Los Angeles Master Chorale artist in residence Eric Whitacre is going to get the state of California singing on Saturday with a massive undertaking that starts at Disney Hall — and will be simulcast to locations around the state (including San Diego, Fresno and Riverside) where other singers and audience members will join in the singing. "If you've never experienced a couple thousand people singing together, it just brings chills," the Grammy-winning composer told The Times' Jessica Gelt. "It's the best of human experience." Los Angeles Times
A SUMMER TRADITION
Since we're on the subject of music, composer John Williams, who over the course of his life has created immediately recognizable scores for films such as "Star Wars" and "Jaws" and who has racked up a staggering 51 Academy Award nominations, has for years presented his music in summer concerts at the Hollywood Bowl. This year marks the 40th anniversary of this L.A. tradition. Tim Greiving reports. Los Angeles Times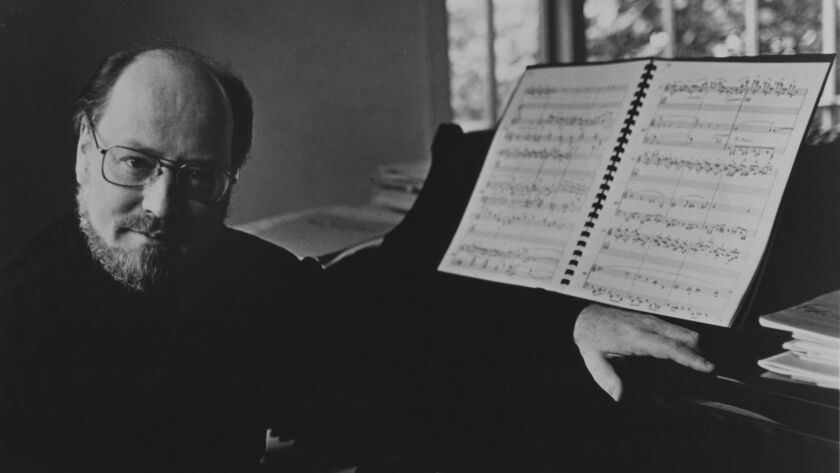 And if you are in need of a bit more classical, Matt Cooper has a roundup of all the best happenings that are coming up. Los Angeles Times
A LABYRINTH OF WEIRD
After 93 years, the journalists of the Los Angeles Times no longer inhabit the iconic Times building in downtown. In advance of packing up my tower of unopened mail and my Guerrilla Girls mask (good for meetings), I spent several days examining the architecture of The Times buildings inside and out — at one point even getting the boot from an angry security guard. But it was worth it: The Times buildings are a tour-de-force of scrambled interiors, bizarre "Being John Malkovich" rooms and homely interior design: "Until fairly recently, newsroom architecture was the design equivalent of a middle-aged guy wearing a short sleeve shirt and a tie — which for much of the 20th century was exactly who inhabited newsrooms." Los Angeles Times
They also are a limestone-and-green marble record of the history of journalism and of Los Angeles. As part of that, I look at the proposal to confer The Times complex with city monument status. Los Angeles Times
And The Times' Roger Vincent follows up: On Thursday, the city's Cultural Heritage Commission agreed to consider the application for monument status, which could put the brakes on a plan to build two apartment towers on the site. Los Angeles Times
— The Times' Thomas Curwen, in the meantime, looks at how the Times complex serves as a physical map of the rise and fall of the Chandler family. An epic read. Los Angeles Times
Plus: some historic photos of The Times from the collection of Times' papers at the Huntington Library. Verso
AN ARTIST'S ARTIST
"Norm Laich has produced more astonishingly diverse, profoundly significant art during the last 30 years than just about any other American artist," writes Times art critic Christopher Knight. "The catch: He's made just about all of it for other artists." That's because Laich is an in-demand art fabricator in Los Angeles — the artist behind the artists (such as Mike Kelley and John Baldessari) who knows how to translate an idea into a physical work. Knight has a look at the significance of Laich's output in an intriguing exhibition at the Institute of Contemporary Art Los Angeles. Los Angeles Times
Knight also has a gander at the Getty Museum's ongoing "Icons of Style: A Century of Fashion Photography, 1911-2011," which traces the history of this recent art form. "The indolent lassitude of almost every fashion model photographed since the beginning is the show's through-line," he writes. "Being a style icon means being carefree." Los Angeles Times
As always, find the week's essential visual art events in my Datebook, which this week includes astronomically inspired art and REDCAT's buzzing performance fest. Los Angeles Times
MOTHERHOOD ON STAGE
In "Cry It Out," playwright Molly Smith Metzler examines the relationship between two new working-class mothers who struggle to find balance in their lives and their ragged checking accounts. The experience of motherhood is shared by the cast of the play, which is now on view at the Atwater Village Theatre. "You have no idea what you're getting into when you have a kid," Metzler tells Jessica Gelt. "You have no idea it's going to crack your life open, it's gonna crack your identity open, it cracks your marriage open, it cracks your career open, and in my case it actually physically cracked me open." Los Angeles Times
BRIEF ENCOUNTER
David Lean's 1945 film "Brief Encounter" has inspired filmmakers for generations. It has also inspired a play: Stephen Sachs' "Arrival & Departure," which is now being presented at the Fountain Theatre in East Hollywood. The play, writes The Times' Daryl H. Miller, "is invigoratingly original and of-the-moment" — seamlessly and innovatively incorporating spoken dialogue with American Sign Language. Los Angeles Times
WHEN 'CLASSIC' IS OUT OF DATE
Times contributing reviewer Lewis Segal writes about the complicated nature of staging old choreographies that revel in stereotype — such as the full-length version of "La Bayadère," which was presented last week at the Dorothy Chandler Pavilion. "The ballet depicts ancient India as a realm of unprincipled fancy-dress barbarism," he notes. And while the 19th century choreographer (Marius Petipa) "might be guilty of nothing more than buying into and exploiting the xenophobic mind-set of Imperial Russia, why exactly are we still subjected to his corrupt vision of nonwhite societies?" Los Angeles Times
Plus: Matt Cooper's roundup of upcoming dance performances, including a gig by the Heidi Duckler Dance Theatre. Los Angeles Times
IN OTHER NEWS…
— A mysterious black sarcophagus in Egypt, thought to be the tomb of Alexander the Great, was opened. Inside were skeletons and dirty water. The Independent
— Kilroy and Company: A report on the graffiti of war. New York Times Magazine
— At ArtCenter in Pasadena: the art side of the moon. KCET Artbound
— Los Angeles artist Lauren Halsey wants to build a temple to her South L.A. neighborhood. That project is now inching closer to reality. Los Angeles Magazine
— "Today, the function of museums is not to overawe visitors so much as pander for the attendance statistics that can attest to the museum's viability as a marketplace of attention." In our Instagram age, Rob Horning considers the nature of spectacle and the museum. Terrific long read. Even
— Speaking of marketplaces, collector Dean Valentine will launch a smaller, affordably priced fair to coincide with Frieze Los Angeles. Artnet
— Love this idea: in New York, a culture pass that allows individuals with a library card to get into certain museums for free. New York Times
— The Huntington Library, Art Collections and Botanical Gardens in San Marino is about to begin the final phase of construction on its Chinese Garden. Los Angeles Times
— I'm looking for a male architect (or male architecture students) willing to navigate a building in a skirt and high heels while holding a baby. Seriously. Los Angeles Times
— A history of the Lula Washington Dance Theatre in Los Angeles. KCET Artbound
— Critic Joshua Barone says Leonard Bernstein's music doesn't always soar in a classical concert hall. New York Times
— Robert Lepage's "Slav" will go on after protests over white actors playing slave roles. New York Times
— Things we learned at Comic-Con: You don't have to fistfight over that last parking spot at the Grove. Have a tea duel instead. Los Angeles Times
— Speaking of Comic-Con, San Diego is working on a museum devoted to its most famous convention. Los Angeles Times
— How the National Choreographers Initiative in Irvine is encouraging experimentation in dance. Daily Pilot
AND LAST BUT NOT LEAST…
From the Department of Essential YouTube Tutorials: How to dance at quinceañeras. Louie's Life
Sign up for our weekly Essential Arts & Culture newsletter »
carolina.miranda@latimes.com | Twitter: @cmonstah
---
From the Oscars to the Emmys.
Get the Envelope newsletter for exclusive awards season coverage, behind-the-scenes stories from the Envelope podcast and columnist Glenn Whipp's must-read analysis.
You may occasionally receive promotional content from the Los Angeles Times.