Spring has sprung! And we've got previews, new plays, more MOCA stonewalling and Chicano everything. I'm Carolina A. Miranda, staff writer with the Los Angeles Times, with the week's top culture news:
ESSENTIAL IMAGE
In its day, the ancient city of Teotihuacán was the largest urban center in the Americas — and the sixth-largest city in the world. Today, it is an iconic Mexican archaeological site. The exhibition "City and Cosmos: The Arts of Teotihuacán," opening Sunday at the Los Angeles County Museum of Art, presents recent findings from excavations at the site's three main pyramids. It includes more than 200 objects that help tell the story of the ancient city, including monumental sculpture and smaller-scale objects that include precious stones. More art events in Datebook. Los Angeles Times
UNTAMED SHREW
"Shrew!" — the latest from Pulitzer finalist Amy Freed — gives Shakespeare's "Taming of the Shrew" a makeover from a woman's point of view at South Coast Repertory. "I think it's the opportunity for a full-throttle woman onstage," she tells The Times' Daryl H. Miller. Plus, "there's something really sexy about this setup of unstoppable force meets immovable object." Los Angeles Times
FROZEN ON BROADWAY
Times theater Charles McNulty traveled to New York to check out the stage version of the Disney animated hit "Frozen." (He also landed just in time for a nor'easter.) "Thundersnow," he reports, "hasn't struck twice." The musical is a "multicultural, unabashedly earnest show" that will likely make millions, he writes. "Yet it's a far cry from the whirligig imagination of 'The Lion King.'" Los Angeles Times
THEATER NOTES
Lauren Yee's new play, "Cambodian Rock Band," on stage through Sunday at South Coast Repertory, tells the story of a Cambodian musician who survives the genocide and lands in the U.S. "For me as an artist, the idea that music and art can be so powerful that a regime goes after you is a really startling idea," Yee tells Times contributor Steve Appleford. Los Angeles Times
Plus, Times contributing reviewer F. Kathleen Foley says that A Noise Within's production of "A Raisin in the Sun" is "an opportunity to experience a near-optimum staging of this American classic." She also checks out the IT-themed "Pigs and Chickens" at Atwater Village Theater, while Philip Brandes takes in a potent" "King Lear" at the Rubicon Theatre in Ventura. On the 99-Seat Beat, Daryl H. Miller suggests several plays that "applaud strong, resourseful, vital women" as one way to participate in Women's History Month.
STILL NO ANSWERS FROM MOCA
Times art critic Christopher Knight evaluates the situation at the Museum of Contemporary Art in the wake of chief curator Helen Molesworth's dismissal — which was not handled with the care which it deserved. "The museum's board of trustees is not helping nearly as much as it should," Knight writes. "One crystal clear sign: The museum is downtown, but board meetings are regularly held 10 miles to the west — at the Beverly Hills Hotel. On levels both practical and symbolic, the foolish practice betrays a disheartening institutional disconnect at the very top." Disheartening, indeed. Los Angeles Times
Plus, reports from Julia Halperin at Artnet and Andy Battaglia and Maximiliano Durón at ARTnews look into the events that may have led to Molesworth's firing.
SPRING ARTS PREVIEW
Time to mark up your calendars — it's spring preview season!
— In the wake of Pacific Standard Time, spring will be an unusually quiet time at the major L.A. museums, writes Christopher Knight. But the Hammer Museum's "Made in L.A." biennial and a show of Iranian art at LACMA, among others, will give art lovers plenty to look at. Los Angeles Times
— Times classical music critic Mark Swed reports that this year will be about young talent coming into bloom: soprano Julia Bloom, opera director Yuval Sharon and composers Ellen Reid and Matthew Aucoin. Los Angeles Times Also, reviewer Rick Schultz picks 15 chamber music concerts he's anticipating this spring. Los Angeles Times
— Charles McNulty says the coming months will offer theatrical works by new talents. But there will be classics, too: such as the anticipated production of "Long Day's Journey Into Night" starring "two of Britain's best, Lesley Manville and Jeremy Irons." Los Angeles Times Plus, Matt Cooper previews the Broadway hits coming to Southern California. Los Angels Times
— Reviewer Laura Bleiberg rounds things out with a dispatch on the dance season, which will include Dada Masilo's re-imagining of "Giselle" and a David Bowie-inspired ballet. Los Angeles Times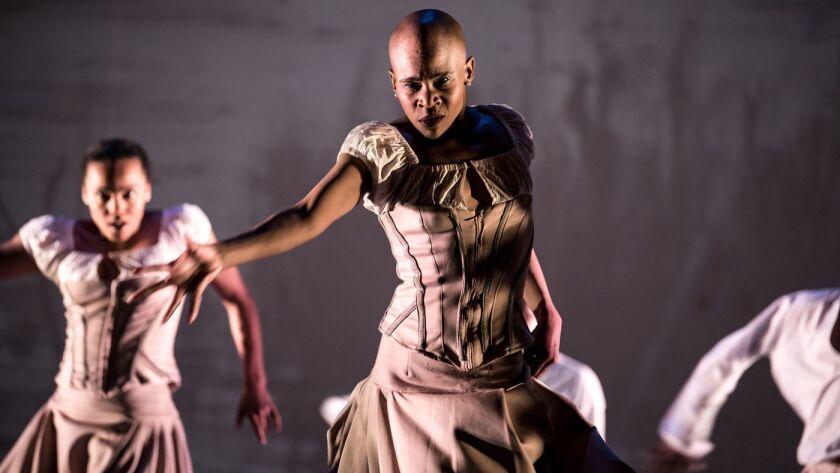 — And here's a handy link that features all our spring preview stories in one place! Los Angeles Times
24 HOURS TO GO
Mark Swed has been putting in some serious time in the chair for Taylor Mac's epic, six-hour performances at the Theatre at Ace Hotel. "If you haven't already heard, 'A 24-Decade History of Popular Music' is ruthlessly punishing, infuriating, alarming, charming, impressive and obsessive like no other music theater," he writes. "It is also extraordinarily illuminating, if you are willing, without succumbing to silliness, to put up with it. Did I say it is infuriating? Wagner, to whom Mac has some resemblance in the grandiosity department, can be infuriating too. More important, like Wagner, Mac is a sorcerer." Los Angeles Times
Plus, Swed checked out performances by the Huayin Shadow Puppet Band in Santa Barbara and Cloud Gate Dance Theatre of Taiwan at the Segerstrom. Music, he writes, is no more a universal language "than is Hungarian or Hebrew," he writes. "Yet at both of these events, the audiences were engrossed." Los Angeles Times
DAMIEN HIRST SEEING DOTS
The Times' Deborah Vankin talks with Britain's shock artist Damien Hirst about dialing back his provocation impulses for his newest series, "The Veil Paintings," on view through April 14 at Gagosian in Beverly Hills. Of his return to "the humble canvas," Hirst says of the paintings, "They're all just a massive celebration. I had a lot of fun with the colors. ...They make me feel really good when I look at them." Los Angeles Times
EVEN MORE SHOWS
Deborah Vankin also previews a pair of new shows that are landing in town:
"King Tut: Treasures of the Golden Tomb" is opening at the California Science Center this weekend. But it's not the same show you may remember of decades past: the exhibition features objects that have never before left Egypt and some high-tech environments. Los Angeles Times
Plus, street art curator Roger Gastman is organizing "Beyond the Streets," which will feature graffiti and street artists such as REVOK, RISK, RETNA and Shepard Fairey. It opens in May. Los Angeles Times
BATTLING CHICANO INVISIBILITY
"The major event that contributes to Trump denouncing Mexicans is the vast vacuum that exists, the lack of a multitude of representations of Chicanos and Chicanas," artist Harry Gamboa Jr. tells me about representations of Chicanos in media and art. I speak with Gamboa and photojournalist Luis C. Garza, both of whom have exhibitions at the Autry Museum, about photography, Mexican Americans and 50 years of protest. Los Angeles Times
I also report on Oscar "Zeta" Acosta, the activist Chicano lawyer and noted author of two semi-autobiographical novels that are staples of Chicano and psychedelic lit. Phillip Rodriguez considers Acosta's life in a new PBS documentary: "The Rise and Fall of the Brown Buffalo." I talk with Rodriguez about the man who inspired Hunter S. Thompson's "Dr. Gonzo." Los Angeles Times
Daniel Hernandez reviews the doc's unorthodox style: "The filmmakers decided to make the project a semi-scripted story, where Acosta and his contemporaries are played by actors in period dress and hair, talking to someone just beyond the camera as in documentary 'interviews,'" he writes. "Viewers will find either freedom in the narrative experiment, or feel a tinge of impulse to dismiss the whole set-up as hokey. I suggest holding on." L.A. Taco
And because March is unofficially Chicano history month: Hua Hsu has a piece on the life and work of photograph George Rodriguez. New Yorker
IN OTHER NEWS…
— The California African American Museum has received a large gift of 32 works by self-taught contemporary artists from the South from collector Gordon W. Bailey. Los Angeles Times
— In the wake of the controversy over Dana Schutz's "Open Casket," critic Siddartha Mitter considers the display of Emmett Till's casket in Washington, D.C. This is a stark and beautiful read. Village Voice
— What "Black Panther" gets right about the politics of museums. Hyperallergic
— Chad Smith, chief operating officer of the LA Phil, has been named artistic director of the Ojai Music Festival for a three-year term beginning in 2020. Los Angeles Times
— Composing an oratorio about DACA recipients in the era of Trump. New York Times
— Director Marianne Elliott resurrects Tony Kushner's "Angels in America" on Broadway. New Yorker
— "What really makes a pan a responsibility is that criticism is a form of journalism, which is, in theory, a form of truth." Theater critic Jesse Green on the negative review. New York Times
— How Uber's fatal crash in Arizona reveals the ways in which urban design prizes cars over humans. Essential reading from Alissa Walker. Curbed
— Related: Allison Arieff on why driverless cars will not save cities. New York Times
— How the Indian city of Ahmedabad became a hub for innovative architecture and the work of Pritzker Prize winner Balkrishna Doshi. Citylab
— How do you boycott a building? Four critics weigh in on architecture in the #MeToo moment. Co.Design
— The redesign of the Hotel Figueroa in downtown L.A. pays subtle tribute to women. Los Angeles Times
AND LAST BUT NOT LEAST…
Awesome illustrations of cactuses you didn't know you needed. The Public Domain Review
ALSO
Who was the first celebrity you saw in person? Angelenos' banal, weird and hilarious star encounters
City and artist hit legal snag in finding a new site for beloved 'Vermonica' light post sculpture
Pantherpedia: A guide to the cottage industry of essays about Ryan Coogler's 'Black Panther'
Sign up for our weekly Essential Arts & Culture newsletter »
---