A "King Lear" double-header. Art after Fidel. And a quiet Los Angeles abstractionist passes away. I'm Carolina A. Miranda, staff writer at the Los Angeles, with all that's blazing in the world of high culture:
Shakespeare to Harry Potter
Times theater critic Charles McNulty traveled to London to take in two new productions of Shakespeare's "King Lear." One features Glenda Jackson in the title role at the Old Vic; the other, features Antony Sher at the Royal Shakespeare Company — two high-wattage stars taking on the Bard's unraveling ruler. McNulty finds great moments of theatrical power, but says the stagings don't always come together as holistic productions. This is a play, he writes, that "requires a performer who can be subsumed in a production guided by a director who knows that the theatrical whole must be greater than its most spectacular part." Los Angeles Times
While in London, McNulty also took in all five hours of the two-part production of "Harry Potter and the Cursed Child" at the Palace Theatre. Though long, he says he found an enjoyable tale of "emotional clarity." As he writes: "I came to London for Shakespeare and, much to my surprise, found quite a bit of his political insight in 'Harry Potter.'" Los Angeles Times
Art after Fidel
Fidel Castro's death marks a potentially transformative moment in Cuba — especially for its artists, who might might feel freer to explore new terrain now that the revolutionary icon is gone. I speak with a number of art world figures connected to Cuba about what could emerge culturally now that El barbudo, the bearded one, is gone. Says Cuban American artist Norberto Rodriguez, "You have some brilliant artists who have the potential to affect culture in a really universal way, to move culture forward. In 15 or 20 years it could be like Paris in the '20s." Los Angeles Times
Plus: Frances Anderton at KCRW looks at the future of architectural preservation in Cuba with L.A.-based conservator Rosa Lowinger and Al Nodal, the founder of a project aimed at preserving Havana's vintage neon. Design and Architecture
L.A. loses an abstract artist
John M. Miller, a geometric abstractionist known for achingly precise works composed of angled bars and swathes of color, has passed away at the age of 77. Times art critic Christopher Knight writes the obituary for the long-time Los Angeles artist, whose work he describes as "deeply contemplative." Knight adds of the painter: "A quintessential artist's artist, Miller cared more for the integrity of his work than for the spotlight of popular acclaim." Los Angeles Times
In other notable art world deaths, the Alabama-born photographer William Christenberry has passed away at the age of 80. Christenberry was known for his images of crumbling buildings in the rural South. Washington Post
Art and politics in Miami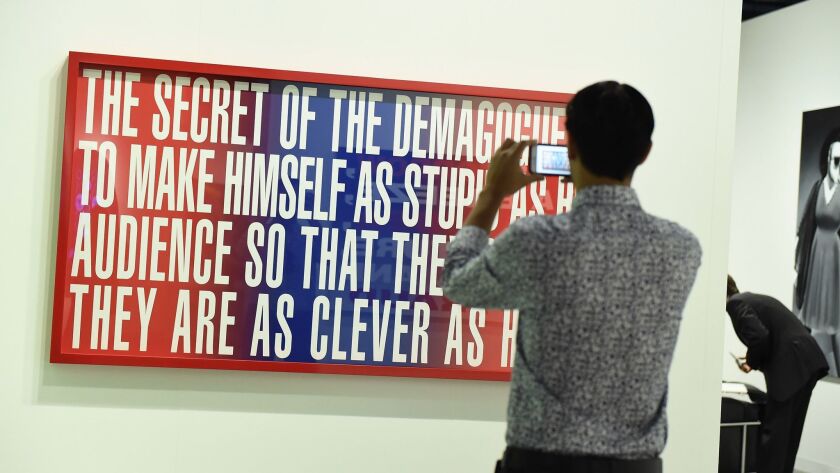 The mood at this year's Miami art fairs has been tempered by the election of Donald Trump. And a number of galleries have responded by staging politically minded shows. Susanne Vielmetter Los Angeles Projects, for instance, features a work at Art Basel Miami Beach by Karl Haendel that depicts Hillary Clinton. But as critic Jason Farago notes, "Art Basel is still Art Basel" and "the sun is shining, the Ubers are surge-priced, the yacht companies are hosting cocktail parties, and Chaka Khan is singing at Soho House." New York Times
Meanwhile, in New York, more than 150 artists and art workers staged a protest before Ivanka Trump's apartment in downtown Manhattan. In the march were well-known figures such as Cecily Brown, Rob Pruitt and Marilyn Minter. New York Times
Internet culture on stage
An introverted teenager publishes a fabricated story on social media — a lie that threatens to consume him when the story goes viral. That is the basis of the musical "Dear Evan Hansen," which opens on Broadway this month. The Times Daryl Miller sat down with the show's co-creators Benj Pasek and Justin Paul — two names you will hear more about, since the duo also did lyrics for the upcoming movie musical "La La Land." Los Angeles Times
Tangled American identity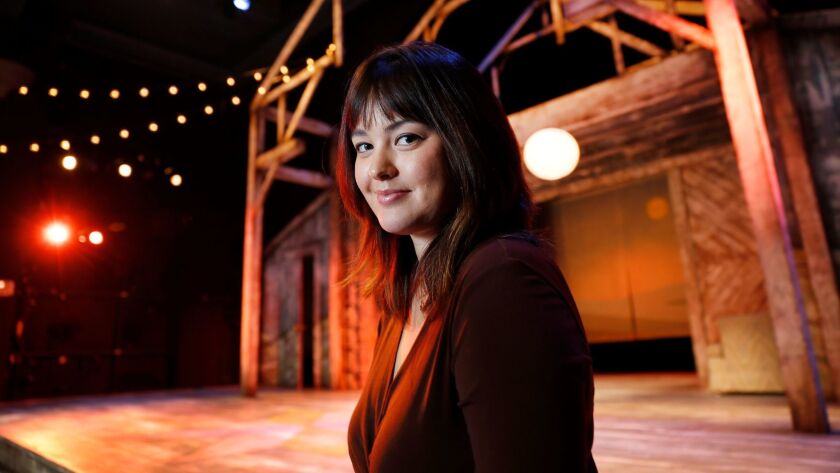 In her new work for the stage, "Kentucky" — about a half-Japanese woman who returns to the South to attend her evangelical sister's wedding, now on view at the East West Players theater in downtown Los Angeles — playwright Leah Nanako Winkler tackles a host of cultural divisions at the heart of contemporary American debate: racial, economic, religious, rural vs. urban. Margaret Gray talks with the playwright. Los Angeles Times
Of the play, reviewer F. Kathleen Foley says the story never condescends to its subjects — even as they remain quirky — but, unfortunately, the directing puts too much emphasis on the twee. Los Angeles Times
In other news…
— Archeologists have found a temple to a pre-Columbian wind god underneath a supermarket in Mexico City. The Guardian
— The L.A. Conservancy is suing the city over Frank Gehry's Sunset Boulevard project due to the possible destruction of a Kurt Meyer-designed Chase bank building. Curbed
— Michael Maltzan Architecture, Atelier AM, Michael C. Smith, Inc., Kelly Wearstler and Commune are among the L.A. design firms featured in Architectural Digest's AD100 list. Architectural Digest
— The Florida island of Captiva helped nurture the career of artist Robert Rauschenberg. Now his compound there serves as a residency center to nurture other artists. The Art Newspaper
— The Jewish Museum in New York is giving away a poster by artist Jonathan Horowitz that imagines Hillary Clinton as the 45th president. The artist is also offering it for free download from his website. Huffington Post, JonathanHorowitz.us
— A pair of Southern California artists (and rocket hobbyists) explore how an article of clothing — a hijab — can change the meaning of a work of art. LA Weekly
— In a time of growing inequity, the middle class gallery is getting squeezed. "The conglomerate gallery model — there's no doubt it's going to annihilate a lot of mom and pops," states New York gallerist James Fuentes. ARTnews
— "Hamilton" is continuing to set Broadway box office records after its Mike Pence incident. New York Times
— UCSD has laid off its entire theatrical production staff. Playbill
— That time Peter Sellars set "The Marriage of Figaro" in Trump Tower. Prescient. New York Times
— How director Michael Arden is resuscitating the famously troubled Stephen Sondheim-George Furth musical, "Merrily We Roll Along," at the Wallis Annenberg Center for the Performing Arts in Beverly Hills. Los Angeles Times
— Ballerina Misty Copeland is set to appear in three upcoming performances of "The Nutcracker" in Costa Mesa. Reporter Sherry Stern has a Q&A. Orange County Register
— Speaking of which, Times contributor Matt Cooper has a very necessary guide to all kinds of family-friendly theater all over L.A. for the holidays — from "The Nutcracker" to various stagings of "A Christmas Carol." Los Angeles Times
And last but not least…
Your moment of The Boss. Because what we need in these trying times is Bruce Springsteen comparing himself to Barney the purple dinosaur. The New Yorker Radio Hour
Sign up for our weekly Essential Arts & Culture newsletter »
Find me on Twitter @cmonstah.
---