Get ready to party like it's 1919: the Los Angeles Philharmonic is turning 100! Plus, we've got news on a David Lynch-inspired opera, experimental theater and moody paintings of women. I'm Carolina A. Miranda, culture writer at the Los Angeles Times, with your guide to the week's essential arts:
100 YEARS AND COUNTING
The L.A. Phil is turning 100 and Times classical music critic Mark Swed sums up it up: "An outlier orchestra far from the center of Old Europe and never admitted to the so-called Big Five — the lofty philharmonics and symphony orchestras of New York, Boston, Philadelphia, Cleveland and Chicago — that once dominated America, the Los Angeles Philharmonic has become the most significant and successful major orchestra anywhere. Astonishingly, this insurgency involves a supposedly traditional symbol of cultural elitism in La La Land, Tinseltown, the Land of the Plastic Lotus, a place, as Woody Allen's tired slam goes, "where the only cultural advantage is that you can turn right on a red light." Read it all the way through for the part about naked breakfast. Los Angeles Times
Swed sits down for a chat with Simon Woods, the L.A. Phil's new CEO. "When you think of what success will look like a decade from now," says Woods, "it is creating an organization that is as welcoming as it is innovative." Los Angeles Times
"The audience was not especially notable as to size, the glamour of a premiere was not broadly apparent, but the people who were there represented musical taste." The Times was there when the L.A. Phil made its debut. Los Angeles Times
LYNCH-IAN OPERA
David Lynch's mysterious 1997 film, "Lost Highway," was reimagined as opera by Olga Neuwith roughly 15 years ago. Now it is being reimagined further by L.A. director Yuval Sharon for a new Frankfurt Opera production. "It is a near-operatic scandal that 'Lost Highway' has never been produced in L.A.," writes Mark Swed. Los Angeles Times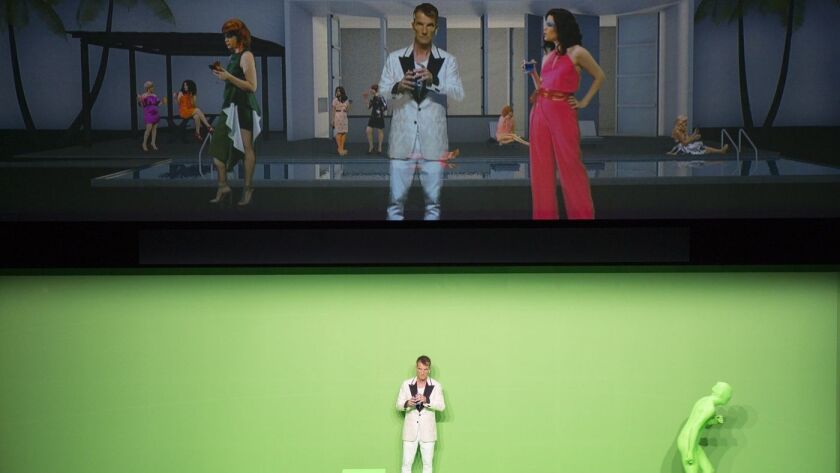 In other performance news, Matt Cooper offers a guide to the week ahead in dance, including a festival in San Pedro and a show inspired by the seminal SoCal novel "Ramona." Los Angeles Times
And the week ahead in classical music. Los Angeles Times
UNIVERSITY ART MUSEUM DIRECTOR IS OUT
Kimberli Meyer, the director of the University Art Museum at Cal State Long Beach, has been fired from the museum. "They said they'd lost confidence in me and said they didn't need to give me an explanation or tell me why," Meyer tells The Times' Deborah Vankin. In protest to Meyer's firing, artist lauren woods, who has a work on view at the museum, has put the sound element of her installation on pause. Los Angeles Times
Related: Tyler Green has a terrific interview with woods about her work and its evolution. Modern Art Notes
A BROODING DEBUT
In her first solo exhibition at the Museum of Latin American Art, painter Judithe Hernández presents ghostly drawings of female figures that fuse the historical with the present. "The literary dimension of Hernández's art is churned by her marvelous color sense, which unmoors any illustrative limits of the genre," writes Times art critic Christopher Knight. Los Angeles Times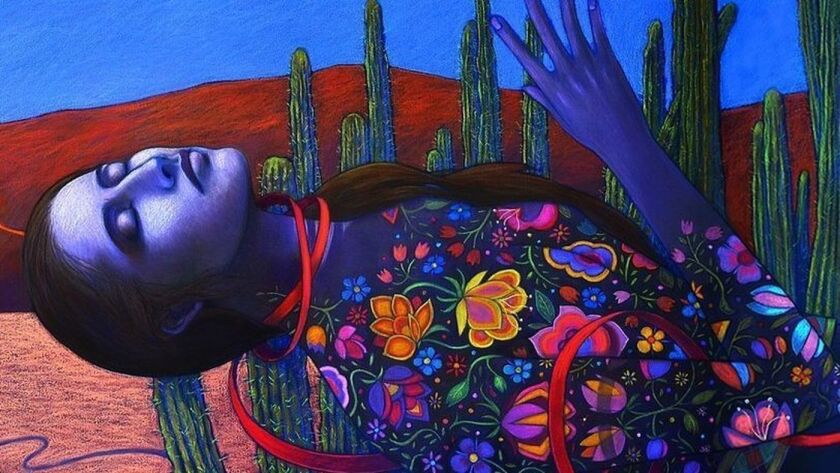 A PHOTOGRAPHIC IMPROVISATION
On Saturday night, novelist and photographer Teju Cole is collaborating with composer and jazz pianist Vijay Iyer on a work of improvisational music and spoken word inspired by Cole's book "Blind Spot" at the Theatre at the Ace Hotel. Of the work, Cole tells me: "We practice very different art forms … but our political views are very similar. We are both extremely hybrid and approach the question of inclusivity in a very complex way." Los Angeles Times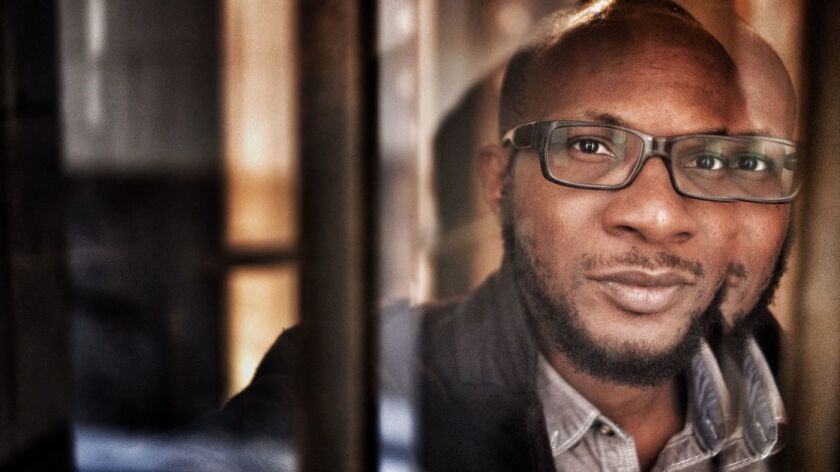 DEITCH IS BACK
Jeffrey Deitch, the former New York gallery director who (controversially) directed Los Angeles' Museum of Contemporary Art from 2010 to 2013, is back in L.A. with a gallery. "For people coming from different parts of America, coming from different countries," he tells Deborah Vankin, "this is a really L.A. space. And that's what I wanted — an only-in-L.A. space." Los Angeles Times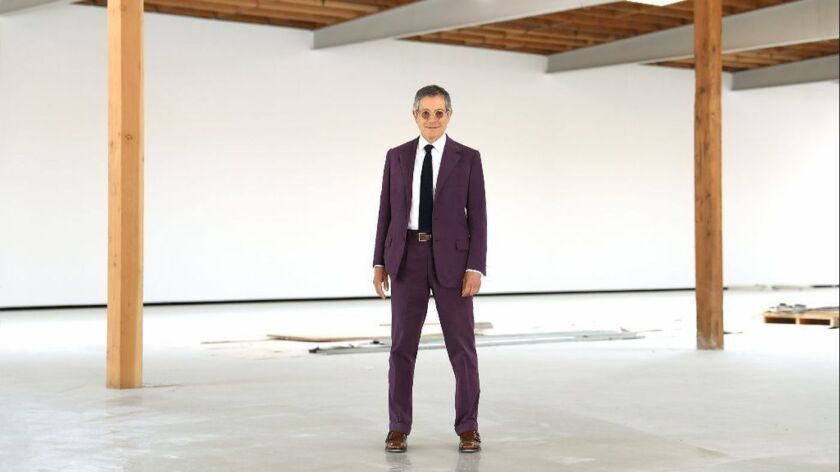 ROCK OF AGES
Artist Richard Turner has long been intrigued by stones — in particular viewing stones put on display for their beauty. A new show at the Guggenheim Gallery at Chapman University brings together artifacts from his collection as well as abstract paintings and sculptures that are partly inspired by these ancient geologic forms. Los Angeles Times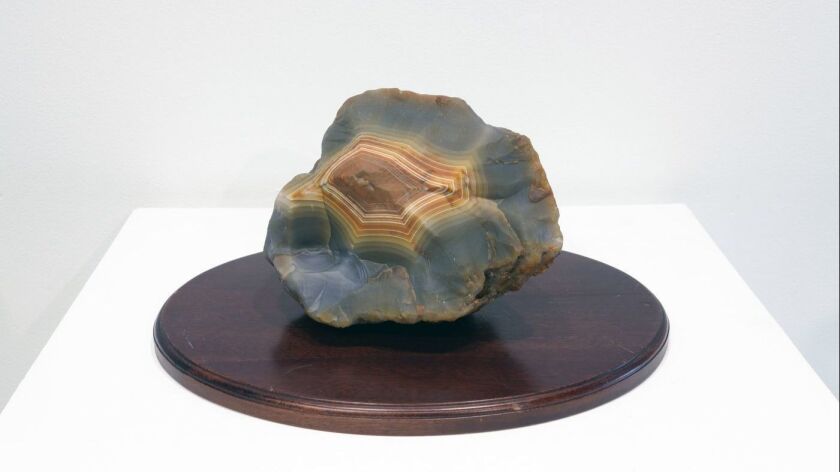 IN THE GALLERIES
Times contributing reviewer Sharon Mizota is intrigued by the dots and grids in paintings by Alex Jackson at Zevitas Marcus, as well as the "beautiful" and "ghostly" photograms of vintage clothing by Klea McKenna at Von Lintel.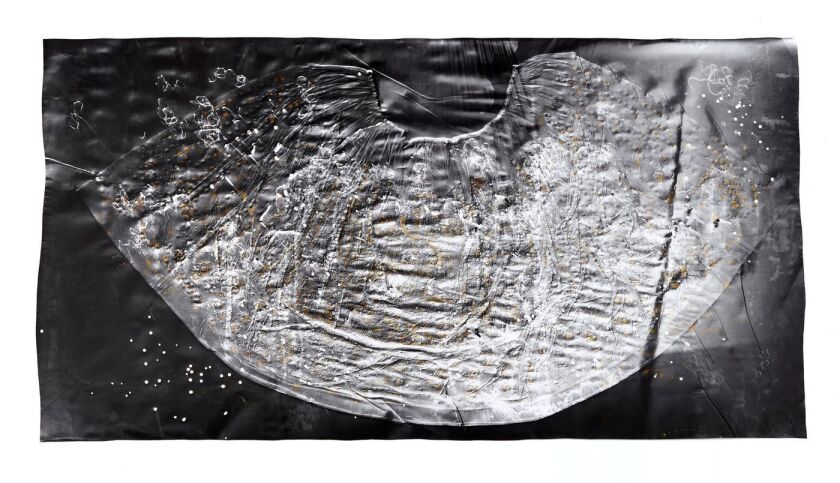 For more exhibitions and events, check out my Datebook, which includes a group show that brings together artists from the U.S.-Mexico border. Los Angeles Times
Plus, The Times' Jessica Gelt has the deets on a showcase of vintage movie posters, photography and prints in Santa Monica. Los Angeles Times
And there's info on many more openings, closings and ongoing shows in my arts datebook, including Sunday's opening of Nina Chanel Abney's "Royal Flush" at the California African American Museum. Los Angeles Times
ON STAGE
Using figurines, video projections and chilling sound design, the Dutch collective Hotel Modern has created a work of experimental theater that channels the horrors of the Holocaust. "KAMP," as the piece is called, now on view at REDCAT, is "not for the faint of heart," writes Times theater critic Charles McNulty. "But I was grateful for the courage and the craft of Hotel Modern and for the timeliness of this historical re-creation." Los Angeles Times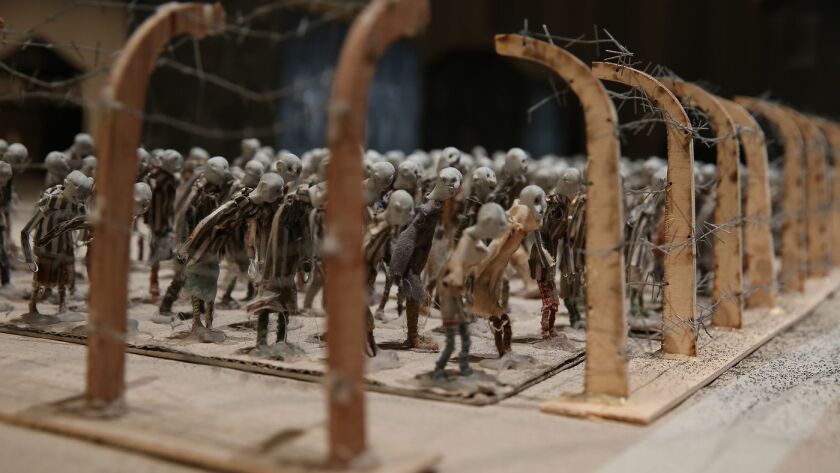 McNulty is hesitant to give away too many details on the Echo Theater Company's production of Branden Jacobs-Jenkins office dramedy "Gloria." But he will say that "the production, cleanly directed by Echo artistic director Chris Fields, concentrates on the interactions of characters who exemplify some of the worst traits in their genteelly dog-eat-dog line of work." Los Angeles Times
Plus, the Old Globe Theater in San Diego is presenting a jukebox musical inspired by the music of Huey Lewis and the News. The show, writes McNulty, is "the kind of show that might have you saying, 'Aw, shucks! This isn't very good, but I like it anyway!'" Los Angeles Times
As always: Matt Cooper has his weekly list of theater picks including a comedic romp about schoolgirls in Ghana. Los Angeles Times
IN OTHER NEWS …
— Choreographer Arthur Mitchell, the first black ballet dancer to become an international star, and the founder of the Dance Theater of Harlem, has died at 84. New York Times
— "Last Seen" is the new podcast about the Isabella Stewart Gardner Museum heist of 13 priceless art works in Boston 28 years ago — a mystery that remains unsolved. I'm hooked. WBUR
— The world of arty taxidermy. Los Angeles Times
— It's been a week of losses: Josh Roth, head of United Talent Agency's fine arts program, is dead at 40. Variety
— Mary Nooter Roberts, a scholar of African art who taught at UCLA, has died at 58. New York Times
— Robert Venturi, the Pritzker Prize-winning architect who helped usher in the age of Postmodern design, has also died, at the age of 93. New York Times
— The architectural jumble that could: the Cultural Heritage Commission supports monument status for the former Times complex in downtown L.A. We miss you, moldy carpet! Los Angeles Times
— San Francisco's sinking Millennium Tower is now a tourist attraction. San Francisco Chronicle
— Forget mega-mansions — welcome to the world of giga-mansions. Seriously, I need a jelly fish room. Design and Architecture
AND LAST BUT NOT LEAST …
Nothing makes my day like a botched restoration. BBC
Sign up for our weekly Essential Arts & Culture newsletter »
carolina.miranda@latimes.com | Twitter: @cmonstah
---