Newsletter: Essential Arts & Culture: The new Marciano museum, the Center Theatre Group at 50, LACMA's museum-rethink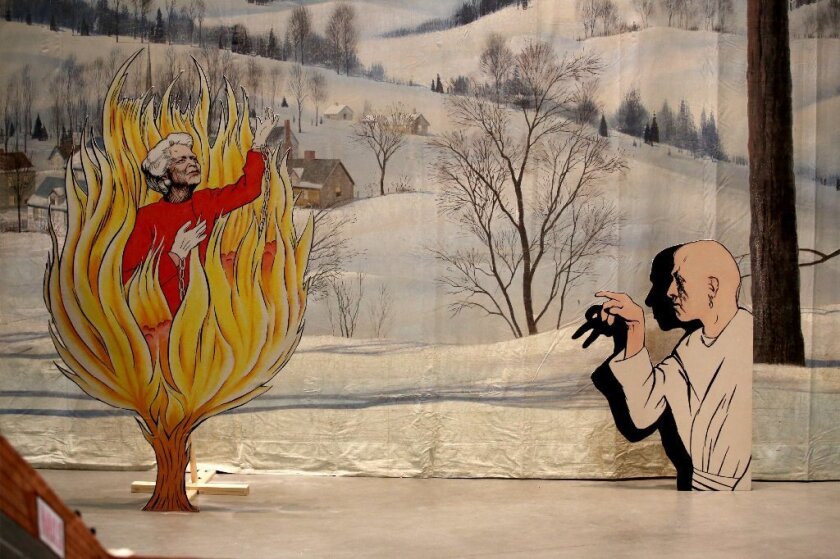 New museums! Big retirements! Schubert and Beethoven and some fellas from Jersey. I'm Carolina A. Miranda, staff writer for the Los Angeles Times, with the week's tastiest culture stories:
L.A.'s newest museum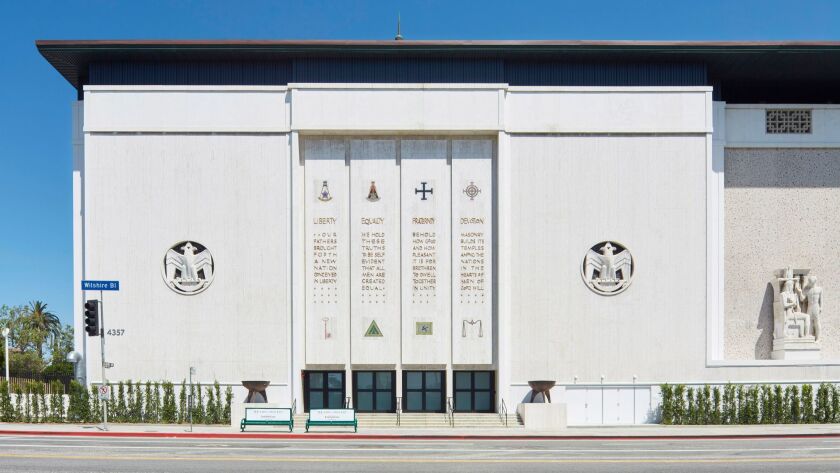 This week marked the splashy opening of the Marciano Art Foundation. The debut exhibition kicks off with an installation by L.A. artist Jim Shaw, as well as a show of works belonging to Guess jeans moguls Paul and Maurice Marciano. Times art critic Christopher Knight was intrigued by the Shaw installation — "a surreal fun house" — but was less keen on the permanent collection, which, he says, "would benefit from some deeply informed professional guidance." Los Angeles Times
Times architecture critic Christopher Hawthorne takes a gander at the architectural renovation of the old Scottish Rite Temple by Kulapat Yantrasast. Hawthorne says he would have preferred that the original building's peculiarities had been treated "not as something to keep in check but instead to grapple with, spotlight or even exaggerate." Los Angeles Times
The Times' Deborah Vankin, in the meantime, was at the Marciano's glammy opening party. Los Angeles Times
Rethinking the art of showing art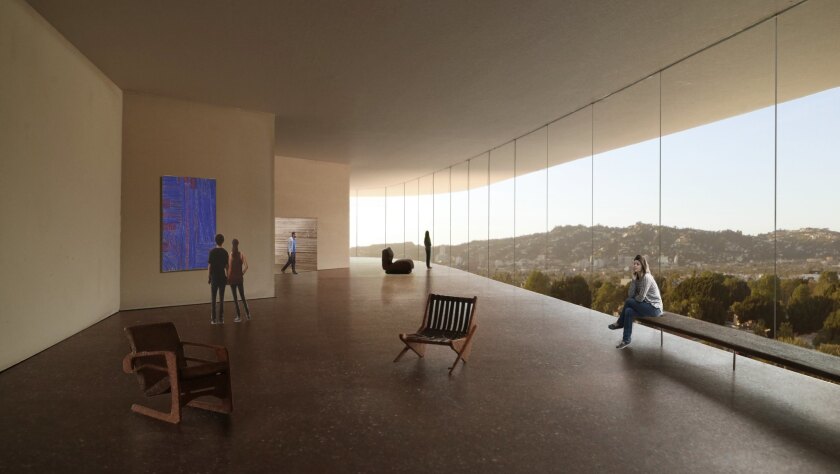 Speaking of museums, Knight has a highly intriguing scoop on what the new Peter Zumthor-designed Los Angeles County Museum of Art will look like — not at the level of design, but curatorially. "In its new home, expect LACMA's permanent collection to break all the rules," Knight reports. "The permanent collection won't exactly be permanent. LACMA instead plans to install the collection as a continuing series of temporary exhibitions — cross-cultural and interdisciplinary. An impermanent permanent collection, the scheme is unprecedented." Los Angeles Times
Related: A roundup of the most recent additions to the museum's permanent collection. Los Angeles Times
Center Theatre Group turns 50
The Center Theatre Group is now half a century old. And to mark the occasion, a star-studded celebration was held featuring excerpts of important past works and culminating with what Times theater critic Charles McNulty describes as "an earthquake rendition by Jennifer Hudson of 'I Know Where I've Been' from the musical 'Hairspray.'" He adds: "All credit to Michael Ritchie, CTG's reigning artistic director, for using this anniversary occasion to shore up first principles." Los Angeles Times
Plus: The Times' Jessica Gelt went behind the scenes with Matthew Broderick, Edward James Olmos, Louis Gossett Jr. and many others as they went on and off stage. Los Angeles Times
Keeping important art shops alive
Earlier this month, Christopher Hawthorne wrote about the Berggruen Institute's plans to move to a 1924 building in MacArthur Park. That move, he now reports, could displace McManus & Morgan, the venerable art supply company, and Aardvark Letterpress. But it ain't over yet. Berggruen, writes Hawthorne, may be willing to go along with a solution that allows these important institutions to stay. Los Angeles Times
Hawthorne also paid a visit at SCI-Arc, where an exhibition organized by architectural historian Sylvia Lavin busts the myth of the typically male, hero architect. Los Angeles Times
A lifetime at CalArts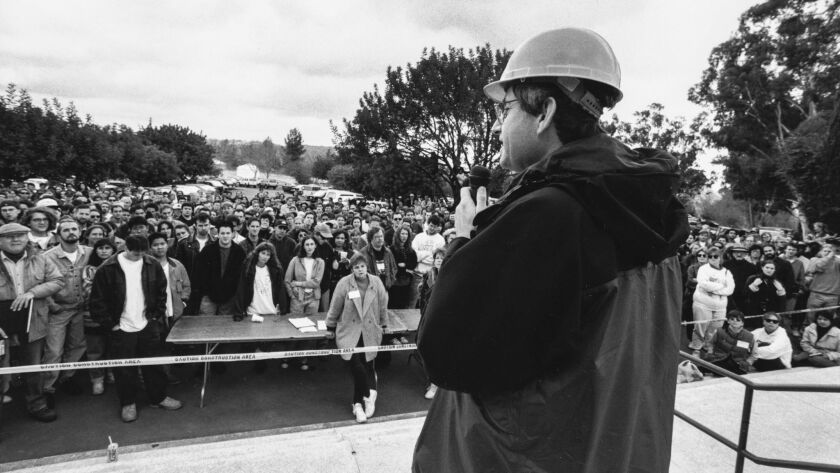 After 29 years as president of the California Institute of the Arts, Steven Lavine is retiring. He sat down with me for an oral history about the school's near bankruptcy and the devastation of the Northridge earthquake. "On New Year's Eve, going into '94, my wife and I toasted one another," he told me. "CalArts was artistically, educationally and economically safe. And then, Northridge." Los Angeles Times
As part of the story, Lavine shared an anecdote about the time a naked guy with a snake showed up at graduation. An enterprising soul at CalArts has turned up photographic evidence! Los Angeles Times
A play at Hollyhock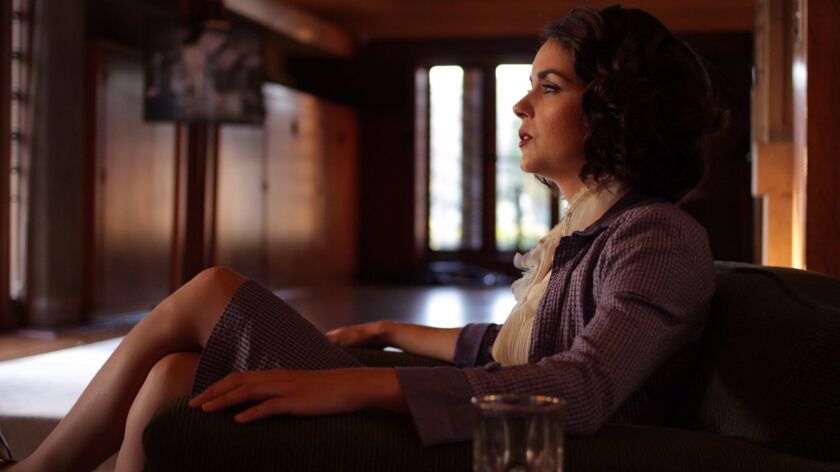 The Circle X Theatre Company and JUST Toys have taken over Frank Lloyd Wright's Hollyhock House for a performance of "Fefu and Her Friends," by the Cuban American playwright María Irene Fornés — a work that explores the physical and emotional dangers experienced by women. It's a challenging play, writes reviewer Margaret Gray, though she left Hollyhock "feeling more connected to Fornés, Los Angeles history and even womankind." Los Angeles Times
Jersey boys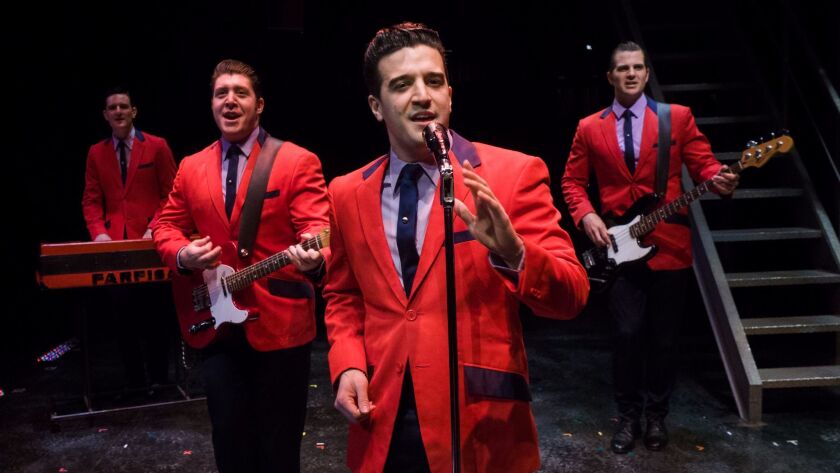 "Jersey Boys" is back at the Ahmanson. And even though the show, about the rise and fall and rise of the Four Seasons, the quartet of Italian American crooners from New Jersey, might feel predictable, McNulty says he can't resist one last hurrah. "The show," he writes, "overflows with music that both captures a generation and transcends it." Los Angeles Times
Mark Ballas says taking on the role of Frankie Valli was something he was born to do: "I had seen the show 12 times when I auditioned." Los Angeles Times
Condensing an epic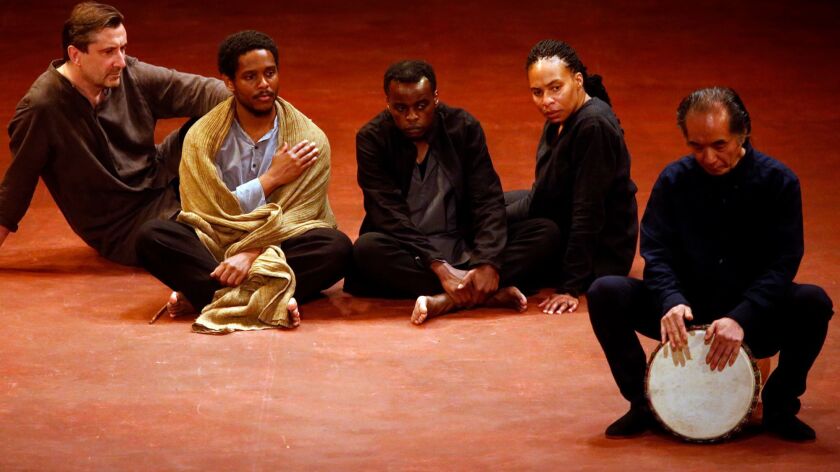 Times classical music critic Mark Swed took in a performance of Peter Brook's "Battlefield" at the Wallis Annenberg Center for the Performing Arts. The work is a deft one-hour condensation of Brook's nine-hour magnum opus "The Mahabharata," first performed in L.A. 30 years ago.
"Brook here doesn't attempt a pocket 'Mahabharata,'" writes Swed. "He instead produces an epilogue that is at once a looking back at his incomparable staging of 'The Mahabharata' and an opening for a new beginning." Los Angeles Times
A fond adiós to L.A. arts leaders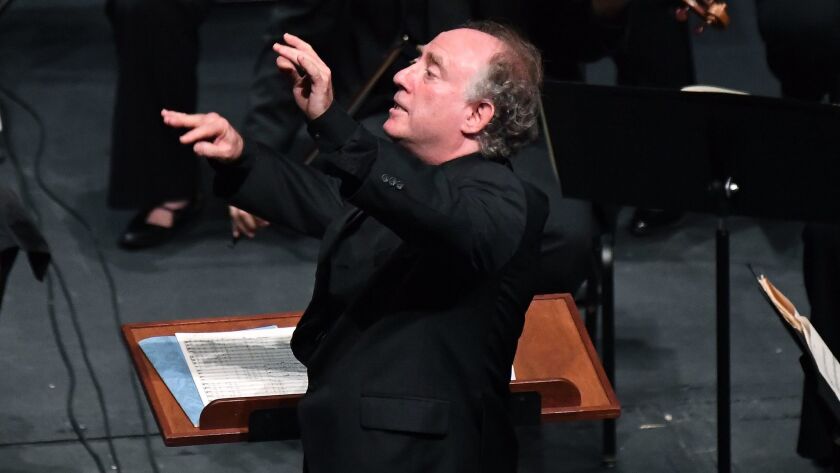 Swed was also in attendance at the final concert led by Los Angeles Chamber Orchestra musical director Jeffrey Kahane at UCLA's Royce Hall. In his final show, which included renditions of Mozart's last piano concerto and Schubert's last symphony, Swed says that he found a "ferocity of intent, an example of Kahane's compulsion to find love in the dark places." Los Angeles Times
Swed also reports on the Los Angeles Philharmonic's heartfelt farewell to outgoing president Deborah Borda. "It has been an amazing journey," musical director Gustavo Dudamel said in his farewell speech. Los Angeles Times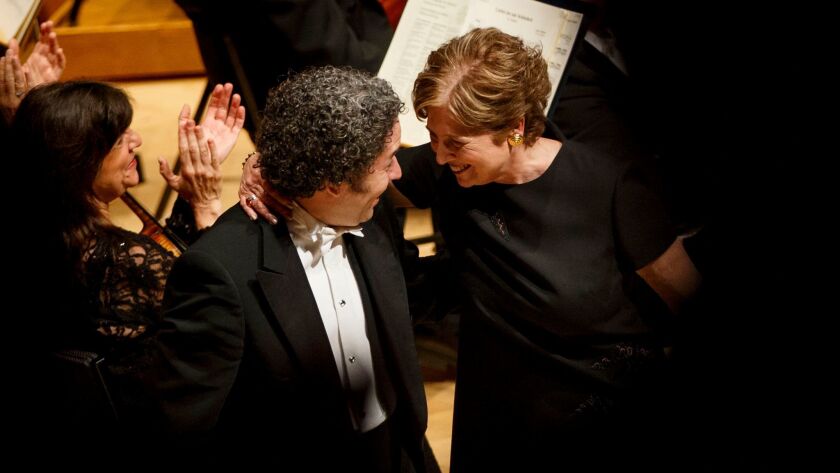 Plus, Swed — dude is everywhere — examines the cycle of Schubert concerts led by Dudamel, including one that paid tribute to Borda. Los Angeles Times
Yuja Wang hits the theme park
Chinese classical pianist Yuja Wang had a half-day off in Los Angeles — and she spent it at Universal Studios, where the Times Deborah Vankin tailed her hanging around Harry Potter's Hogsmeade Village. The pianist is about to kick off an extended engagement with the L.A. Phil. "This fall," she tells Vankin, "will be all about learning new repertoire." Los Angeles Times
Making the rounds
Knight, in the meantime, has been hitting the galleries, with reviews of shows by photographer Ulrich Wüst at Christopher Grimes and Zadok Ben-David at Shoshana Wayne.
He also reviews German artist Julian Rosefeldt new film "Manifesto," which brings together radical manifestos by more than 50 Futurists, Dadaists, Suprematists, conceptual artists. Bringing the whole thing together? Cate Blanchett, whose "conviction and persuasiveness," writes Knight, "informs the individual texts." Los Angeles Times
Blanchett and Rosefeldt, meanwhile, talk about the process of turning the 13-screen art installation into a film and how Blanchett had just 11 days to create and film 13 different characters. "Often we only had one take," she tells Lisa Fung, "so it was kind of a bit like theatrical standup. Los Angeles Times
In other news…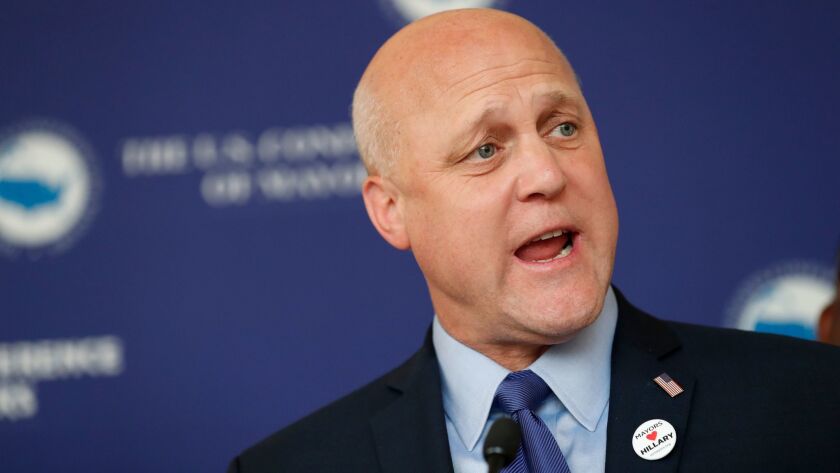 — New Orleans mayor Mitch Landrieu made a stirring case for why Confederate monuments should be removed. A must-read about the power of symbols. The Pulse
— The Trump administration once again wants to slash funding for the National Endowment for the Arts and the Corporation for Public Broadcasting. Deadline Hollywood
— Los Angeles art dealer Perry Rubenstein has pleaded no contest to two counts of grand theft by embezzlement and has been sentenced to 180 days in jail. The Art Newspaper
— Jerry Perenchio, the entertainment mogul, art collector and patron, has passed away. LACMA's Michael Govan remembers his philanthropy. Los Angeles Times
— The new documentary, "Restless Creature," follows New York City ballet dancer Wendy Whelan on her final season with the company. Vulture
— Plus, Whelan reminisces about the first time she danced a ballet by George Balanchine — the day he died. New York Times
— David Mamet is no fan of audience talk-back sessions following his shows. Onstage
— The Edward Albee Estate's decision to bar an Oregon director from casting an African American in a key lead role says a lot about how works of theater are perceived, writes Alexis Soloski. The Guardian
— A studio visit with John Baldessari. Los Angeles Times
— California Democrats have put a bronze statue of questionable aesthetic quality on the roof of their headquarters in the name of who knows what. Hyperallergic
And last but not least…
The post presidential paintings of Donald Trump. New Yorker
Sign up for our weekly Essential Arts & Culture newsletter »
---
Your essential guide to the arts in L.A.
Get Carolina A. Miranda's weekly newsletter for what's happening, plus openings, critics' picks and more.
You may occasionally receive promotional content from the Los Angeles Times.