Essential Arts: the politics of theater criticism, a magnificent 'Satyagraha,' a theater reborn
Welcome to the weekend. And go, Dodgers! I'm Carolina A. Miranda, staff writer at the Los Angeles Times, with the week's essential arts news:
POLITICS GETS THEATER WRONG
Times theater critic Charles McNulty writes about how political news coverage is often likened to theater criticism. It's an insult to theater criticism, he writes: "That quite a few talking heads decided that [Christine] Blasey Ford and [Brett] Kavanaugh were 'equally compelling' told me that safety was more important than nuance to these commentators, who (cowering behind generalizations) would rather proclaim the afternoon 'riveting' than sort through more complicated thoughts." [Insert flame emoji.] Los Angeles Times
A TEEN SENSATION
The Tony Award-winning "Dear Evan Hansen," about a teenager who becomes a social media star under false pretenses, has landed at the Ahamanson Theatre. "This beautifully acted touring production [is] one of the most evocative portraits of the inner turmoil of adolescence ever put on stage," writes Charles McNulty. Los Angeles Times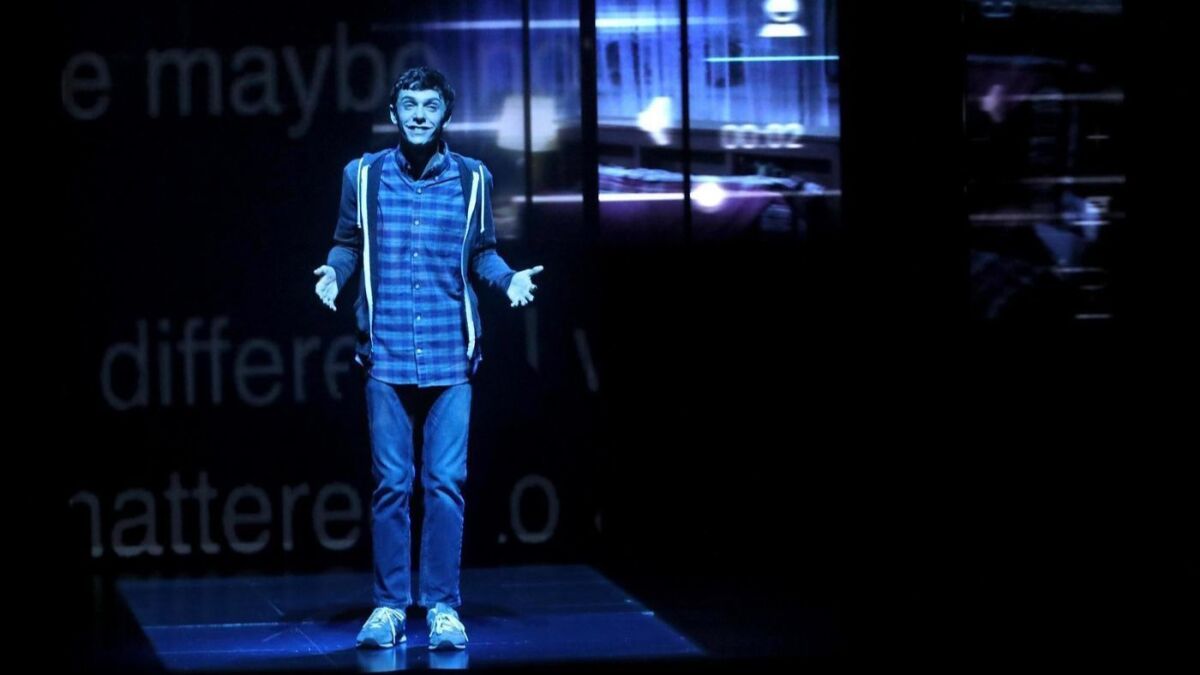 McNulty also has a look at Inua Ellams' "The Barber Shop Chronicles" at the Freud Playhouse, which takes place across a series of barber shops where African-heritage men gather. "These aren't voices we hear from regularly, so the news they bring of trials and ragged triumphs is enlightening," he writes. "But the play exists in some cloudy limbo between drama and pure performance." Los Angeles Times
A MAGNIFICENT PRODUCTION
Times classical music critic Mark Swed had a gander at the "must-see magnificent production" of Philip Glass's "Satyagraha" being staged by the Los Angeles Opera. He says Glass' work, inspired by Mohandas Gandhi's years as a barrister in South Africa, "essentially reformed the whole concept of what American opera could be." Los Angeles Times
Swed also writes about Barrie Kosky's production of "Fiddler on the Roof" (or "Anatevka") at Berlin's Komische Oper, "an easy stroll from the Reichstag, where the Nazi government once managed its endeavor to eliminate Jews." At a time when anti-Semitic hate crimes are on the rise in Germany, the production, with half its cast Jewish, has struck a nerve with audiences, gaining rave reviews even as, Swed writes, "immigration has everyone here uneasy about the uncertain social calculus of maintaining identities, hospitality and assimilation." Los Angeles Times
Plus, Swed, who is one busy dude, checks out the L.A. Philharmonic on Week 3 of its centennial celebration. On the docket: Prokofiev's "Romeo and Juliet" and a performance by L.A. Dance Project. Los Angeles Times
In other classical music news, contributor Rick Schultz reports on pianist Seong-Jin Cho's "evocative" L.A. Phil debut. Los Angeles Times
ON STAGE
Margaret Gray reports on the fright-filled "Woman in Black" at the Pasadena Playhouse — a "clever, playful, high-spirited" work that also offers plenty of good scares, while The Times' Daryl H. Miller checks out Sarah Burgess's politically minded "Kings" at South Coast Repertory. The artistic team is terrific, he notes, but the script is "coldly wonkish."
Miller also profiles Oliver Mayer upon the release of his new play, "Members Only," about an Irish Mexican boxer named Pedro Quinn, that is being staged by the Latino Theater Company. Of his soulful, pugilist character, Mayer says: "I thought that Quinn potentially could help me understand being alive in these years and the choices I've made." Los Angeles Times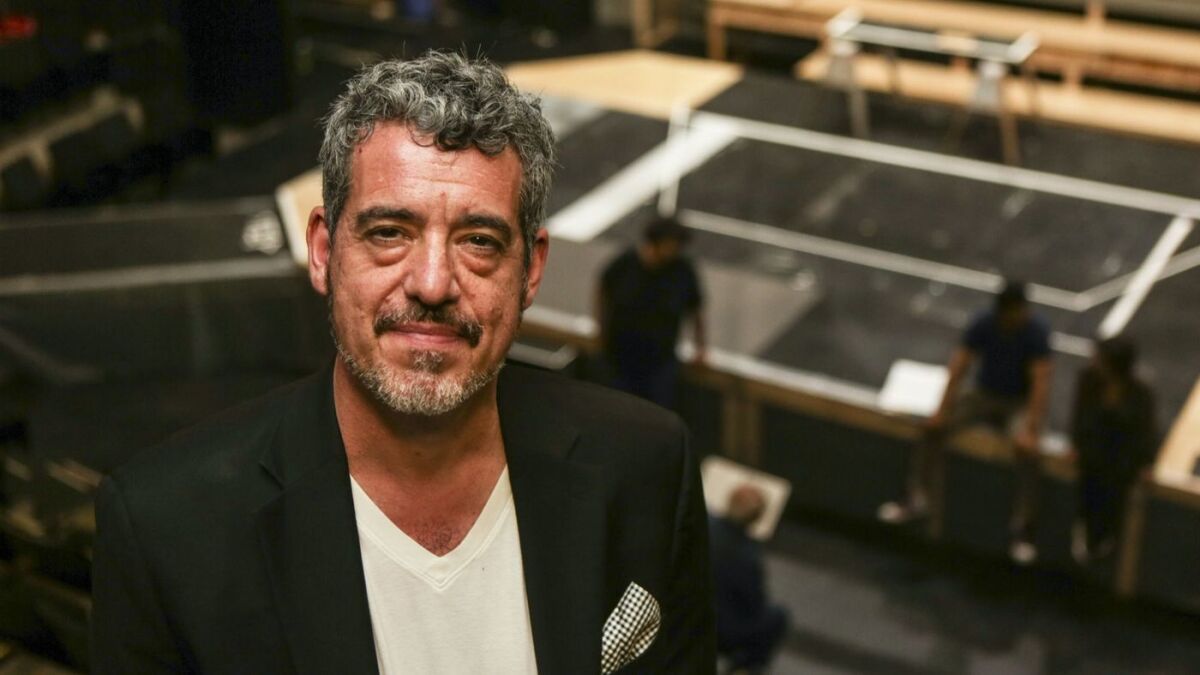 A NEW PERFORMANCE SPACE
The shuttered Crest Theater on Westwood Boulevard will soon be reborn as the UCLA Nimoy Theater, an experimental performance space programmed by UCLA's Center for the Art of Performance. As CAP director Kristy Edmunds tells me: "It allows a range of work, including digital film, live cinema and music and... dance." Los Angeles Times
ALL ABOUT THE ART MARKET
Nathaniel Kahn's new documentary "The Price of Everything" is in L.A. theaters this week. I review the new doc, which looks at the upper echelons of the art market, where "a painting fulfills a desire for power, prestige and financial one-upmanship." Los Angeles Times
Plus, Jonathon Sturgeon has a worthwhile essay on art, the market and Banksy's shredding stunt: "With all things being equal, Banksy is the Thomas Kinkade of his generation." Baffler
Related: Christie's sold a portrait made via algorithm for $432,500 because art market. (Me thinks that algorithm is very Western art.) New York Times
STREET SYMPHONY
Since 2011, L.A. Phil violinist Vijay Gupta (now a newly minted MacArthur fellow), has been performing free concerts for L.A.'s homeless community. The Times' Deborah Vankin followed him on his perambulations around skid row. "We need arts now more than ever as a public health intervention," he says. "The role of the artist in today's world is not only to heal and inspire, but to disrupt and provoke." Los Angeles Times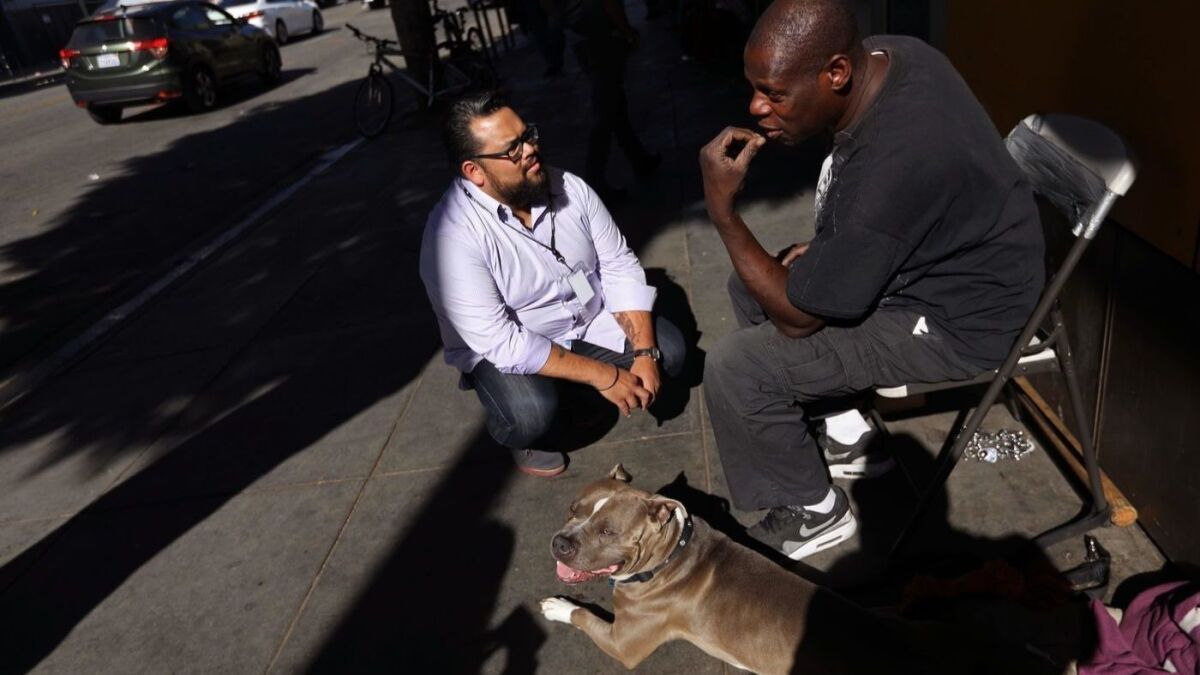 EXPLOSIONS OF COLOR AND POLITICS
Vankin also sat down for a Q&A with Tony Berlant, a key figure in the West Coast Pop Art Movement of the '60s. Berlant has a new solo exhibition at Kohn Gallery that features more personal work, including self-portraits. "They're not for the art world, they're for me," says Berlant. "The more personal and intimate work becomes, the more universal and timeless it actually becomes." Los Angeles Times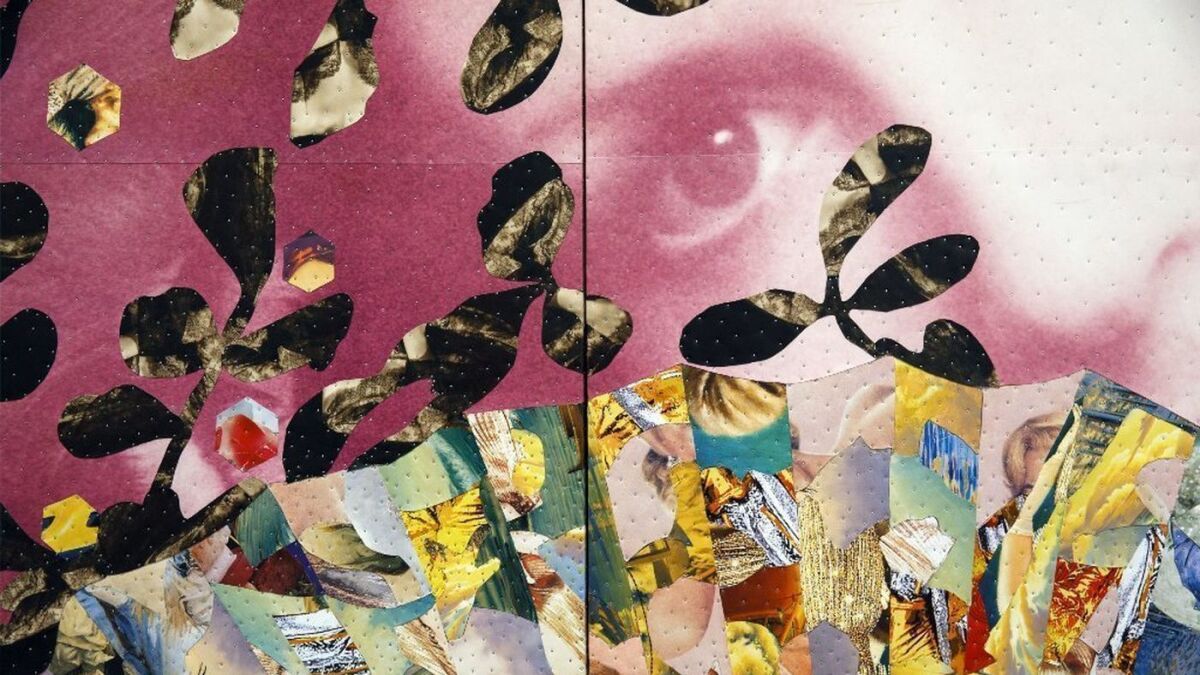 Vankin (who has been busy) also hung with Robbie Conal, a poster artist who has long papered L.A. with his political broadsides. The artist has a show of work at Track 16 that takes on Trump and his Cabinet. His scathing caricatures, he says, were inspired by "the best of the worst" of the current administration. Los Angeles Times
MORE POLITICAL ART
Actor Jim Carrey is handy with a pen — and he's using it to render Donald Trump in unflattering ways in a series of political cartoons that are now on view at L.A.'s Maccarone gallery. "This is a piercing scream," he tells The Times' Jessica Gelt of the exhibition. "I want people to vote. I feel like if we don't regain some sort of balance in the midterms, then we're really lost." Los Angeles Times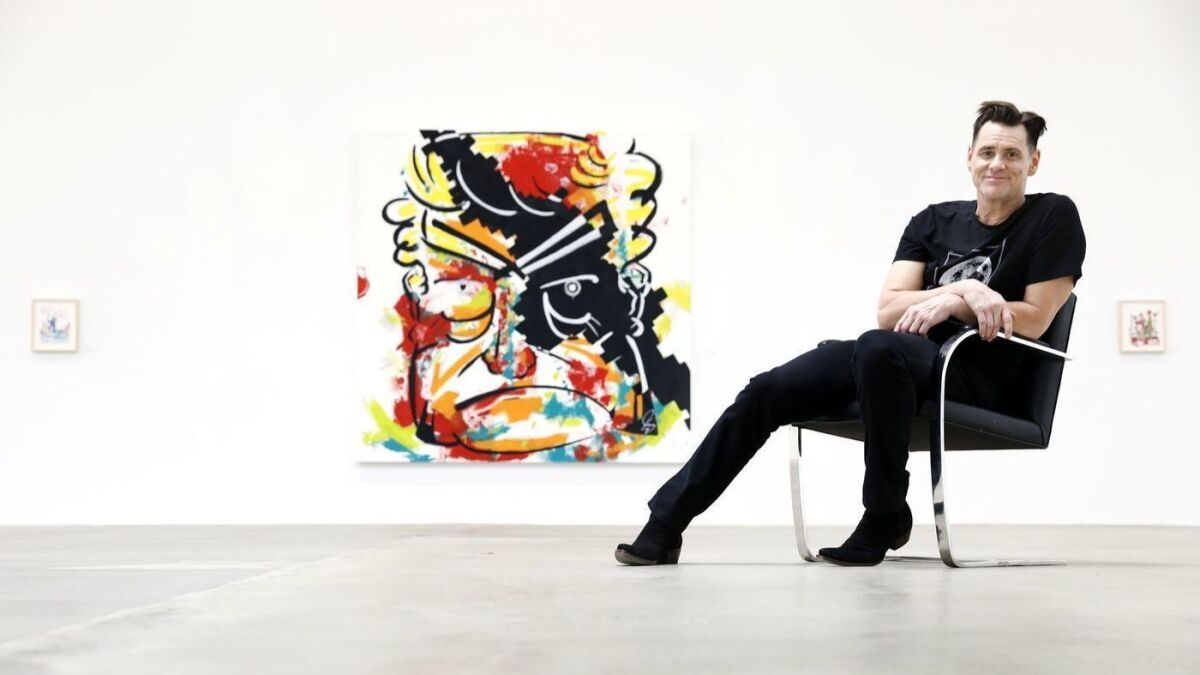 IN THE GALLERIES
Contributing reviewer David Pagel reports on director David Lynch's paintings at Kayne Griffin Corcoran, which "give intimate form to the insecurities of adolescence, as well as installation artist Olafur Eliasson's "mesmerizing" "planetary magic" at Tanya Bonakdar Gallery. Pro tip: give yourself time to absorb this "wonder-inducing adventure."
READY FOR THE WEEKEND
Margaret Gray rounds up what's happening in the 99-seat theaters (expect some Southern Gothic) and Matt Cooper has his weekend picks, covering everything from "La Traviata" to Social Distortion.
Plus, my weekly Datebook includes a quarter-mile long piece by Robert Rauschenberg and architecture by Sou Fujimoto.
AND THE WEEK AHEAD IN ARTS
Matt Cooper previews the coming week in dance, including a new seven-hour, three-part marathon work from Bill T. Jones and Arnie Zane Company at UCLA; coming in classical music, we're looking forward to the Halloween performances of "Vampyr" from LA Opera and "Nosferatu" at Walt Disney Concert Hall. Looking ahead in SoCal theater, there's Eliza Clark's new comedy "Quack" at the Kirk Douglas. Plus, Cooper looks at what's coming in SoCal museums and galleries.
IN OTHER NEWS…
— Someone tried to steal the Magna Carta. BBC
— On the myth of whiteness in classical sculpture. New Yorker
— Related: A video game that is faithful to what ancient classical cities may have looked like. Hyperallergic
— Gentlemen, start your quarters: Banning, Calif., is now home to a museum of pinball. Los Angeles Times
— New York City has allocated its largest budget ever for cultural programming: $198.4 million. Hyperallergic
— Broadway audiences are getting younger. Deadline Hollywood
— How do you stage a sex scene? Hire an intimacy director. American Theatre
— Two critics reflect on #MeToo and ballet. New York Times
— Kelly Hargraves is taking over as executive and artistic director at Dance Camera West. LA Dance Chronicle
— A show of Chicano art in Mexico City helps connect the Mexican and the American. Artbound
AND LAST BUT NOT LEAST …
Don't go in the closet: The soundtrack for "Halloween" deconstructed. Song Exploder
Sign up for our weekly Essential Arts & Culture newsletter »
carolina.miranda@latimes.com | Twitter: @cmonstah
---
Get our L.A. Goes Out newsletter, with the week's best events, to help you explore and experience our city.
You may occasionally receive promotional content from the Los Angeles Times.