Newsletter: Essential Arts: Your Tony Awards primer, the Hammer's 'best' biennial, musically avant-garde in Ojai
It's Tony Awards weekend. And the Hammer Biennial and Ojai Musical Festival are in full swing. I'm Carolina A. Miranda, staff writer at the Los Angeles Times, and we're knee-deep in early summer culture happenings. Here's what's going down:
AND THE TONY GOES TO...
The Tony Awards are Sunday. We'll have full coverage as the stars arrive and during the show. Meanwhile, we have an abundance of stories in Sunday Calendar and beyond to let you know what you can look for on Broadway's biggest night:
First up, our arts staff has put together an excellent rundown of the races to watch and the front-runners to beat. Los Angeles Times
And to help you keep score, Jessica Gelt has helpfully compiled the complete list of Tony nominations. Los Angeles Times
Times theater critic Charles McNulty looks at six standout performances in small roles that stole the spotlight. Each is nominated and McNulty writes about why they might be more deserving of the Tony over more high-profile actors. Los Angeles Times
Hosting the Tonys ceremony this year at Radio City Music Hall are Josh Groban and Sara Bareilles, who are self-professed theater nerds and good friends too. Ashley Lee talked with the pair about their hosting duties. As for following last year's Tonys host Kevin Spacey, Groban said, "I think we have to light some sage!" Los Angeles Times
For best book of a musical, the front-runner is Tina Fey for her Broadway adaptation of "Mean Girls," which has a whopping 12 nominations (matched only by SpongeBob SquarePants this year). Contributor Erika Milvy breaks down "Mean Girls'" Tony prospects. Los Angeles Times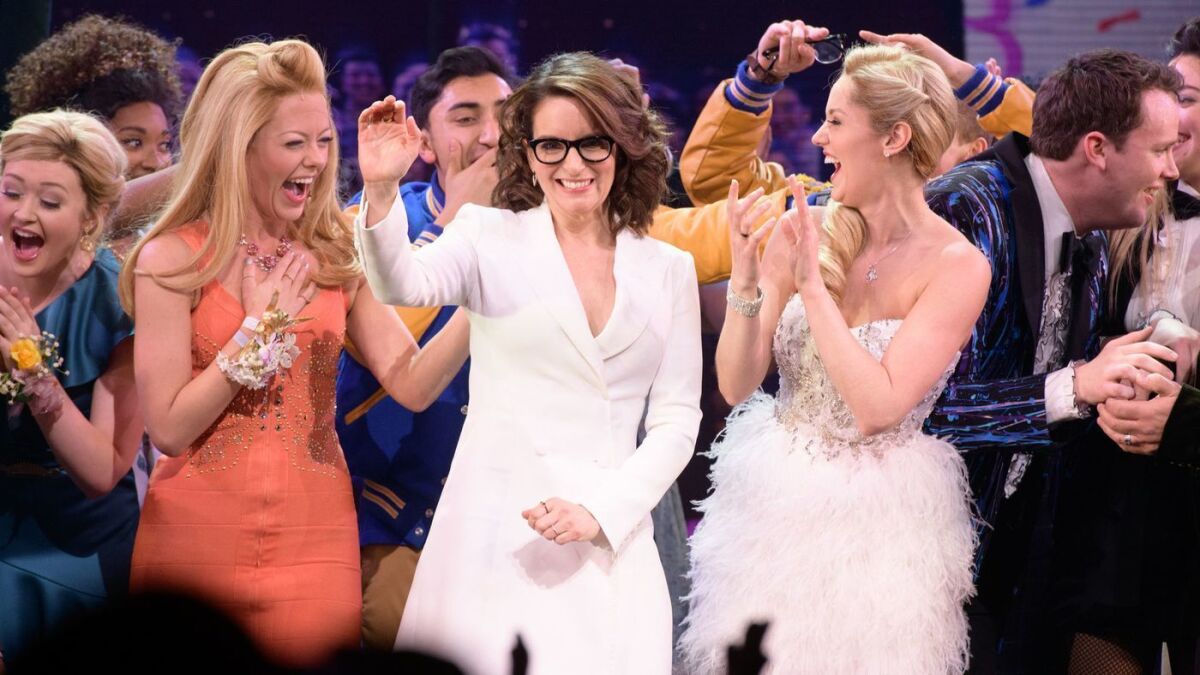 "My Fair Lady" has 10 Tony nods, including its star, Lauren Ambrose, who has been nominated for lead actress in a musical — and has helped the musical find a voice for a new era. Contributor Ashley Lee talks with Ambrose about the production, which is favored to win the Tony for musical revival. Los Angeles Times
Also up for 10 awards on Sunday is "Harry Potter and the Cursed Child," including one for choreographer Steven Hoggett. Patrick Pacheco talked with Hoggett about his fourth Tony nomination (after "Once," "Rocky" and "The Curious Incident of the Dog in the Night-Time"). Los Angeles Times
The revival of "The Iceman Cometh" has eight nominations — and Denzel Washington copped one for lead actor, a category that will be hotly contested. Jessica Gelt looks at the race that pits Washington against "Angels in America's" Andrew Garfield. Los Angeles Times
Speaking of "Angels in America," the play's director Marianne Elliott is up for a Tony. Times arts editor Craig Nakano reports on the British director, who was also behind last year's "The Curious Incident of the Dog in the Night-Time." Los Angeles Times
Times contributor Patrick Pacheco talks with Ethan Slater, the former high school and college wrestler nominated for a lead actor Tony for his turn as the title sponge in the musical version of "SpongeBob SquarePants." Los Angeles Times
Pacheco also talks with Michael Arden, nominated for directing the musical "Once on This Island," which is up for eight Tonys. Los Angeles Times
Lindsay Mendez, nominated in the featured actress in a musical category for "Carousel," talks with The Times' Daryl H. Miller about her path to Broadway coming up through Southern California's community and local theater scene. The Norwalk native says that working on the star-studded "Carousel" has been "unbelievable." Los Angeles Times
— Plus, every awards show needs a writer, and Times contributor Daniel Vaillancourt talks with Dave Boone, the award-winning writer of awards shows. Los Angeles Times
— And because too much Tonys is never enough, Bruce Springsteen will be at the awards on Saturday. In addition to a rare TV performance, he'll be accepting a special award for his autobiographical show "Springsteen on Broadway." Los Angeles Times
Whew!
GETTING THE BAND BACK TOGETHER
Tony-winning director Joe Mantello (who was just nominated for another Tony for his direction of Edward Albee's "Three Tall Women") is teaming up with actors Zachary Quinto and Jim Parsons to bring the history-making gay drama "The Boys in the Band" to Broadway. Times theater critic Charles McNulty sat down with Mantello and Quinto to discuss "the glories and perils" of bringing back this important work of theater. Says Quinto: "I'd be a fool not to come along for the ride." Los Angeles Times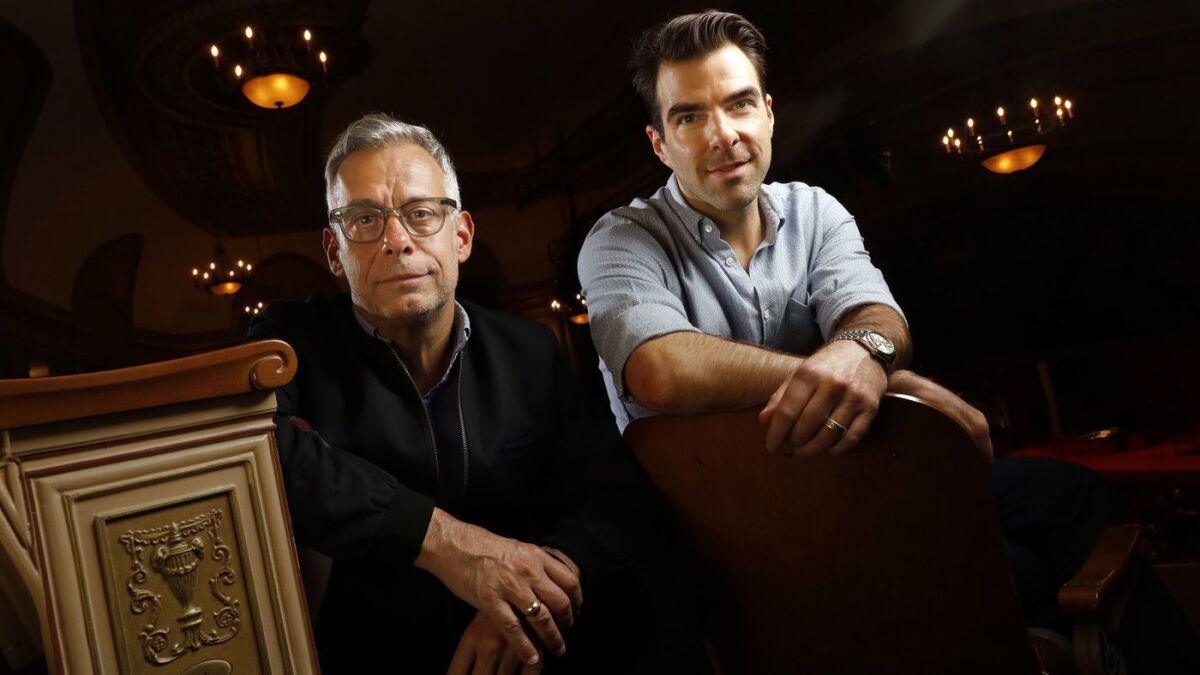 McNulty also reports on the "emotionally stirring" stage adaption of Khaled Hosseini's novel "A Thousand Splendid Suns," now on view at the Old Globe. The play has some shortcomings related to storytelling, he notes, "but the narrative casts a potent spell." Los Angeles Times
OJAI HAPPENINGS
Times classical music critic Mark Swed is at the Ojai Music Festival, where he caught the opening day. This began with a violin performance by the festival's "irrepressible" director Patricia Kopatchinskaja among tombstones and wrecked pedestals, set in a happy picnic area with squealing children. It continued at Libbey Bowl for what Swed describes as "a glorious, life-affirming performance of Beethoven's Violin Concerto by Kopatchinskaja and the Mahler Chamber Orchestra. Ojai, he reports, which is recovering from last year's fires, was just the right setting in which "to ponder the meaning of renewal." Los Angeles Times
Plus, Times contributor Rick Schultz speaks with composer Michael Hersch about the elegy he composed to a close friend who died of ovarian cancer — a work that will premiere at Ojai. Los Angeles Times
FOCUS ON SCHUMANN
And because Mark Swed is a busy man, he also took in a performance of "Das Paradies" as part of the L.A. Phil's "Schumann Focus" festival. Staged by Peter Sellars and directed by Gustavo Dudamel and featuring projections and a piece of highly unusual sculpture, the show could have been rote. "But guess what?" writes Swed. "'Das Paradies' is a magical masterpiece." Los Angeles Times
A BIENNIAL FOR OUR TIME
The Hammer Museum has unveiled its latest "Made in L.A." biennial and Times art critic Christopher Knight reports that it's "the best one yet." The artists — 33 of them who range in ages from 29 to 97 — "were chosen with a keen attention to the resonance of their work within our socially disturbed time." But rather than presenting political agendas, he notes, this is art "that, for the most part, feels acutely attuned to our beleaguered moment." Los Angeles Times
Knight also reviews a new show of Iranian art at the Los Angeles County Museum of Art. The exhibition, titled "In the Fields of Empty Days: The Intersection of Past and Present in Iranian Art," features 125 works by more than 50 artists. While it contains some engaging works, Knight says the show can feel "topically insular and unengaging." The integration of objects from other eras, however, inject it with some compelling points of entry. Los Angeles Times
AN ARTIST FINDS HIMSELF
Jessica Gelt reports on a stirring show of works at the Autry Museum of the American West: a retrospective of the paintings of Rick Bartow, a half white, half Wiyot painter who used art to exorcise the demons of Vietnam and alcoholism. The Autry's chief curator, Amy Scott, says Bartow, who passed away in 2016, was part of a generation of American Indian artists who pushed "outside of the bounds of expectations and definitions that have been imposed upon" them. Los Angeles Times
ON THE BORDER
The theatrical trio Culture Clash has updated its work "Bordertown," first staged two decades ago, and is presenting at the Pasadena Playhouse as "Bordertown Now." The work is based on interviews conducted by Culture Clash founders Ric Salinas, Herbert Sigüenza and Richard Montoya. "The show," writes Times reviewer Margaret Gray, "was a comedy — but its depiction of the Arizona desert as a brutal, lawless, lethal no-man's-land came as a shock to audiences." Los Angeles Times
R.I.P. ANTHONY BOURDAIN
The world is mourning the loss of chef, writer and TV host Anthony Bourdain.
My colleagues Stephen Battaglio and Andrea Chang have an obituary. In the meantime, Times restaurant critic Jonathan Gold discusses how Bourdain tore down the wall between steaming kitchens and cozy dining rooms, while Gustavo Arellano looks at the ways Bourdain put a spotlight on the Latino labor that can be found sweating over just about every restaurant stove.
And there is his cultural impact, too. Television critic Robert Lloyd wrote on the rare beauty of his CNN show "Parts Unknown," a program that showed that "true luxury is in the learning and the company, in being human among humans and earthy upon the Earth." And I write about the broader cultural lens with which Bourdain framed food: someone who "was more interested in pulling the camera back and revealing food's social and cultural contexts."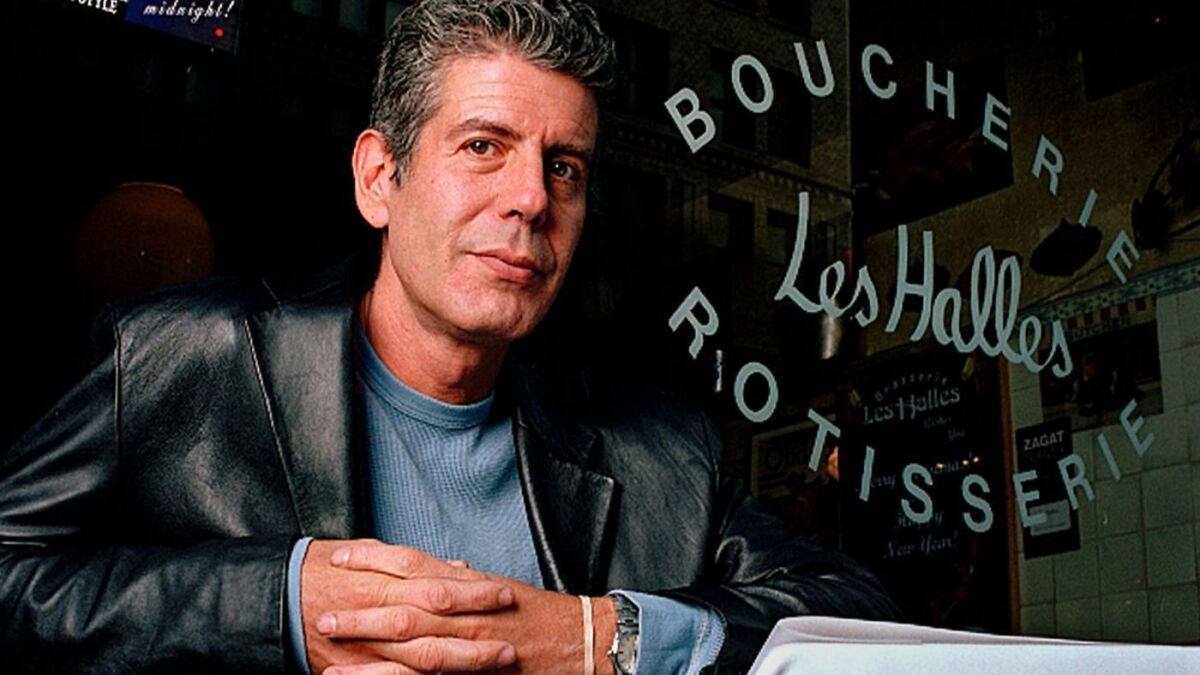 I had the great honor of appearing with Bourdain in an episode of a recent web video series devoted to Los Angeles. To hear Friday's news was crushing. Mr. Bourdain, you will be profoundly missed. Explore Parts Unknown
IN OTHER NEWS…
— Irving Sandler, a key art critic who chronicled the art and exploits of the Abstract Expressionists, has died at 92. New York Times
— As Earl "Rusty" Powell prepares to retire from the National Gallery of Art, Glenn Dixon asks who will take this stodgy museum into the future? Washingtonian
— Lauren Halsey, who has an installation on view at the Museum of Contemporary Art and the Hammer Museum's new biennial, talks about how her architecture studies and other elements influence her work. Art in America
— How photographer Robert Capa captured D-Day. Artsy
— A show that is about all things Jim Henson. Bring on the Grover puppet! Los Angeles Times
— Bending gender in ballet. New York Times
— "A sense of self comes from the mirror in which you see yourself—and it also comes from gathering information about how others see you." Anna Deveare Smith on "Black Panther." New York Review of Books
— Even as militant attacks get closer, the Malian town of Djenné continues its tradition of replastering its mud mosque — whose roots lie in the 13th century. Roads & Kingdoms
— Alexandra Lange on architecture's hidden women. New Yorker
— And a fascinating story on how mobile homes became immobile. 99% Invisible
AND LAST BUT NOT LEAST…
Because I could use a little humor: the ginger cat who has been digitally inserted into art history. Bored Panda
Sign up for our weekly Essential Arts & Culture newsletter »
Get our L.A. Goes Out newsletter, with the week's best events, to help you explore and experience our city.
You may occasionally receive promotional content from the Los Angeles Times.