Groundbreaking sculptor Eva Hesse finally gets a documentary that tells the story of her life and work
There are few figures who have captivated the imagination of the art world quite like Eva Hesse. She was an ambitious artist who found ways of using unusual materials, such as rope and latex, to create works that managed to feel of-the-body and out-of-body at the same time. Her dripping, oozing, at times humorously sensuous forms, were, according to critic Hilton Kramer, "unlike anything the eye had been accustomed to 'accept' as sculpture."
Her biography is as compelling as her work. Hesse was a charismatic figure — one whose life story was marred by tragedy. Born of Jewish parents in Hamburg in 1936, she and her sister, Helen, were forced to flee to the Netherlands on a Kindertransport when Eva was just 2.
The sisters were ultimately reunited with their parents and moved to the United States. But her mother took her own life when Hesse was just 10. All of this was capped by the artist's troubled marriage during her 20s to sculptor Tom Doyle, followed by her tragically early death from a brain tumor — in 1970 at the age of 34.
In a career that spanned roughly a decade, Hesse nonetheless made an indelible mark.
But even though her work has long been beloved by curators (rare sculptures by Hesse are currently on view at Hauser Wirth & Schimmel in downtown Los Angeles), little has been done to tell the cohesive story of her life and work for a general audience.
One of the most significant books on the artist, in fact, is already four decades old: Lucy Lippard's "Eva Hesse," from 1976, presents and contextualizes the artist's work and features excerpts from her diaries, but is not a full-blown biography.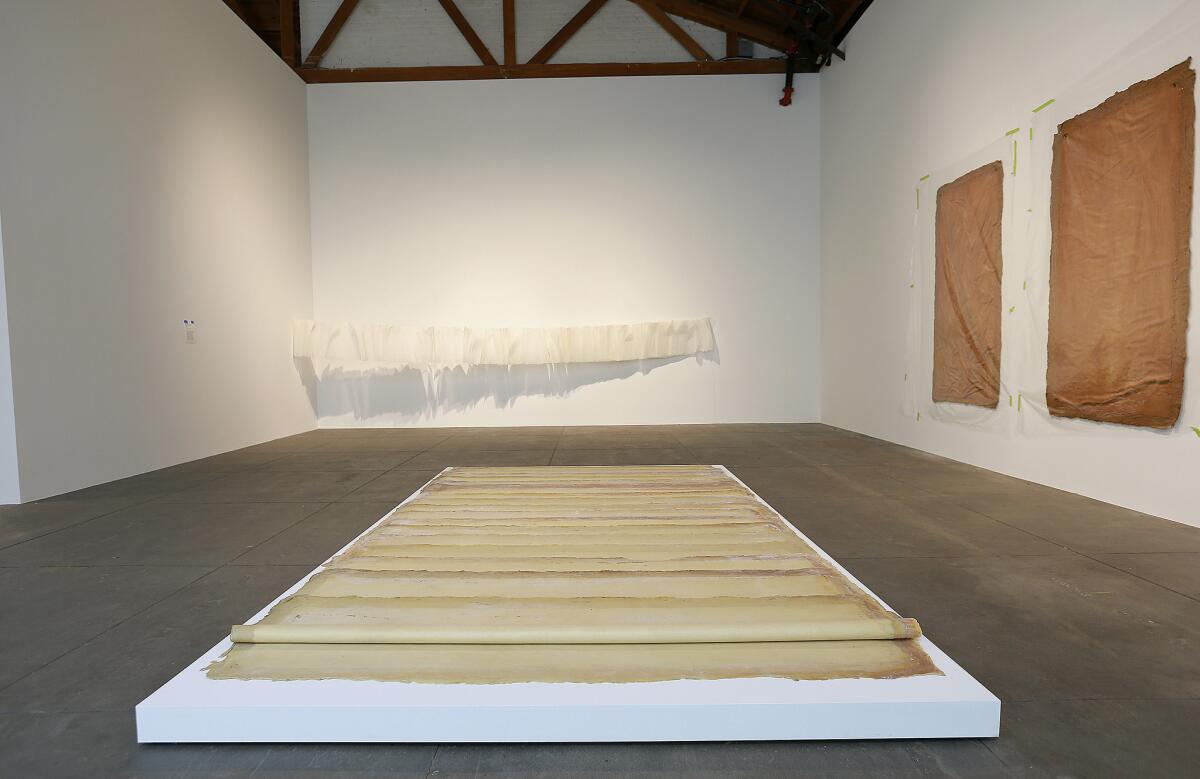 Thankfully, the gap is now being filled by director Marcie Begleiter's engaging new documentary, "Eva Hesse," which hits theaters in Los Angeles on Friday.
Begleiter, who lives in Mar Vista, and has an arts background (she has an master's in painting from the ArtCenter College of Design in Pasadena), has been intrigued by Hesse and her work since her days as a graduate student.
"I was taking an art history class and they showed a couple of slides of the latex and fiberglass works, the late sculpture," she recalled. "The work blew me away. It was so different from what was going on. I became interested in, who is this artist?"
In the '90s, while working as a professor, Begleiter received a grant to study Hesse's papers at Oberlin College in Ohio. "I went there for 10 days," she recalled. "They put me in this wooden room with big tall windows, and everyday they'd give me a pair of white cotton gloves and put a file box in front of me. It was like a birthday present everyday.
"This was a woman, a multifaceted, thoughtful, insecure, yet completely ambitious woman," she said of Hesse. "I had a hunch that it could be engaging, but what I saw there, what I read there, blew my mind."
Begleiter was so intrigued by the depth and honesty of Hesse's diaries (which were just published by Yale University Press last month), as well as the letters she exchanged with fellow artist Sol Lewitt, that she spent two years writing a play about it: "Meditations: Eva Hesse," which she debuted at the Highways Performance space in Santa Monica in 2010.
The play caught the eye of producer Karen Shapiro, who persuaded Begleiter to expand the work for a bigger stage. That required further research, so Begleiter set about interviewing people who had known Hesse in life: Lippard; Hesse's sister, Helen Hesse Charash and others.
"Between the third and fourth interview, I sat up in bed — that thing where you sit right up in bed," Begleiter said. "I thought, 'These people are so engaging and Eva is still with them.' This is a documentary!"
Shapiro agreed and signed on as producer. Begleiter set out to capture on film the life of an artist whose enigmatic works continue to enthrall. "Her work is still fresh," said the filmmaker, "and her writing still engages."
Featuring interviews with Hesse's sister, Lippard, Doyle and important scholars such as Whitney Museum curator Elisabeth Sussman, the documentary takes viewers through a photo- and art-rich tour of the artist's short, storied life — touching on the major biographical points, as well as the ways in which she arrived at her artistic breakthroughs.
During a mid-1960s stay in Germany, for example, Hesse worked in a studio housed inside an old factory, where she began to experiment with the industrial detritus around her, including stacks of old rope. (Begleiter said Hesse was "the original upcycler.")
It is a particularly poignant moment in the film and in Hesse's life. The artist had fled Germany as a young girl, and now found herself back in the place where much of her family had been murdered by the Nazis — accompanying her husband on a residency.
"Of all the places that someone could have invited Tom, it was that place," said Begleiter. "Tom gets invited, not to Switzerland, not to Paris, but to Germany. She goes back less than 20 years after the war."
It's a moment that establishes Hesse's resolve as a person and an artist. And, in the film, it is delivered in Hesse's own words. Rather than use narration, Begleiter lets the artist tell her own story — excerpting pieces of interview transcripts, letters and diaries. (Actress Selma Blair serves as Hesse's vocal stand-in.)
More significantly, the documentary doesn't wallow melodramatically on the tragedy — be it the escape from Germany or her early death. Instead, "Eva Hesse" is a story of the power of art.
"She may have fallen, but she never stopped working," said Begleiter. "She put all of her energy into creating these beautiful, mysterious objects. ... She lived well. But she also died well. She looked it right in the face and said, 'I am not afraid.'"
-----------------
Zeitgeist Films
MPAA rating: None
Running time: 108 minutes
Playing: Monica Film Center, 1332 Second St., Santa Monica (screens daily for one week starting Friday); Playhouse 7, 673 E. Colorado Blvd., Pasadena (11 a.m. Saturday and Sunday), Town Center 5, 17200 Ventura Blvd., Encino (11 a.m. Saturday and Sunday).
Info: evahessedoc.com and laemmle.com
----------------
ALSO
The radical and politically potent opening show at DTLA's new Hauser Wirth & Schimmel
Sneak Peek: Inside the new Hauser Wirth & Schimmel mega gallery in downtown L.A.
L.A.'s Hauser Wirth & Schimmel is out to upend the definition of a gallery
Find me on Twitter @cmonstah.
---
UPDATES:
1:13 p.m.: This article was updated to reflect additional screening locations.
This article was originally published at 7 a.m.
Get our L.A. Goes Out newsletter, with the week's best events, to help you explore and experience our city.
You may occasionally receive promotional content from the Los Angeles Times.