Roundup: Islamic State in Palmyra, Trump security zone and big developments for the Arts District
Conflict in Palmyra. The new risks artists face in the wake of the Ghost Ship fire in Oakland. And big plans for the Arts District. (I mean, like, BIG.) Plus: Dorothea Lange, Trump Tower gridlock and finding Da Vinci. Here's the Roundup:
— Islamic State militants have recaptured most of Palmyra, nine months after being driven from the city by Syrian and Russian forces — in what could represent a new assault on heritage sites. Christian Science Monitor
— In the wake of the Ghost Ship tragedy, fire departments in cities across the nation have begun to look into or evict artists from informal artist spaces. New York Times, Baltimore Sun
— Related: Critic Charles Desmarais looks at how a little more art patronage could perhaps avert tragedies of this nature. San Francisco Chronicle
— Two Dutch master paintings, liquidated by Jewish dealer Max Stern in the face of Nazi persecution, have been returned to his estate. The Art Newspaper
— The hunt for former Philippine dictator Ferdinand Marcos' art collection may be warming up again. New York Times
— Brian Boucher reports on how New York City's midtown art dealers are being adversely affected by the security zone around Trump Tower. Artnet
— The thrill of finding a long-lost drawing attributed to Leonardo Da Vinci. New York Times
— Critic Jerry Saltz examines a photograph by Andreas Gursky and finds evidence of our highly complex, near unmaintainable information systems. Vulture
— Dorothea Lange's censored images of Japanese American internment camps. Anchor Editions
— Thousands of images by photographer Minor White, the founding editor of Aperture magazine (and the subject of an exhibition at the Getty Museum in 2014) have been digitized and placed online by the Princeton University Art Museum. Hyperallergic
— Another super-development is proposed for the Arts District. This time from the Danish architect Bjarke Ingels — and it will contain a small museum or sculpture park. Because what downtown really needs in addition to more condos and retail is another museum. Los Angeles Times
— Plus, a proposed, cage-like tower by Eric Owen Moss for Culver City. Los Angeles Times
— The Guggenheim Helsinki is definitively shot down by the Helsinki City Council. New York Times
— Speaking of the Gugg: Artist Naeem Mohaiemen offers a look at how the artist-activist group Gulf Labor Coalition came together to improve migrant labor conditions at the planned Guggenheim Abu Dhabi. The Walker
— Conceiving the Los Angeles of the musical film "La La Land" — which included studying the paintings of L.A. artist Patssi Valdez. Plus, a map of the movie's filming locations. Design and Architecture, Curbed
— Plus: Artists, photographers and curators choose the photos that define Los Angeles. To that list, I'd add Asco's "Spray Paint LACMA" — which featured Valdez as a key player. Los Angeles Magazine
— To inaugurate the new Main Museum in downtown Los Angeles in its "beta" phase, artists Suzanne Lacey and Andrea Bowers took to the space for 10 days where the former taught the latter performance art. Catherine Wagley dropped in on the action. ARTnews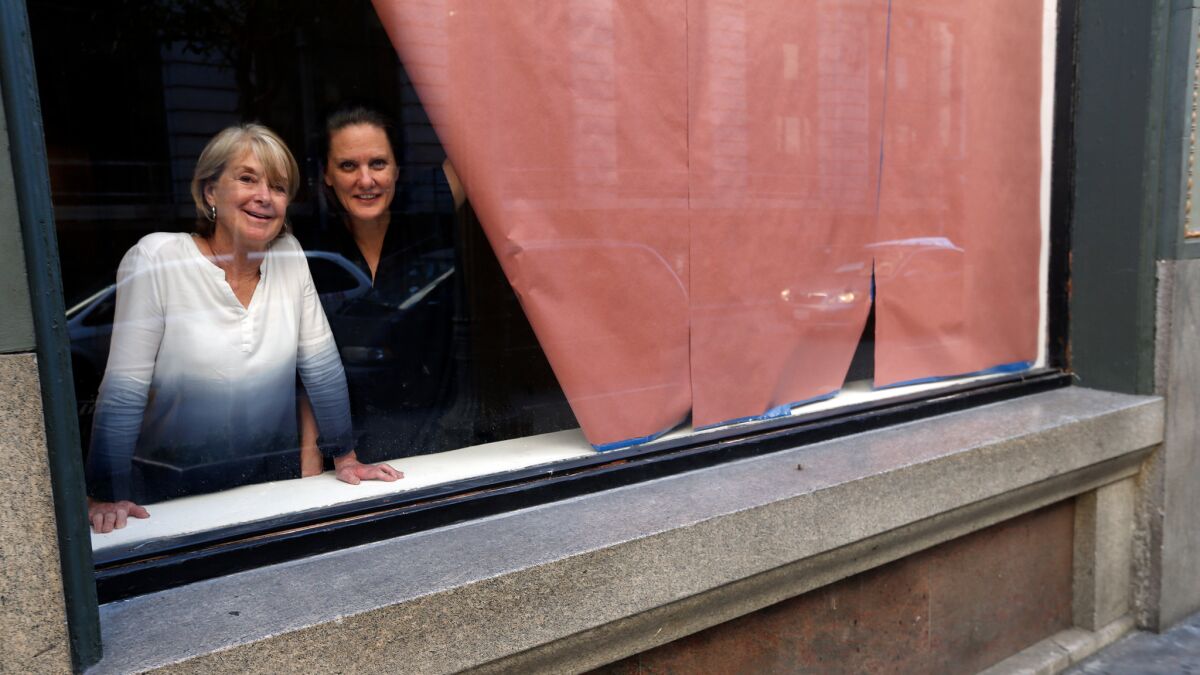 — The Liverpool homes refurbished by the Turner Prize-winning architectural collective Assemble come with an anti-gentrification clause. BBC
— And last but not least: A Seattle-based company has come up with a 3-D printed bong that is inspired by the forms of Gensler's torqueing Shanghai Tower. High brow, indeed. Leafly
Sign up for our weekly Essential Arts & Culture newsletter »
Find me on Twitter @cmonstah.
---
Get our L.A. Goes Out newsletter, with the week's best events, to help you explore and experience our city.
You may occasionally receive promotional content from the Los Angeles Times.