The women at the helm of 2018's Venice Architecture Biennale and the unexpected generosity of design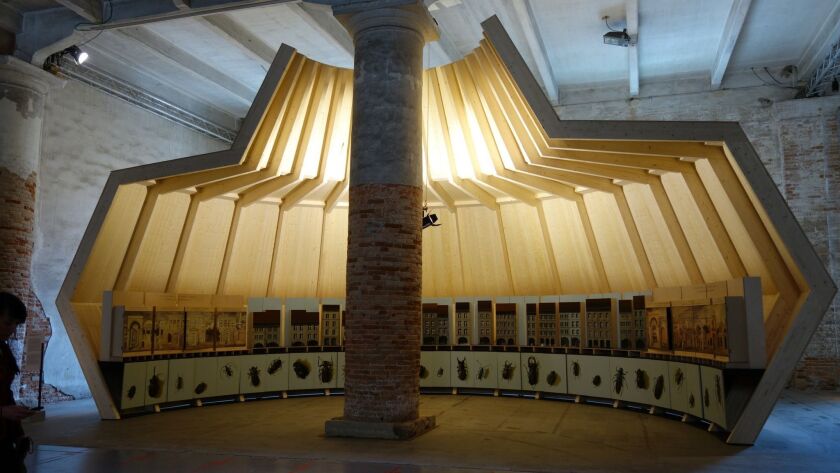 Reporting from Venice, Italy —
Architecture, says Yvonne Farrell, co-founder of the Dublin-based studio Grafton Architects, isn't necessarily found in a building's walls or its roof or the pattern of its external cladding. Architecture is space.
Farrell is saying this as she surveys a cavernous covered dock in the Aresenale, the old shipyards that occupy the eastern fringes of this canal-threaded city and site of the main halls of the 2018 Venice Architecture Biennale, which opened Saturday. Farrell and her architectural partner, Shelley McNamara, are the curatorial team behind this year's exhibition and its organizing theme: "Freespace."
"Space that deals with space, not with objects — the space between," Farrell explains. "Architecture should make as much nothing as possible."
All that nothingness is at the center of the biennale's massive sprawl of installations from architects and urbanists across the globe.
In their curatorial manifesto, Farrell and McNamara define "Freespace" as a "space for opportunity," a place where an individual can "imagine the free space of time and memory," a site that emphasizes "nature's free gifts of light — sunlight and moonlight."
Which means that "Freespace" is the sort of loose conceptual container into which you can jam several warehouses of architectural ideas — which is essentially what biennale curators are required to do.
There is the core exhibition, organized by Farrell and McNamara — a two-part show that occupies a warren of galleries inside the Central Pavilion at the Giardini, a garden complex just east of the Arsenale, as well as a nearly 1,000-foot-long former rope factory in the Arsenale known as the Corderie. (In case you're wondering: 1,000 feet is about the length of three football fields.)
These feature the work of almost 90 international historians, collectives and research and design studios, presenting drawings, models and installations — such as an abstracted re-creation of a Bengali courtyard, mud floors and all, by Bangladeshi architect Marina Tabassum.
And like a Ronco commercial, that is not all.
"Freespace" is also the overarching theme for 60-plus independently organized exhibitions staged in national pavilions in the Giardini and in pop-up locations around Venice. The U.S. pavilion is using "Freespace" to take on questions of citizenship. The British are pondering the meaning of being a literal and political island. The Estonians are exploring monuments — both official and spontaneous.
Even the Vatican is in on the action. On Friday, the Holy See threw open the gates on its first ever Biennale installation — a series of 10 architect-designed chapels on the nearby island of San Giorgio Maggiore that includes projects by high profile figures such as Pritzker Prize-winning laureates Norman Foster and Eduardo Souto de Moura.
Awakening
Since its 1980 launch, the Architecture Biennale had been helmed almost exclusively by men before Farrell and McNamara. The only exception was the 2010 show, when Japanese architect Kazuyo Sejima, co-founder of SANAA and co-winner of the 2010 Pritzker Prize, was chosen to curate. Farrell and McNamara's appointment came early last year, before allegations against Harvey Weinstein heated up the #MeToo movement, but the issues of representation in architecture have been long simmering. Those issues erupted in a protest at the Giardini the day before the biennale's public opening, less than two weeks after 82 women in film from around the world marched up the stairs of the red carpet at the Cannes Film Festival to push for more representation (only 82 of 1,645 films directed by women have been chosen to compete for the festival's top prize since 1946).
In the U.S., women represent just 18% of the membership at the American Institute of Architects, the country's largest professional group, despite constituting almost half of all architecture school graduates. This general inequity was what led Boston-based designer Caroline James to organize the action at the biennale, which was was promoted by prominent architects such as Odile Decq, Jeanne Gang and Toshiko Mori, as well as Martha Thorne, director of the Pritzker Prize (which has overwhelmingly honored men).
The group's manifesto called on "clients, collaborators and our male colleagues to create a new path forward toward equitable work," and they cited Farrell and McNamara's appointment as "a crucial moment of awakening."
For all that they represent, however, Farrell and McNamara made little of their historic role in the press walk-through two days prior — never mentioning it once. Instead, their focus was on design, its power and its purity.
Which shouldn't come as much of a surprise. The pair are known for rugged, concrete buildings that harbor an unexpected lightness within (such as the sculptural Luigi Bocconi University complex in nearby Milan). For their biennale, they turned the focus to space: the ways in which space — whether professionally or informally created — can shelter, can bring people together, can be repurposed in ingenious and surprising ways.
Generous design
"Freespace" is not dedicated to the latest technological treatises. It doesn't pitch architecture as a social or climatological tool (though these issues surface repeatedly). In many ways, it is a back to basics show — an architecture exhibition about architecture that also nods to the architectural environment of Venice.
For the curators, this meant gathering the work of design practices that focus on what they call architecture's "unexpected generosity." Say, an installation by the Belgian studio Architecten Vylder Vinck Taillieu that shows the ways in which the bones of an old building can be employed to create a new one. Or a structure designed by Portuguese architect Alvaro Siza that manages to create an area of quiet reflection within the bustle of the biennale with the simple placement of a curved, white wall.
It has also meant making interventions into the Venice sites that house their exhibition. After leading a group of journalists through the installations in the Arsenale on a gummy Tuesday afternoon, they take us to the north side of the building, where the docks were once employed to equip ships before they went out to sea.
"Whenever we came here," McNamara says, "we always thought it was a beautiful place for sitting down."
So they installed a series of marble benches to allow visitors to take in the views in comfort — a minimal architectural intervention that repurposes an old worksite into a place of gathering and repose.
Just seeing the core exhibition is an epic undertaking. (The press walk-through — a brisk affair during which minders regularly prodded us to move along — took roughly 4½ hours.) Taking in all of the pavilions could eat up days, if not weeks. Venice, a city saturated by tourists, becomes saturated with architectural tourists: a wave of stylish eyewear and people who use expressions such as "natural processes" to describe rain.
The ginormous scale, combined with the curatorial looseness, mean that "Freespace" is less a focused thesis than a broad cross section of what's doing in the field when it comes to issues of space.
It also results in some pretty intriguing juxtapositions.
One room features the temple-like designs of Swiss architect Peter Zumthor — space that seduces and inspires. Another displays research by Wang Shu and Lu Wenyu that looks at how the residents of one community in Huangzhou repurpose their city's streets — say, by converting an alleyway into an informal laundromat — space that is seized and adapted.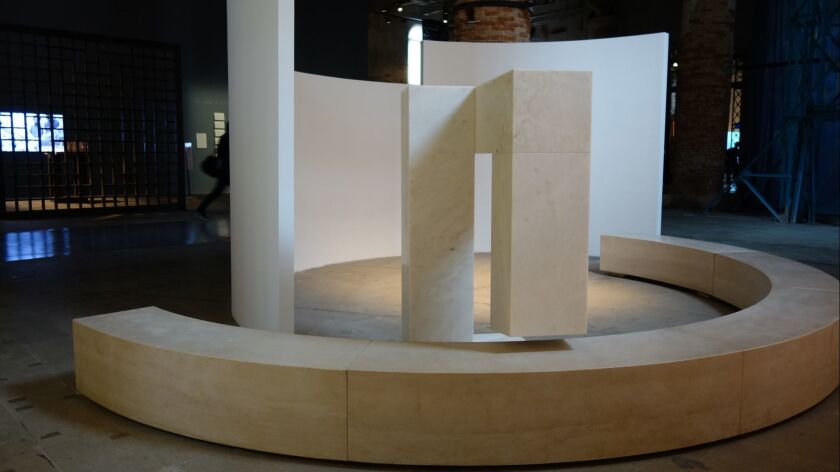 Space that deals with space, not with objects — the space between. Architecture should make as much nothing as possible.
Yvonne Farrell, architect and co-curator
There are flamboyant showstoppers, such as a massive, onion-shaped cabinet of curiosities by Mario Botta, featuring images of buildings and bugs.
And there are projects that are socially minded — such as L.A. architect Michael Maltzan's presentation of his design for the Star Apartments on skid row, a supportive housing complex for the recently homeless. A model of the building stands on a platform at one end of the space, looking like a winged robot. On the other, cutaways of individual units reveal the ways in which the apartments have been inhabited by its residents.
The curators said they were drawn to the humane qualities of Maltzan's shared spaces.
"He has made free spaces where community can gather," says Farrell. "Architecture is for all. Architecture is a value across society."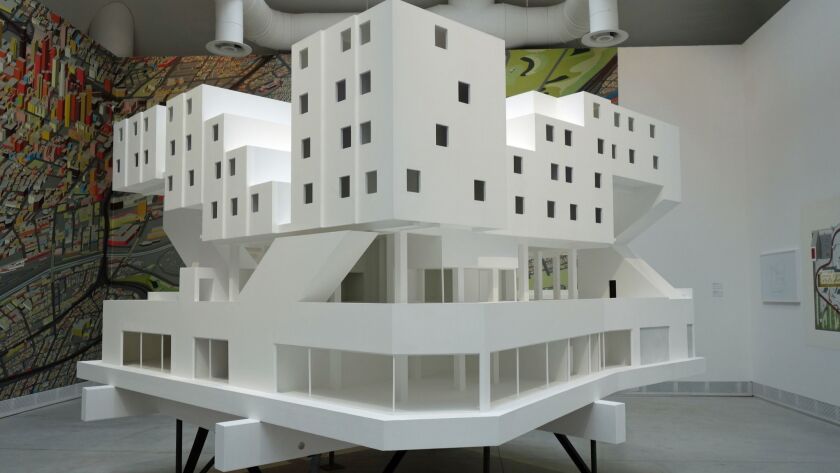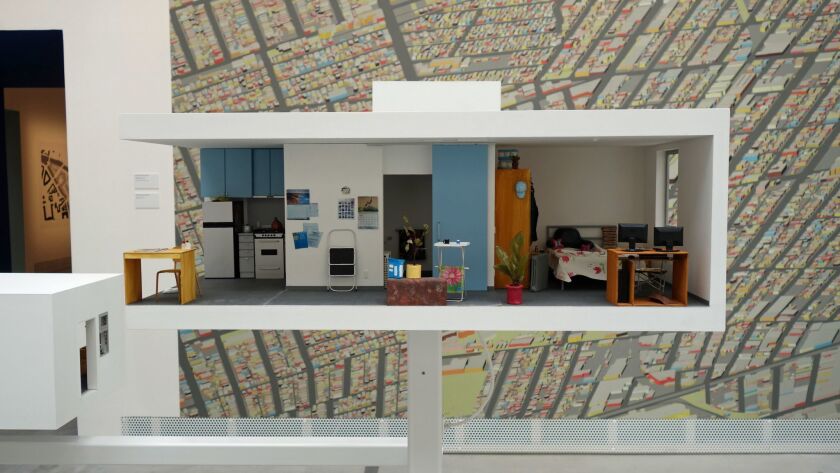 "Freespace" provides a relentlessly positive view of architecture. Throughout the preview, both Farrell and McNamara repeatedly described the "generosity" of certain spaces and their designers. And in his opening remarks, biennale president Paolo Baratta said, "'Free' means in the sense of freedom, but [also] in the sense of a gift. Freedom is generosity."
The positive outlook is not necessarily a bad thing in a week filled with news alerts about nuclear talks and missing children. But not all of the installations in the exhibition live up to the idea of architect as benevolent giver.
Spanish architect Rafael Moneo offered up a very large timber on which viewers could sit and gaze upon a picture of the town hall he built in Murcia, Spain, in 1998. Alongside the image was a large, cryptic text: "The perception of free space appears at the moment when a building's condition as an artifact gives way, and space is felt as a sensorial expression of freedom, letting us briefly forget the built world and the discipline of architecture."
Free spaces, it turns out, are not free of architecturespeak.
Venetian views
While space may have been the talking point, ultimately the vast array of objects were bound together by context: namely, the city of Venice and its architecture.
In the galleries of the Central Pavilion, Farrell and McNamara opened up blacked-out windows and skylights — in the process recovering a shrouded window and door that had been designed by the revered Venetian Modernist Carlo Scarpa in 1952.
At the Corderie, they likewise peeled back the blackout panels and let views of Venice invade the space. All the architectural installations were confined to the building's flanks so as not to interrupt the nearly 1,000-foot long central corridor — so that visitors could absorb, with a single glance, the building's incredible scale.
In a show about space, the space of the building hosting the exhibition became as important as any object contained therein.
"It's thinking about each of the buildings as a participant," McNamara says . "Make the presence of the building more felt."
It's thinking about each of the buildings as a participant. Make the presence of the building more felt.
Shelley McNamara, architect and co-curator
A number of the architects made nods to the structures in their installations, but none more effectively than Rozana Montiel Estudio de Arquitectura from Mexico.
Montiel created a brick wall that mimicked the walls of the Corderie, then laid it on the floor. On the building's actual wall, she projected a scene that was shot on the canal just beyond the building.
It was as if she had toppled the wall and invited a piece of Venice into the show.
Designing a generous space requires close attention to context. "Freespace" points our attention to the context of Venice: an ancient site with a singular architectural history, a small city struggling with identity in the face of global tourism, a low-lying island contending with the rising tides that regularly soak its Renaissance churches and gracious palazzos.
Architecture's ideas, this exhibition seems to be saying in subtle ways, can't be kept apart in the dark. Time to let the light in.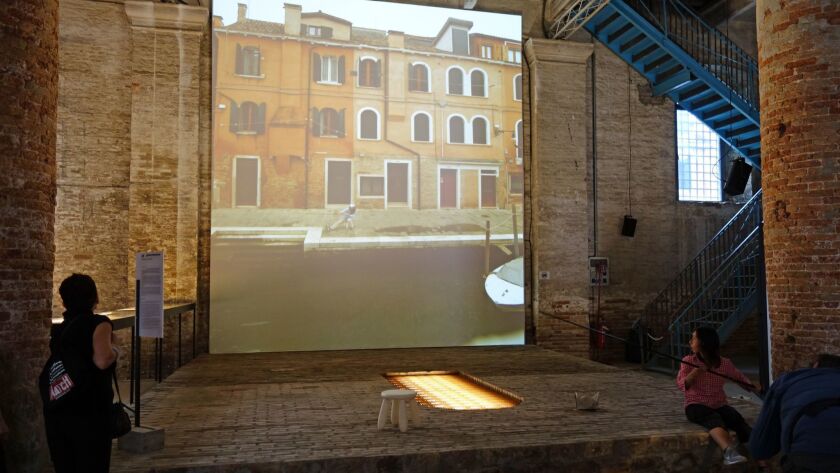 ALSO
Venice Architecture Biennale 2018: Sanctity and sex in installations devoted to chapels and cruising at Venice Architecture Biennale
Venice Architecture Biennale 2018: A new U.S.-Mexico border? At the Venice Biennale, imagining a binational region called MEXUS
Seven of the most intriguing national pavilions to see at the 2018 Venice Architecture Biennale
Venice Architecture Biennale 2016: A grassroots, handmade Venice Architecture Biennale from Alejandro Aravena
In another surprise choice, Pritzker Prize honors 90-year-old Indian architect Balkrishna Doshi
Why so many Mexicans revile the Colonial Californiano architectural hybrid that spread from SoCal
Sign up for our weekly Essential Arts & Culture newsletter »
---
Inside the business of entertainment
The Wide Shot brings you news, analysis and insights on everything from streaming wars to production — and what it all means for the future.
You may occasionally receive promotional content from the Los Angeles Times.