How Alfonso Cuarón's 'Roma' Oscars spark a dialogue about the faces we see on-screen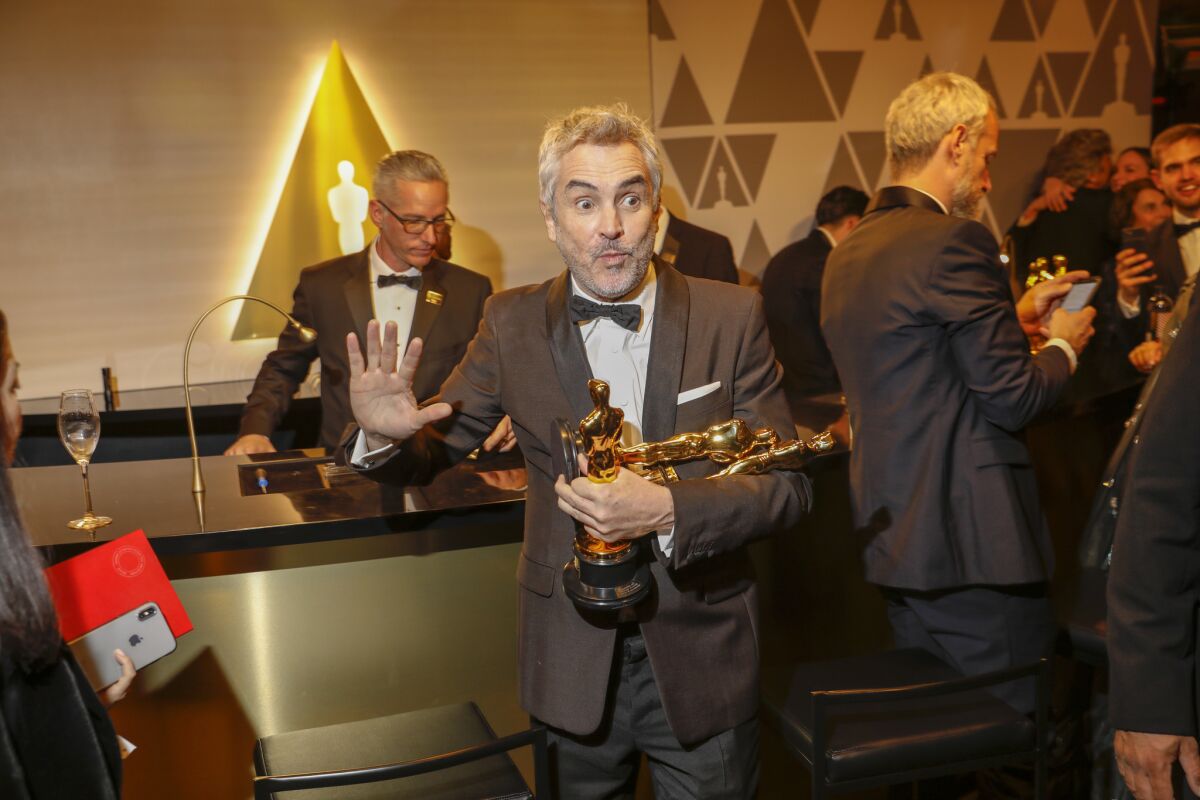 It was a film that began as a reflection of a painful period of the director's childhood. Now it has earned three Academy Awards.
"Roma," Alfonso Cuarón's meditative family drama, which told the story of Cleo, an indigenous domestic worker who faces a battery of personal struggles as the family she serves falls apart, won three of the Oscars' most important categories: foreign language film, cinematography and directing.
In accepting his directing Oscar for the movie, Cuarón noted the rarity of seeing a character such as Cleo represented on-screen.
"I want to thank the academy for recognizing a film centered around an indigenous woman, one of the 70 million domestic workers in the world without work rights, a character that has historically been relegated in the background in cinema," he read from his notes. "As artists, our job is to look where others don't."
The film has been a deeply personal journey for Cuarón, who based the character of Cleo on the housekeeper who raised him: Liboria Rodriguez, a Mixtec woman who cared for his family even as she suffered personal heartbreak and loss.
In an interview with The Times late last year, he said of Rodriguez, "I'm talking about one of the humans or one of the people that I love the most."
"Muchas gracias a Libo," he said, thanking Rodriguez in Spanish by her nickname.
All of this in an awards show that, in various ways, showed a more diverse array of voices and languages than it has in the past: Trevor Noah uttered a gag in Xhosa and Javier Bardem and Diego Luna spoke Spanish.
In an interview with Variety after the show, Luna said "Roma's" wins sets a vital example for other storytellers in his native Mexico.
"It means a lot," he said. "You can tell your story, the one that matters to you, the personal one, and there's an audience for it, and you can get to the Oscars with a film in Spanish and Mixteco … my God, there's a chance."
As artists, our job is to look where others don't.
— Alfonso Cuaron
The awards mark another professional pinnacle for the Mexican director, who already had two Oscars to his credit, in the editing and directing categories for the 2013 space drama "Gravity."
"Roma" entered Sunday night's ceremony with a whopping 10 Oscar nominations — tying for the year's most nods with Yorgos Lanthimos' royal court drama, "The Favourite."
"Roma" ultimately took home three awards — and it failed to nab best picture, which went to "Green Book." But it nonetheless busted through plenty of barriers.
It is the rare foreign-language picture to make it into the best picture category. The first was Jean Renoir's French war film "Grand Illusion," in 1938. The last, in 2012, was Michael Haneke's "Amour" — the mordant French drama about an elderly couple contending with the ravages of aging. "Roma" was also the first Mexican film to win in the foreign-language category.
And Cuarón's win demonstrates the continued dominance of Mexican directors. Five of the last six Oscars for directing — starting with Cuarón's award for "Gravity" — have gone to Mexican filmmakers.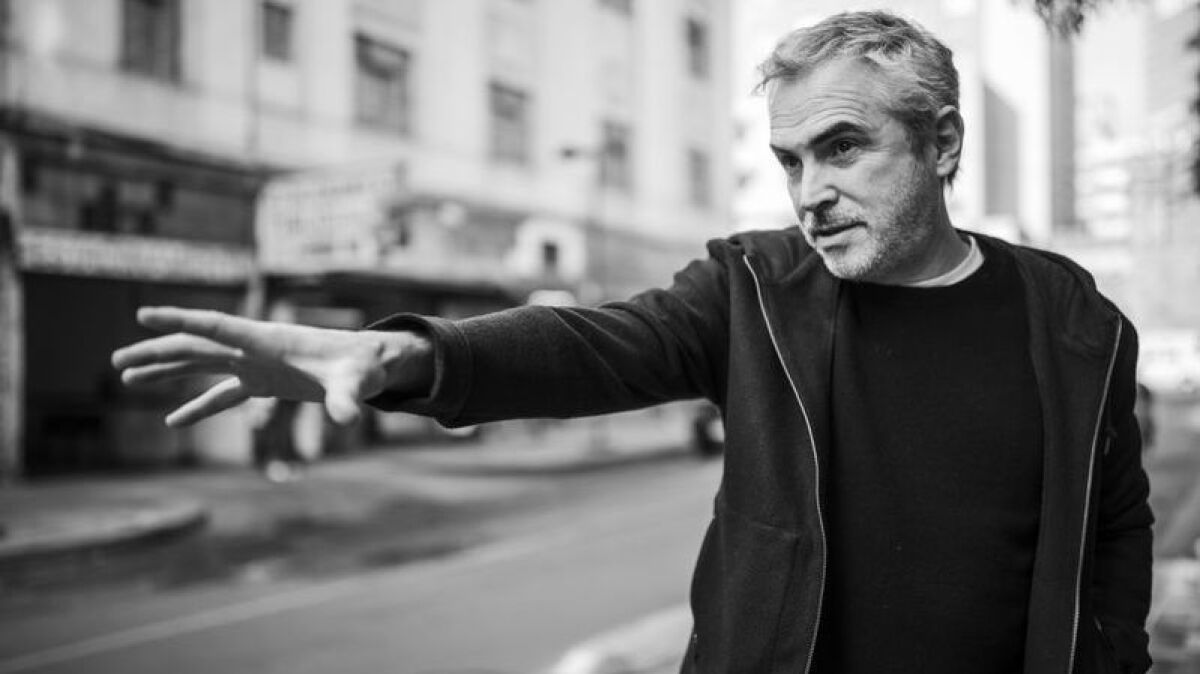 MORE: 'Roma's' Alfonso Cuarón shows us the Mexico City streets that shaped his Oscar-nominated film »
In addition, Cuarón's Oscar for cinematography was groundbreaking and symbolic: He is the first person to win that award for a film he also directed — and it comes on the heels of the director's very public spat with the film academy over the category.
Earlier this month, the academy had announced that it was going to yank the cinematography award from the telecast and hand it out during the commercial break, along with the awards for editing, hair and makeup, and live action shorts. Cuarón was one of the first filmmakers to speak out — vociferously — against the decision.
"In the history of CINEMA, masterpieces have existed without sound, without color, without a story, without actors and without music," he tweeted (capital letters his). "No one single film has ever existed without CINEMAtography and without editing."
The academy later retracted its decision and all four awards were presented during the broadcast. In his acceptance speech for the cinematography award, Cuarón nodded to famed German American filmmaker Ernst Lubitsch and Mexican cinematographer Emmanuel "Chivo" Lubezki (who has three Academy Awards to his credit — including one for his work on "Gravity").
"It's well known that in Billy Wilder's office, there was a sign that said, 'What Would Lubitsch Have Done?'" stated Cuarón. "For me, it's 'What Would Chivo Lubezki Have Done?'"
Ironically, "Roma" was an unlikely Academy Awards juggernaut.
The film was shot in black and white. It features actors unknown to U.S. audiences. The dialogue is in Spanish and Mixtec, an indigenous language from southern Mexico. It was released not by a legacy studio, but by the streaming service Netflix.
"Of everything I've ever done, this is the one I expected the least," Cuarón told reporters during a news conference backstage. "This is not what you would call an Oscar date."
But "Roma" nonetheless struck a nerve.
There was the story of the film's lead: a young indigenous woman from a small town in Oaxaca who had never so much as tried out for a school play when she landed the principal role in Cuarón's film.
Yalitza Aparicio, a schoolteacher from Tlaxiaco, Mexico, portrayed Cleo in a role that demanded subtlety and quiet resilience, and for her performance, she received a lead actress nomination — the second Mexican actress and the first indigenous woman to be nominated in the lead actress category.
She did not win the Oscar (it went instead to Olivia Colman, who played a discombobulated Queen Anne in "The Favourite"), but the role — and Aparicio's resulting stardom — brought important social issues to the fore, such as the treatment of domestic workers and indigenous representation in the culture and large. (Aparicio is of Triqui and Mixtec heritage.)
This awards season, Aparicio has been the rare indigenous face on red carpets. She is also the first Mixtec woman to be featured on the cover of Vogue Mexico, a publication whose chosen standards of beauty are decidedly European.
MORE: 'Roma' star Yalitza Aparicio is so much more than her Oscar fairy tale »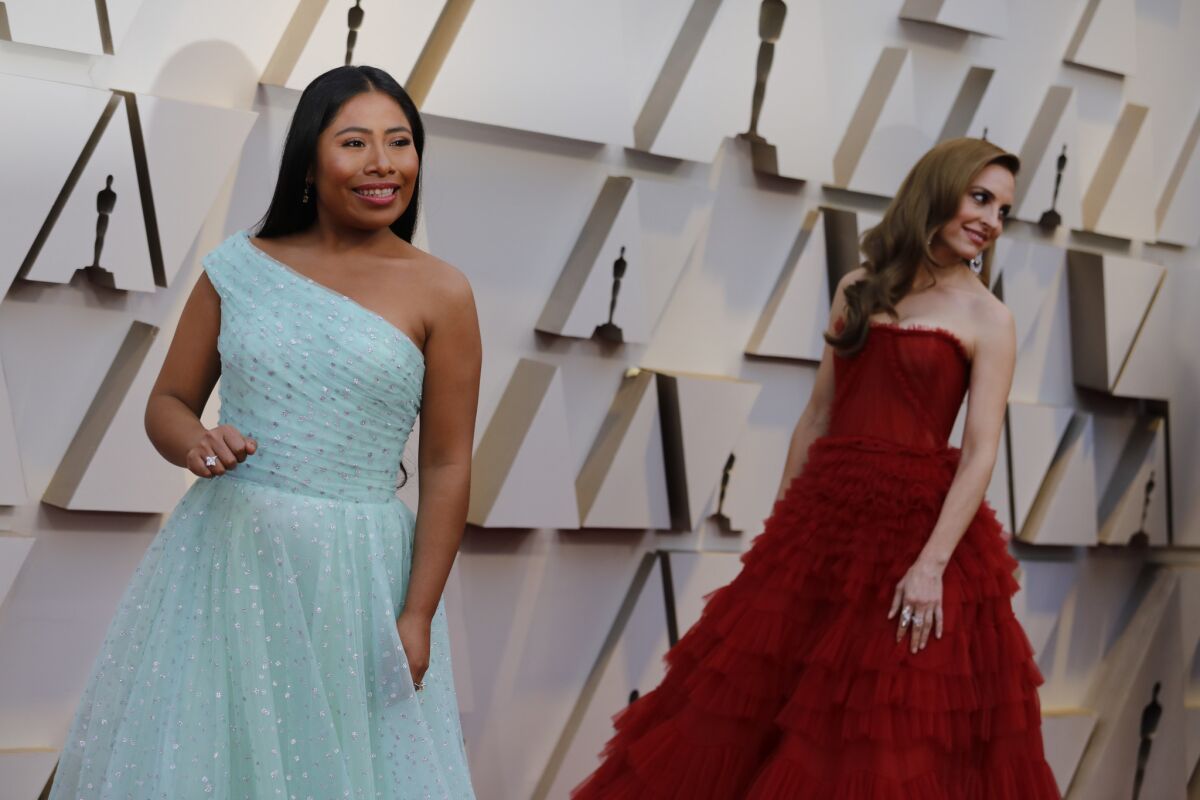 MORE: A Mexican town watches its 'Roma' star shine. Another treasure's fate is less clear »
The actress' achievements have been met with celebration, but also plenty of bigotry. An early fashion shoot for Vanity Fair, for example, was greeted with racist invective online. Later, a Spanish-language entertainment site reported that a group of Mexican actresses had allegedly conspired to keep her from being nominated for the Ariel, the country's most prestigious acting award.
For Aparicio, her status as a barrier breaker is one that she is keenly aware of. In an interview with The Times earlier this month, she noted: "I know that everything that I am doing — if I do something wrong, they might think we are all that way. So I have to take good care of that image, our image."
Cuarón said the film has raised all kinds of issues related to representation.
Backstage at the Academy Awards on Sunday night, he noted Hollywood's habitual blind spots.
"There's so much talk about diversity," he said. "I mean some progress has been made, but definitely the Hispanic Americans — and specifically, Chicanos — are really badly represented still."
At this year's Academy Awards, only two U.S.-born Latinos were nominated for awards: Phil Lord, a Cuban American producer behind "Spider-Man: Into the Spider-verse" (which won the Oscar for animated feature) and Frank Montaño, who was part of the team that worked on sound mixing on "First Man." No U.S.-born Latino actors were nominated in any of the acting categories.
Ultimately, if "Roma" pays tribute to the people who shaped Cuarón, it also pays tribute to Mexico, the country where he was born and that shaped his worldview — at a time when references to Mexico in the U.S. have been filled with political xenophobia.
"This is a Mexican film," he told reporters backstage. "This award belongs to Mexico. … This film doesn't exist if it's not for Mexico. I would not be here if it's not for Mexico."
Times staff writer Ashley Lee contributed to this report.
MORE: Why do the Oscars run long? We analyzed 10 shows and this is what we learned »
Twitter: @cmonstah
Get our L.A. Goes Out newsletter, with the week's best events, to help you explore and experience our city.
You may occasionally receive promotional content from the Los Angeles Times.