Column One: A Mexican town watches its 'Roma' star shine. Another treasure's fate is less clear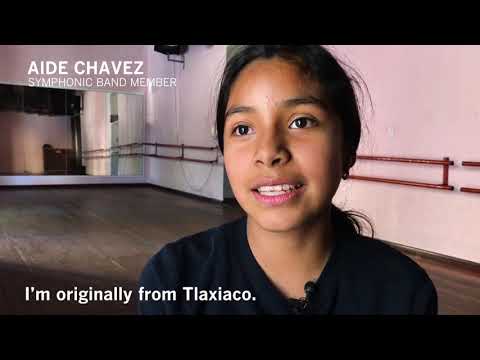 In Tlaxiaco, Mexico, brass bands boom down cobblestone paths with dancers, fireworks and papier-mache puppets up to 10 feet tall.
High on the mountain of Yucunino, where a valley of pines leads you straight to Tlaxiaco, everyone knows about the girl.
La Yalitza, they call her — as if she were a storm that swept through their town. Young and indigenous, she was like so many women here, until she was plucked from her corrugated metal shanty and made a Hollywood star.
Yalitza Aparicio is now up for an Oscar for her role in "Roma," and her hometown couldn't be more proud.
But as they eagerly watch to see where fame takes her, Tlaxiaqueños worry about the fate of another treasure in town.
---
Life in the southern Mexican state of Oaxaca, rain or shine, revolves around fiestas. In Tlaxiaco, brass bands boom down cobblestone paths with dancers, fireworks and papier-mache puppets up to 10 feet tall. The parades happen every week. Kids join the calendas as soon as they're able to walk.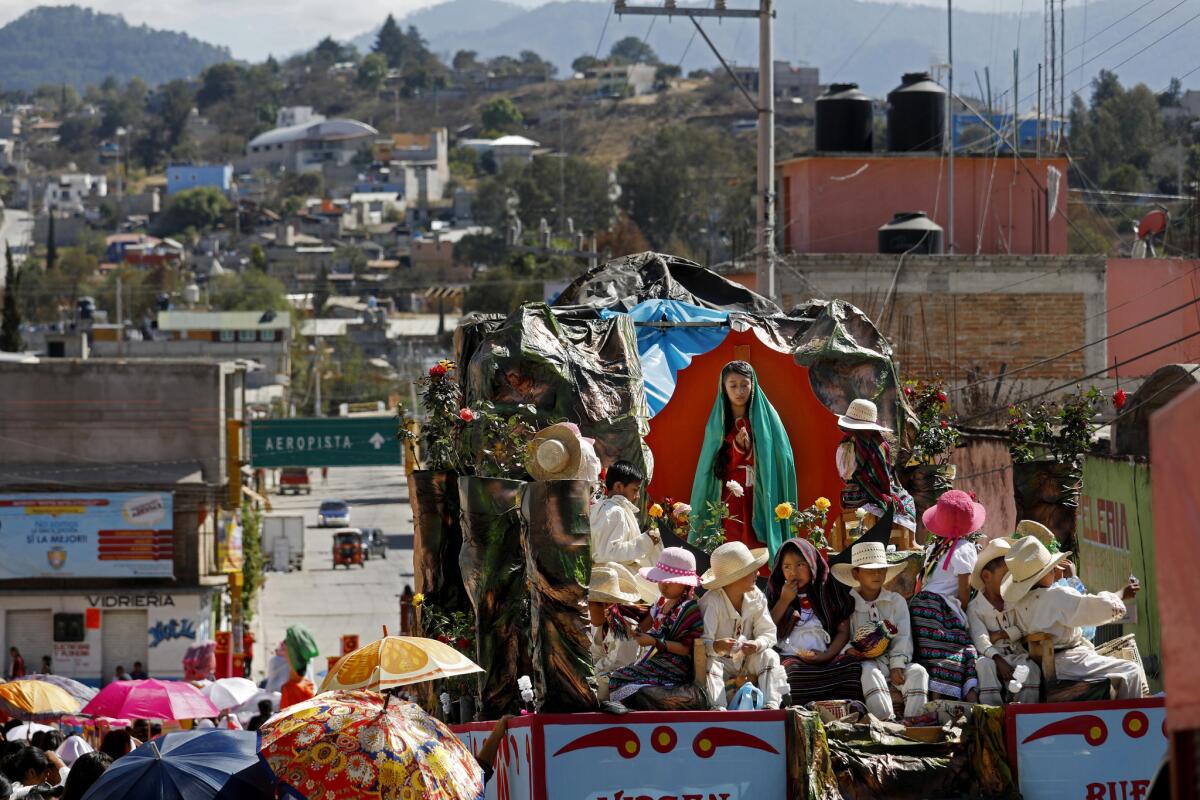 Detrás de la historia: La fama de 'Roma' se siente a un mundo de distancia del humilde pueblo de Tlaxiaco »
In 2015, big news came across the radio station La Poderosa. A prestigious musician, a classical trombonist named Alejandro Zamora, was coming from Mexico City to this town of indigenous Mixteco people.
The mayor, Alejandro Aparicio, persuaded Zamora to start a band at the Casa de la Cultura, a vibrant cultural center run by the city. Zamora, then 34, agreed under one condition: He wanted to launch a symphonic band with only children, each one starting from scratch.
"I had this vision in my mind, and the kids in Tlaxiaco seemed to have all the potential," Zamora said.
El Profesor was unlike anything folks in town had ever seen. He was demanding, pushy and passionate, with expectations for recognition that would stretch far beyond the mountain.
"Leave no room for error," he constantly told his 65-piece band.
Kids, ages 5 to 17, rehearsed two hours a day, seven days a week. Sometimes they rehearsed twice in one day.
"One of my sons cried the first few days," said Ewdiuviel Lopez, 45. "He'd say, 'Papa, the profesor yells too much.' "
But in time, Lopez said, his three boys learned to appreciate their teacher. They grew attached to their clarinet, saxophone and snare drums.
Zamora taught his students, all Mixtecos like Yalitza, to master dozens of Mexican and Latin American compositions — sones, jarabes, chilenas and fandangos. These were high-energy pieces with rapid, twisting melodies, complicated rhythms and leaping crescendos.
He put the tiniest kids, or those missing teeth, on percussion. The rest played other instruments, such as flutes and clarinets, trumpets and saxophones.
At every rehearsal, the conductor stood front and center, slicing the air with his hands and watching each protege like a hawk, sometimes addressing them with the endearment my daughter, my son:
Valeria, mija, you have to catch up!
Christian, you're running too much.
Feel the impulse everyone. Eso! Let's go.
'I had this vision in my mind, and the kids in Tlaxiaco seemed to have all the potential.'

— Alejandro Zamora
Two years in, the Banda Sinfónica de Tlaxiaco had gained regional acclaim. Tlaxiaqueños talked about the kids at the market, at church and school. Turning the band's name into an acronym, they constantly spoke of "BASIT." Have you heard BASIT? they'd ask. They booked the band for their fiestas, weddings and funerals.
"We would go everywhere and put on our best show," said band parent Jesus Montes Bautista.
---
Those with deep roots in Tlaxiaco like to talk about the days before the Mexican Revolution, when their pueblo was famous for craftsmen who turned out fine furniture, shoes and saddlery. Dealers on mules used to trek up the mountain to buy goods in bulk.
Some Tlaxiaqueños grew quite wealthy. They vacationed in France and returned to the town square, or zocalo, in puffy, flounced dresses, penguin coat tails and silk gloves. People all over began to call the town El Paris Chiquito, the Little Paris.
'Roma's' Alfonso Cuarón shows us the Mexico City streets that shaped his Oscar-nominated film »
Years later, during the revolution, rioters ran nearly all those folks out of town.
Today, few relics remain from that era beyond Tlaxiaco's historic clock tower. Chippy and faded, it stands over the zocalo, where vendors peddle used clothes and chanclas as cumbias play, toddlers cry and women in aprons yell, "Papayas! Papayas!"
The town core has about 17,000 people, with thousands more, like Yalitza's family, in the outskirts. Many residents, most of all the indigenous families, lack the most basic necessities. They work menial jobs or survive off the land.
But ask Tlaxiaqueños what they're most proud of and they'll talk about their town's love of culture and the arts. Every season, at least 600 kids flock to the Casa de la Cultura to take classes in acting, painting, dance and music.
Just as the band's fame was spreading, a new mayor in 2017 took hold of Tlaxiaco. "You could say this man was not a big fan of the arts," said Miguel Martinez Oseguera, director of the Casa de la Cultura.
Then-Mayor Oscar Ramirez Bolaños cut many programs at the Casa and slashed Zamora's pay 80%, to $57 a week. Two of his assistants were let go. The third left as well over a pay cut. Parents began buying Zamora rice, beans and bags of tamales.
The worst insult came in 2018, when the mayor forbid the kids from trying out for Oaxaca's internationally renowned fiesta, La Guelaguetza. He formed his own band instead, hand selecting what he considered the best teenage musicians of Tlaxiaco. But those candidates didn't make it past the selection committee, and for only the second time in nearly 30 years Tlaxiaco was shut out of the festival.
The town, Martinez Oseguera said, was shocked and furious.
On a recent afternoon, the fourth-generation Tlaxiaqueño sat behind his desk at the Casa, took a deep breath and scratched his bald head as he recounted the drama.
He had faced plenty of strife running the Casa for decades. But the mayor's actions, like most Mexican politics, left him helpless and baffled. Was the cause creative differences? Budget woes? Bad tempers? He's not entirely sure, and Ramirez Bolaños has since left town and couldn't be reached for comment.
Last summer, as the band's survival hung by a thread, the kids got what felt like a miracle. A man running for president campaigned in Tlaxiaco and heard them perform.
Days later, his people surprised Zamora with a phone call. Andres Manuel Lopez Obrador asked the kids to play at his final campaign rally, before 100,000 people. After he won, he also picked them, from thousands of bands, to perform at his inauguration.
Ask Tlaxiaqueños what they're most proud of and they'll talk about their town's love of culture and the arts.
The band made national news. Zamora was overjoyed. Most of all, relieved. Mayor Ramirez Bolaños was about to term out and his successor was Alejandro Aparicio, the former mayor who had persuaded Zamora to start the band in the first place.
"We made it," he told the kids. "The dark days are over."
Aparicio promised Zamora to restore his pay. He vowed to help him open a music university in Tlaxiaco so indigenous kids from all over could feel part of the band.
But the promise was short-lived. On Jan. 1, about an hour after Aparicio took office, a former police officer from northern Mexico rushed up to the mayor and shot him twice — once in the back, once in the chest. Officials continue to investigate the motive for the killing.
At his funeral, the band he so cherished somberly lined up at his casket and played all of his favorite songs.
---
These days, everything at the Casa de la Cultura is on hold until a new mayor takes charge. No one knows whether the next person will make things right.
Meanwhile, every day, it seems, camera crews arrive in Tlaxiaco eager to tell the story of Yalitza. They go to her shanty in search of her sister, her mother, her brothers — but the family avoids all attention.
So one by one, reporters end up at the Casa, where Yalitza once took dance and painting classes. Where she held her fateful audition.
It was here, three years ago, where Martinez Oseguera helped "Roma's" crew hold a casting call for young women. Yalitza, a quiet student with no acting experience, came to keep her sister company and was persuaded to try out at the last minute.
The kids in the banda know the tale by heart. Martinez Oseguera likes to share it "every single day," Zamora said, laughing.
When "La Yalitza" comes up at band practice, their professor offers sage advice.
"It's a beautiful story," he tells them. "But that's like winning the lottery. What matters most in life is discipline and hard work."
'Roma' star Yalitza Aparicio is more than her Oscar fairy tale »
On a recent Sunday the kids were full of jitters. They took deep breaths, wiped tiny beads of sweat off their foreheads and tuned their instruments over and over. A guest of honor — the head of Oaxaca's Office of Art and Culture — was expected to walk through the Casa's door any minute.
Zamora and Martinez Oseguera were certain the frenzy over Yalitza had compelled this powerful woman, with little notice, to trek three hours from the state capital, Oaxaca City.
"Usually it's impossible to get attention from any of these people," Zamora said.
The band was determined to leave her impressed. The survival of the band was at stake. Maybe, they hoped, this visitor could open the door to this year's La Guelaguetza or perhaps assist with some funding.
Zamora stood in front of his band, arms akimbo.
"Atención!" he shouted. "I want this to be impeccable. I want this to be nothing less than perfect."
"Si, profe!" his students answered.
When the lady walked in with her long white huipil dress and gold folkloric earrings, the kids reached for their instruments and put on their best show.
Behind the story: On location in Tlaxiaco, Oaxaca »
She was impressed, but will her visit save the band? It's too soon to say.
The next morning, the young musicians of Tlaxiaco assembled in the Casa courtyard, rehearsing once more.
Produced by Denise Florez
esmeralda.bermudez@latimes.com
Sign up for Essential California for news, features and recommendations from the L.A. Times and beyond in your inbox six days a week.
You may occasionally receive promotional content from the Los Angeles Times.