She created a 'Black Super Hero Magic Mama': Inda Craig-Galván on facing a parent's deepest fear
All mothers are superheroes, but what kind of strength could carry any parent through the sudden, violent loss of a child?
Los Angeles playwright Inda Craig-Galván spent a lot of time wrestling with that question, especially after Cleveland 12-year-old Tamir Rice was shot and killed by a policeman who mistook the boy's toy pellet gun for a real pistol — a 2014 incident witnessed across America once surveillance video was released.
Tamir had been hanging out in a park, alone — a typical kid activity. "My son was about that age at the time," the playwright says. "It's terrifying."
Tamir lingered with Craig-Galván, as did others who've died in similar circumstances, as she wrote "Black Super Hero Magic Mama," which the Geffen Playhouse is premiering in its small Audrey Skirball Kenis Theater.
A 14-year-old boy is central to the story, but the focus is on his mother and how she reacts to his shooting death. The boy has an imaginative streak; he spends his free time devising a comic book with a friend. The mother's reaction to his loss is creative in its own way.
The play so captivated the Geffen's new artistic director, Matt Shakman, that he chose it for his first season even though Craig-Galván is a rookie.
She graduated from a USC grad school program in dramatic writing less than two years ago, but in that time she's already had a play produced — "I Go Somewhere Else," presented by Playwrights' Arena in Atwater Village last summer — and she's just completed her first season in TV. She's been a staff writer for the police drama "The Rookie," which is winding down its first season on ABC.
Life experience helps to explain the fast start. Craig-Galván is a 51-year-old married mother of two who comes to playwriting from acting. She performed onstage in hometown Chicago and appeared in national television commercials. She also wrote and performed sketch comedy.
"Once I figured out what I wanted to do in life, then things started happening," she says. "If I was going to pursue this, I was going to do it with everything I had. So I took grad school quite seriously. And I guess I had this buildup of stories inside of me."
Begun in school, "Magic Mama" has already drawn a lot of attention, having been developed at the 2017 Eugene O'Neill National Playwrights Conference and landing on that year's Kilroys List of noteworthy unproduced plays by women.
Sabrina attempts to protect her son from all of the everyday dangers. But for an African American mother in this country right now it feels futile.
— Inda Craig-Galván, talking about her "Black Super Hero Magic Mama" title character
The play makes time and place malleable as it zips in and out of the imaginations of 14-year-old Tramarion and his widowed mother, Sabrina. Funny and astonishing twists keep the mood buoyant, but the piece certainly doesn't shy from emotion.
Such inventiveness is a backhanded blessing of a rough start in life. "I had a really difficult childhood with a difficult mother," Craig-Galván says, "so my imagination saved me."
She is thoughtful and open, with an easy sense of humor. She gets ruffled, though, when talking about black parents' fears for their children, and her voice thickens with emotion.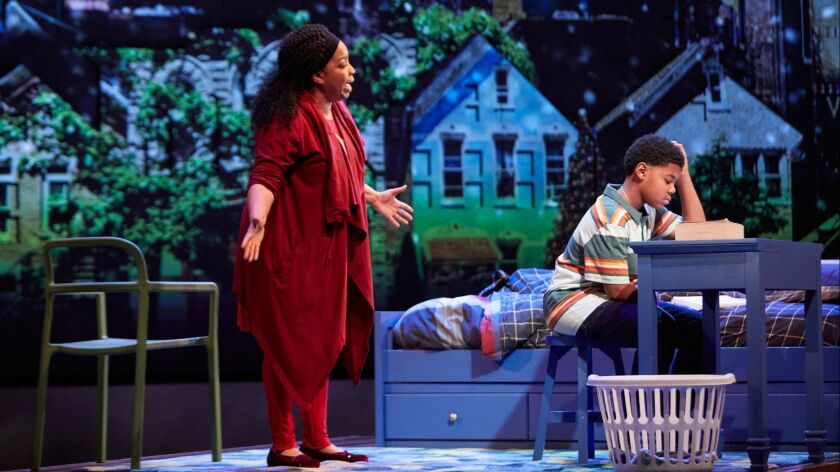 In addition to devising a comic book, Tramarion enjoys memorizing African American history in preparation for a competitive quiz. Both activities please his mother, who is doing all she can to keep him safe while making him strong and proud.
"Sabrina attempts to protect her son from all of the everyday dangers," Craig-Galván says. "But for an African American mother in this country right now it feels futile, because no matter what we tell our sons, our daughters, there are still people outside of our home who are going to look at them as a target, as a criminal, as a threat."
In Tramarion's eyes, his mother has always been superhuman. She is the inspiration for his comic-book heroine. But after his death, she seems to lose her strength. She can't bring herself to face news cameras or appear at rallies — things that, in Craig-Galván's view, are unfairly expected of African American women who've lost children so violently, when other mothers might be let alone.
"I remember watching one of the mothers at a press conference leading everyone in a prayer, and I thought, she's so brave, I wouldn't have it in me. I would just want to stay in bed. Does that make me not brave, just because I would want to be allowed to grieve? And is there a play in that, about the mother who refuses to do the things that are expected by the media and by society?"
Yet although Sabrina might seem shut down, she has leapt into a whole new dimension. In her mind, she's battling demons as the Maasia Angel of Tramarion's comic book.
Kevin Douglas, who is cast as a television news reporter in the Geffen production and who was Craig-Galván's sketch comedy partner back in Chicago, has long admired her tendency to zero in on topics "we're not talking about" and address them with empathy and humor.
"She wants everything to be better — people to be better, the world to be better — and I think that's where her writing comes from," he says. "She's a social justice warrior. She'll never say that, but she is."
Explaining why he was drawn to "Magic Mama," the Geffen's Shakman says: "Inda has created a play that is ripped from the headlines but completely reconceived through her imagination and through her emotional connection to these characters." It's clear the story is written with "a mother's voice," adds Kimberly Hébert Gregory, who portrays Sabrina.
Shakman predicts "we'll be hearing a lot" from this playwright "for a very long time."
Craig-Galván maps out her creative impetus — on her way to telling a larger story — in her play "I Go Somewhere Else."
The autobiographical piece looks back at a preteen girl trying to stay on the safe side of her mother's short-fused temper. Making life difficult for them both is Mom's insistence that they adhere to the beauty and cultural standards of the day, which in the 1970s were overwhelmingly Anglo-focused. Craig-Galván sends back two versions of herself to try to talk the girl through this difficult time: her early-30s self, when she's still angry about her upbringing but, as a young mother, becoming familiar with the stresses of being a parent, and at 50, when she has mellowed and learned to accept the past.
"My mother was harsh," Craig-Galván says. "She had some mental illness that wasn't diagnosed or defined, and she was overly medicating. And she had had a lot of hardship and heartache."
To break free, young Craig-Galván invented stories, including imagined radio pieces. "I would record them on my little tape recorder, playing all the characters," she says. "And I would spend hours in front of the TV, because that was the happiest place in my world.
"That's what's always been my escape: stories, watching them, reading them. So it's my desire to create more of them."
Scripts in progress include "Welcome to Matteson!" about a culture clash that arises when black families are relocated from a rough Chicago housing project to the suburbs, and "A Hit Dog Will Holla," about activism that shifts, eerily and surreally, from macro to micro.
"It all sounds so serious, but both of those plays are sort of comedies — as is this one," Craig-Galván says of "Magic Mama," laughing. "That's just how my brain works: very sad, serious, very funny plays."
♦ ♦ ♦ ♦ ♦ ♦ ♦ ♦ ♦ ♦
'Black Super Hero Magic Mama'
Where: Geffen Playhouse, 10886 Le Conte Ave., Westwood
When: 8 p.m. Tuesdays-Fridays, 3 and 8 p.m. Saturdays, 2 and 7 p.m. Sundays; ends April 14
Tickets: $30-$120
Info: (310) 208-5454, geffenplayhouse.org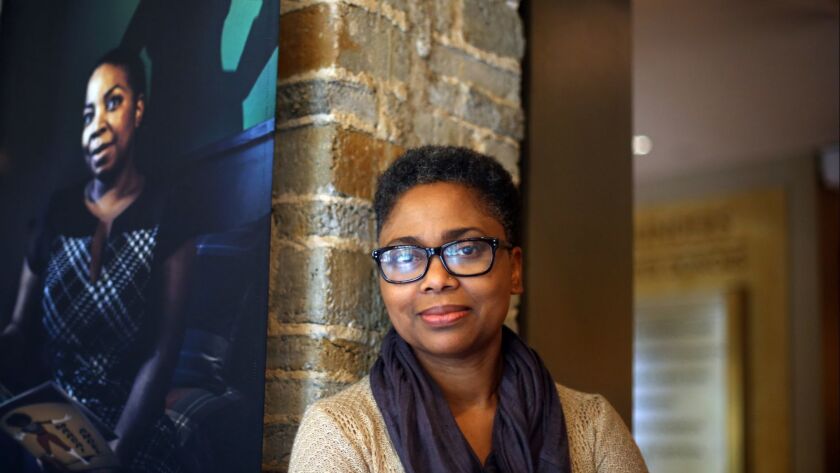 Support our coverage of local artists and the local arts scene by becoming a digital subscriber.
See all of our latest arts news and reviews at latimes.com/arts.
---
Get our daily Entertainment newsletter
Get the day's top stories on Hollywood, film, television, music, arts, culture and more.
You may occasionally receive promotional content from the Los Angeles Times.