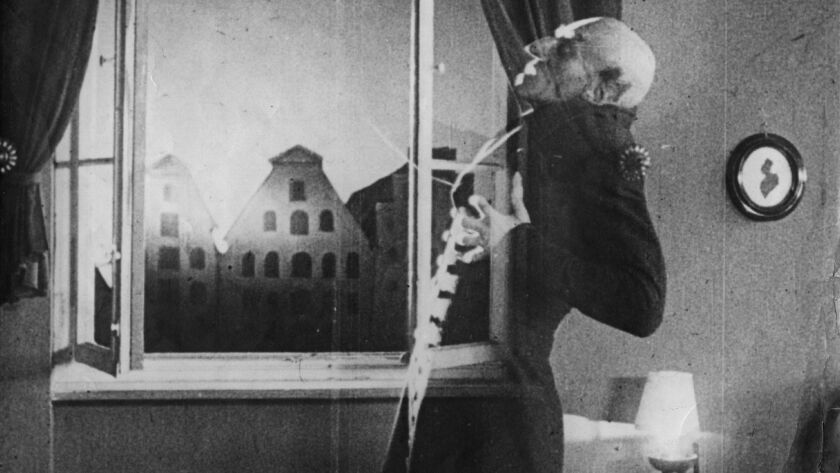 The horror. The horror!
Welcome to the latest edition of the Classic Hollywood newsletter. I'm Scott Sandell, and Halloween is just around the corner. That means you may already have taken the kids or grandkids to the pumpkin patch, picked out a costume, or bought the all-important candy, only to have eaten half of it before the trick-or-treaters arrive. (We don't judge.)
Will you watch a horror movie too?
Over more than a century, audiences have been captivated and repelled by the genre, and these days it's never been more so. Case in point: The film "It," based on the Stephen King novel, has become the highest-grossing horror movie ever. And, some might say, just plain gross in its depiction of violence.
Indeed, today's crop of horror movies is far more explicit than those of the past, such as "Frankenstein," "Nosferatu," "The Wolfman" and even "Night of the Living Dead" or "The Exorcist."
Times film critic Kenneth Turan recently explored this issue in an essay about why he's stopped watching horror movies over the years. "Like characters in an old blues song, horror and I met at a crossroads decades ago," he begins. "I went one way, horror another, and lately, I've been trying to figure out the reasons why."
He continues: "Did I change, or did horror change? The answer, I think, is both. For one thing, starting perhaps with "The Texas Chain Saw Massacre," horror and fright films started literally and figuratively, relentlessly and unapologetically, going for the jugular with audiences in ways I simply had no interest in."
Of course, as Turan acknowledges, that seems like a minority opinion. (We'd love to hear from you on that.)
His story is part of our entertainment staff's broader look at the world of horror, which includes a deep dive into how today's fright masters have redefined the genre for a new era; a timeline of key films since 1910; plus horror-by-the-numbers, including how many casaba melons were used in the classic shower scene of Alfred Hitchcock's "Psycho," and a look at how Universal, which has been associated with horror since the birth of the studio, was a pioneer in integrating characters and settings from popular horror movies into its Halloween scare zones and haunted mazes.
YOU KNOW IT WHEN YOU HEAR IT
That piano. That synth. Those few notes that are instantly recognizable. The theme to the original "Halloween" is a classic in its own right.
Horror movie director John Carpenter composed it for his low-budget slasher film that introduced the knife-wielding maniac Michael Myers to audiences when it hit theaters 39 years ago this week. Jamie Lee Curtis, who starred as teenager Laurie Strode, says it has long haunted her.
"Yes, it's played me onto myriad talk shows," Curtis says. "Yes, as soon as you could put a ringtone on your phone, I put [it] on my phone. I mean, come on — how can you not?"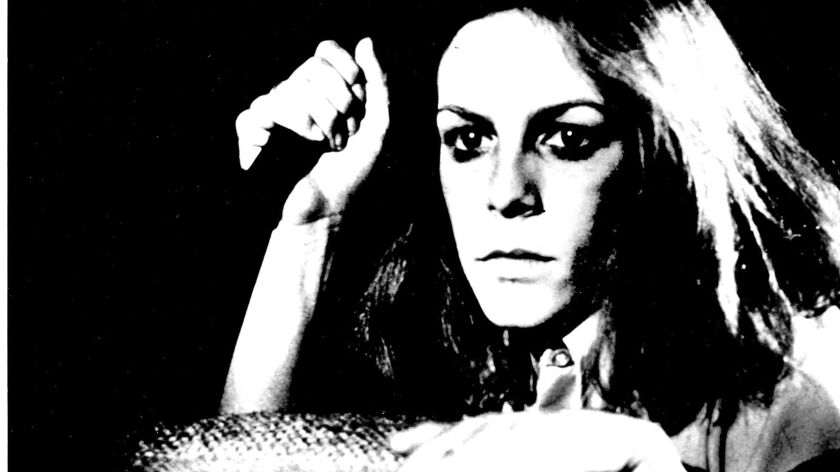 At 69 years old, Carpenter is touring with a new studio album called "Anthology: Movie Themes 1974-1998," which includes new recordings of music from films including "The Fog," "Prince of Darkness," "The Thing," "Starman" and "Christine." He'll play the Hollywood Palladium on Halloween night.
"I mean, what am I doing here?" Carpenter told Susan King. "I'm this old guy, you know. But it's so much fun."
IT'S THE GREAT KING OF POP, CHARLIE BROWN
Michael Jackson's "Thriller" has inspired countless Halloween costumes, not to mention that viral video of the inmates of the Cebu Provincial Detention and Rehabilitation Center in the Philippines. Now the estate of the late King of Pop has unleashed a 3-D version of "Thriller," a Halloween-themed compilation album, and an animated special for CBS.
"Michael loved Halloween. He loved dressing up. He loved the festivities," Nick Cannon told The Times' Gerrick Kennedy at a horror-themed event for hundreds of the singer's fans and celebrities at Hollywood's TCL Chinese Theater this week.
The new animated special, "Michael Jackson's Halloween," premieres tonight at 8 p.m. on CBS, and is said to be in the same spirit of the Charlie Brown holiday specials.
And if you want to go old school? ABC will replay "It's the Great Pumpkin, Charlie Brown" at 8 p.m. Sunday.
AROUND TOWN
More Halloween-themed fare includes:
— Tim Burton's "The Nightmare Before Christmas," the stop-motion animated tale about Pumpkin King Jack Skellington, with songs by Danny Elfman, at the El Capitan Theatre through Nov. 1. www.elcapitantheatre.com
— "Coraline," another lovely and creepy stop-motion film, at the Billy Wilder Theater in Westwood on Oct. 29. www.cinema.ucla.edu/events
More film events and special screenings can be found in this week's Moviegoer column.
IN CASE YOU MISSED IT
— Tom Petty was one of rock's most beloved figures, respected by peers and fans alike. Five days before his death at age 66, the singer-songwriter talked with Times reporter Randy Lewis about a lifetime in music. And Times photographer Genaro Molina gave this heartfelt remembrance of their last photo shoot.
— "If Elvis Presley personified the sex appeal of early rock 'n' roll, and Jerry Lee Lewis and Little Richard channeled the danger lurking within this unbridled form of youthful expression, then Fats Domino was the living embodiment of the pure joy that was an integral part of the musical sea-change that revolutionized world culture in the 1950s," writes Randy Lewis.
— Julianne Moore has joined the hundreds of women accusing writer-director James Toback of sexual misconduct.
— The full list of Harvey Weinstein's 50-plus accusers includes fledgling actresses and Hollywood royalty.
— AFI at 50: The fabled history of one of L.A.'s leading film organizations.
— Previously unreleased live recordings by Whitney Houston and alternate takes from the sessions for her blockbuster hit soundtrack album to the film "The Bodyguard" will make up a new collection to be released Nov. 17.
— And finally: Villa Paradiso — a Moorish-style estate that was a regular vacation spot for Cary Grant, who gave the place its name — is for sale in Palm Springs. Interested? The awful truth is the asking price is $13 million. But looking is free.
For more vintage Hollywood, go to the Classic Hollywood Los Angeles Times Facebook page.
---