Richard Sherman -- A star is born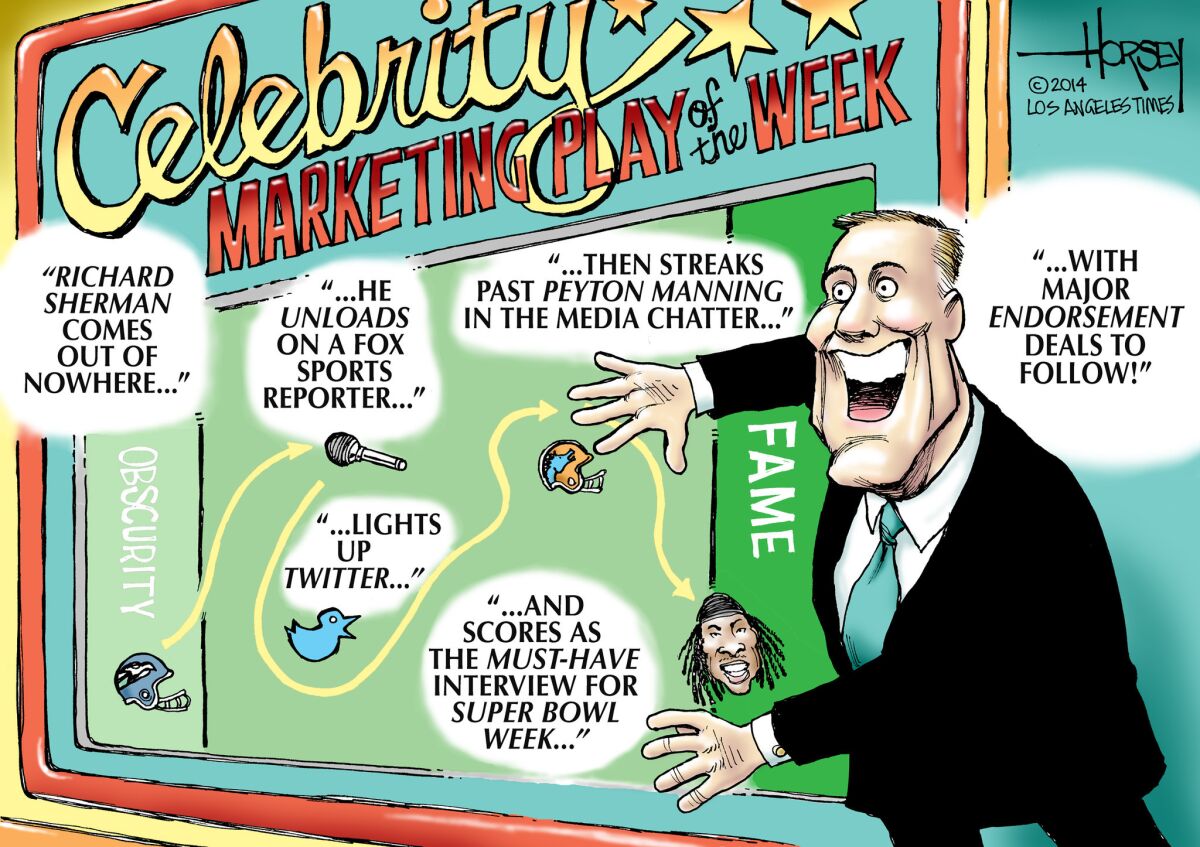 Richard Sherman's unsportsmanlike antics at the end of the NFC championship game may have been an embarrassment to his team, and his subsequent televised rant may have seemed unhinged, but his actions have made him a central character in television's biggest annual show, the Super Bowl, and that makes his boorish behavior a brilliant career move.
Like any other television spectacle, the Super Bowl is enhanced by conflict and colorful characters. Too often, the game is less engaging than the clever advertisements with which it is packaged. This year, the obvious leading men -- quarterbacks Peyton Manning of the Denver Broncos and Russell Wilson of the Seattle Seahawks -- are both well-mannered straight arrows. The sports networks were in need of someone just a little more interesting.
And now they have Richard Sherman.
Until the stunning conclusion of Sunday's game between the Seahawks and the San Francisco 49ers, Sherman was not widely recognized beyond his fan base in Seattle; at Stanford University, where he played college ball; and on the tough streets of Compton, where he grew up. His income from an annual base salary of $550,000 and an equal amount from product endorsements might be the envy of most Americans, but it hardly made him special in the National Football League.
Nevertheless, Sherman is a great cornerback, as he demonstrated by tipping a late game end zone pass away from 49ers wide receiver Michael Crabtree and into the hands of his own teammate, Malcolm Smith. That one play sealed the deal for Seattle and sidelined San Francisco. Alone, it would have gotten attention for Sherman.
ON LOCATION: Where the cameras roll
But, when he followed it up by making a choking signal directed at 49ers quarterback Colin Kaepernick, when he got his helmet shoved by Crabtree and when he then vented to a startled Fox sports interviewer about how he had just proved he was the best in the game while Crabtree was a mediocrity, Sherman turned himself into the man everyone is talking about in the lead-up to the Super Bowl.
Yes, a lot of the talk is negative. Twitter lit up with complaints that Sherman is a poor example to kids, a thug and worse. Some say he has guaranteed that most of the country will be rooting against the Seahawks. But those who think he has hurt his own career are mistaken. Sure, he starts with a bad impression, but now he has a stage from which he can shape that image by showing the world his flamboyant style and good humor.
PHOTOS: Hollywood Backlot moments
Sherman is the most talked-about player and the most sought-after interview subject in the days before the big game. Soon, he will be sought after by commercial sponsors who will make him very rich.
In a December interview with the Puget Sound Business Journal, Sherman's Las Vegas agent, Jamie Fritz, said: "Richard's opportunities are limitless. ... There are a number of successful players in the NFL who don't have endorsement deals. At the end of the day ... people have to like you. If they don't like you, they won't buy the product you're endorsing. Richard has a perception of being loud and in-your-face, but off the field, he's very sincere, approachable and likable."
PHOTOS: Biggest Box Office Flops of 2013
It may seem counter-intuitive, but, by behaving badly last Sunday, Sherman seized the opportunity to show the world he is really not such a bad guy. He stepped out from the pack of helmets and became an individual with all the cameras trained on him. In any form of entertainment -- and professional football is entertainment, above all -- that is how stars are born.
ALSO:
Duck Dynasty flap makes reality too real
Horsey on Hollywood: The 2013 Year in Review
Horsey on Hollywood: America wolfs down on "Wolf of Wall Street"
---
Get our L.A. Goes Out newsletter, with the week's best events, to help you explore and experience our city.
You may occasionally receive promotional content from the Los Angeles Times.