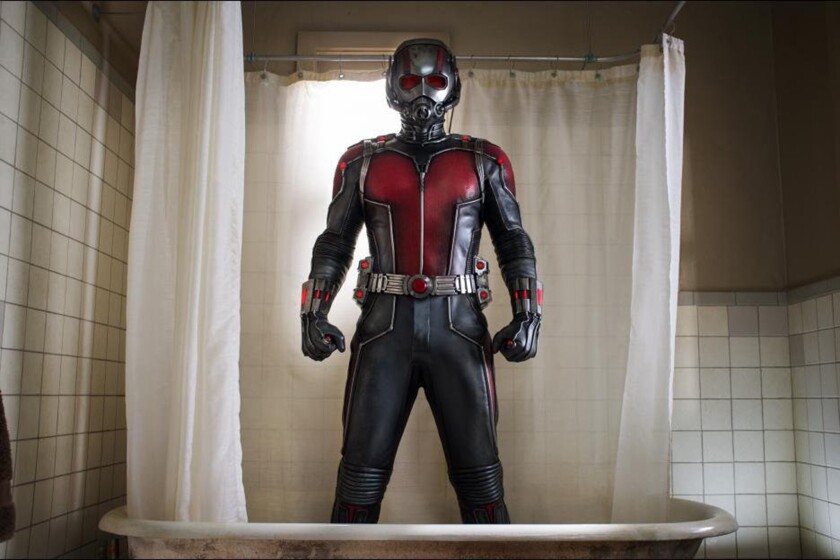 "Ant-Man" will likely help the summer box office have another giant weekend.
Disney's Marvel Studios film is expected to open with between $60 million and $65 million in the U.S. and Canada, according to people familiar with pre-release audience surveys.
An opening in that range puts it on par with openings for other Marvel titles such as "Captain America: The First Avenger" and "Thor," both of which opened with about $65 million in 2011.
However, many are comparing "Ant-Man" to Marvel's surprise summer 2014 hit "Guardians of the Galaxy," which opened with a whopping $94 million in the U.S. and Canada.
Drawn from a relatively obscure comic book within the universe of Marvel titles, that film, starring Chris Pratt, Zoe Saldana, Bradley Cooper and Vin Diesel, got some unexpected comedic snap from director and co-screenwriter James Gunn.
Like "Guardians," "Ant-Man" is about a lesser-known comic book hero. The film, which reportedly cost $130 million to make, stars Paul Rudd as the titular character, a thief named Scott Lang and the second superhero to take the name Ant-Man. Lang is given a second chance by the original Ant-Man (Michael Douglas). Together, they help protect the secret behind the Ant-Man suit, which enables its wearer to shrink in size while enjoying increased strength.
Dave Hollis, Disney's head of distribution, said he is confident in the film's success.
"It's riskier to have a new character introduced ... but as we have seen from the response to the film, Marvel has demonstrated once again versatility in filmmaking," he said. "Marvel has continued to focus on growing the universe, and telling the origin story of a new character helps that universe expand."
Meanwhile, analysts said the film "Trainwreck" offers solid counter-programming to the latest Marvel movie. The comedy is tracking to make between $19 million and $22 million. Universal has a more modest forecast, in the mid-to-high teens, but some analysts think it could surpass expectations thanks to positive word-of-mouth.
At the South by Southwest premiere of "Trainwreck" in March, audience members were often laughing so hard that it was difficult to hear the dialogue. It currently boasts a 94% positive rating on Rotten Tomatoes.
The Universal Pictures film is Judd Apatow's fifth feature. It cost about $35 million to make.
Though it is not expected to top the weekend, "Trainwreck" is seen as being able to draw in large crowds, especially female filmgoers, who have flexed their box-office clout and helped boost films such as "Pitch Perfect 2."
Amy Schumer's pop-culture prominence -- many sketches from her Comedy Central show, "Inside Amy Schumer," have become viral, and she recently hosted the MTV Movie Awards -- should also make her a box-office draw.
The film costars Bill Hader, Brie Larson, WWE star John Cena, Vanessa Bayer, Mike Birbiglia, Ezra Miller, Dave Attel, Colin Quinn, Tilda Swinton and NBA superstar LeBron James.
It's the latest film in Universal's slate, which includes "Fifty Shades of Grey," "Furious 7" and "Jurassic World." All 12 of Universal's titles in 2015 have helped the studio collect more than $1.6 billion domestically, according to data firm Rentrak.
"When you are seemingly unable to do any wrong as Universal is at this point, it seems hard to bet against 'Trainwreck' even though R-rated comedies haven't been doing so well this year in comparison to some of the other genres," said Bruce Nash, founder and publisher of TheNumbers.com. "It will be an interesting weekend."
For more news on the entertainment industry, follow me @saba_h
SIGN UP FOR OUR ENTERTAINMENT NEWSLETTERS:
Indie Focus: Your field guide to only good movies
Classic Hollywood: A weekly email celebrating the Golden Age of Hollywood
Essential Arts & Culture: A curated look at SoCal's wonderfully vast and complex arts world
---