Robin Williams spread joy off-screen through charity work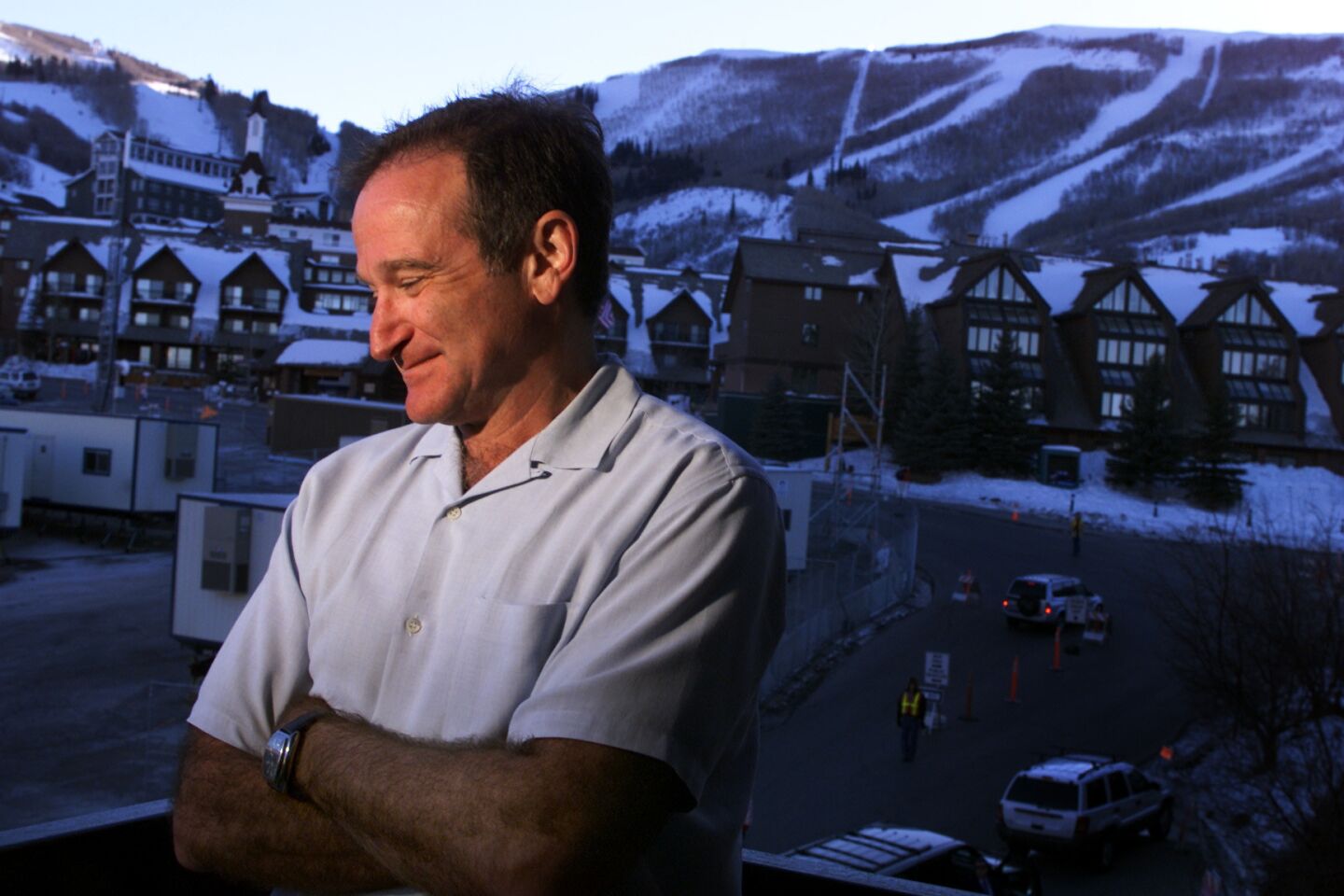 An iconic Bay Area tunnel, commonly known as the Waldo Tunnel or Rainbow Tunnel, will be named after the late actor Robin Williams.
(Robert Gauthier / Los Angeles Times)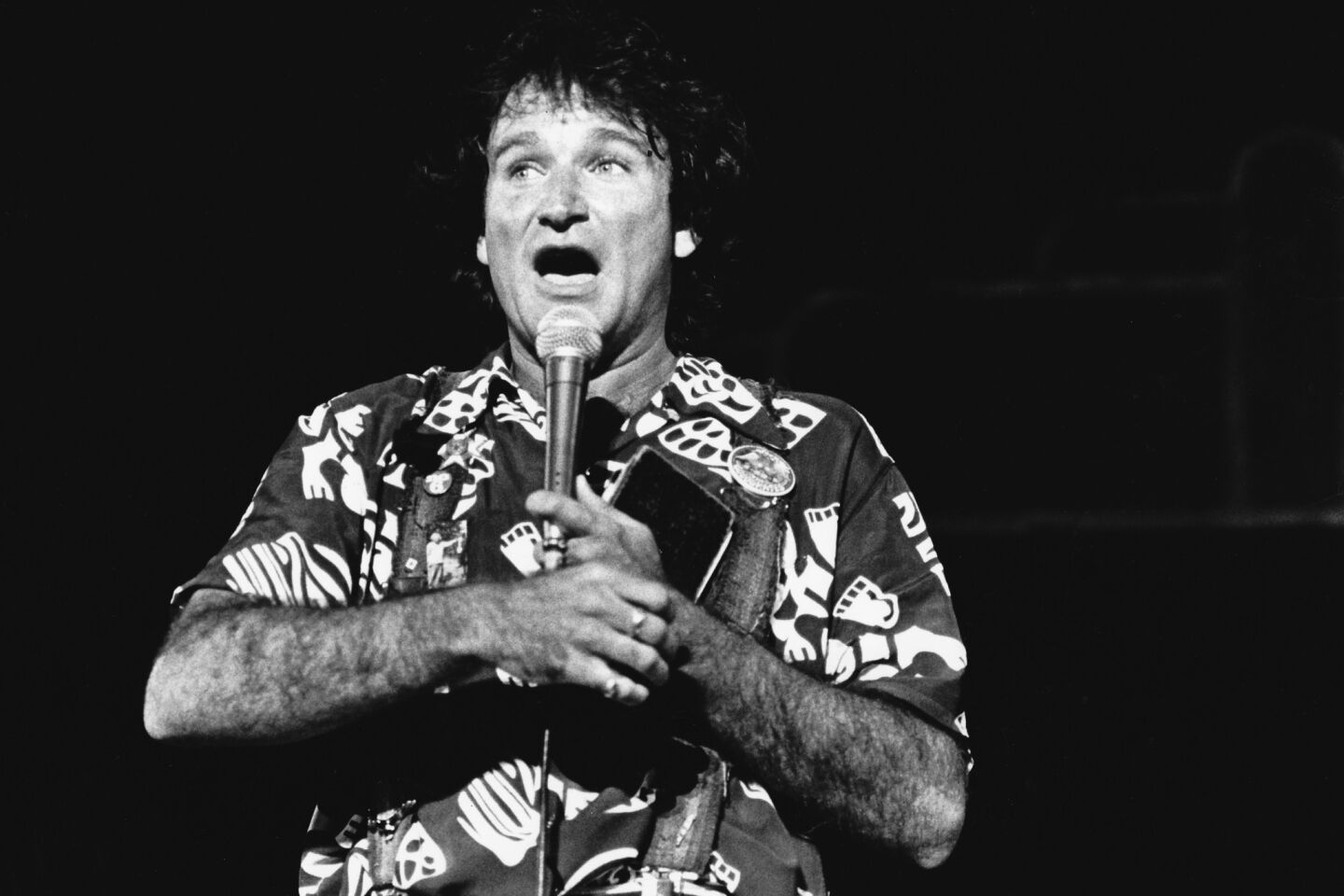 Robin Williams performs at the Universal Amphitheater on July 1, 1979
(Tony Barnard / Los Angeles Times)
Robin Williams stars as Popeye the sailor man, whose secret source of strength turns out to be spinach, with Shelley Duvall as Olive Oyl, in 1980's "Popeye."
(File / AFP/Getty Images)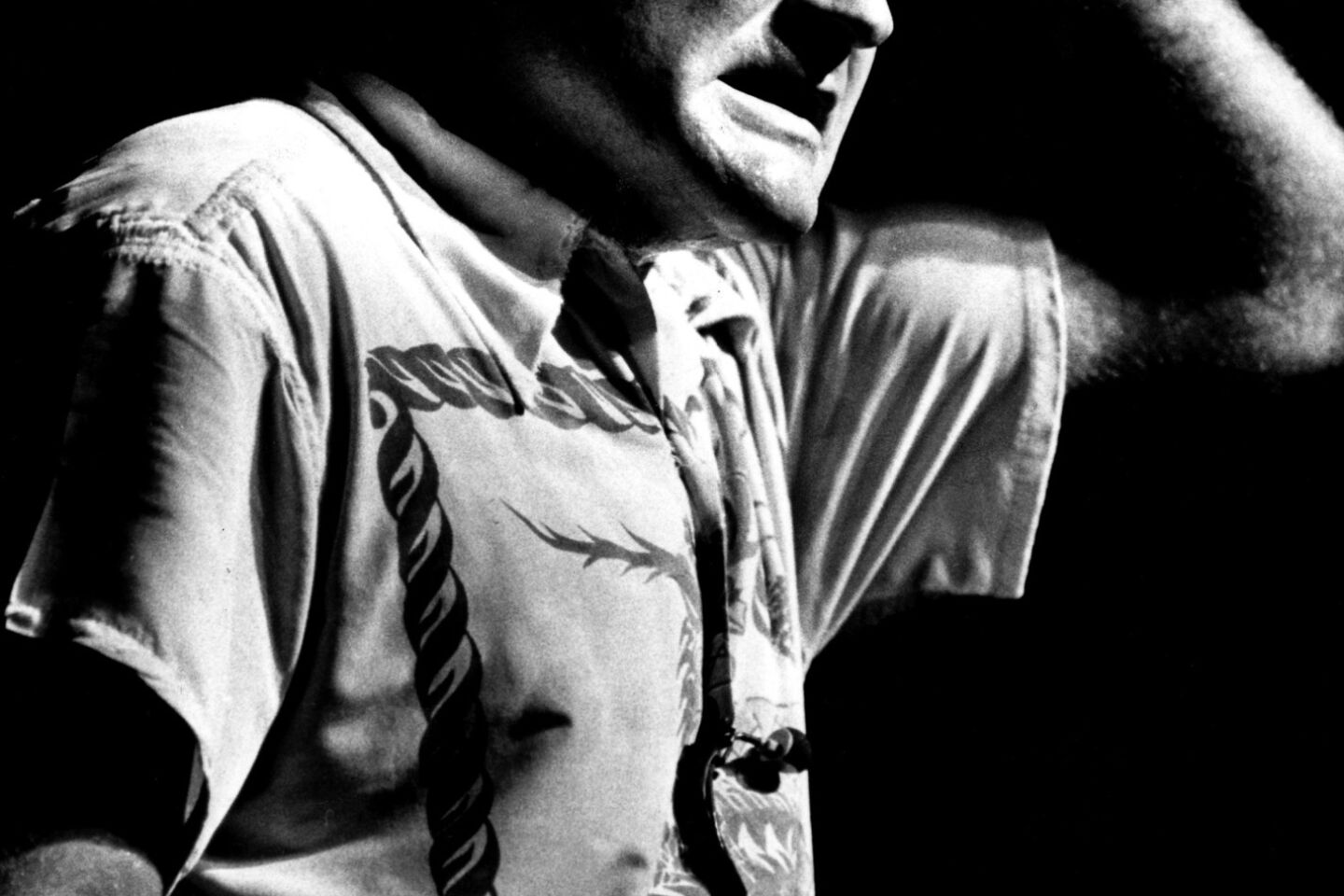 Robin Williams performs at the Universal Amphitheater on Aug. 16, 1982.
(Gary Friedman / Los Angeles Times)
In 1984's "Moscow on the Hudson," Robin Williams plays Vladimir Ivanoff, a saxophonist in the Moscow circus who defects to the U.S. Here, Williams is pictured with actor Cleavant Derricks and director Paul Mazursky.
(Michael Ochs Archives / Getty Images)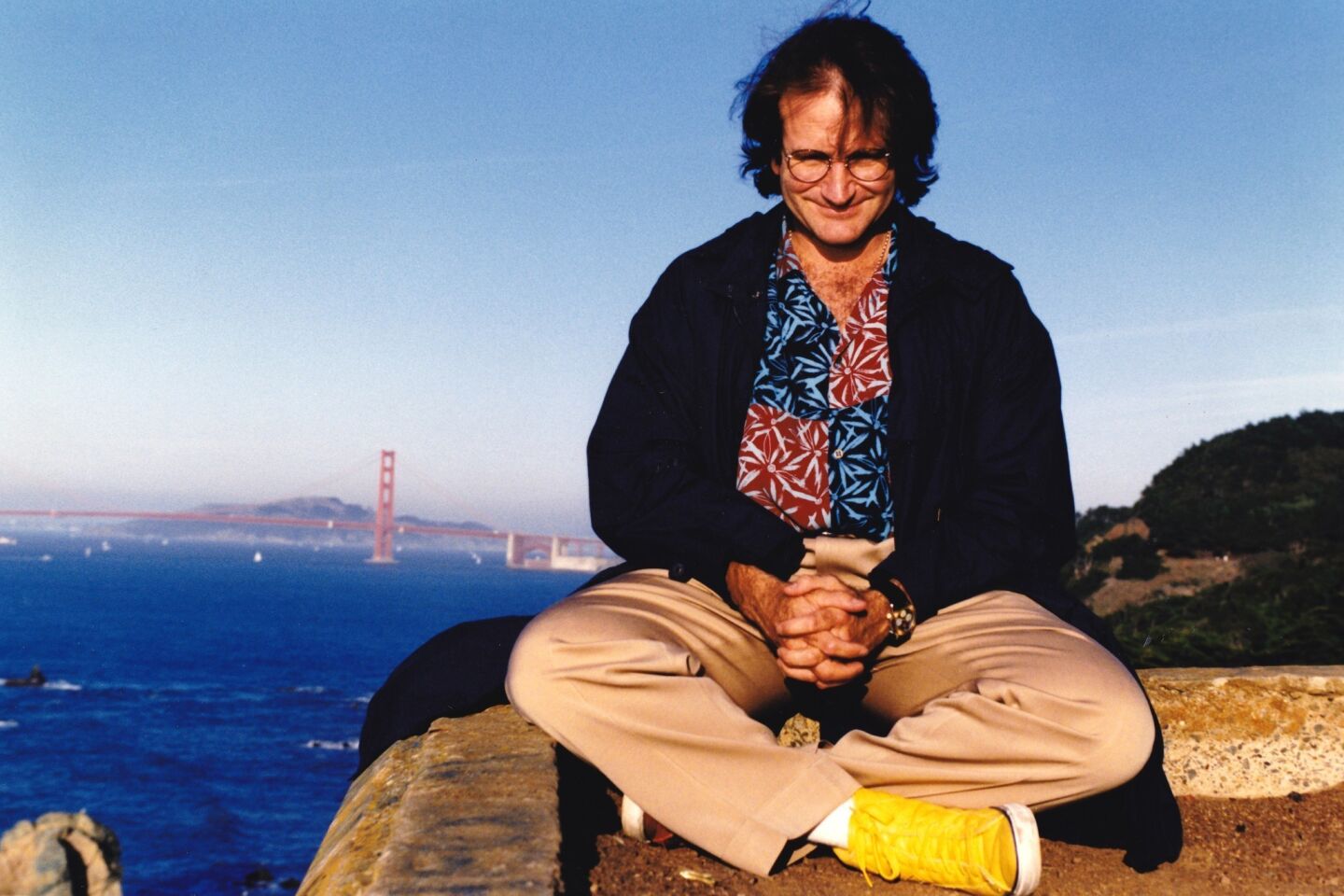 Robin Williams in San Francisco in 1991.
(Al Seib / Los Angeles Times)
Robin Williams speaks to the media backstage after his performance at the Sam Kinison tribute held at the Celebrity Theatre in Anaheim, Sept. 3, 1992.
(Christine Cotter / Los Angeles Times)
In 1993's "Mrs. Doubtfire," Robin Williams plays Daniel Hillard, an irresponsible father who creates an alter-ego in the form of a nanny in order to spend time with his children.
(Phil Bray / Los Angeles Times)
Robin Williams plays Alan Parrish, a man who was trapped in a board game for 26 years in 1995's "Jumanji." He costarred with Bonnie Hunt.
(Rob McEwan / Los Angeles Times)
Robin William plays Armand Goldman, owner of a South Beach drag club who must hide his same-sex relationship with Albert (Nathan Lane) from their son's future in-laws in the 1996 film "The Birdcage."
(Lorey Sebastian / Los Angeles Times)
In addition to his memorable roles on screen, the late Robin Williams also won people's hearts through his charity work.
The 63-year-old, who died on Monday of an apparent suicide, was known for his charity work at organizations such as Comic Relief, the Christopher & Dana Reeve Foundation, the LiveStrong Foundation, St. Jude Children's Research Hospital and more.
DreamWorks Animation Chief Executive Jeffrey Katzenberg praised Williams for his support of numerous charities.
"There were so many ways and so many things he did for so many people," Katzenberg told the Times in an interview. "He really had just a giant heart and that's what makes me so sad."
Beginning in 1986, Williams, alongside fellow actor-comedians Billy Crystal and Whoopi Goldberg, hosted a series of TV specials as part of the nonprofit Comic Relief to raise money for America's homeless.
"When we started [Comic Relief], we had to figure out what would be a suitable cause. Nobody was more adamant than Robin that it should help the homeless," Bob Zmuda, creator of Comic Relief, told The Times in a phone interview.
"Robin came from a family with money -- he was brought up with a silver spoon in his mouth, and I think he felt so blessed that he wanted to do something for people who weren't brought up like that."
Zmuda said because of Williams, Goldberg and Crystal, Comic Relief has raised more than $80 million.
"Robin was -- you light a match and he'll start performing," Zmuda recalled.
The Comic Relief shows even influenced a generation of comics.
"When I was 18 I got a job as an intern at Comic Relief just to be near him," tweeted filmmaker Judd Apatow on Monday. "A genius and a truly kind man who made the world a better place."
Williams was also a big supporter of the Reeves foundation, which is dedicated to curing spinal cord injury. Williams lived with Christopher Reeve while studying acting at Juilliard in New York.
"While the world knew Robin Williams as an Oscar-winning actor, we knew a different side to the man whose smile was as big as his heart," said Reeve Foundation President and CEO Peter Wilderotter in a statement.
The Reeve family shared similar memories of the late actor.
"The world knew Robin as a comedic titan, but to our family, he was simply one of our Dad's dearest friends," the family said in a statement on the foundation's website. "From the moment they were classmates at Juilliard, their friendship transformed into a brotherhood that was built on a mutual admiration for the theater, the arts and, most importantly, laughter."
------------
FOR THE RECORD
This post has been updated to include a statement from the Reeve family and foundation CEO Peter Wilderotter.
------------
One well-known part Williams played was a medical student who spread humor to his patients in the 1998 movie "Patch Adams." In real life, he also gave back to St. Jude Children's Research Hospital.
In October 2013, Williams joined Jennifer Aniston, Sofia Vergara, Shaun White, Michael Strahan and Luis Fonsi in the 10th annual Thanks and Giving Campaign.
"It's an honor to be a part of the St. Jude Children's Research Hospital family," Williams said in a statement at the time. "This year I appeared with Darcy in one of the St. Jude 'Thanks and Giving' television spots. Darcy and children like her from communities across America benefit from the lifesaving research and treatment being done every day at St. Jude. It means a lot to me to be involved."
Williams also helped with the Livestrong Foundation, the nonprofit formerly run by cyclist Lance Armstrong.
"His comedic genius was unparalleled & his philanthropic generosity unmatched. Thx for making the world a better place Robin Williams #RIP," Livestrong CEO Doug Ulman wrote in a Tweet.
Staff writers David Ng and Richard Verrier contributed to this report.
For more news on the entertainment industry, follow me @saba_h
Get our L.A. Goes Out newsletter, with the week's best events, to help you explore and experience our city.
You may occasionally receive promotional content from the Los Angeles Times.