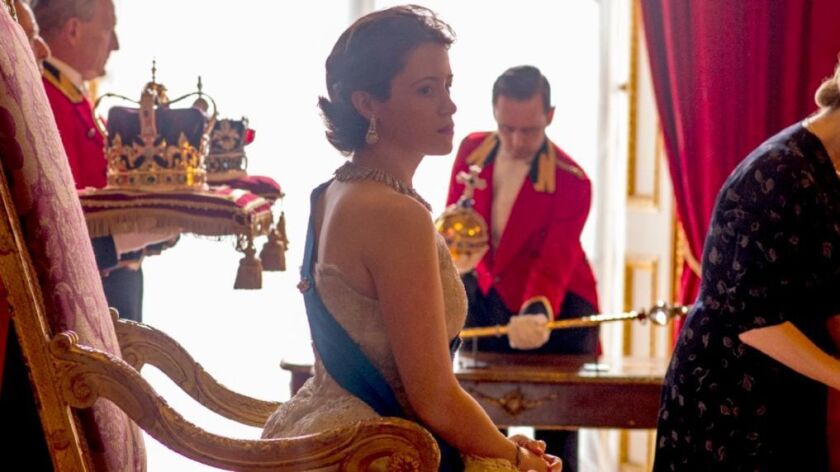 With the new seasons of "Game of Thrones" and "Orphan Black" arriving too late to be eligible for this year's Emmys, there are seven spots opening in the drama acting categories just between those two shows. Add in last year's supporting actress winner Maggie Smith from the dearly departed "Downton Abbey," and you have a forced mandate for change this year.
Who will benefit? Let's look at the four Emmy races for drama acting to see.
LEAD ACTRESS DRAMA
Elisabeth Moss, "The Handmaid's Tale"
Claire Foy, "The Crown"
Keri Russell, "The Americans"
Viola Davis, "How to Get Away With Murder"
Robin Wright, "House of Cards"
Evan Rachel Wood, "Westworld"
Prime contenders: Christine Baranski, "The Good Fight"; Claire Danes, "Homeland"; Mandy Moore, "This Is Us"; Carrie Coon, "The Leftovers"; Taraji P. Henson, "Empire"; Rutina Wesley, "Queen Sugar"
Analysis: Tatiana Maslany won't be able to clone her lead actress Emmy as "Orphan Black's" final season doesn't premiere until June 10. But there are two imposing contenders to fill that vacuum — seven-time Emmy nominee Moss playing a baby-making slave in "The Handmaid's Tale" and Foy, who won the Golden Globe earlier this year for her portrayal of Queen Elizabeth in "The Crown." Both women deliver expressive, tightly controlled performances, though, obviously, their characters find themselves in radically different situations.
Russell, Davis and Wright — all nominated last year — should return, and you can't completely discount the chances of Danes or Henson repeating too, as both women have strong followings. And Baranski has 15 Emmy nominations, including six for playing the Diane Lockhart role that she's reprising on "The Good Fight." She can't be taken lightly.
That said, Wood's layered work in "Westworld" was impressive and attention-grabbing, the kind of performance that's likely to linger in voters' minds well after the show's insane season finale. The brain-teasing HBO sci-fi series had its ups and downs in its first season, but should have enough support to earn several nominations, including one for its powerful lead actress.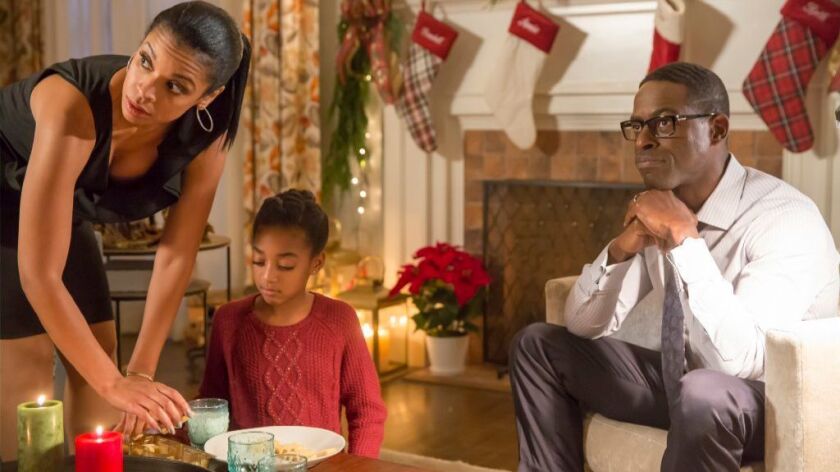 LEAD ACTOR DRAMA
Bob Odenkirk, "Better Call Saul"
Sterling K. Brown, "This Is Us"
Matthew Rhys, "The Americans"
Kevin Spacey, "House of Cards"
Rami Malek, "Mr. Robot"
Billy Bob Thornton, "Goliath"
Prime contenders: Liev Schreiber, "Ray Donovan"; Anthony Hopkins, "Westworld"; Ian McShane, "American Gods"; Milo Ventimiglia, "This Is Us"; Kyle Chandler, "Bloodline"; Paul Giamatti, "Billions"; Dan Stevens, "Legion"
Analysis: All seven of last year's nominees are eligible, and it's possible six of them could return. There's no way that Brown, the shining star who won an Emmy last year for playing Christopher Darden in "The People v. O.J. Simpson," won't be nominated — unless voters are still grumpy about all the times he made them cry. (I lost count.)
Brown's assured inclusion means that either Schreiber or Chandler will be cast aside. Schreiber has earned nods for all three seasons of "Ray Donovan," but the show these days is only intermittently satisfying. And the cancellation of Chandler's slow-burn "Bloodline" probably dings the actor's chances.
That leaves an opening for Thornton, who delivered a deeply felt and very entertaining turn as the disgraced attorney in Amazon's "Goliath," or perhaps McShane, a droll delight playing a deity in "American Gods."
SUPPORTING ACTRESS DRAMA
Chrissy Metz, "This Is Us"
Millie Bobby Brown, "Stranger Things"
Winona Ryder, "Stranger Things"
Thandie Newton, "Westworld"
Samira Wiley, "The Handmaid's Tale"
Uzo Aduba, "Orange Is the New Black"
Prime contenders: Maura Tierney, "The Affair"; Margo Martindale, "The Americans"; Rhea Seehorn, "Better Call Saul"; Aisha Hinds, "Underground"; Vera Farmiga, "Bates Motel"; Cloris Leachman, "American Gods"; Constance Zimmer, "UnREAL"; Ann Dowd, "The Handmaid's Tale"; Yvonne Strahovski, "The Handmaid's Tale"; Vanessa Kirby, "The Crown"; Patricia Clarkson, "House of Cards"; Aubrey Plaza, "Legion"
Analysis: Talk about the Upside Down World! With Smith gone and the three "Thrones" actresses — Emilia Clarke, Lena Headey and Maisie Williams — ineligible, this is the most difficult race to call, mainly because there are so many worthy women to choose from. Seriously, you could almost fill the category with the cast of "The Handmaid's Tale" and be completely justified in doing so.
Like cast mate Brown, Metz is a shoo-in for the moving mix of self-acceptance and self-doubt she brought to her character in "This Is Us." And I think both Ryder and Brown make it in for "Stranger Things," an enormously popular show that tapped into viewers' love for retro '80s movies — and retro '80s Winona.
After that, who knows? I think Newton, like Wood, benefits from her excellent work on a high-profile HBO series. And in such a splintered field, you can't minimize the name recognition that past nominees like Tierney, Martindale and Aduba bring to the table. At least one of that trio will be nominated, though hopefully not at the expense of Wiley, inspiring in her work on the charged "Handmaid's Tale." (And she gave us a heartbreaking farewell on "Orange Is the New Black" too.)
SUPPORTING ACTOR DRAMA
Ron Cephas Jones, "This Is Us"
John Lithgow, "The Crown"
Jonathan Banks, "Better Call Saul"
Jeffrey Wright, "Westworld"
Jared Harris, "The Crown"
Michael Kelly, "House of Cards"
Prime contenders: Ed Harris, "Westworld"; Jon Voight, "Ray Donovan"; David Harbour, "Stranger Things"; Ben Mendelsohn, "Bloodline"; Michael McKean, "Better Call Saul"; Frank Langella, "The Americans"
Analysis: Are you noticing a pattern? The ensembles from "This Is Us" and "Westworld" should enjoy early wake-up calls on Emmy nominations morning. Actors playing characters who made us cry a river or two — count Jones, Lithgow and Harris, poignantly battling mortality — are likely to find favor as well.
And what does McKean have to do to join Banks among the ranks of nominees? "Saul's" third season has continued to hone in on the poisoned relationship between brothers Chuck and Jimmy, played, respectively, by McKean and Odenkirk, giving McKean ample room to expose his character's cracks and complexities. The episode ("Chicanery") in which Jimmy unmasks Chuck on the witness stand should be all Emmy voters need. Snarling, sneering, arrogant, exposed — McKean conveys all of it in an acting tour de force.
Twitter: @glennwhipp
ALSO:
Look for 'Atlanta' to shake up the Emmy comedy categories
'Handmaid's Tale,' 'Atlanta' and 'The Night Of' lead our 2017 Emmys Buzzmeter
How did 'The Godfather' and 'The Sopranos' inspire Netflix's royal family hit 'The Crown'?
---