Gold Standard: Can Oprah's 'Black Panther' blessing push the Marvel movie toward a best picture Oscar?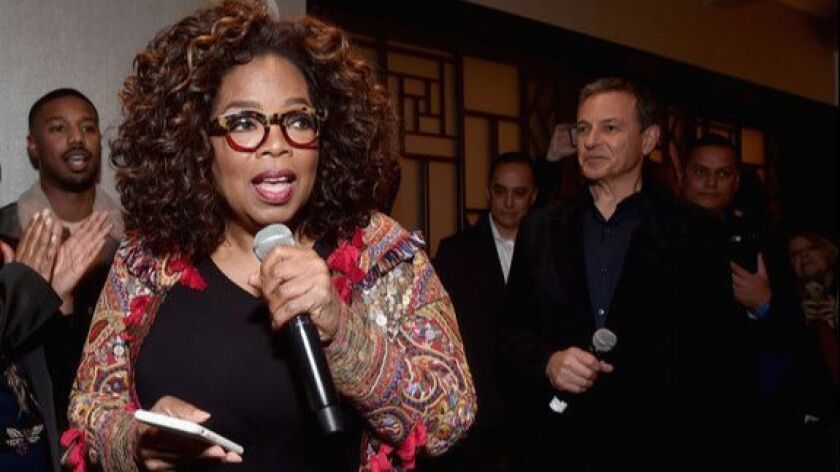 Everyone knew Oprah Winfrey was coming. The promise that she'd deliver her blessing upon "Black Panther" was pretty much the only reason that several dozen film academy members and guild voters braved the holiday traffic and descended upon the London Hotel in West Hollywood shortly before Christmas.
Disney had already hosted an awards season kickoff "Black Panther" reception at the London in late October. Marvel Studios President Kevin Feige was there. So was writer-director Ryan Coogler, co-writer Joe Robert Cole, cinematographer Rachel Morrison and a host of others responsible for making the movie such a remarkable achievement.
But that event didn't have Oprah.
When Oprah enters a room, the room descends on Oprah and everyone transforms into one slow-moving mass, illuminated by flashing camera phones and flanked by bodyguards trying to keep Oprah inching forward toward, in this case, the tiny spot in the restaurant corner they'd reserved for her.
After some time and great effort, Oprah made it to this position and, flanked by "Black Panther" director Coogler and cast members Chadwick Boseman and Michael B. Jordan, she extolled the Marvel Studios movie, sanctifying it, distinguishing it from the rest of the Oscar best picture contenders.
When I first saw 'Black Panther,' I sent an email to my friend Bobby and said, 'Hi Bobby! Just saw it. It's worth everything I've heard and more.
— Oprah Winfrey on messaging Robert Iger
"I just wanted to say that when I first saw 'Black Panther,' I sent an email to my friend Bobby and said, 'Hi Bobby! Just saw it. It's worth everything I've heard and more. A phenomenon in every way, on every level. Makes me tear up to think that little black children will grow up with "Wakanda forever." It's game-changing, it's pride-making, it's dazzling, it's phenomenal.' That was my personal review."
Oprah's friend, Bobby, is Disney Chief Executive Bob Iger, whom she praised for having the good sense to hire Coogler and then get out of the way. Iger followed Oprah by raising a glass, toasting the movie and its director ("Extraordinary talent always trumps experience") and then, somehow, he and Oprah quickly left the event, probably by way of a trap door that a Disney Imagineer had installed in the hotel earlier that day.
Will Oprah's endorsement affect "Black Panther's" chances in the best picture race? It's estimated that Oprah's Book Club selections sold an additional 55 million copies after Winfrey recommended them. It's not a stretch to think she can persuade a few of the academy's 7,902 voting members to put "Black Panther" among the five movies they list on their ballots.
We've just emerged from the year-end deluge of best-of lists with critics, lay people and that weepy, inebriated guy at your New Year's Eve party who thinks that "Life Itself" got a bum rap, offering their recommendations. If Moses descended from Mt. Sinai today, he'd be carrying stone tablets inscribed with a 10-best list. (And you'd better believe "First Reformed" would be on it.)
BEST OF 2018: A look back at the year in movies, TV, music and more »
In lieu of Moses delivering tablets written with the finger of God, we do have President Barack Obama's annual Facebook post listing his favorite movies, as well as beloved books and songs. Several of Obama's film picks — "BlacKkKlansman," "Roma," "If Beale Street Could Talk" and, yes, "Black Panther" — are among the favorites to land a best picture nomination. (And if, after Obama's affirmation, Lee Chang-dong's "Burning" isn't among the five movies nominated for foreign-language feature, then South Korea should just stop bothering to submit films for consideration.)
Awards season consultants have long maintained that academy members hate being told how they should vote. Instead, these Oscar strategists try to create a narrative around a movie or performance that will persuade voters to reward it because it's both worthy and will send the right message to everyone watching. The "best" in the best picture Oscar has always been a way of signaling that Hollywood can rise above the sequels and retreads and, through great effort and/or blind luck, make something worthwhile.
Best-of lists and eloquent advocacy can help shape that narrative. Two years ago, during the final Oscar balloting window, Mark Duplass posted a picture of a "Moonlight" poster on Twitter, asking academy members to think about what it would mean if "Moonlight" won best picture.
"It's fair to say that it's an important film," Duplass wrote in an open letter to Oscar voters. "Not important in the 'eat your vegetables and see this important art film even though it's painful to watch' way. The film is important because it is actually not a niche film. It is not just for people who like movies that feature marginalized characters who aren't often featured in leading roles. The film is important because it is a beautiful, sweet, open love letter to the core human values that connect us all. It is important because it reaches beyond its specific characters and tells the story of all of our dreams and collective life experiences. It simultaneously tells a harsh truth and, miraculously, does it with an air of hope."
In the wake of Donald Trump's election, Duplass' letter caught the cultural moment, syncing with the signaling academy members love to do with their best picture ballot.
For a variety of reasons (including that it could easily be regarded as the actual best picture), "Moonlight" won the Oscar.
Just something to consider, particularly if you're thinking that "A Star Is Born" is a lock to win this year.
FULL COVERAGE: Awards news and features on The Envelope »
Twitter: @glennwhipp
---
From the Oscars to the Emmys.
Get the Envelope newsletter for exclusive awards season coverage, behind-the-scenes stories from the Envelope podcast and columnist Glenn Whipp's must-read analysis.
You may occasionally receive promotional content from the Los Angeles Times.