Gold Standard: Emmys 2019: 'Game of Thrones' and 'Veep' look to go out on top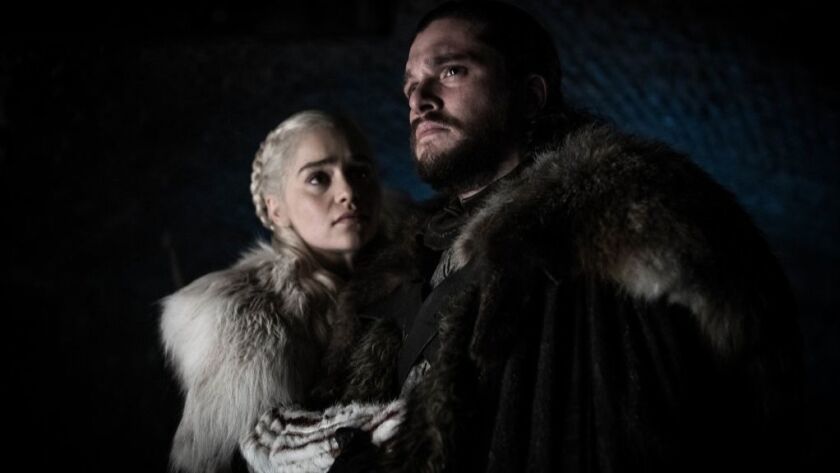 Savor the stress and suspense and speculation swirling around Sunday's "Game of Thrones" series finale because, as far as this year's Emmys are concerned, there's absolutely no doubt about the celebrated show's fate.
"Game of Thrones" is going to win just about everything — putting it in select company.
Only seven TV shows have won a series Emmy for their final seasons. It's easy to understand why. Most programs peak in their early years and then overstay their welcome, having long exhausted ways to keep their stories and characters plausibly interesting. "The Office" should have ended when Michael Scott said goodbye. (Or maybe with Jim and Pam's wedding.) "Friends" should have pulled the plug the minute the writing staff thought about putting Rachel and Joey together. "Lost"? Don't get me started.
"Cheers," "Seinfeld" and "M.A.S.H." didn't win for their closing chapters. "Friends" wasn't even nominated. "Mad Men" departed the year "Game of Thrones" won its first Emmy. "The West Wing," which, like "Mad Men," won four series Emmys, couldn't send President Bartlet out in style, losing to the fifth (and best) season of "24."
You get the idea. For all the times Emmy voters reward the same shows and performers again and again (and again), there comes a time when the page is turned, the past is the past and sentimentality holds no sway.
That's not going to happen to a cultural phenomenon like "Game of Thrones." But "Veep," another HBO series leaving the air this year, is on shakier ground in its quest to take a victory lap. After winning trophies for its last two seasons, "Veep" was ineligible in 2018, having taken a sabbatical for Julia Louis-Dreyfus to treat her breast cancer. "The Marvelous Mrs. Maisel" won the comedy series Emmy in its absence, and newcomer "Barry" made an impact too, winning three Emmys from its 13 nominations.
"Veep's" final season arrived more than two years into Donald Trump's presidency, with the show's writers ratcheting up the satire and absurdity in response. Their efforts didn't always land. Also: Airing after "Game of Thrones" on Sunday nights didn't leave much room for the show to find a foothold in the conversation.
You'd imagine voters won't pass up one last chance to reward Louis-Dreyfus, Queen of the Emmy Record Books. As for the show, timing and sentiment might be enough. It has been in the past, as you can see from this look at the seven series that won the Emmy on their final runs.
"The Dick Van Dyke Show" (1966)
Seasons: 5
Series Emmys: 3
Why it won: Perfect timing. "We all wanted to go out winners," creator Carl Reiner said in a 2011 interview. "We were offered a lot of money to stay on another year, but we knew that if we did another year, we'd be slogging." It should be noted that though the show ran just five seasons, it produced an astounding (by today's standards) 158 episodes. "We'd already done every premise we could think of," Reiner said. They left while viewers still cared.
"The Mary Tyler Moore Show" (1977)
Seasons: 7
Series Emmys: 3
Why it won: Perfect timing, part two. Moore wanted the challenge of doing something new, just as she (and Van Dyke) did a decade earlier. "I don't feel any dissatisfaction with playing Mary Richards," Moore said in a 1976 interview, "but I guess that I am part masochist." "The Mary Tyler Moore Show" never dipped in quality, and voters rewarded the decision to go out on top with a third consecutive series Emmy.
"Upstairs, Downstairs" (1977)
Seasons: 4 (as aired on "Masterpiece Theatre")
Series Emmys: 3 (plus a limited-series honor)
Why it won: The same year Mary Richards hurled her blue tam o' shanter into the air for the final time, this PBS pledge drive staple ended its run, having set the template for every sophisticated British serial to follow. When the finale aired, host Alistair Cooke called for a national day of mourning. By the time the Emmys rolled around, championing "Upstairs, Downstairs" was a no-brainer. It was up against three cop shows — "Baretta," "Police Story" and "Columbo" ("The Rockford Files" would win the next year) and "Family," a contemporary drama bereft of cocktails and canapés.
"Barney Miller" (1982)
Seasons: 8
Series Emmys: 1
Why it won: The low-key police squad room sitcom had been nominated six previous times, losing twice to "The Mary Tyler Moore Show," once to "All in the Family" and three times to "Taxi" before finally prevailing. Perennially underrated by both critics and viewers, "Barney Miller" forged a middle ground between cop show and sitcom. And it had the best theme song in the history of television. It also benefited from timing, leaving the air a season before "Cheers" arrived.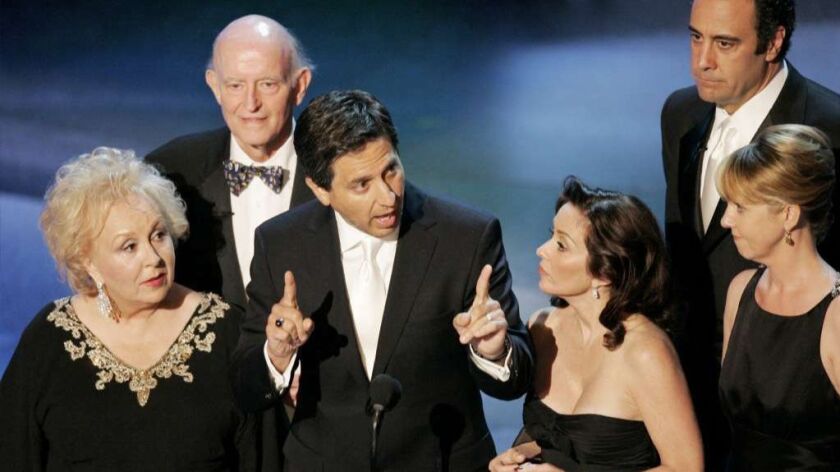 "Everybody Loves Raymond" (2005)
Seasons: 9
Series Emmys: 2
Why it won: Everyone might not have loved Ray Romano's sturdy family sitcom, but enough people liked it enough to give it two series Emmys — two more than Larry David's acclaimed "Curb Your Enthusiasm" has ever won. "Curb" was on a break in 2005. "The Office" was finding its legs (it would win for its second season) and "30 Rock" and "Modern Family" were a couple of years away from dominating for the next near-decade. That left an opening for "Raymond," a reliably funny and sometimes psychologically astute comedy, to win. That "Raymond" prevailed twice and the cast of "Parks and Recreation" never took the Emmy stage highlights the arbitrary nature of awards shows. Things aren't always fair.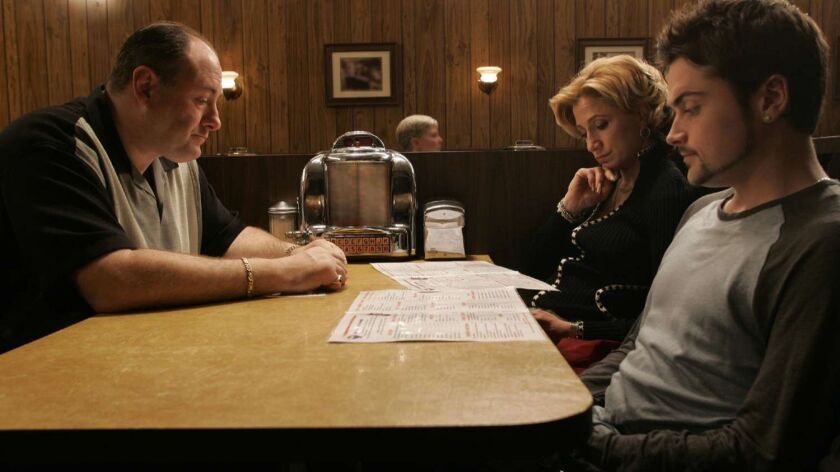 "The Sopranos" 2007
Seasons: 6 (the sixth split into two parts)
Series Emmys: 2
Why it won: Because, with apologies to "The Wire" (just two Emmy nominations — two! — for its five-year run), it's the greatest TV series of all time. What's that? You didn't appreciate the brilliance of David Chase's ambiguous (not really) ending? Hey, I still can't believe the first season of "The Sopranos" lost to "The Practice." Can we call it even?
"Breaking Bad" (2014)
Seasons: 5 (the fifth split into two parts)
Series Emmys: 2
Why it won: Like "The Sopranos" and, now, "Game of Thrones," "Breaking Bad" had its audience hanging on every episode as it wound down, waiting to see who would survive and what consequences would be meted out. There was nothing cryptic in "Bad's" satisfying final chapter. Nearly everyone loved it (though some found it a bit too tidy), meaning that "Game of Thrones" would have to wait another year for its first series win.
Twitter: @glennwhipp
---
From the Emmys to the Oscars.
Get our revamped Envelope newsletter for exclusive awards season coverage, behind-the-scenes insights and columnist Glenn Whipp's commentary.
You may occasionally receive promotional content from the Los Angeles Times.