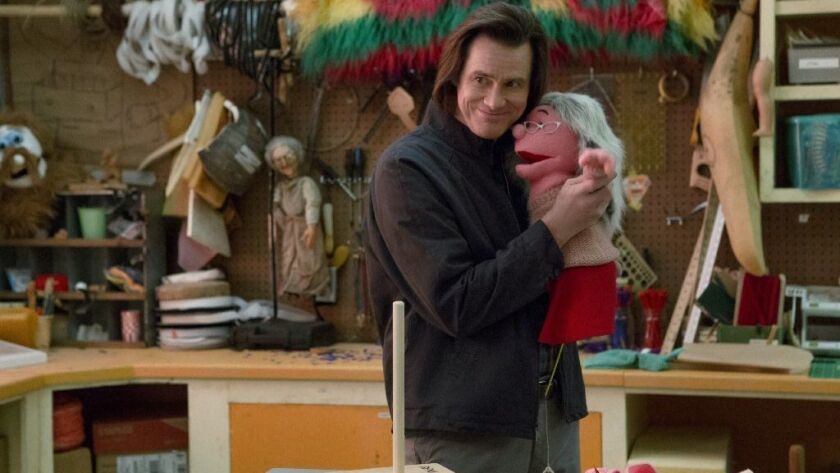 In this strange and increasingly exciting new phase of his career, Jim Carrey says he no longer has to go searching for roles. It's not because he's still the elastic-faced, versatile comic megastar who once commanded $20 million a film. Instead, it's something cosmic.
"I think roles find me," Carrey says. "And they speak to me. Just like a painting or sculpture speaks to me. I think I know what I'm doing. I'm attracted to [the role] for some superficial reason, maybe. And then this cascade of amazing synchronicities start coming toward me … and that's when I know I'm in the right place, you know?"
Carrey is speaking from the Season 2 set of "Kidding," the Showtime dramedy that showrunner Dave Holstein wrote specifically for the actor. The protagonist, Jeff Pickles, is a highly successful children's entertainer trying to keep up his outwardly friendly spirit while dealing with a whirlwind of personal tragedies.
FULL COVERAGE: Get the latest on awards season from The Envelope »
The show's drama pivots upon the question of whether Mr. Pickles is a Mr. Rogers-style innocent, or a naif out of step with the modern world. But Carrey feels no ambivalence. "I saw him absolutely as an innocent. I saw him as somebody who was flawed, and never assumed that he was perfect, but he was coming from as pure a place as a person can come from."
Pickles aims to bring goodness and joy into the world through his art, and Carrey says he can relate. "That's entirely how I see myself. I'm going to do whatever I can to bring to the world something creative, something challenging, something inventive. And whenever possible, when pain happens, when confusion happens, when disillusionment happens, I turn it into something. I feel that we're all lighthouses, and my job is to shine my light as brightly as I can to the darkness."
Carrey hasn't been a TV series regular since his early "In Living Color" days, but he welcomed the opportunity to inhabit one character for the long haul. "You don't get to spend a lot of time with characters, normally. You're in and you're out. Here, you're drilling down instead of thrusting yourself to the next plot point. Just as in life, you learn who you are as you go along. As time goes on, Jeff Pickles comes into view in new and extraordinary ways."
The first season of "Kidding" brought Carrey back together with the fertile mind of director Michel Gondry, whose mind-bending romantic drama "Eternal Sunshine of the Spotless Mind" introduced the world to a raw, vulnerable, less zany version of the star.
"He brings magic with him," Carrey says of the French director who helmed six episodes of the first season. "When he decided to jump into 'Kidding,' that was really the deciding factor for me. I thought, at the very least, this is an experiment worth doing. Let's go crazy again."
Looking back at films like "The Truman Show," and even the seemingly sillier stuff like "The Mask," "Liar, Liar," "Yes Man" and "Me, Myself & Irene," it's clear that Carrey has long been an avatar of high-concept existentialism. He reiterates his sense that these roles have found him, as if for a specific purpose. "These things have been little teachings," Carrey says. "I know they're fun, as well. But they're not just fun. They've meant something to me."
EMMY BUZZMETER: Track the latest predictions in key categories »
In the 2017 documentary "Jim & Andy: The Great Beyond," Carrey reflected upon his experience playing — and essentially inhabiting — the idiosyncratic comedian Andy Kaufman in Milos Forman's biopic "Man on the Moon." The documentary is the portrait of a slightly mad genius at work, and a meditation on the porous boundaries of identity. At times, "Kidding" seems to pick up where "Jim & Andy" leaves off.
"Identity is really the most important thing we face in this world," Carrey says. "This has been a theme in my work for the last few years. The most important thing you can do is discover what you are and what you're not, and also to understand that the persona you create in the world is not real. It's a construct."
To hear Carrey tell it, Season 2 of "Kidding" will elaborate upon these same themes. "This season, there's a realization that Jeff may not be who he thought he was. And in fact, there may be a real struggle to cling to, and even imitate, the person he was supposed to be. The struggle becomes, 'How do I keep up that facade,' you know? 'For myself.'"
---