Danielle Brooks sinks her teeth into the Taystee role on 'Orange Is the New Black'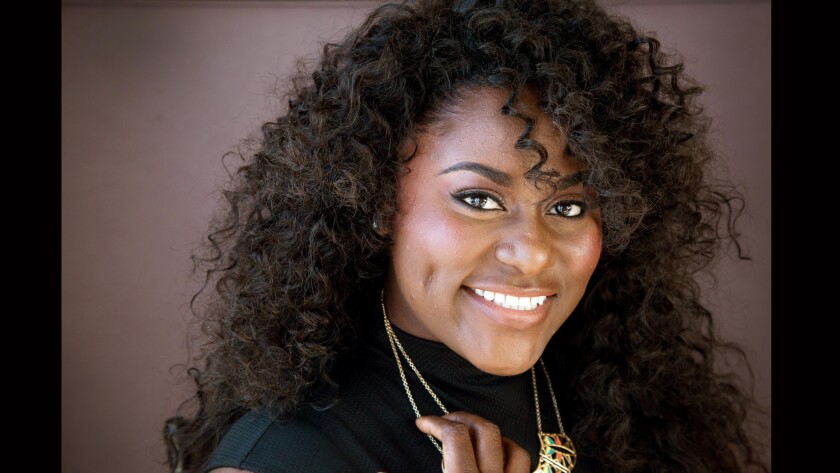 Reporting from NEW YORK CITY —
Spend a few minutes with Danielle Brooks and it's easy to see why, fresh out of Juilliard, she was cast as orphan-turned-inmate Tasha "Taystee" Jefferson in "Orange Is the New Black." Like her alter ego, the 26-year-old is warm, vivacious and refreshingly free of affectation. The actress made her Broadway debut late last year in a revival of "The Color Purple" and was nominated for a Tony Award in May. "It's just golden and platinum everywhere," she says of her current hot streak.
Why do you think Taystee has become such a fan favorite?
I think they see themselves. A lot of black women haven't gotten the chance to see more than just the sassy black woman or the angry black woman. There's so much depth to her. I think they appreciate her innocence as well as her harsh mouth. She's really so intelligent. She's trying to show that she's capable of making it in the world. I think that's why people love Taystee. I know that's why I love Taystee.
A lot of black women haven't gotten the chance to see more than just the sassy black woman or the angry black woman.
Danielle Brooks
There's a real sense of missed potential with her.
Yeah, [she's] really just lacking guidance. It's crazy how the writers have spun it because now she's the one giving that guidance. She's become the mother and now is trying to make sure that Crazy Eyes is doing what she needs to do, Poussey isn't out with hooch all day. It's very interesting how the dynamic for her is changing.
The scene with Crazy Eyes where Taystee breaks down over Vee's death was pretty intense.
I was really grateful to the writers because I was happy that I got to show more colors, being that I did go to school for this thing that we call acting it was like, "Finally, I really get to sink my teeth into something."
It was very emotional. Even one of the crew came up to me after and said he had just lost someone in his family and by seeing what we were doing, was able to get some bit of relief from that. That's what excites me about the work that we do. That's what it's for -- to heal.
What's the most interesting or unexpected response you've gotten from a fan?
One time I was walking down the street, 42nd Street, and this guy was with his son and he stopped me and was like, "I've been incarcerated before and I know many Taystees, so thank you for being honest in what you do." People really are seeing themselves in the characters.
That's why I'm grateful for material like "Orange Is the New Black" and the subject matters that they constantly are tackling and going deeper when it comes to race, transgender issues, the prison system. It's so admirable.
What do you make of Taystee's sexuality?
I keep teasing [series creator Jenji Kohan] about it. I'm like, "Jenji, when are you going to give Taystee some love?" I think she is straight and she wishes that she could have been gay for Poussey, but she's not. In my head I think Taystee's still a virgin. I think life was so heavy for her that she had no time for that. She was just trying to figure out where she was going to eat, sleep, lay her head and go to school. And before you knew it, she was in prison. I hope that she'll get to explore her sexuality in a way that she's comfortable with.
You trained at Juilliard and then went straight into TV. What have you learned from working in the medium?
Unlike theater, you don't have a long rehearsal period at all. You just do it. You have limited time to make choices. TV has taught me to make bold choices in the moment, the minute they come to you, and not to hold back.
TV has taught me to make bold choices in the moment, the minute they come to you, and not to hold back.
Danielle Brooks
You've said before that your life changed in 13 hours when "Orange Is the New Black" came out.
It did. You start to go to restaurants and people are looking and all of a sudden you have a bill that says zero on it and you're, "OK, this is different." Then all of a sudden you have a hair stylist and a makeup artist and a publicist and a lawyer.
I Iove acting because I get to observe people, I get to walk in Central Park and watch someone playing with their child and that's fun for me. Now, the tables have turned, and people are watching me go to the bathroom, or how I eat, or how I speak. It was a lot to take in a short amount of time.
---
From the Emmys to the Oscars.
Get our revamped Envelope newsletter, sent twice a week, for exclusive awards season coverage, behind-the-scenes insights and columnist Glenn Whipp's commentary.
You may occasionally receive promotional content from the Los Angeles Times.