Q&A:: Benedict Cumberbatch: fanboy, photobomber, award-circuit rider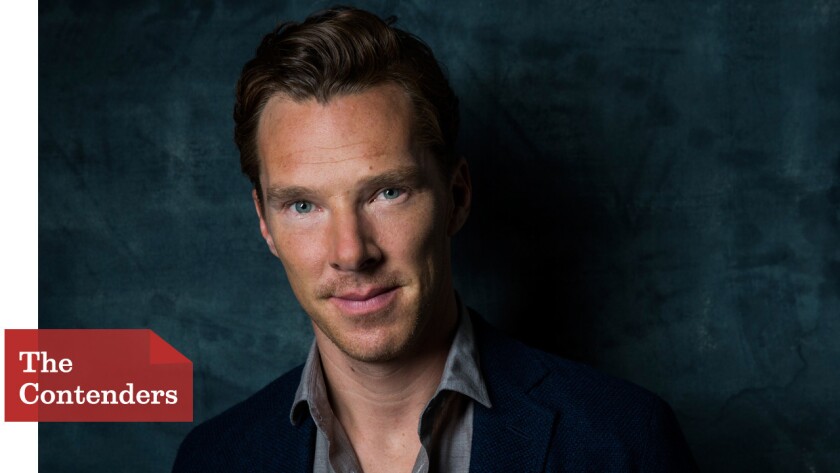 Benedict Cumberbatch is chasing the sun. Fresh off an island vacation with fiancée Sophie Hunter and just out of a steam at the Parker Palm Springs sauna, Cumberbatch is moving his patio chair clockwise around a firepit on a chilly January afternoon. "There's no shame today," says Cumberbatch, clad in gray sweatpants and a vintage Pink Floyd T-shirt. "I'm going back to England, where it's like the Arctic Circle. I need to store up the sun now, otherwise I'll get rickets by the time I step off the plane."
Cumberbatch has landed in Palm Springs along with the rest of the cast of "The Imitation Game" to accept an ensemble award at the Palm Springs International Film Festival. The movie, a look at the life of Alan Turing, the Cambridge genius who led the team that cracked the Enigma code that Nazi Germany used to encrypt its radio transmissions during World War II, premiered at the Toronto International Film Festival in September. It recently received eight Oscar nominations, including nods for best picture and for Cumberbatch's lead turn.
FULL COVERAGE: Oscars 2015
We moved right along with the 38-year-old actor as he shifted his chair to account for the dying light and spoke about his eventful journey between Toronto and Palm Springs.
You look a lot more relaxed than when I saw you last in Toronto.
It was a really steep incline toward Christmas, just crazy, finishing "Richard III" [which will be featured in the BBC's "The Hollow Crown" series], getting ready for the holidays, moving around seeing different families. That was a big induction this Christmas. A whole new world opens up. And then we were able to just breathe, be in the present tense, be in one place, just relaxing and ... [Cumberbatch leans forward and drops his voice to an excited whisper]. That's Robert Duvall! Wow! [Duvall, also in Palm Springs for the festival, walks by on a path about 20 yards away.]
I've never met an actor who doesn't idolize him. Have you ever met him?
He's one of the masters. I haven't met him. I'd love to.
Maybe tonight at the gala?
As a fanboy, yeah, to just touch the hem of the garment. But at the same time, to get a meaningful moment, you need to be away from the circus. That's why I've enjoyed the acting roundtables I've done in this roar. You get to have a free-flowing conversation about acting stuff.
Have you learned anything from those conversations?
Well, you have that moment where you meet your heroes and, initially, they're just something "other." And then the common ground of what we do for a living erases that. The best thing about the job is that it breaks down class and age and sex and race and transcends those things. You're never one person. You're always part of a team.
That's why I love this award we're getting tonight. It's a great excuse for us to get together and have a giggle. [Looking around the expansive grounds.] Put us in a place with a cricket pitch over there and a firepit right here. Later tonight, we can get a bit feral. Maybe burn some notes like we did at the end of "The Imitation Game."
Invite Robert Duvall to join you ...
Absolutely. He will be right here, presiding over the proceedings, calmly steering things.
Just going by the way you photobombed U2 with that impressive leap at last year's Oscars, you seem to enjoy these events.
The Oscars were really good fun. And, yes, I leapt and bound all over the place.
Which you blame on Ellen DeGeneres, right?
And vodka.
That seems to be a running thing with you when you do something silly ...
I'm drunk. That's not actually true. I wish I could blame the evils of alcohol and say, "Kids: Don't go there." But that ... happens when I'm sober. It would have happened. And I say "drunk," but I had a little slurp of a tiny miniature. It was just the high of the whole thing. A friend of mine did literally say, "Get a photo of U2 if you can." Not with them. Just of them. And I thought, "I don't have my camera phone and I'm not going to ask for a selfie with U2."
You showed some impressive height on that leap.
White boy can jump.
U2 attended this event last year. Everyone ignored the movie stars and went straight for Bono.
Does rock star trump movie star? Well, unless they're selling tickets for "Hamlet" faster than a Beyoncé and Jay Z tour. [Cumberbatch's upcoming, summer 12-week "Hamlet" run in London sold out instantly.] But, by and large, yes.
But I'm still thinking about what I learned in those roundtable conversations. The fundamental thing I learned was how many actors said there's not a singular way of approaching the job, which is a relief to me. The first person who told me that was Meryl Streep. We were making "August: Osage County" and I said, "I hate to do this but it's an opportunity to talk about your process. How do you start? You've got the depression, the alcoholism, the cancer, the grief, so many states. It's so richly comic and deeply upsetting at the same time." And she went [Cumberbatch does a dead-on Streep impersonation], "I don't really have a singular approach. I wouldn't be able to do half the things I've done if I had one way of working. Sometimes it's outside in, sometimes it's inside out." And I thought, "Oh God. I adore her!"
What about practical advice for negotiating Hollywood? What's the best you've heard?
"Always take Fountain." Wasn't it Bette Davis who said that? That's come in handy many times. Because the traffic on Sunset ... forget it.
That's it?
I've been chugging away in my career 10 years. That helps you prepare for the exposure. And there are things now which make it easier to escape the obsession with self. If you have someone you love and you're devoted to them and it's a proper devotional love — as I do in my life — there's nothing better than that tonic. First of all, you have your world between you and that person. But also, being devoted to that person takes you away from yourself. There's someone more important. Not that that's a reason to be in a relationship, but it's a very healthy byproduct of it when you're doing such an obsessional job as acting can be.
Paul Thomas Anderson recently said that having kids helps too. With them, you realize you've already done your best work, so it frees you to be a little looser with your day job.
I salute that principle 100 ... no, not more than 100%. I'm not Simon Cowell. [Cumberbatch breaks into a Cowell impersonation.] "One hundred and fifty percent!" There's no such thing. I get very nerdy every time he does that on "The X Factor." He's brilliant and I completely endorse everything he does ... except for the math part.
You once said your greatest regret was not being a dad by the age of 32. Why 32?
When I was growing up, I had a weird obsession with 32 being the mark of adulthood, and that was part of what I thought that might mean, naively. It was just a hunch about a number. I was always a bit of an old soul. I wasn't really interested in being young. I mean, I wasn't eccentric.
But I'm glad it didn't happen. Things happen for a reason. And I'm definitely with the right person for that. So no regrets ... [Actor David Oyelowo, who plays Martin Luther King Jr. in "Selma," approaches.] David! How are you? The back of your head is everywhere. As I was driving in last night, I kept seeing it all over the place.
Oyelowo: I've got one of the most famous backs of heads in history. But you ... Richard III, Hamlet, Sherlock ... are there three of you? You're setting the bar too high. It's hard keeping up with you.
Cumberbatch: What I fear, if the work gets diluted, people will go, "Well, he just took on too much." But, to be honest, I just can't turn down those opportunities.
Oyelowo: Somehow, I don't think people are going to be saying, "He spread himself too thin." [The two talk a bit more before Oyelowo takes his leave. I tell Cumberbatch, who hasn't yet seen "Selma," that some have said the movie isn't fair to President Lyndon Johnson. "The Imitation Game" also has caught flak, with a few critics saying the movie should have shown Turing's sexuality on screen.]
How do you balance legacy and storytelling in fact-based movies like yours and "Selma"?
You can't do one without the other. The argument with ours, that you don't see him being sexually active, upset me because we weren't shy of it. I'm not interested in the vanity of a character or my own vanity as an actor. The idea that for a second I would want to do that or the film would do that is perverse.
The whole structure of the film is about showing a man who had a life that wasn't allowed. So, what, you need to prove that he was gay by seeing him be with a man? Whether it was something we needed to see because it was very much a part of his life is another argument, but I would argue that in our paradigm, it just would have looked really stuck in for good measure; it would have looked distasteful.
There could be another movie made about that aspect of his life.
There are so many movies to be made of this story. We have only two hours. It packs quite a punch, our film. At one moment, it's war-espionage thriller, the next moment a tragic story of a man wronged by an intolerant society, the next moment a celebration of someone who's different.
Everyone has a version of the story they want to see and I completely respect that. And, obviously, they are going to have to respect me being defensive about it because I'm in the thick of it, trying to be fair and uncompromising in my portrayal of this great man.
Twitter: @glennwhipp

---
From the Emmys to the Oscars.
Get our revamped Envelope newsletter for exclusive awards season coverage, behind-the-scenes insights and columnist Glenn Whipp's commentary.
You may occasionally receive promotional content from the Los Angeles Times.