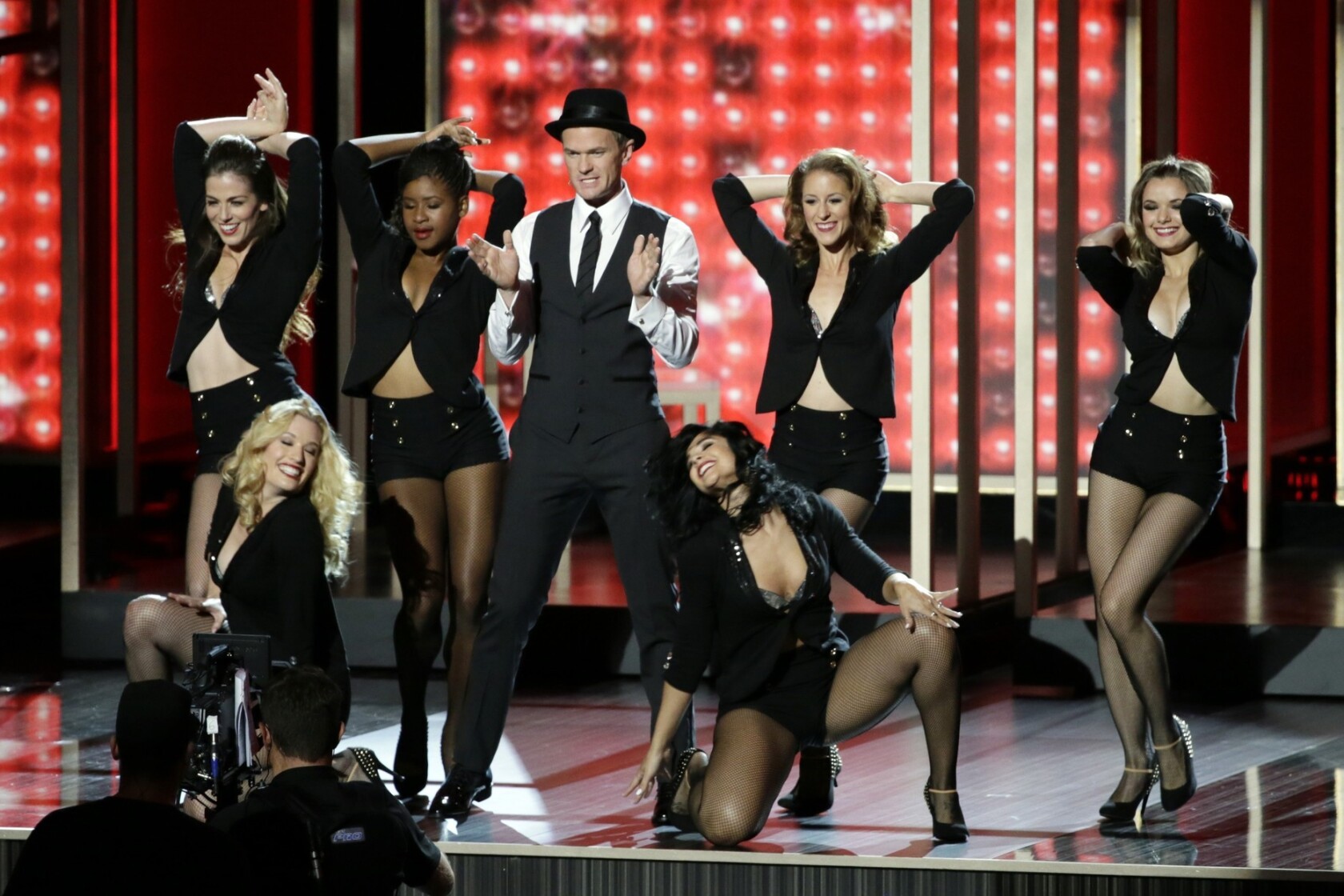 From "Breaking Bad's" big win to the world's shortest acceptance speech, here's a look at some of the best and worst moments from the 2013 Emmy Awards.
(Robert Gauthier / Los Angeles Times)
E!'s red carpet coverage has pioneered such red carpet firsts as the finger fetish-izing "Mani-Cam," but this year's addition, the "Glamazoom," may be the least inspiring yet. The camera allows E!'s red carpet experts to zoom in on the details of any starlet's Emmy ensemble and really be able to critique it with maximum effectiveness. We can only hope that deep within the E! channel's bunker, there is a J. Robert Oppenheimer-like figure, wracked with fear and remorse over the red carpet innovation he has unleashed upon the world.
(Kevork Djansezian / Getty Images)
Aside from all the blah-blah-blah, occasionally, a true, interesting moment transpires in front of the cameras on the red carpet. In this case, it was "Big Bang Theory" star Jim Parsons meeting "Behind the Candelabra" star Michael Douglas for the very first time. Douglas went out of his way to praise Parsons and tell him how much his children enjoyed watching his show. Parsons, visibly taken aback said, "You're so nice." Douglas replied, "No, I'm not." Right away, Parsons replied, "Well, you're not mean." Great comeback and part of the reason Parsons keeps winning these things.
(Jason Merritt / Getty Images)
Guliana Rancic asked newlywed Aaron Paul, nominated for his role in "Breaking Bad," about what viewers would see if E! were to do a reality series about Paul's first year of marriage to wife, Lauren Parsekian (pictured). Paul attempted to answer as honestly as he could, but did we mention his mom was standing right there? She was.
(Jason Merritt / Getty Images)
CBS almost had a messy situation on its hands when the NFL game between the Jets and the Bills nearly ran into the scheduled Emmy broadcast time. What dedicated awards fans could have been thinking when they switched over from E! to find football encroaching on their glamour-ama is anyone's guess. Crying? Swearing? Gnashing of teeth? Yet somehow, as if by magic, the game ended just one minute before 5 p.m. PDT.
(Rich Schultz / Getty Images)
After several sterling Tony Awards hosting jobs, everyone seemed primed to see him bring that same magic to the Emmys. Sadly, NPH (second from right) is only a mortal. Same as you and me. And like you and me, he stumbled his way through an awkward and interminable opening film and monologue that was extended to painfully unfunny lengths through the addition of four former Emmy hosts (including, from left, Jane Lynch, Jimmy Kimmel and Jimmy Fallon).
(Robert Gauthier / Los Angeles Times)
Tina Fey and Amy Poehler heckling from the audience: "Take your pants off! Twerk!" and Kevin Spacey channeling his Frank Underwood role from "House of Cards" were clever and fun highlights.
(Robert Gauthier/ Los Angeles Times)
It's rare that the first award of the night offers up the best speech, but in this case it's true. Supporting actress in a comedy series winner Merrit Wever was visibly shocked when she won the award for her role on the Showtime series "Nurse Jackie." So shocked, in fact, that she gave one of the all-time great acceptance speeches: "Thank you so much! Um -- I gotta go. Bye." In three sentences, she earned the respect of every award-weary performer in Hollywood.
(Kevin Winter / Getty Images)
The Emmys are a celebration of TV, which is nice because most everything on TV is archived in some capacity. So it was an odd choice to not air a single moment of footage of the late Jonathan Winters during his tribute. Instead, Robin Williams spoke eloquently about the man and even performed a bit of one of his most famous routines. It's nice that Williams has such clear memories of Winters, the rest of us will have to make due with Williams' Winters impression. Or Rob Reiner's best Archie Bunker.
(Robert Gauthier / Los Angeles Times)
Julia Louis-Dreyfus and Tony Hale carried their characters from "Veep" up on the stage for Dreyfus' win for actress in a comedy series. Hale, who had just won for supporting actor in a comedy series, stood behind, holding her clutch and whispering acceptance speech suggestions, such as "You love them so much." If only more performers brought their characters on stage with them, maybe people wouldn't dread award speeches so much.
(Kevin Winter / Getty Images)
Tonight's mid-Emmy restroom/snack, brought to you by Elton John, came at an inopportune moment for CBS. For while Sir Elton was lulling the Nokia Theatre audience asleep to the tune of his new Liberace tribute song, the at-home audience was discovering that the penultimate episode of "Breaking Bad" was starting right at that moment. Hey, where did everybody go?
(Robert Gauthier / Los Angeles Times)
Laura Linney didn't attend the Emmys, and surprise, surprise, she won the award for lead actress in a miniseries for "The Big C: Hereafter." Getting in a slight dig, presenter Matt Damon told the crowd, "She's such a great actress, she didn't even need to show up." That'll teach her.
(Chris Pizzello / Invision / AP)
"Homeland" writer Henry Bromell died earlier this year, so when it was announced that he had won the Emmy for best writing in a drama series, his widow came to the stage. Visibly moved, Sarah Bromell kept her remarks very short but very affecting.
(Robert Gauthier / Los Angeles Times)
Here's where we say something about how host Neil Patrick Harris seemed obligated to do a song-and-dance number for the Emmys and, therefore, did a song called "This Is the Number in the Middle of the Show," which seemed uninspired and dull. And then we wrote something about how it didn't seem like anyone really cared enough to put their hearts into it. And neither did we.
(Robert Gauthier / Los Angeles Times)
Bobby Cannavale was up against Mandy Patinkin, Aaron Paul and other great actors for the supporting actor in a drama series. But Cannavale was the surprise winner for "Boardwalk Empire." His gushing, astonished, self-effacing speech was better than the usual canned emotion given out by long-expected winners.
(Chris Pizzello / Invision / AP)
There's nothing like giving an award to an underdog to get some good TV. For best actor in a drama series, most thought it would go to Bryan Cranston, Kevin Spacey or Damian Lewis. But no, it was Jeff Daniels, starring in the polarizing HBO drama "The Newsroom," who won. And just to prove how much he didn't expect it, Daniels came on stage chewing gum. "Well, crap," he said, by way of acceptance. Indeed.
(Frederic J. Brown / AFP / Getty Images)
The Emmys decided to pay tribute to the 50th anniversary of 1963 this year, which included such Emmy-worthy moments as the JFK assassination. It also celebrated the 50th anniversary of the Beatles' American TV debut on "The Ed Sullivan Show," which technically happened in 1964. To pay tribute, singer Carrie Underwood performed the Beatles' hit "Yesterday," which actually didn't come out until 1965.
(Robert Gauthier / Los Angeles Times)
Michael Douglas' personal life may be a little rough these days (he recently separated from wife Catherine Zeta-Jones), but he was in rare form when he came to the stage to accept the Emmy for lead actor in a miniseries or movie for playing flamboyant piano-playing superstar Liberace in the HBO movie "Behind the Candelabra." Referring to his co-star and onscreen lover, Matt Damon, Douglas quipped, "This was a two-hander, and you're only as good as your other hand. Matt, you deserve half this. You want the bottom or the top?"
(Kevin Winter / Getty Images)
The final few minutes of any marathon awards show can find most people a little punchy. Maybe that's why Will Ferrell's bit about coming on stage in shorts and T-shirt with his three kids in tow went over so well. Claiming that he was a last-minute presenter to announce the winners of best comedy series and best drama series, the Ferrell clan stole the show.
(Chris Pizzello / Invision / AP)
"Modern Family" won the Emmy for best comedy series, and "Breaking Bad" won for best drama series. Neither show was a surprise win, but "Family" executive producer Steve Levitan summed up the feelings perfectly with his speech: "This may be the saddest Emmys ever, but we couldn't be happier."
(Chris Pizzello / Invision / AP)
Emmys 2013: Best and Worst
()
Emmys 2013: Governor's Ball
()
Emmys 2013 | Show highlights
()
Emmys 2013 | Red carpet arrivals
()
Video: Emmys red carpet interviews
()
Emmys 2013: Top winners and nominees
()
Emmys 2013: Quotes from the stars
()
Emmys 2013: L.A. Times photo booth
()
Emmys 2013: Play-at-home ballot
()
Emmys 2013: 'Breaking Bad,' 'Modern Family,' 'Behind the Candelabra' win top awards
()
Emmys 2013: Live from the red carpet
()
Emmys 2013: Complete list of winners and nominees
()
Emmys 2013: Nomination snubs and surprises
()
Emmys 2013: Nominees react
()
Emmys 2013: Buzzmeter panelists make the case for deserving favorites
()
Video: Kerry Washington, Jenna Fischer and more talk Emmys 2013
()
Emmys winners through the years
()
<b>Video:</b> Emmys 2013 Round Table | Let's get real
()
<b>Video:</b> Emmys 2013 roundtable | Show runners
()
<b>Video:</b> Emmys 2013 Round Table | Drama
()
Emmys 2013 Roundable: Let's talk comedy
()
<b>Video:</b> Stars talk embarrassing on-screen moments
()
VIDEO: Emmys 2013 Round Tables
()
Emmys 2013 Roundtable: Let's talk writing
()
The beard has been validated.
After a critically praised freshman season, "Homeland" scored nine Emmy nominations that resulted in six wins, including outstanding drama series actor for Damian Lewis and actress for Claire Danes. Yet, Mandy Patinkin's turn as CIA Middle East division chief Saul Berenson (and Carrie's shoulder to cry those tortured tears on) was blackballed, failing to land a nomination in the supporting actor in a drama category.
What a difference a season makes. Emmy voters let the 60-year-old join the club Thursday -- giving Patinkin a nomination for his portrayal in the second season--which some critics felt was uneven.
EMMYS 2013: Full coverage | Top nominees | Complete list
We briefly spoke to Patinkin earlier Thursday morning.
Mandy! Are you renting a Zipcar, or is that only the way you celebrate a Golden Globes nomination?
I'm at the airport, in a cellphone lot, waiting for my younger son to visit his old man. I'm in Charlotte, N.C.; we're shooting. We shot yesterday, and we'll shoot all day tomorrow, so this is my day off — though it won't really be a day off because I need to learn my lines. That's all I do, Yvonne, is learn lines.
I can help you with that. I promise not to reveal any spoilers to our readers!
Not a chance! I'd have to hurt you.
So how did you hear the news?
I woke up and the phone started ringing and text started flashing out on the phone. That's what they do, right, flash? I don't know the lingo. But let me just say that it's a thrill to be part of this show. Every day is like an award, beyond a dream come true. It all feels newer than ever. When I was young, I spent every minute thinking about what's next. Now I'm 60 years old and I don't want the day to end. Am I just talking in clichés?
Maybe a little. I'm just waiting for you to say why you're really involved with the show. It's for the beard, right?
I do it just for the beard. That beard--I tell you, I'd do anything to shave it off. In Charlotte, it's pretty darn hot. Last thing you want is beard on your face — and Saul's beard is like wearing a parka on my face. I'm hoping they put me undercover in an upcoming episode so I can shave it off. Can you write that so maybe they will?
RECAP: In Emmy race, 'SNL' continues to dominate
Noted. Now, let me get your thoughts on what we're seeing with Netflix. How --
I think all of these different forms of delivering awesome work any way you can get it out to the public is a gift. The way technology is today, is mind-blowing. It's like the invention of radio or TV or the steam engine or the airplane. Things are changing and evolving and it's great to see it all happen. The only reason we do work is so people can see it. If the Internet helps more people see it, what's to complain about? It's thrilling.
Favorite moment from the second season?
Love the whole season, but that final episode—gosh. I was in shock for about an hour and a half. I asked the writers not to tell me what would happen. When that finale showed up in my room and I read that, I really thought I was in the hands of [the] greatest writer. It was truly something. You just never know what's going to happen or who's going to die on this show.
But the world never wants Saul to die. Ever.
Ha! I like to think that Saul and Mandy can never die. I want Saul to walk forever.
If you could guest on one Emmy-nominated show, what would it be?
The original "Twilight Zone," written by Rod Serling. I'd like to go back in time and do "Twilight Zone."
PHOTOS: Emmys 2013 snubs and surprises
I'm glad you didn't mean that weird reboot they did. But is there any one of the current nominated shows you'd like to drop in on?
The one Robin Wright is on—"House of Cards." We were in "Princess Bride" together. I'd love to be on the show with her because I'd feel like I was 30 years younger.
Now to the all-important question: what would Saul –or Mandy—think of "Sharknado"?
Shark-what? I don't understand. What is that? Was there a shark attack?
It was a campy Syfy movie that took Twitter by storm last week. There was such a frenzy about it—don't worry, they'll repeat it.
Am I the only one who hasn't seen it?
You are not. And it's something you should be proud of. What about actual good TV? What can you share about Season 3 of "Homeland"?
I wouldn't dare tell you about this upcoming season, but you will not be disappointed. At one point, I nearly dropped the script. I could not believe what they had done. It's "Homeland" at its best. And that [annoys me]. I'm just like the audience. I don't want it to go too fast. It always goes so fast. We're almost finished with episode 5.
Does Carrie's infamous corkboard make a return?
Gosh, I don't know. It may be? But don't worry, if it isn't, we'll find a corkboard somewhere. We're crafty.
ALSO:
Live updates: Emmy nominations 2013
FULL COVERAGE: 2013 Primetime Emmys
---