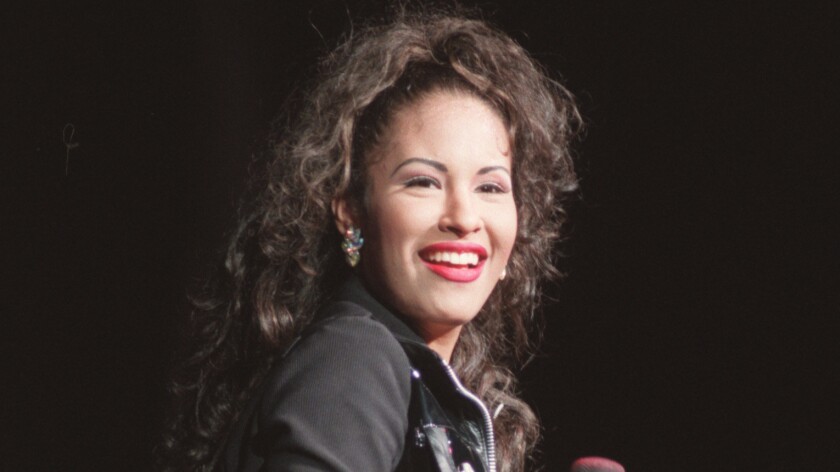 Selena's star still burns bright 21 years after her death, as the Queen of Tejano music finally gets her place on Hollywood's Walk of Fame.
The Hollywood Chamber of Commerce announced Tuesday the Walk of Fame Class of 2017, honoring luminaries from motion pictures, television, recording, radio and live theater.
Selena Quintanilla is just one of 34 new honorees who will each be recognized in a ceremony in the new year. Quintanilla, a successful recording artist and fashion designer, was just 23 when murdered in 1995 by the president of her fan club.
Quintanilla's death sent shock waves through the music industry and beyond, with her funeral drawing 60,000 mourners. She was memorialized in 1997 with a biopic bearing her name and starring a then relatively unknown Jennifer Lopez.
Joining Selena in the incoming Walk of Fame class is a bevy of silver screen talent, including Chris Pratt, Ryan Reynolds and Dwayne Johnson, as well as an "Arrested Development" reunion with Jason Bateman and Jeffrey Tambor both being recognized.
The full list of the Hollywood Walk of Fame Class of 2017:
Motion pictures:
Amy Adams, Jason Bateman, Goldie Hawn, Dwayne Johnson, Chris Pratt, Brett Ratner, Ryan Reynolds, George A. Romero, Mark Ruffalo and Rita Wilson
Television:
Tyra Banks, Andre Braugher, Ken Corday, Lee Daniels, Hugh Laurie, Eva Longoria, Wolfgang Puck, Keri Russell, Haim Saban, George Segal, Sarah Silverman and Jeffrey Tambor
Recording:
Clarence Avant, Jerry Goldsmith (posthumous), Hall & Oates, Ice Cube, John Legend, *NSYNC, New Edition and Selena Quintanilla (posthumous)
Radio:
Elvis Duran
Live Theatre/Live Performance:
Criss Angel, Jeff Dunham and Gustavo Dudamel
MORE
Passion, politics and Prince: How the BET Awards captured a moment
Cormac McCarthy isn't dead. He's too tough to die
Come for the new 'Star Trek Beyond' trailer, stay for the new Rihanna song​​​​​​​
Twitter: @midwestspitfire
---