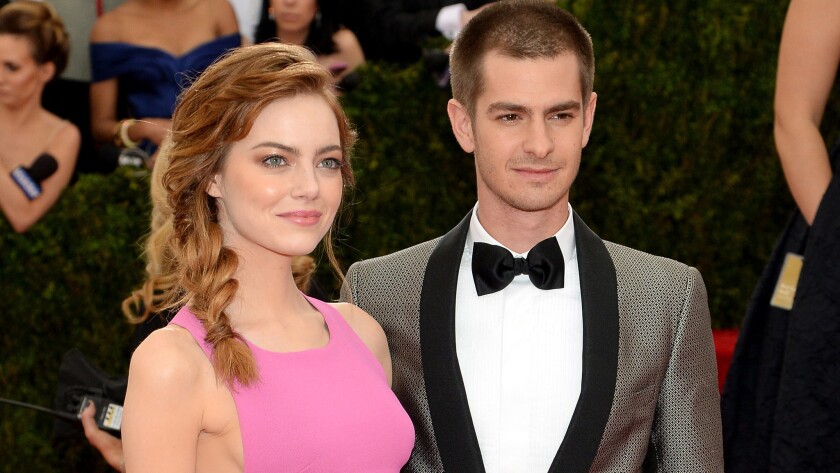 Your Spidey sense about Emma Stone's and Andrew Garfield's relationship may never tingle again. After four years together, "The Amazing Spider-Man" costars have reportedly split for good this time.
The break-up news came late Tuesday by way of People magazine and Us Weekly, which reported last April that the actors had taken a break because of long-distance relationship woes. A month later, rumor had it that the adorable pair rekindled their romance, giving hope to EmDrew Stonefield fans everywhere.
Alas, the magazines said that this time the break-up would stick because it actually went down "a couple of months ago." They published similar quotes about how amicable the two remained.
See the most-read stories in Entertainment this hour >>
"They've been apart while working. They still care about each other," a source told People. "They still have love for one another. They are on good terms with each other and remain close."
"It just wasn't working," a source told Us Weekly.
The Oscar-nominated "Birdman" actress, 26, and British actor, 32, struck up their romance in 2011 when they were filming the superhero flick. The private stars remained close -- and cheeky -- over the years and appeared built to last.
After news of their break surfaced in the spring, the "Irrational Man" actress touched on the rekindling rumors in an interview with WSJ Magazine in June.
"I never talk about this stuff for this exact reason -- because it's all so speculative and baseless," she said. "I understand the interest in it completely, because I've had it too. But it's so special to me that it never feels good to talk about, so I just continually don't talk about it."
Follow me on Twitter @NardineSaad
ALSO:
Halle Berry, husband Olivier Martinez file for divorce after two years of marriage
Gwen Stefani put on the spot about new track's Gavin Rossdale connection
Sandra Bullock steps out with new man at 'Our Brand Is Crisis' premiere
---