George Clooney, Amal Alamuddin toast to engagement in Malibu
George Clooney. The name says it all: the films, the awards, the looks. We reflect on the actor's career.
(Liz O. Baylen / Los Angeles Times)
Clooney has his cousin Miguel Ferrer to thank for giving him his first mini-role in Ferrer's horse racing film "And They're Off." Nearly 10 years later, Clooney landed his breakout TV role as seasoned pediatrician and expert womanizer Dr. Doug Ross on "ER."
(Patrick Downs / Los Angeles Times)
In Clooney's first major Hollywood role, he plays a criminal opposite Quentin Tarantino, left. The pair temporarily seek refuge in an institution that so happens to be laden with vampires. Clooney's famed "Roman haircut" emerged from this film as he tried to odd-ify his character Seth Gecko.
(Joyce Rudolph / Dimension Films)
Clooney then starred in a comedy chronicling two single working parents (Michelle Pfeiffer and Clooney) and their children, who encounter a day full of surprises.
(Gemma La Mana / For The Times)
Clooney moved on to portray Batman. He was the sixth actor in line after Lewis G. Wilson, Robert Lowrey, Adam West, Michael Keaton and Val Kilmer. Joel Schumacher's "Batman & Robin" did moderately well at the box office but failed among critics. Clooney called the film "a waste of money."
(Christine Loss / TMS and DC Comics )
In Mimi Leder's action-thriller, Lt. Col. Thomas Devoe (Clooney) and Dr. Julia Kelly (Nicole Kidman) close in on a nuclear terrorist in New York City.
(Myles Aronowitz)
People magazine bestowed the title of "sexiest man alive" upon George Clooney in 1997. Clooney won the title once more in 2006. He also scored the cover of Vogue in June 2000, the second man to land the cover after Richard Gere in November 1992.
(People)
Experienced bank robber Jack Foley (Clooney) and U.S. Marshal Karen Sisco (Jennifer Lopez) are forced to share a car trunk during Foley's escape from a Florida prison in the crime drama based on Elmore Leonard's novel of the same name. The pair develop a mutual attraction along the way.
(Merrick Morton)
Clooney plays Capt. Bosche in the film "The Thin Red Line," written and directed by Terrence Malick. His role is small, and he appears near the end of the drama, in a scene that follows the Battle of Mt. Austen.
(Merie W. Wallace / 20th Century Fox)
On the set of this action comedy, Clooney reportedly got into a fistfight with director David O. Russell. Russell took out his anger on set, and Clooney didn't like it. Ultimately Russell was quoted saying, "I wouldn't make another George Clooney movie if they paid me $20 million."
(Murray Close / Warner Bros.)
George Clooney and Noah Wyle star in the TV movie "Fail Safe," based on the 1962 bestselling novel of the same name, which illustrates Cold War tensions between the United States and Russia.
(Tony Esparza / CBS )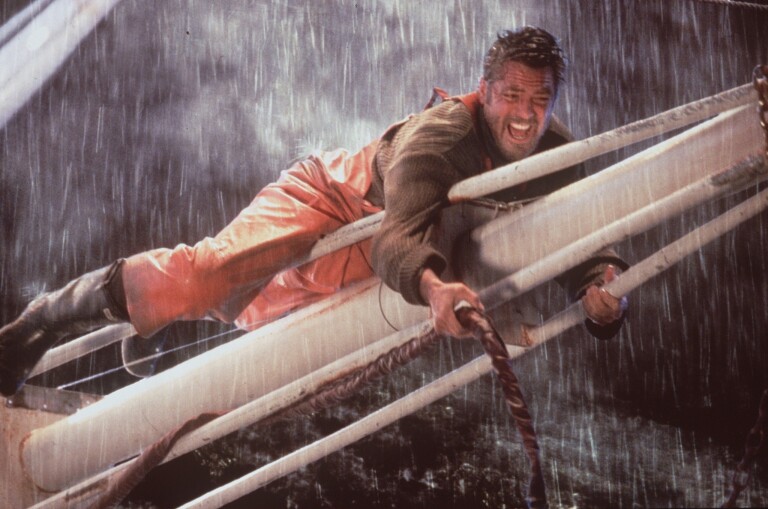 Clooney, as relentless Billy Tyne, captains the fishing boat Andrea Gail. When an unexpected, intense storm catches Tyne and his crew (including Mark Wahlberg and John C. Reilly), they are forced to hang on for their lives as they attempt to weather the vicious storm.
(Claudette Barius / Warner Bros. )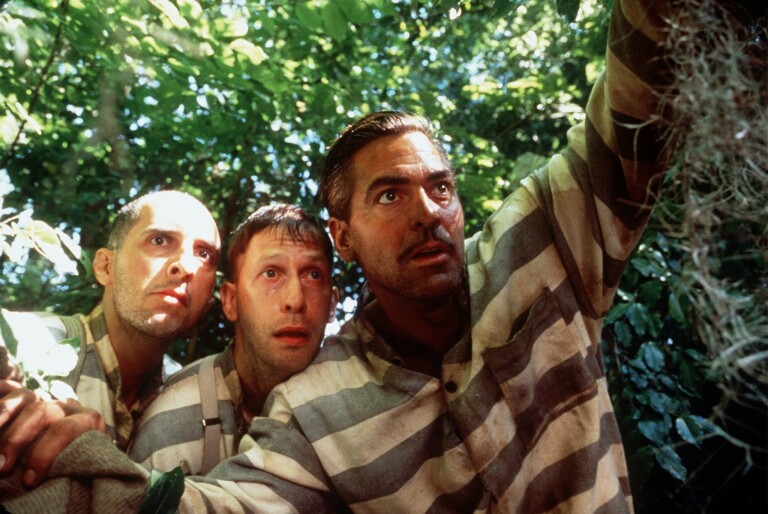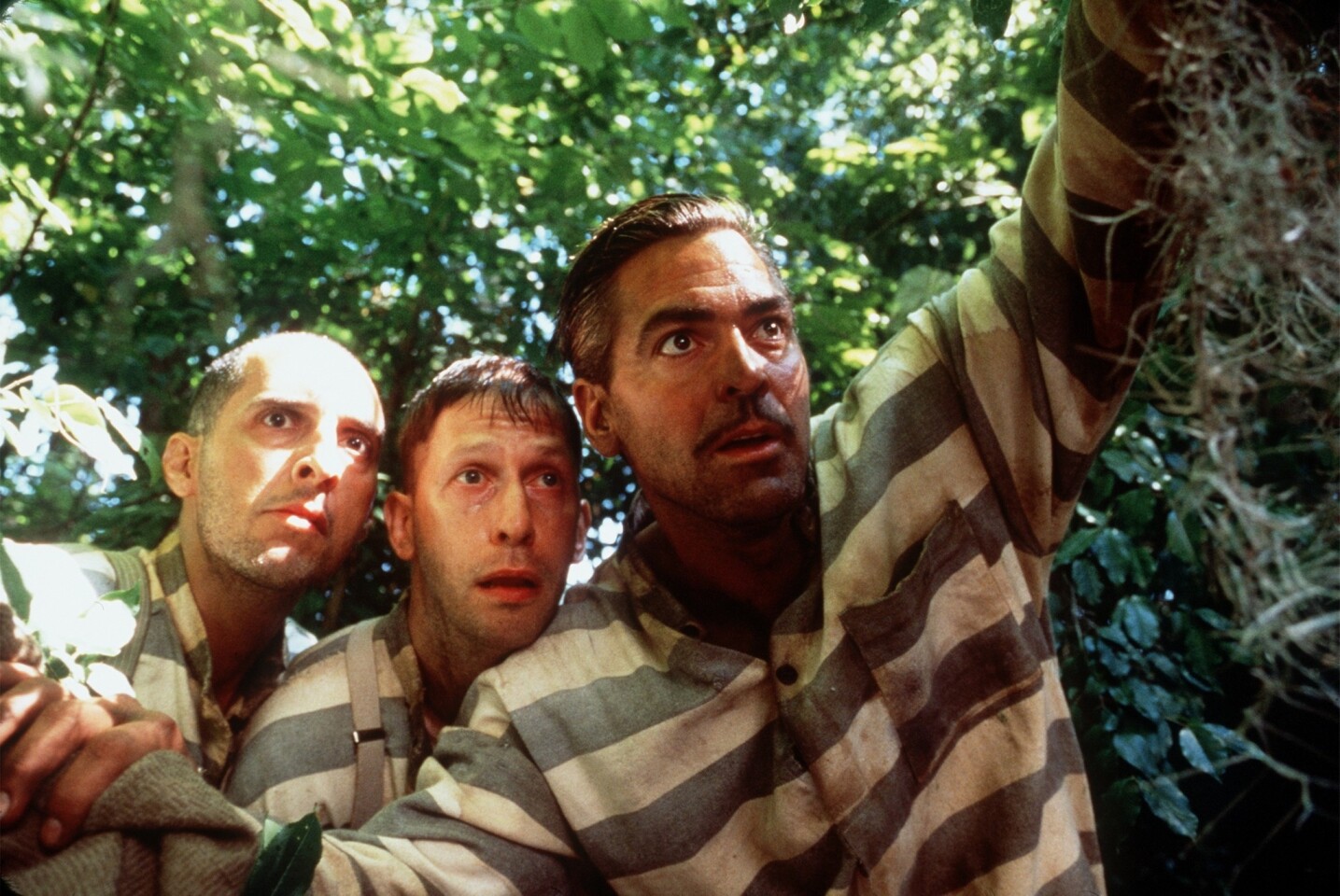 Clooney was so eager to work with the Coen brothers that he signed on to this film without reading the script. He also accepted a lower salary than usual.
(Melinda Sue Gordon / Touchstone Pictures)
Critically acclaimed crime thriller "Ocean's Eleven" earned more than $450 million at the box office and generated two sequels: "Ocean's Twelve" (2004) and "Ocean's Thirteen" (2007).
(Los Angeles Times)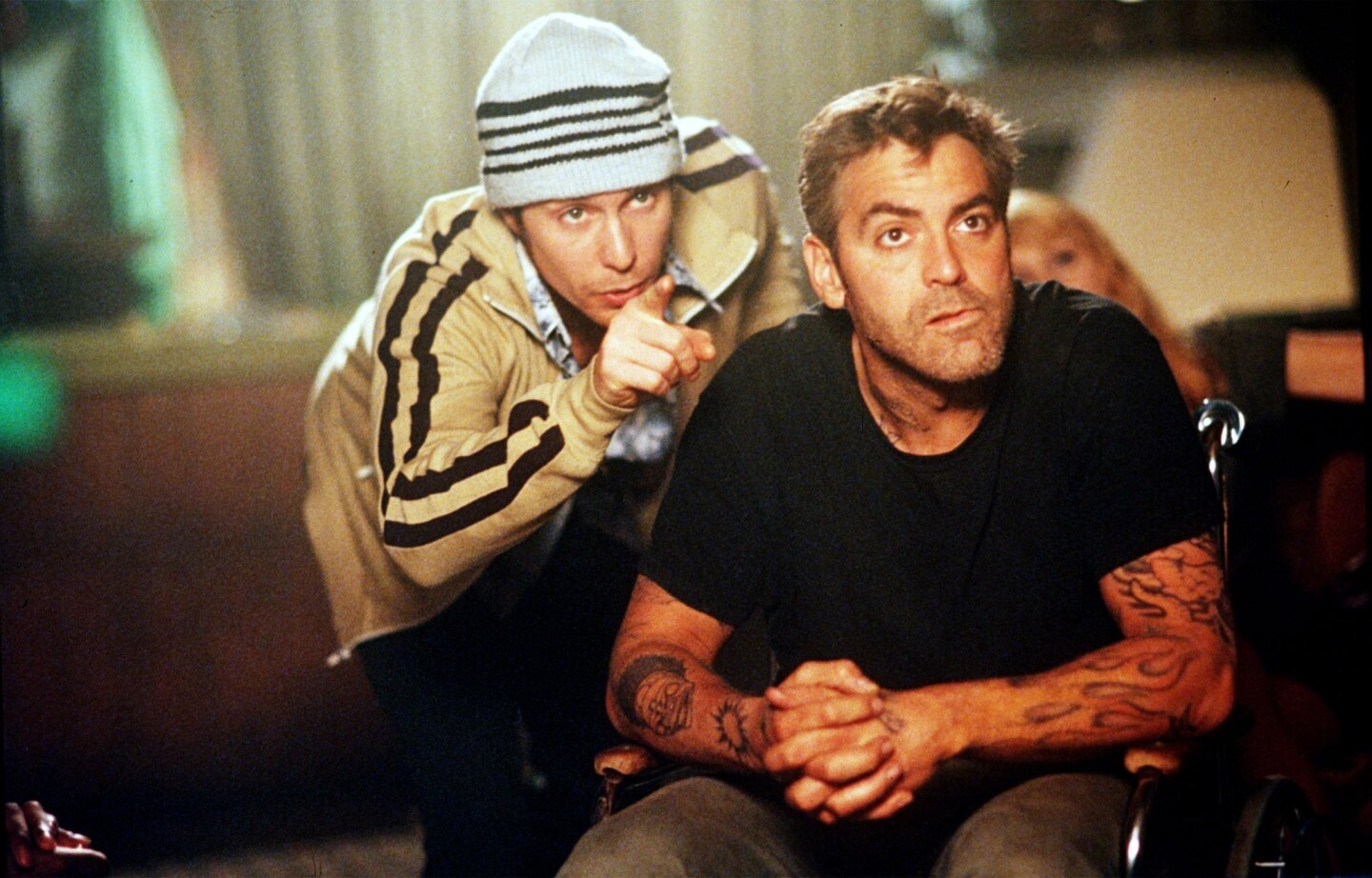 In this comedy, a pack of small-time thieves and troublemakers from an Ohio neighborhood attempts to execute a major theft from a jeweler's apartment safe. But they run into issues since they are stuck in jail and must ask friends or family to implement the heist.
(Jaimie Trueblood / Warner Bros.)
Chris Kelvin (Clooney) ponders the shocking appearance of his beloved wife, Rheya (Natascha McElhone), aboard a space station in the mystery romance "Solaris." That same year, Clooney was named one of People's top 50 bachelors.
(Bob Marshak / 20th Century Fox)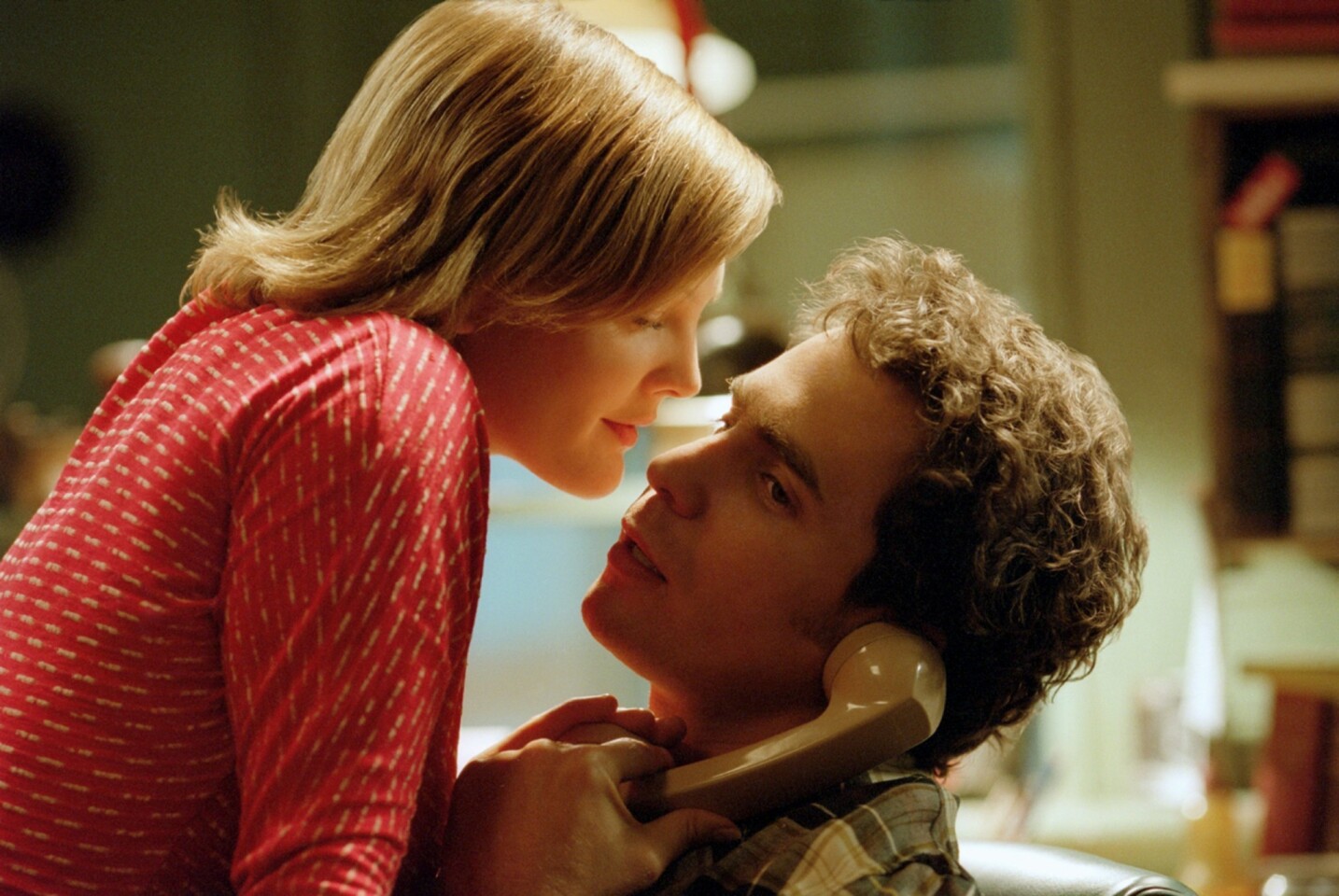 In his directorial debut, Clooney took the helm of the comedy biopic "Confessions of a Dangerous Mind." Actor Sam Rockwell, pictured, portrays legendary game show host Chuck Barris and his secret life as a CIA assassin. Drew Barrymore, pictured, and Julia Roberts also star.
(Takashi Seida / Miramax)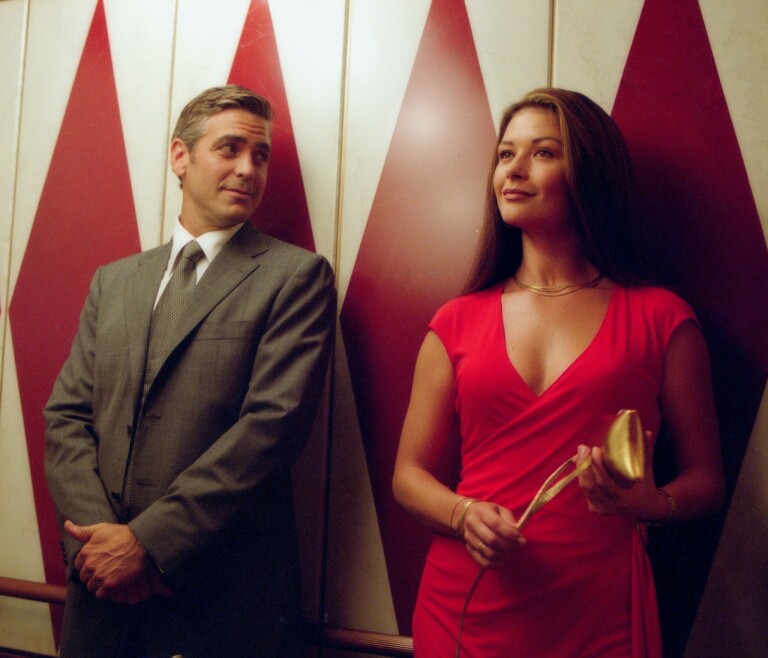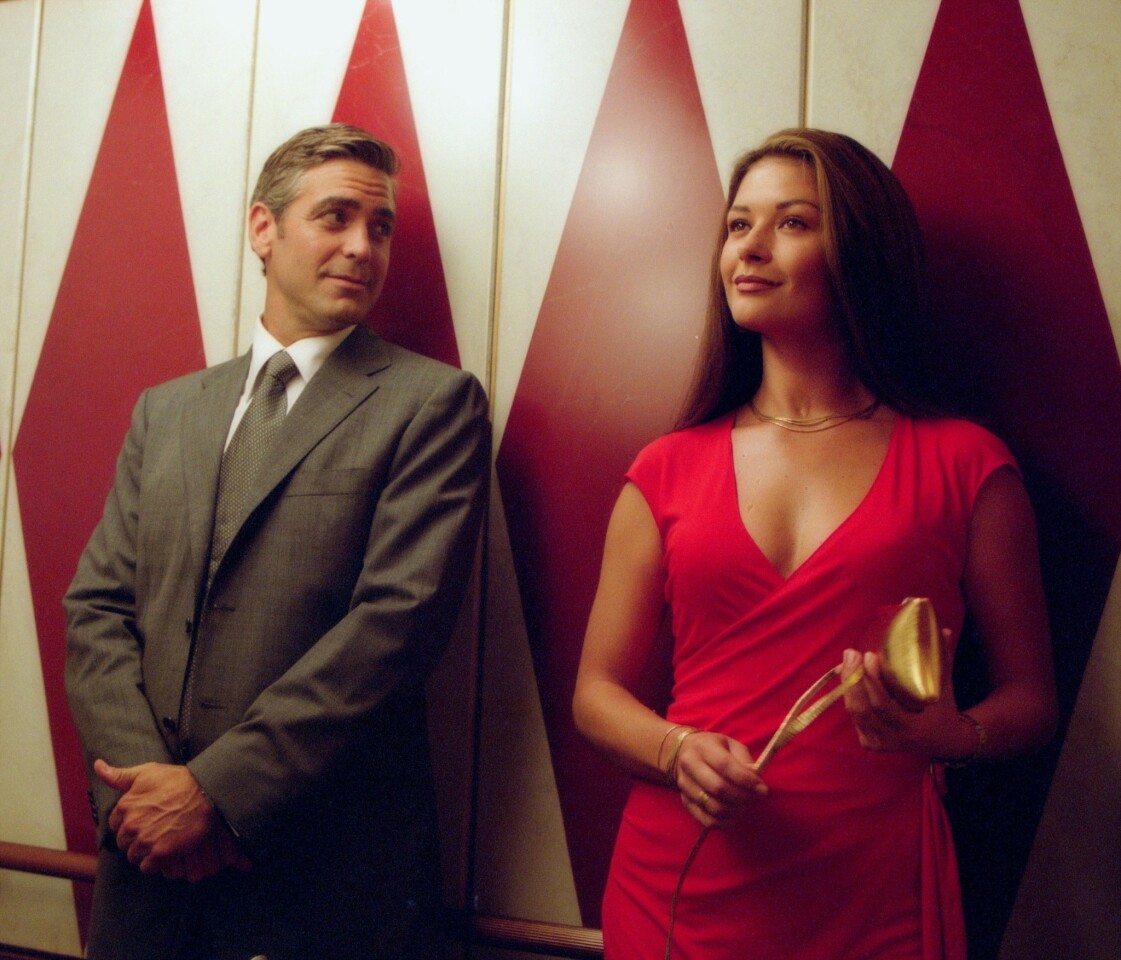 Clooney pairs up with Catherine Zeta-Jones in this romantic comedy with a criminal twist. He portrays a womanizing Beverly Hills lawyer who falls for a cruel gold digger with the intention to marry and later divorce him for her own benefits.
(Melinda Sue Gordon / Universal Studios )
George Clooney directed, produced and appeared in the critically acclaimed historical drama "Good Night, and Good Luck." The title reflects the sign-off of CBS reporter Edward R. Murrow (David Strathairn), who battled with anti-communist Sen. Joseph McCarthy.
(Melinda Sue Gordon / Warner Independent Pictures)
Clooney's portrayal of CIA agent Bob Barnes in the political thriller earned him a 2006 Oscar for actor in a supporting role, making Clooney a second-generation winner in his family. (Uncle Jose Ferrer won best actor in 1950's "Cyrano de Bergerac")
(Glen Wilson / Warner Bros.)
American war correspondent Jake Geismer (Clooney) is drawn into an investigation involving his former mistress (Cate Blanchett) and driver (Toby Maguire) in Steven Soderbergh's noir film set in post-World War II Germany.
(Melinda Sue Gordon / Warner Bros. )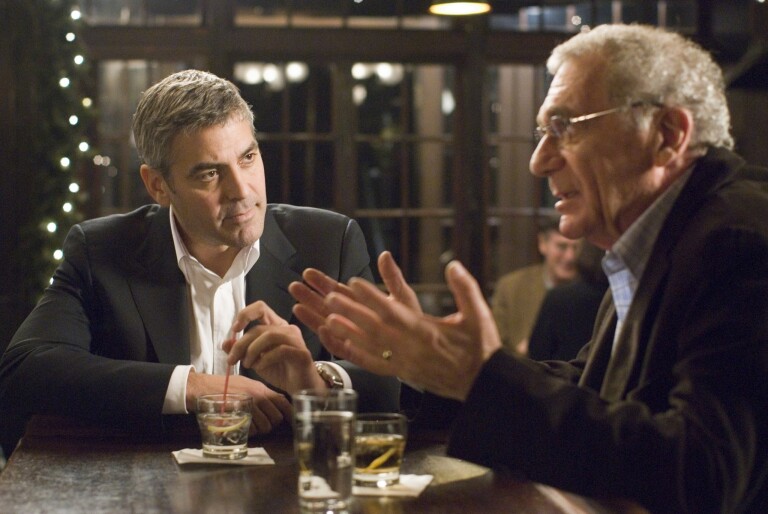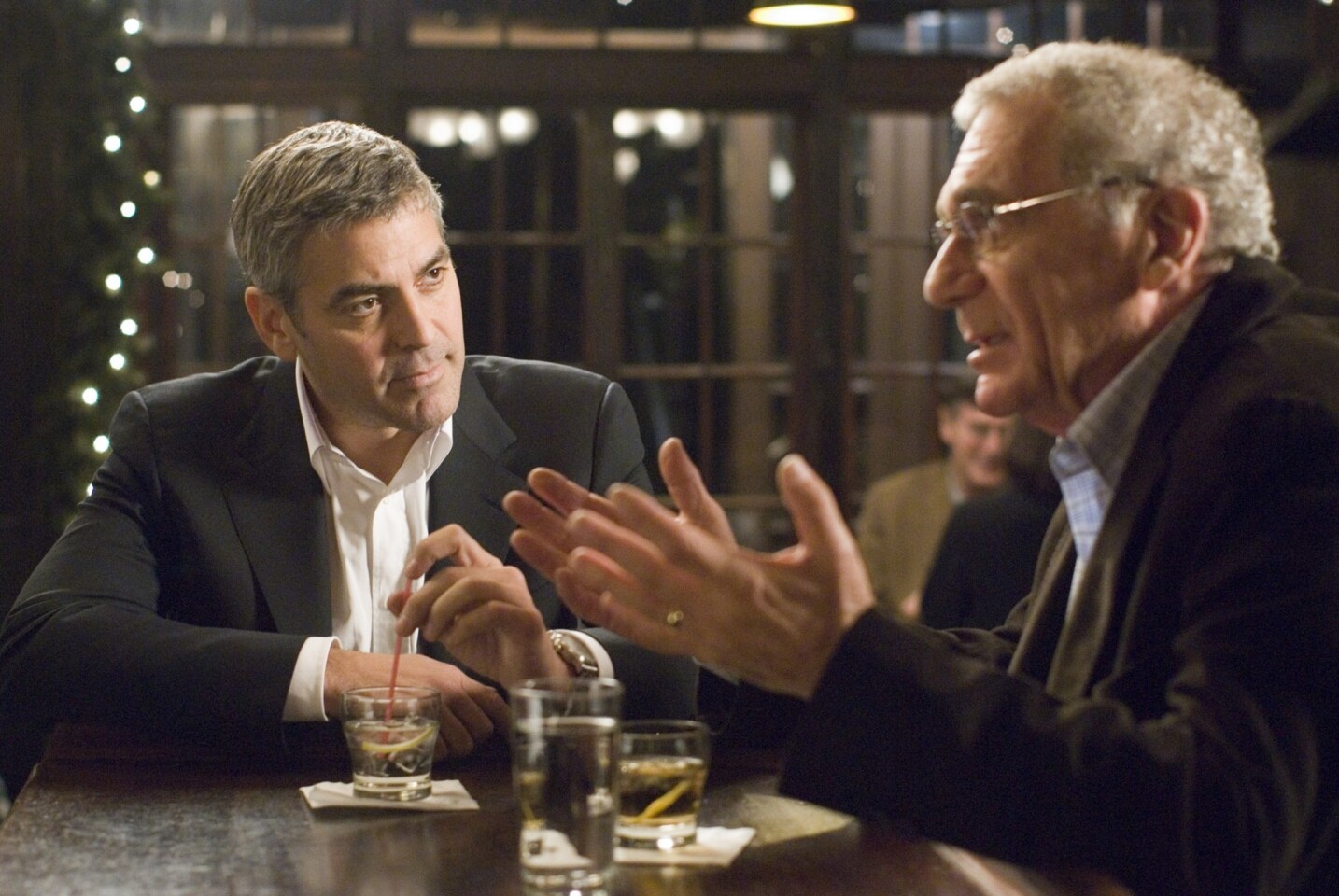 In this mystery drama, Clooney (with Sidney Pollack, above) plays a lawyer with a conscience who knows the chemical company he represents is guilty in a multibillion-dollar class-action suit. The film was nominated for seven Academy Awards, including best picture.
(Myles Aronowitz / Warner Bros.)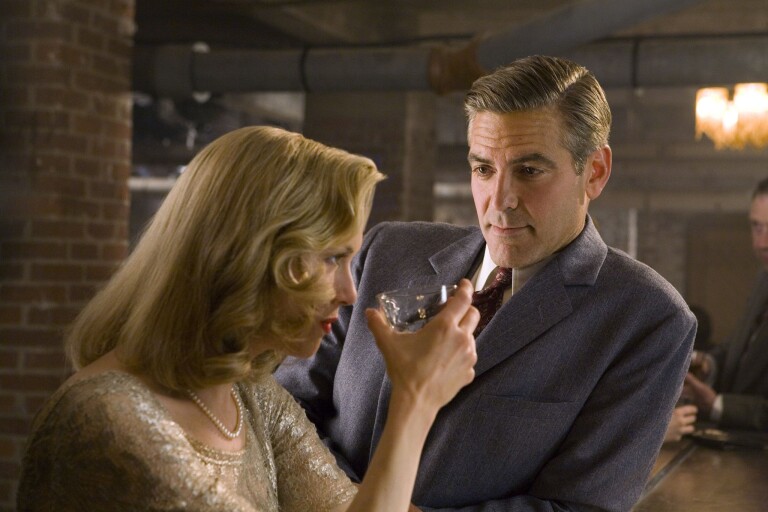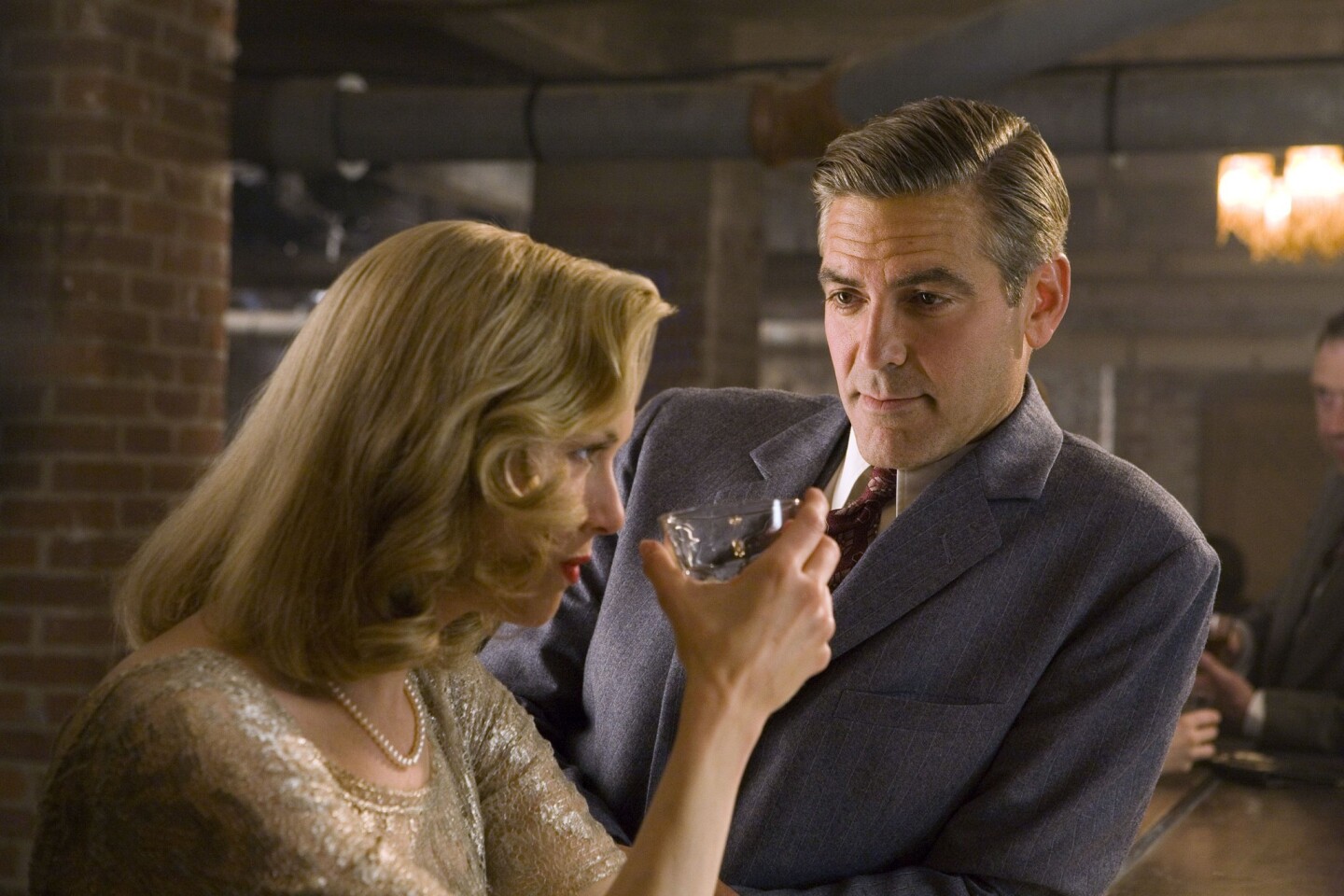 Team captain Dodge Connolly (Clooney) and newswoman Lexie Littleton (Rene Zellweger) star in the quick-witted romantic comedy set against the backdrop of America's pro football league in 1925. Clooney directed, produced, starred and wrote all but two scenes in the film.
(Melinda Sue Gordon / Universal Pictures)
Clooney teamed with the Coen brothers once more when he starred in this dark spy comedy, alongside Brad Pitt and Frances McDormand, pictured. Clooney plays a multi-adulterous Treasury Department employee and U.S. marshal who attempts to get hold of a disk containing memoirs of a CIA agent.
(Focus Features )
Company downsizer and frequent flier Ryan Bingham (Clooney) finally meets a woman with a similar case of corporate wanderlust, Alex (Vera Farmiga), in Jason Reitman's "Up in the Air." The film garnered six Oscar nods in 2010.
(Dale Robinette / DreamWorks Studios)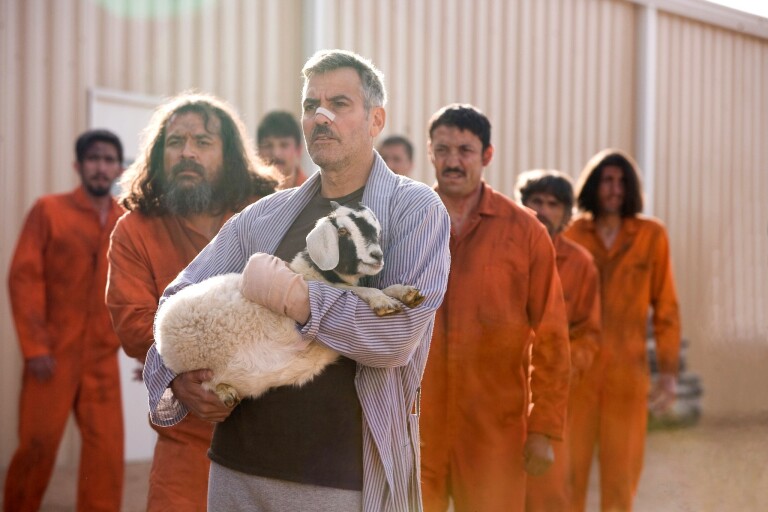 In this war comedy, Clooney plays a man claiming to be a former member of the U.S. Army's New Earth Army, a unit that employs paranormal powers in their missions. When a desperate journalist (Ewan McGregor) stumbles upon Clooney, he deems him to be the story of a lifetime.
(Laura Macgruder / Overture Films)
Clooney directed, wrote and starred in the political thriller "The Ides of March," which opened the 2011 Venice Film Festival. Clooney portrays Gov. Mike Morris of Pennsylvania, an aspiring Democratic presidential candidate. He's in for a crash course in dirty politics.
(Saeed Adyani / Columbia Pictures)
In Alexander Payne's comedy-drama, Clooney portrays a Honolulu attorney and sole trustee of a family trust that controls 25,000 acres of Kauai land. Just as he is about to close the deal, a boating accident leaves his wife in a coma. He then re-gears to connect with his two daughters.
(Merie Wallace / Fox Searchlight)
With Ben Affleck, center, and close freind Grant Heslov, Clooney held the producer's role in the political thriller "Argo." With Oscar nods for "Argo" in 2013, it made Clooney the only person in Academy Award history to be nominated across six categories.
(Kirk McKoy / Los Angeles Times)
With Sandra Bullock, Clooney costars in Alfonso Cuaron's sci-fi space thriller "Gravity." The pair are astronauts determined to survive a damaged space shuttle.
(Warner Bros.)
Clooney co-wrote, directed and starred in the upcoming drama "The Monuments Men" opposite Matt Damon, pictured. Clooney will also star in the 2015 sci-fi historical film "Tomorrowland."
(Claudette Barius / Columbia Pictures)
The Hollywood bachelor tied the knot with Beirut-born human rights lawyer Amal Alamuddin in September. It's the second marriage for Clooney, who was previously wed to Talia Balsam from 1989 to 1993.
(Luca Bruno / AP)
George Clooney and Amal Alamuddin have already started the celebrations.
"The Monuments Men" actor/director and his new fiancee toasted to their engagement with a party at Cafe Habana in Malibu on Sunday, according to several reports.
The longtime bachelor, 53, and the British human-rights attorney were joined by U2's Bono, the Edge, and model Cindy Crawford and her husband, Cafe Habana owner Rande Gerber, People and Us Weekly reported.
"George seemed sweet with his fiancee," an onlooker told Us. "I saw them kiss once, and he had his arm around her the majority of the time. They looked very happy."
The group congregated on the restaurant's patio, did some karaoke and toasted to the couple with wine and tequila, People said.
"After the toast, George and his fiancee were all over each other," a source told the mag. "Lots of hugging."
"People got a show they didn't expect and other [restaurant patrons] said it was the best Mother's Day ever," a source told E! News.
It seemed to be a relaxed affair, with the 36-year-old bride-to-be wearing a glittery neon tank top paired with floral shorts and a blazer and Clooney sporting a casual blue polo with jeans.
News that the "Argo" producer popped the question surfaced late last month.
The actor proposed with a nearly 7-carat emerald-cut diamond engagement ring, which he helped design. Last week, the pair was spotted attending a friend's wedding in Cabo San Lucas, Mexico.
---
Inside the business of entertainment
The Wide Shot brings you news, analysis and insights on everything from streaming wars to production — and what it all means for the future.
You may occasionally receive promotional content from the Los Angeles Times.