Jennifer Lawrence: 'It should be illegal to call somebody fat on TV'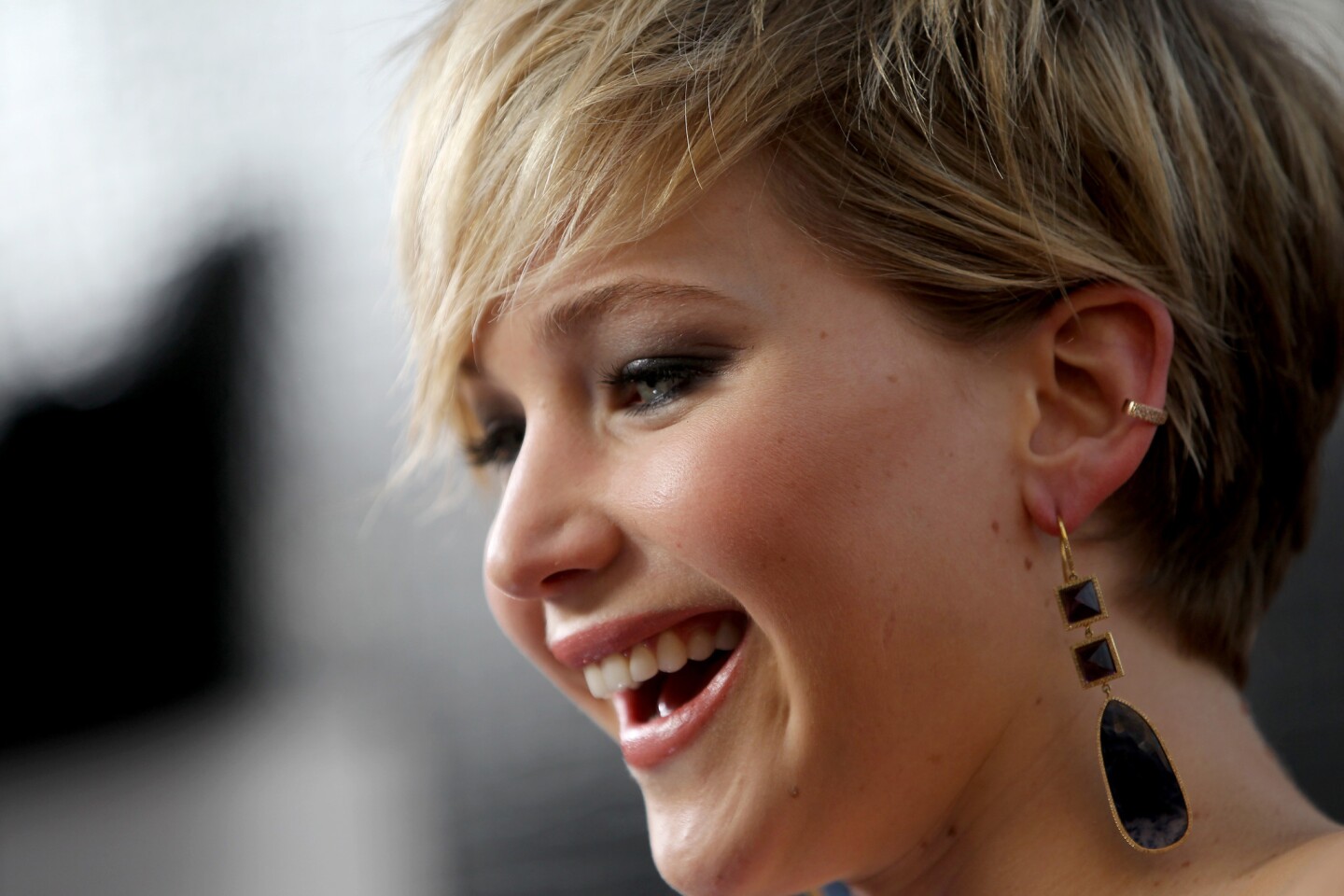 Whether she's leading an indie film or starring in a top box-office saga, Jennifer Lawrence is one to be watched. We highlight the movie darling's beginnings and upcoming endeavors.
(Rick Loomis / Los Angeles Times)
Her performance in "Winter's Bone" was so riveting, she earned an Oscar nod. And unlike in the film, Lawrence wasn't afraid to put her good looks on display when she arrived at the 2011 Academy Awards in a figure-hugging red Calvin Klein gown.
(Kirk McKoy / Los Angeles Times)
The Academy of Motion Picture Arts and Sciences tapped Lawrence to reveal the 84th Oscar nominations alongside academy President Tom Sherak. She donned a Prada blue/black eyelet outfit from the spring/summer 2011 collection for the occasion.
(Al Seib / Los Angeles Times)
In her first collaboration with a luxury brand, Lawrence was named the new face of French fashion house Dior, replacing actress Mila Kunis. She followed in the fashionable footsteps of Charlize Theron, Marion Cotillard and Natalie Portman.
(Kirk McKoy / Los Angeles Times)
Her portrayal of Tiffany Maxwell in "Silver Linings Playbook" earned Lawrence her first Oscar for leading actress. As she was called to stage for her win, she took a tumble on the Oscar stairway in her Dior Haute Couture gown - but it seemed to make her all the more lovable.
(Al Seib / Los Angeles Times)
When Lawrence attended the 2014 Golden Globes on Jan. 12, she made an impression on the red carpet with a puffy Dior gown (not to mention a photo bomb on Taylor Swift) and on the stage when she took home the supporting actress Golden Globe for her role in the movie "American Hustle."
(Lawrence K. Ho / Los Angeles Times)
The cast of "American Hustle" took home the most important accolade of the evening at the 2014 Screen Actors Guild Awards: the best cast prize. The win marked Lawrence's second SAG Award after her 2013 lead actor win for "Silver Linings Playbook."
(Al Seib / Los Angeles Times)
In perhaps one of the most memorable moments of the 2014 Oscars, and certainly the most viral, host Ellen DeGeneres recruited a who's who of Hollywood, including Lawrence, to snap a Twitter portrait. The pic, retweeted by more than half a million people, knocked Twitter offline for a few moments.
(Al Seib / Los Angeles Times)
Making it official (for the second time), Lawrence and actor Nicholas Hoult split in August 2013. The pair, who met while filming "X-Men: First Class," had a difficult time making their relationship work due to their busy, not to mention highly successful, schedules.
(Tullio M. Puglia/Getty Images; Craig Barritt/Getty Images for Snowlodge)
What began as a rumor proved to be true after it was confirmed that Lawrence and Coldplay frontman (and Gwyneth Paltrow's ex) are an item. The new couple have yet to be publicly photographed together. Pictured, Lawrence attends the iHeartRadio Music Festival, in which Martin performed.
(Isaac Brekken/Getty Images for Clear Channel; Kevin Winter/Getty Images for Clear Channel )
Come Christmas 2015, Lawrence will star in director David O. Russell's rag-to-riches tale "Joy," centered on Miracle Mop inventor Joy Mangano. Lawrence said Russell approached her through a text, and she happily obliged.
(Mike Coppola/Getty Images; Kirk McKoy / Los Angeles Times)
Lawrence, with Evan Peters, suited up to play Mystique a third time in Bryan Singer's "X-Men: Apocalypse."
(Alan Markfield / AP)
Jennifer Lawrence's crusade against Hollywood's body-image issues just made it to Barbara Walters' prime-time special.
"Why is humiliating people funny?" the unfiltered "Hunger Games" star asks Walters during ABC's "Barbara Walters Presents: The 10 Most Fascinating People of 2013" interview. "And I get it, I do it too. We all do it."
The 23-year-old Oscar-winner has repeatedly spoken out about weight issues and seems to get the most serious when it comes to being a role model for young women. She's previously pointed the finger at magazines, Hollywood and E!'s "Fashion Police" for perpetuating the weight criticism.
PHOTOS: See Jennifer Lawrence's 'Hunger Games' red carpet looks
"I think when it comes to media, the media needs to take responsibility for the effect it has on our younger generation on these girls that are watching these television shows and picking up how to talk and how to be cool," the "American Hustle" star added.
"So all of the sudden being funny is making fun of the girl that's wearing an ugly dress. And the word fat! I just think it should be illegal to call somebody fat on TV. I mean, if we're regulating cigarettes and sex and cuss words because of the effect it has on our younger generation, why aren't we regulating things like calling people fat?"
When Lawrence was first cast as Katniss, a starving teen fighting for her life in a government-arranged reality show, she was criticized for being too full-figured.
PHOTOS: Jennifer Lawrence's life in pictures
In December 2012, she told Elle magazine that "in Hollywood, I'm obese. I'm considered a fat actress."
In the November issue of Harper's Bazaar UK, she admitted that she had been called overweight and a "stuttering idiot."
"I was young. It was just the kind of ... that actresses have to go through," she said. "Somebody told me I was fat, that I was going to get fired if I didn't lose a certain amount of weight. They brought in pictures of me where I was basically naked, and told me to use them as motivation for my diet.
"They thought that because of the way my career had gone, it wouldn't still hurt me. That somehow, after I won an Oscar, I'm above it all. 'You really still care about that?' Yeah. I was a little girl. I was hurt," she added. "It doesn't matter what accolades you get. I know it'll never happen to me again. If anybody even tries to whisper the word 'diet,' I'm like, 'You can go ... yourself.'"
PHOTOS: 50 most beautiful female celebrities
And in the December 2013 issue of InStyle, the actress said "nothing can motivate me" to work out.
"During 'Hunger Games,' when I was eating ungodly amounts, I used to tell myself, 'Stop eating, people are going to see this. This movie is going to be around forever.' But nope! I was like, I still want candy and I still want a hot dog!
"Then 'X-Men' started, and I thought, 'Oh definitely, I'll work out and diet.' But nope. Not me!" she said.
Lawrence is just one of the celebrities Walters considers newsmakers of 2013. The list also includes twerking-savant Miley Cyrus, spotlight-ready couple Kim Kardashian and Kanye West, "Good Morning America's" Robin Roberts, the cast of "Duck Dynasty," NSA whistle-blower Edward Snowden and the royal baby, Prince George.
Lawrence's full interview and Walters' No. 1 most fascinating person will be revealed during the ABC News special. "Barbara Walters Presents: The 10 Most Fascinating People of 2013" on Wednesday.
ALSO:
'50 Shades' star Jamie Dornan, wife Amelia welcome baby girl
Ashley Tisdale gushes over fiance, releases 'You're Always Here'
Miley Cyrus to Barbara Walters: I 'wouldn't change being engaged'
Follow Ministry of Gossip @LATcelebs.
---
From the Oscars to the Emmys.
Get the Envelope newsletter for exclusive awards season coverage, behind-the-scenes stories from the Envelope podcast and columnist Glenn Whipp's must-read analysis.
You may occasionally receive promotional content from the Los Angeles Times.